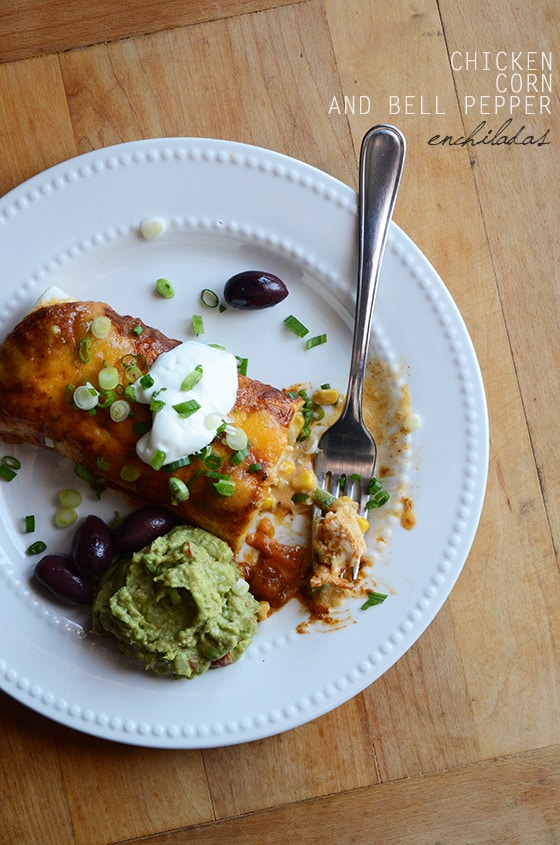 A while ago, a reader requested recipes that freeze and reheat well. Things like casseroles or stews that make good gifts for neighbors or new moms, or are perfect for keeping stocked in your own freezer for busy nights.
Enchiladas are great not only because they're super easy to make, but also because they're really forgiving when it comes to what you want to include. If there's a veggie in the ingredient list that you don't like or don't have on hand, swap it out for something else. Or for a vegetarian twist, replace the chicken with a can of your favorite kind of beans (I think chickpeas would be great).
Now, I know what some of you enchilada purists are going to say: those are wrapped like burritos, not enchiladas! (FYI, The Kitchn has a great photo tutorial on how to wrap a burrito!) You're right, enchiladas are typically just rolled around filling without the ends being folded over or tucked inside; I wanted to wrap mine burrito-style because this makes it much easier to wrap and freeze the enchiladas individually for a single serving on-the-go. And I promise they will taste the same no matter how you want to wrap them. :)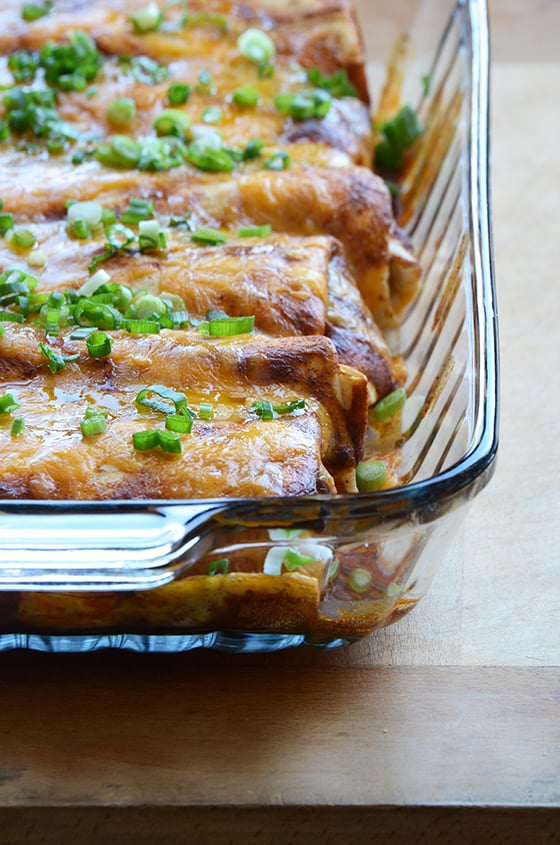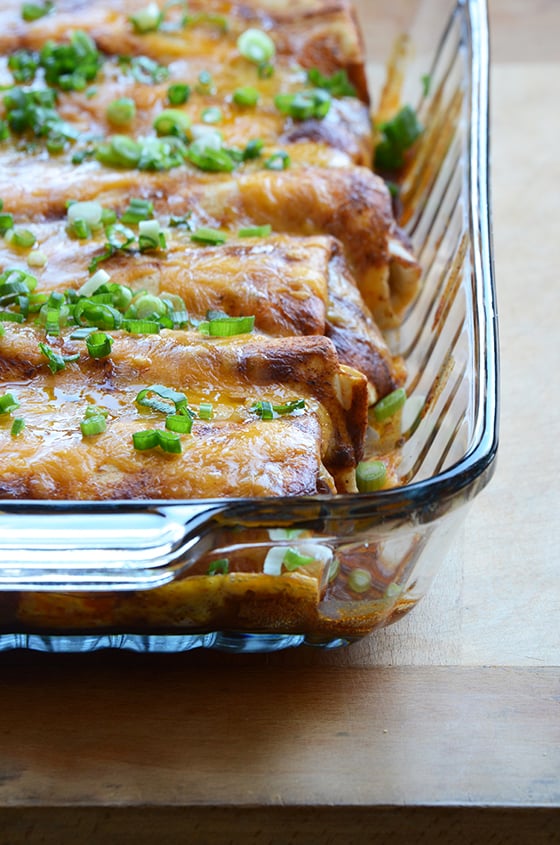 Here are a few more freezer-friendly meal ideas:
Butternut Squash-Topped Cottage Pie
Cabbage, White Bean, & Sausage Soup
Homemade Mighty Taco Beef Copycat
Lamb Meatballs in a Spicy Curry
Lazy Sauerkraut Pierogi Casserole
Vegetable Beef Pie with Cheesy Potato Topping
I've learned that if I keep my freezer full of a few different dinner choices for really busy nights, fast food becomes obsolete…or at least a much rarer occurrence.
Do you have a favorite freezer meal? If so, feel free to leave a link to it in the comments below!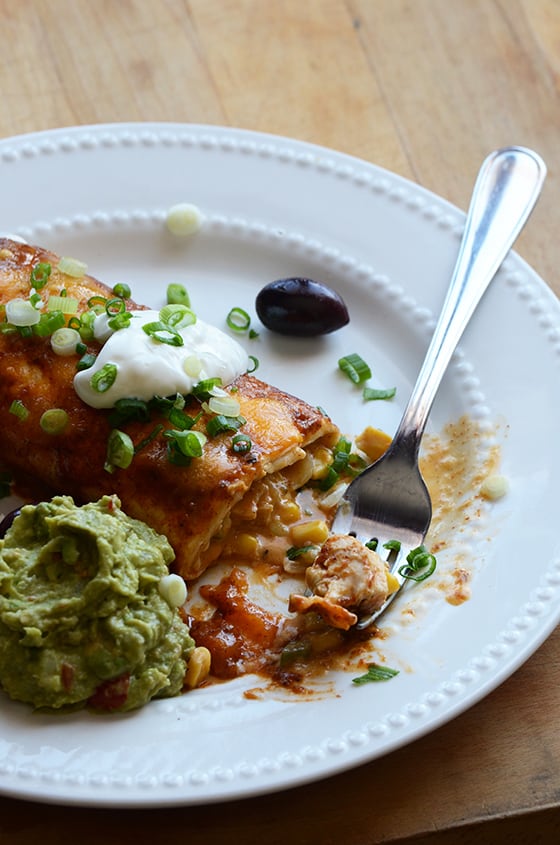 Chicken, Corn, and Bell Pepper Enchiladas
Prep time:
Cook time:
Total time:
Yield:
8 large enchiladas
Ingredients
Cooking spray
3 tablespoons olive oil
1 large onion, chopped small
1 large green bell pepper, chopped small
1 teaspoon salt
3 large cloves garlic, crushed
4 oz (115 g) cream cheese (low-fat is fine)
¾ cup (180 ml) milk (I used 1%)
1 batch 10-Minute Homemade Red Enchilada Sauce (or about 2 cups of store-bought sauce)
1 (15 oz/425 g) can whole-kernel corn, rinsed and drained
3-4 cups cooked, chopped chicken (about ¾-1 lb)
8 oz (230 g) sharp cheddar cheese, shredded
8 large (10-inch) soft flour tortillas
3 scallions (white and green parts), thinly sliced
Guacamole and/or sour cream, for serving (optional)
Instructions
Preheat oven to 350F; lightly spray a 9 by 13-inch casserole dish and an 8 by 8-inch casserole dish with cooking spray and set aside for now.
Heat the oil in a large, deep skillet over medium-high heat. Add the onion, green bell pepper, and salt, and cook until the veggies are softened, but not browned, about 5 to 7 minutes, stirring occasionally. Add the garlic and cook 30 seconds, stirring constantly.
Turn the heat down to medium and add the cream cheese, milk, and ¾ cup enchilada sauce, stirring until the cream cheese is melted.
Stir in the corn and chicken, and cook until warm throughout, about 3 minutes. Turn off the heat and stir in half of the shredded cheddar. Taste the mixture and add salt and black pepper as desired.
Spread ¾ cup of the chicken mixture slightly toward the lower ⅓ of a tortilla, leaving about ½-inch on both sides; wrap both sides over the center, wrap the bottom ⅓ of the tortilla over the filling, and continue rolling so you have a neat burrito-shaped package.
Spread a thin layer of sauce in the bottom of both prepared casserole dishes (about 4 tablespoons in the large dish and 2 tablespoons in the small). Arrange the burrito-shaped enchiladas in the dishes (I fit 6 in the 9 by 13-inch dish, and put 2 in the 8 by 8-inch dish). Spread the remaining enchilada sauce on top, and top with the remaining shredded cheddar.
Bake until the cheese is melted, about 15 to 20 minutes.
Sprinkle on the scallion and serve hot, with guacamole and/or sour cream if desired.
Notes
Freezing and Reheating: To reheat in the microwave, completely thaw first (I just get it out the night before and put it in the fridge in the morning). To reheat in the oven, there is no need to thaw first; cover the casserole dish with foil, place it in the oven, and heat the oven to 350. Bake until warm throughout, about 1 hour. (If you happen to thaw them and you still want to reheat them in the oven, cover the dish with foil and it should take about 20 minutes to warm them up at 350F.)

Freezing for Individual Meals: Wrap each enchilada individually in foil before freezing. To reheat, let them thaw completely; remove the foil, transfer to a microwave-safe dish, and microwave until warm throughout.