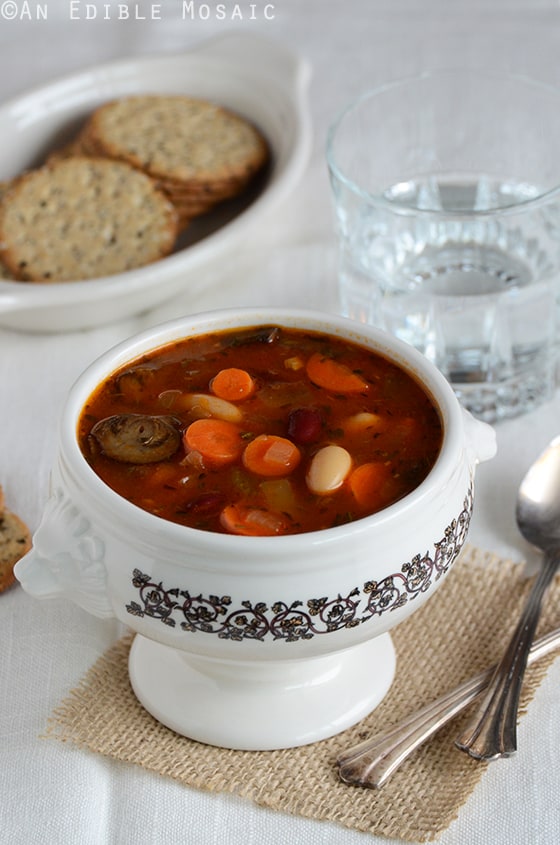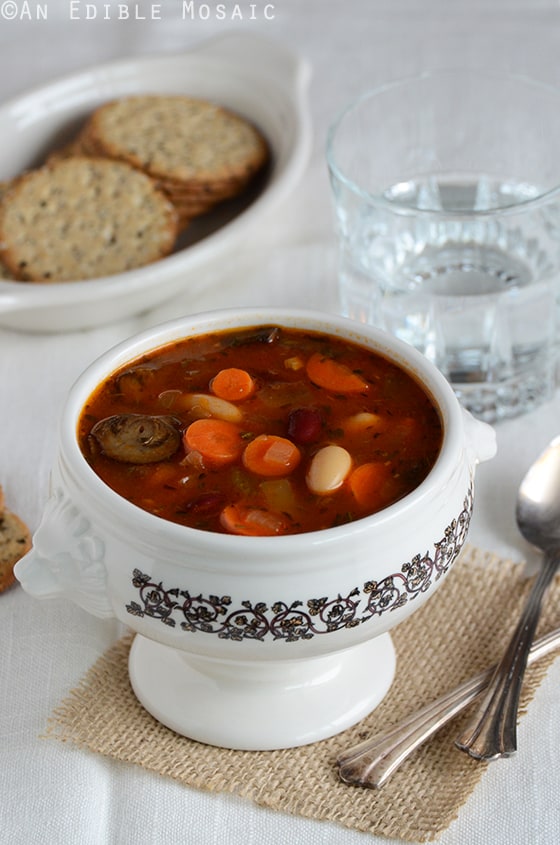 We've all had days when there doesn't seem to be enough time to do anything; the workout goes on hold, all thoughts of makeup fly out the window (ha -- who am I kidding? This is almost every day for me!), and even eating gets back-burnered.
The end of the day rolls around and there's less than an hour until dinnertime; you're famished and looking for some quick inspiration - here it is!
This soup is perfect for that kind of day. It's on the table in under an hour (and even faster if you take advantage of pre-chopped produce at the grocery store), full of healthy things, and completely customizable. It's vegetarian, but you could make it vegan by omitting the Worcestershire sauce, or beef it up a bit (pun intended ;) ) by adding browned ground beef or even cooked, shredded chicken. 
I like to serve this with crackers or crusty bread, but you could add cooked noodles to the soup if you like. And of course, feel free to swap out the veggies for any you have on hand.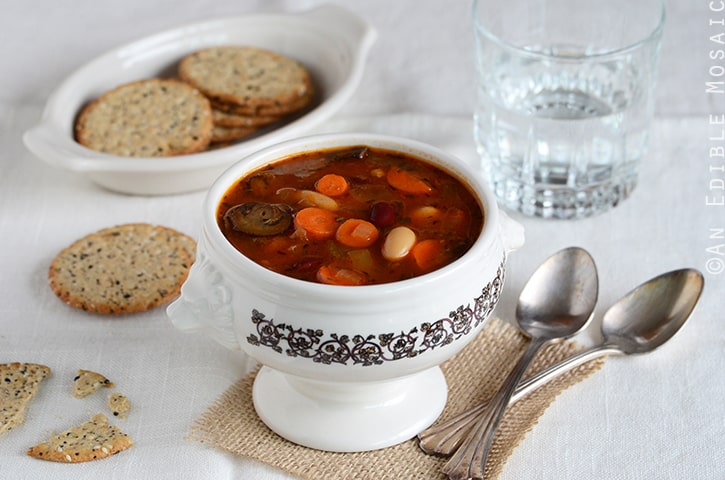 Two-Bean Vegetable Soup
Prep time:
Cook time:
Total time:
Ingredients
3 tablespoons olive oil
8 oz cremini or button mushrooms, sliced
2 medium onions, diced
4 medium carrots, sliced
3 large stalks celery, diced
4 cloves garlic, minced
1 tablespoon fresh minced rosemary leaves (or 1 teaspoon dried rosemary leaves)
1 tablespoon fresh minced thyme leaves (or 1 teaspoon dried thyme leaves)
2 bay leaves
1 (16 oz) can diced tomatoes, with juices
5 cups (1.2 L) hot water
2 tablespoons tomato paste
1 tablespoon Worcestershire sauce (see Note)
2 soft vegetable-flavored bouillon cubes
½ teaspoon salt
⅛ teaspoon black pepper
1 (16 oz) can dark red kidney beans (no salt added), rinsed and drained
1 (16 oz) can cannellini beans (no salt added), rinsed and drained
Instructions
Heat the oil over medium-high heat in a lidded 5-quart pot; add the mushrooms and cook until browned, about 5 minutes, stirring occasionally.
Stir in the onion, carrot, and celery; cover the pot and cook until the onion is softened, about 10 minutes, stirring occasionally.
Add the garlic, rosemary, thyme, and bay leaves and cook 2 minutes, stirring constantly.
Stir in the diced tomato, water, tomato paste, Worcestershire sauce, bouillon cubes, salt, and pepper; turn heat up to high and bring to a boil.
Once boiling, turn heat down slightly, cover the pot, and cook until the veggies are tender, about 7 minutes.
Add the beans and cook until warm throughout, about 2 minutes more.
Serve.
Notes
To Make This Soup Vegan: Be sure to use a vegan Worcestershire sauce.