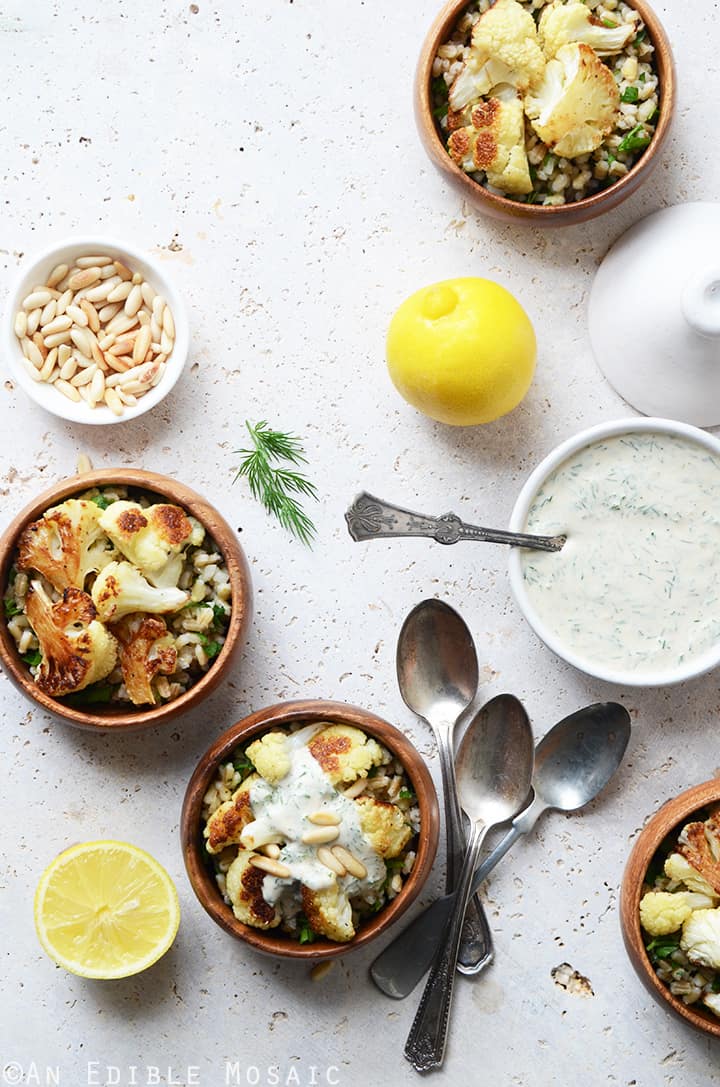 Who doesn't like a good party, right? Friends, fun, food. There's nothing not to love.
Now, as a food blogger it probably comes as no surprise that I love bringing a dish to pass to a party. I usually have plenty of ideas on what will go over well. (Sports-centric = guy food, holidays = indulgence, and summer potluck = light and fresh!)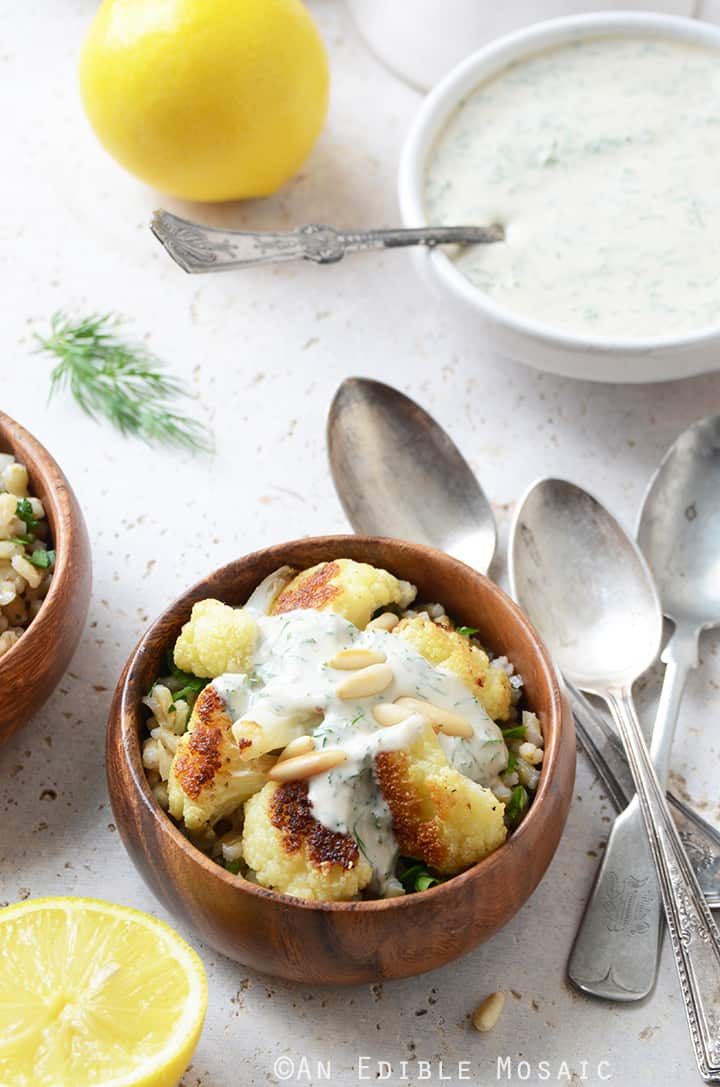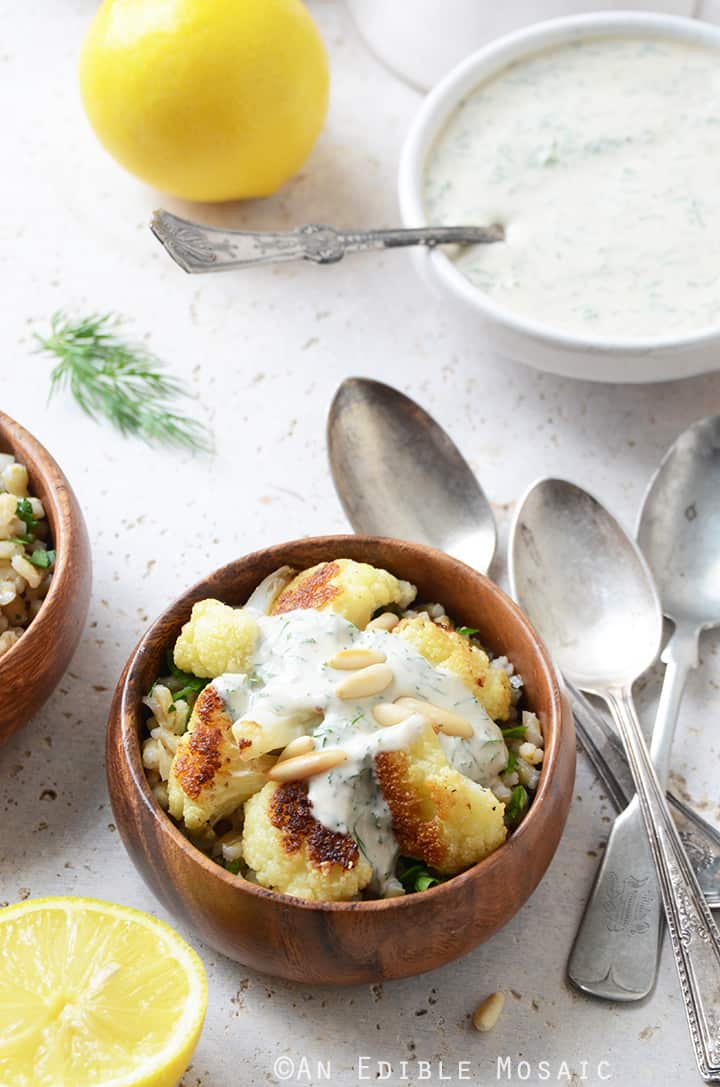 But what about a baby shower? I'm always somewhat baffled as to what the perfect baby shower fare is. (That is, aside from the obvious things like a crudités platter, fruit salad or skewers, finger sandwiches, and gender-reveal cupcakes, but I like to bring something original and a little unexpected.)
When Robyn (of Simply Fresh Dinners) invited me to participate in a virtual baby shower for Michelle (of Healthy Recipe Ecstasy) I immediately said yes despite not knowing immediately what I wanted to bring.
Let's talk about Michelle for a quick minute; she is such a sweetie! She's a supportive blogger friend and is talented on so many levels. Not only is she an inspirational food blogger (her recipes and photography are pretty fabulous…check out her Dark Chocolate Cherry Protein Bars, Zucchini Pancakes with Wild Mushrooms, Crumbled Goat Cheese, and Garlic Chili Oil, and Pretzel-Crusted, Oven-Fried Chicken with Buffalo-Blue Cheese Dipping Sauce), but she's also an attorney as well as a new mama to a precious little boy, Alexander.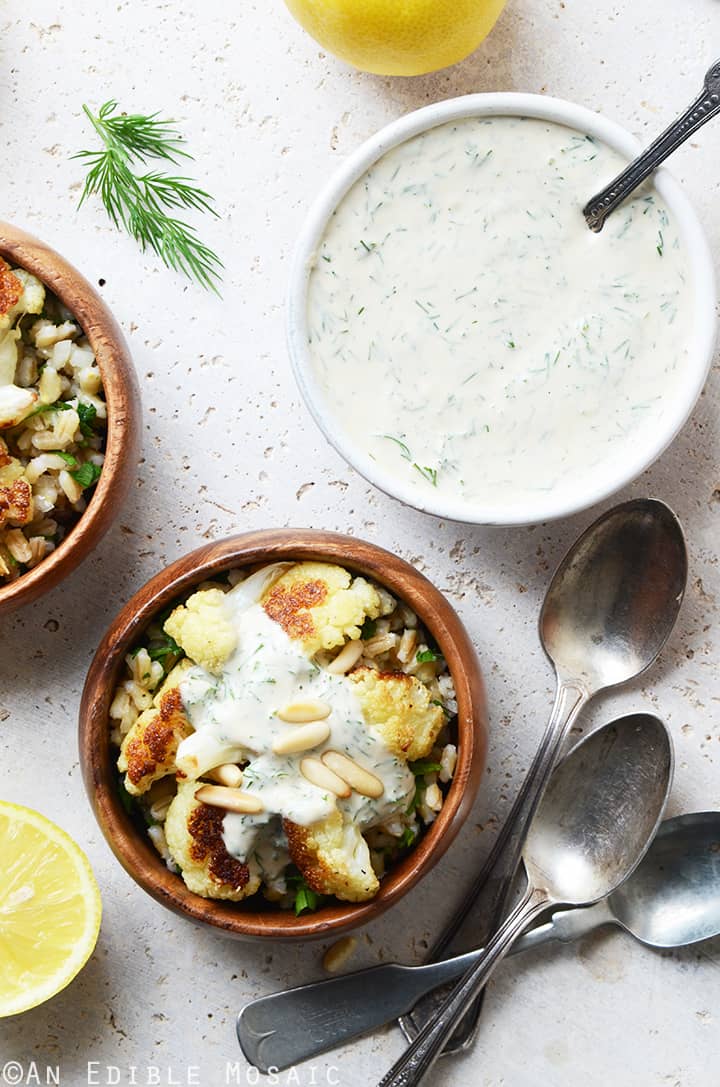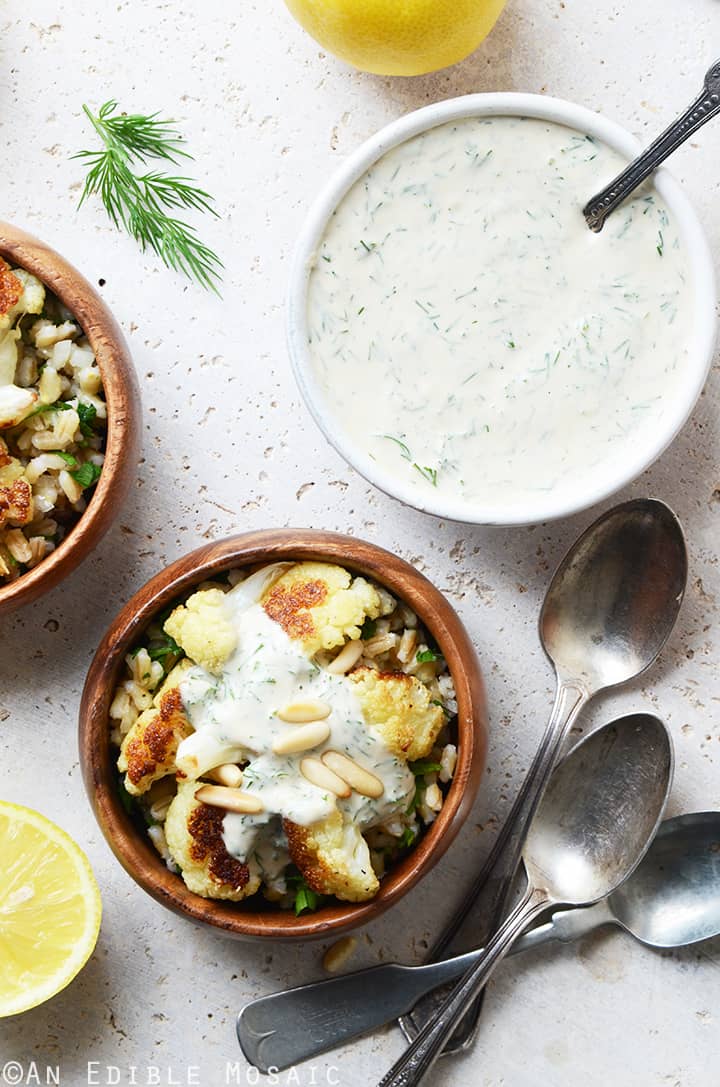 The theme for our virtual baby shower is Healthy Party Foods and while keeping Michelle's tendency toward fresh, unique flavor twists in mind, I came up with Roasted Cauliflower and Pearl Barley Bowls with Creamy Tahini-Dill Dressing. It's a play on one of my favorite Middle Eastern veggie dishes (fried cauliflower with sesame parsley sauce) with a few tweaks. Roasted cauliflower is served on a flavorful pearl barley pilaf, topped with a creamy tahini dressing that's brightened with dill, and then garnished with toasted pine nuts for nutty crunch. Every bite is bursting with flavor and texture and better yet, this dish can be served warm, room temperature, or cold and can be made in advance. Dish it up in little bowls and you're good to go. Perfect party food, right?
Here's our Baby Shower Menu:
You can check out everyone else's recipes here:
Appetizers
Asparagus Tomato Crostini with Fresh Mint and Chives from Simply Fresh Dinners
Manchego Cheese Fritters with Honey Mustard Ranch from Cooking and Beer
Strawberry Bruschetta with Raspberry Balsamic Vinegar from The NY Melrose Family
Entrees
Mahi Mahi with Dragon Fruit-Pineapple Salsa from No Gojis, No Glory
Curried Fish Tacos with Cabbage and Carrot Slaw from Omnivore's Cookbook
Spicy Asian Chicken Puff Pastry Bites with Hoisin Peanut Sauce from Climbing Grier Mountain
Kimchi Salmon and Rainbow Pickles from Bam's Kitchen
Chipotle Sweet Potato Black Bean Tacos from Natural Chow
Sides
Asian Jerk Meatball Wraps from Healthy Nibbles & Bits
Warm Corn Salad from The Complete Savorist
Roasted Cauliflower and Pearl Barley Bowls with Creamy Tahini-Dill Dressing from An Edible Mosaic
Salads
Asparagus with Grated Egg and Capers from Pinch and Swirl
Grilled Sweet Potato and Cauliflower Salad with Coconut Curry Almond Butter Vinaigrette from Food Faith Fitness
Strawberry Spinach Salad from Bitz & Giggles
Desserts
Vanilla Bean Greek Yogurt Cheesecake with a Cookie Dough Crust from Vitamin Sunshine
Coconut Sorbet from House of Yumm
Almond and Caramel Date Tart with Chocolate Ganache from The Crafting Foodie
What a beautiful baby shower, right? Thank you to Robyn and everyone else who helped organize this event, and huge congrats to Michelle and her husband Alasdair on the precious new addition to their family. xoxo
Roasted Cauliflower and Pearl Barley Bowls with Creamy Tahini-Dill Dressing
Prep time:
Cook time:
Total time:
Yield:
4 to 6 side dish-sized servings
Ingredients
Roasted Cauliflower:
1 small (450 g) head cauliflower, cut into bite-sized florets
1 tablespoon olive oil
¼ teaspoon salt
⅛ teaspoon black pepper
Pearl Barley:
1 cup (200 g) pearl barley
½ small onion, minced
1 small clove garlic, crushed
2 tablespoons fresh lemon juice
1 tablespoon olive oil
½ teaspoon fresh lemon zest
¼ teaspoon salt
⅛ teaspoon black pepper
½ cup chopped fresh parsley
Creamy Tahini-Dill Dressing:
3 tablespoons tahini
1 teaspoon fresh lemon juice
2 to 3 tablespoons cold water
⅛ teaspoon salt
2 tablespoons minced fresh dill
Other:
3 tablespoons toasted pine nuts, for garnish
Instructions
For the cauliflower, preheat the oven to 400F. Toss the cauliflower, oil, salt, and pepper on a baking sheet and roast until the cauliflower is golden in places, about 30 minutes, tossing once halfway through.
For the barley, bring a large pot of salted water up to a boil. Add the barley to the boiling water and cook until al dente, about 30 minutes; drain. Whisk together the onion, garlic, lemon juice, olive oil, lemon zest, salt, and pepper in a large bowl. Stir in the barley and parsley.
For the dressing, use a fork to stir together the tahini and lemon juice. While stirring continuously, gradually drizzle in enough water to make the dressing creamy. Stir in the salt and dill.
To assemble, divide the barley between 4 to 6 individual bowls and divide the cauliflower on top. Drizzle on a little tahini dressing and sprinkle on a few pine nuts.
Serve warm, room temperature, or cold.
Notes
To Make Ahead: You can make this up to 2 days ahead and store it in the fridge; just hold off on adding the tahini dressing and pine nuts until right before you want to serve it.
 : : GIVEAWAY : :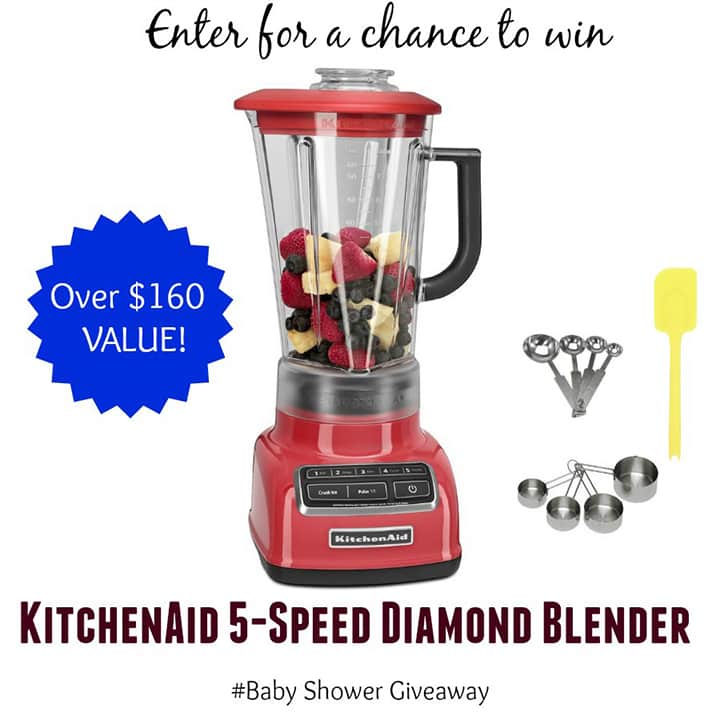 a Rafflecopter giveaway