I've been on a real pizza kick lately.
(I don't want to spoil any surprises, but there will be another pizza-inspired-but-not-really-pizza recipe coming soon! Update: Check out my recipe for Pizza Salad with Pepperoni Chips and Creamy Roasted Tomato-Garlic Dressing!)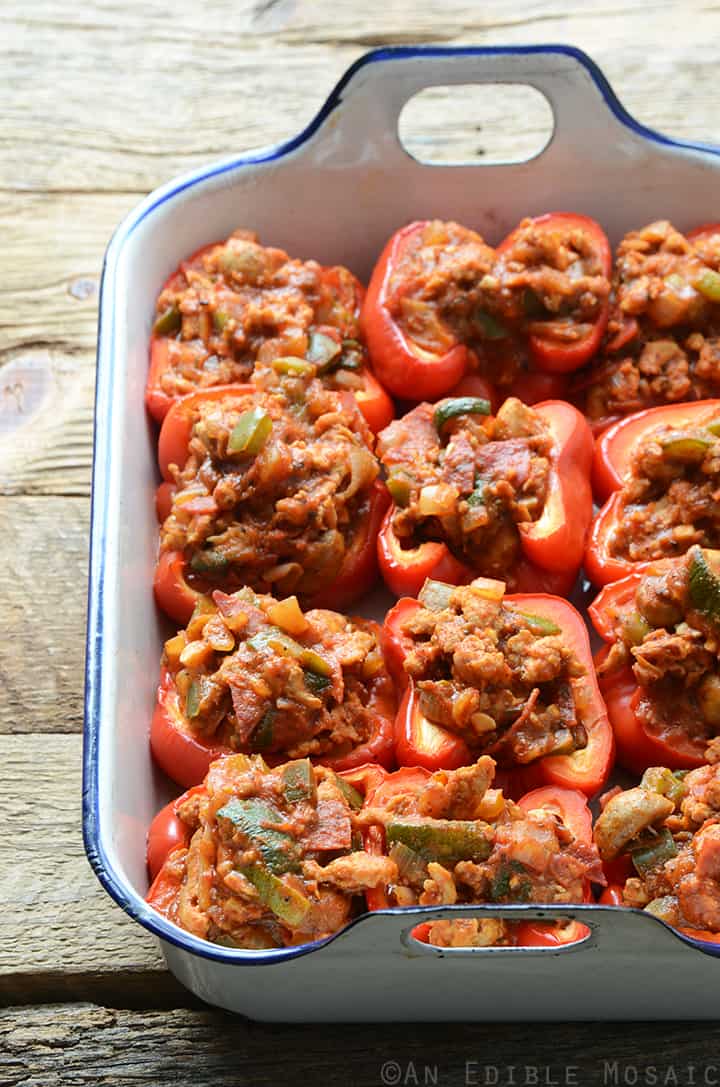 The thing is, I've been cutting back on wheat products, so take-out from our favorite local New York-style pizzeria is out, which has caused me to turn to more creative means to get my pizza fix.
No problem there.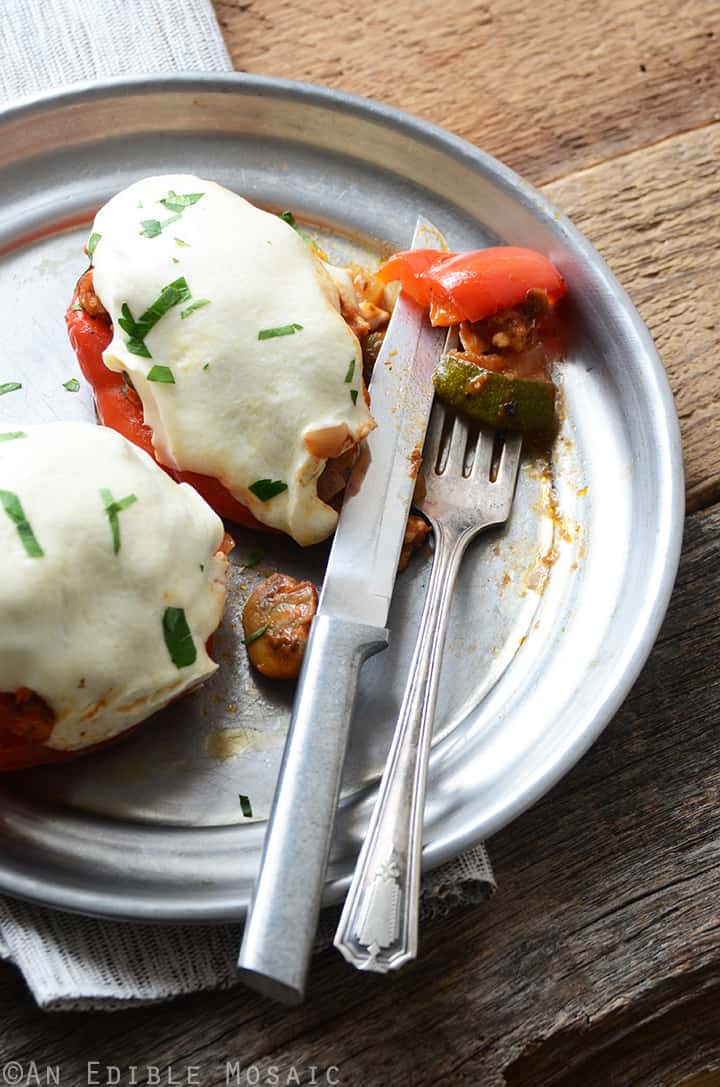 These Pizza Stuffed Peppers (which I almost named Bell Pepper Pizza Boats) satiate any pizza cravings quite nicely. I had supreme pizza (the kind with loads of toppings like pepperoni, sausage, bell peppers, mushrooms, and onions) in mind when I made this dish. These stuffed peppers have all those veggies and then some, plus it's lightened up a bit by using turkey pepperoni. You can use store-bought bulk Italian sausage here, but I used lean ground chicken and a mix of spices (anise seeds, fennel seeds, and nutmeg) to mimic the flavor of sausage.
About all that cheese…since I wanted to simulate a true pizza experience (plus lots of veggies and minus crust), I thought a gooey mozzarella topping was in order. Of course, if you want to keep this dish paleo, feel free to omit it.
Next time pizza night rolls around, this will be on my menu!
And here are a few other tasty looking stuffed pepper recipes:
Buffalo Chicken Stuffed Peppers from Cook the Story
Chicken and Mushroom Stuffed Peppers from foodiecrush
Ricotta and Black Bean Stuffed Peppers from Amuse Your Bouche
Southwestern Quinoa Stuffed Peppers from Diethood
Stuffed Piquillo Peppers from Cooking Light
Pizza Stuffed Peppers
Prep time:
Cook time:
Total time:
Ingredients
3 to 4 tablespoons olive oil, divided
6 medium red bell peppers, halved and de-seeded
2 oz (55 g) turkey pepperoni, chopped
6 oz (170 g) white button mushrooms, halved or quartered, depending on their size
1 medium zucchini, chopped
1 lb (450 g) lean ground chicken
1 large onion, chopped
1 large green bell pepper, chopped
4 to 6 large cloves garlic, minced
1½ cups (355 ml) homemade or store-bought marinara sauce (I like Newman's Own)
1 tablespoon dried Italian herb seasoning
1 teaspoon salt
¼ teaspoon ground black pepper
¼ teaspoon anise seeds (optional; see Note)
¼ teaspoon fennel seeds (optional; see Note)
1 pinch ground nutmeg (optional; see Note)
1 lb (450 g) fresh mozzarella cheese, sliced into 12 slices
Fresh parsley, chopped, for garnish (optional)
Instructions
Preheat oven to 375F. Drizzle 1 tablespoon olive oil in the bottom of a 9 by 13-inch casserole dish.
Put the red bell pepper halves (cut side up) into the casserole dish and roast for 20 minutes. Use a pair of tongs to pick up each piece and drain off any water inside. Return the pepper halves to the dish (cut side up) and set aside for now.
Meanwhile, prepare the filling. Add 2 tablespoons olive oil to a large, deep skillet over medium-high to high heat. Once hot, add the pepperoni and cook until starting to crisp, about 2 to 3 minutes, stirring occasionally. Use a slotted spoon to transfer the pepperoni to a paper towel-lined plate.
Add the mushrooms and zucchini to same skillet and cook until starting to brown, about 8 minutes, stirring occasionally. Use a slotted spoon to transfer the mushrooms and zucchini to a bowl.
If the pan looks dry, add the remaining 1 tablespoon olive oil. Add the ground chicken, onion, green bell pepper, and garlic, and cook until the chicken is fully cooked and the veggies are softened, about 10 minutes, stirring occasionally.
Stir in the zucchini and mushroom mixture, marinara sauce, Italian herb seasoning, salt, black pepper, anise seeds, fennel seeds, and nutmeg. Bring up to a boil and cook until thickened, about 5 to 8 minutes, stirring occasionally.
Spoon the chicken and vegetable mixture into the red bell pepper halves.
Top each red bell pepper half with 1 slice of mozzarella cheese and bake at 375F until the cheese is melted and they're warm throughout, about 10 to 15 minutes.
Sprinkle the parsley on top and serve.
Notes
Anise, Fennel, and Nutmeg: I added these three spices to give this a sausage-type flavor because I love sausage on my pizza! You can omit these spices if you want, or use bulk chicken sausage instead of ground chicken.

Freezer-Friendly: Make this dish up through Step 7 above and freeze for up to 3 months. The night before you want to make it, thaw it at room temperature overnight and then continue with the recipe.