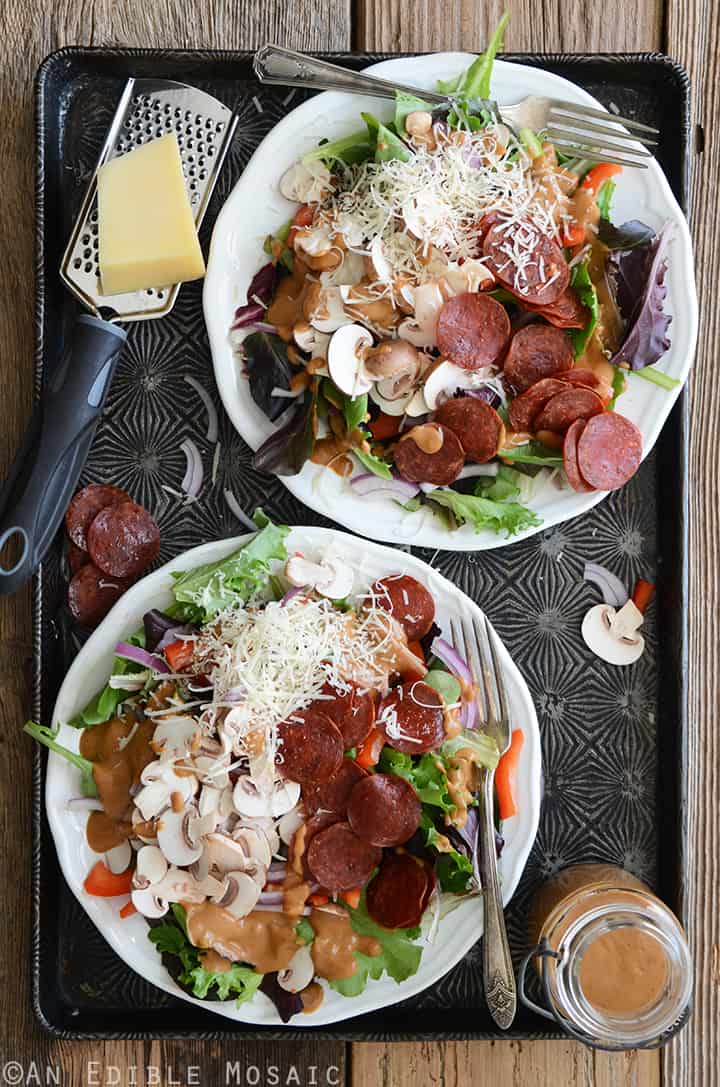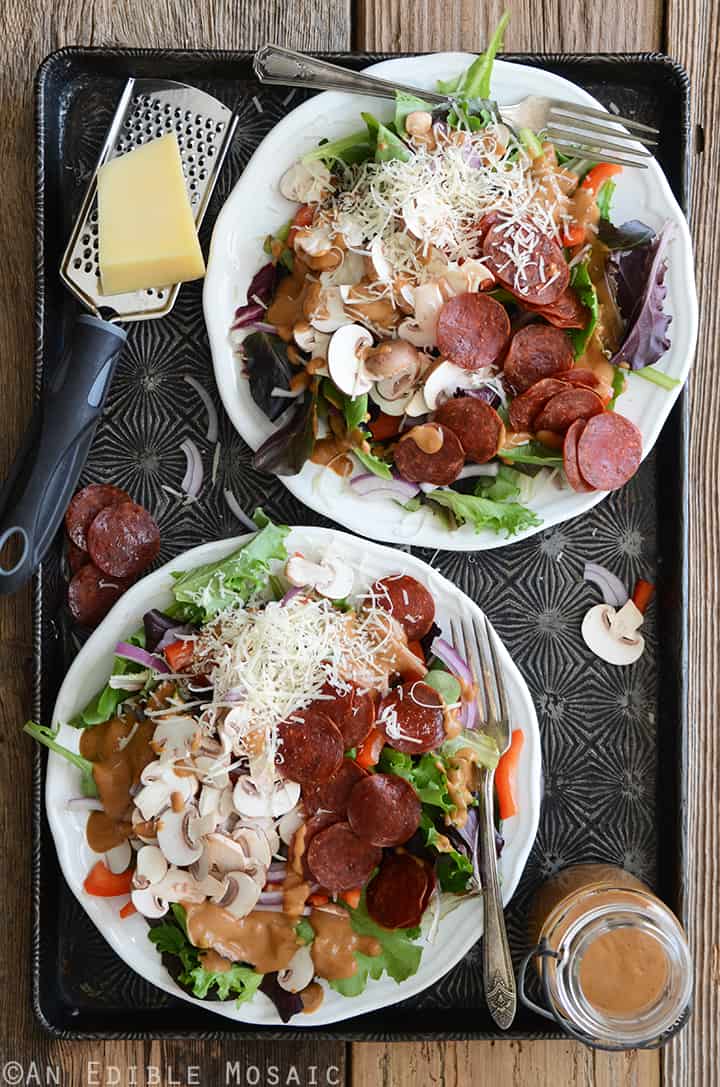 I ask you this: why eat a greasy, heavy slice of carb-laden pizza when you can have Pizza Salad?
I'm kidding (kind-of). I'm a fan of New York-style pizza as much as the next girl (more probably), so I definitely understand a good pizza craving.
But for weekly cravings, why not splurge on something a bit lighter that's every bit as tasty? Helloooo, beautiful Pizza Salad. I could eat you every day and die a very happy girl (and not feel pizza-deprived at all, I might add).
The genius of this salad is in the fact that it combines the same flavors going on in a pizza.
Turkey pepperoni gets roasted into crispy chips.
A medley of tomatoes, garlic, and a few other savories get roasted and then pureed into a creamy dressing that once you try, you'll think of about 100 other uses for (tossed with pasta, as a dip for veggie sticks, as a spread on sandwiches and wraps, as a condiment for eggs, to name just a few).
Although I'm normally a plain-cheese-pizza-kind-of-girl, I also enjoy veggie-style too, so bell pepper, red onion, and mushrooms went on this pizza salad.
Lastly, just a touch of Parmesan cheese goes on top for an umami punch to really drive home the pizza effect. (Just omit the cheese to keep this meal paleo.)
This is absolutely perfect as-is for lunch. For dinner, I like to grill up boneless, skinless chicken breasts and serve them on top of the salads to bump up the protein a bit. Or you could cook the chicken in the oven as the veggies and pepperoni cook to keep it simple.
Here are a few more low-carb pizza-inspired recipes…
Low-Carb Deep Dish Skillet Sausage Pizza from All Day I Dream About Food
Low-Carb Pepperoni Pizza Chicken Bake from Kalyn's Kitchen
Low-Carb Pizza Frittata from Amuse Your Bouche
Meatza Pie from The Clothes Make the Girl
Pizza Stuffed Zucchini Boats from Damn Delicious
And if you really insist on regular crust (I get it – sometimes it's necessary!), check out 10 Healthy Pizza Recipes Under 300 Calories on Cooking Light.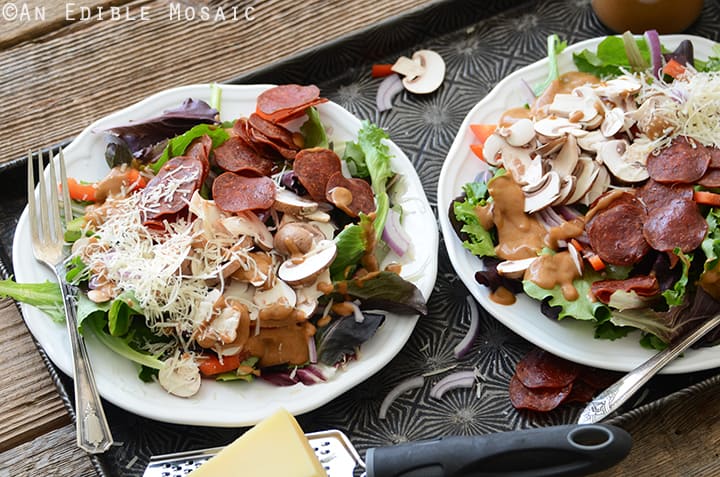 Pizza Salad with Pepperoni Chips and Creamy Roasted Tomato-Garlic Dressing
Prep time:
Cook time:
Total time:
Ingredients
Pizza Salad:
2 oz (60 g) turkey pepperoni
4 to 6 cups spring mix
½ medium red bell pepper, thinly sliced
½ small red onion, thinly sliced
2 oz (60 g) button mushrooms, thinly sliced
2 tablespoons freshly grated Parmesan cheese
Creamy Roasted Tomato-Garlic Dressing:
2 medium tomatoes, quartered
1 medium onion, quartered
4 large cloves garlic, peeled
4 tablespoons extra-virgin olive oil, divided
½ teaspoon salt, divided
¼ teaspoon black pepper
3 tablespoons good-quality balsamic vinegar
2 tablespoons water
1 teaspoon dried Italian herb seasoning
Instructions
Preheat the oven to 375F. For the dressing, toss together the tomato, onion, garlic, 1 tablespoon extra-virgin olive oil, ¼ teaspoon salt, and black pepper in an 8 by 8-inch casserole dish. Cover the dish with foil and roast until the veggies are tender and starting to brown in spots, about 45 minutes; cool slightly.
To make the pepperoni chips, arrange the pepperoni in a single layer on a large baking sheet and bake until crispy, about 8 to 10 minutes at 375F. Transfer the pepperoni to a paper towel-lined plate to drain any excess oil.
Add the roasted veggies, remaining 3 tablespoons extra-virgin olive oil, remaining ¼ teaspoon salt, balsamic vinegar, and water to a blender and process until smooth. Stir in the Italian seasoning.
To serve, arrange the spring mix on 2 plates. Top each with the red bell pepper, red onion, mushrooms, pepperoni chips, and Parmesan cheese. Drizzle some dressing on each and serve immediately.
Store leftover Creamy Roasted Tomato-Garlic Dressing in the fridge for up to 10 days.