This recipe for Easy Favorite Hot Chocolate is the perfect crowd-pleasing hot chocolate to serve at a DIY hot chocolate topping bar party!
This shop has been compensated by Collective Bias, Inc. and its advertiser. All opinions are mine alone. #SpreadCheer #CollectiveBias
For some of us as kids, the biggest incentive to brave the bone-chilling frigid winter was seeking an adrenaline rush, whether it was in the form of sledding, snowboarding, or skiing. For others, it was the promise of warming up with hot chocolate afterwards that coaxed us outside. And then for others yet – perhaps the smartest of all – it was both.
Hot chocolate is one of those things that just about everyone can agree on, which makes it the perfect thing to focus on at a winter party.
Speaking of perfect for a winter party, have you seen Pepperidge Farm® holiday cookies? (FYI, they're available at Target!) They are great for dressing up holiday-style, adding a special touch to a party or a cookie platter you want to make look extra festive. (The holidays are stressful enough, right?! Decorating these cookies makes party planning a lot more manageable during this hectic time of year.) It's easy to add a few fun touches of your own…
Step 1: Choose your favorite Pepperidge Farm® cookies to decorate. I went with Candy Cane Milano® cookies, sugar cookies, and pirouettes.
Step 2: Get out the toppings you want to dip the cookies in. A few fun ideas are: festive sprinkles, chocolate sprinkles, chopped nuts, mini chocolate chips, chopped chocolate, crushed candy canes, shredded coconut, colored sugar, etc.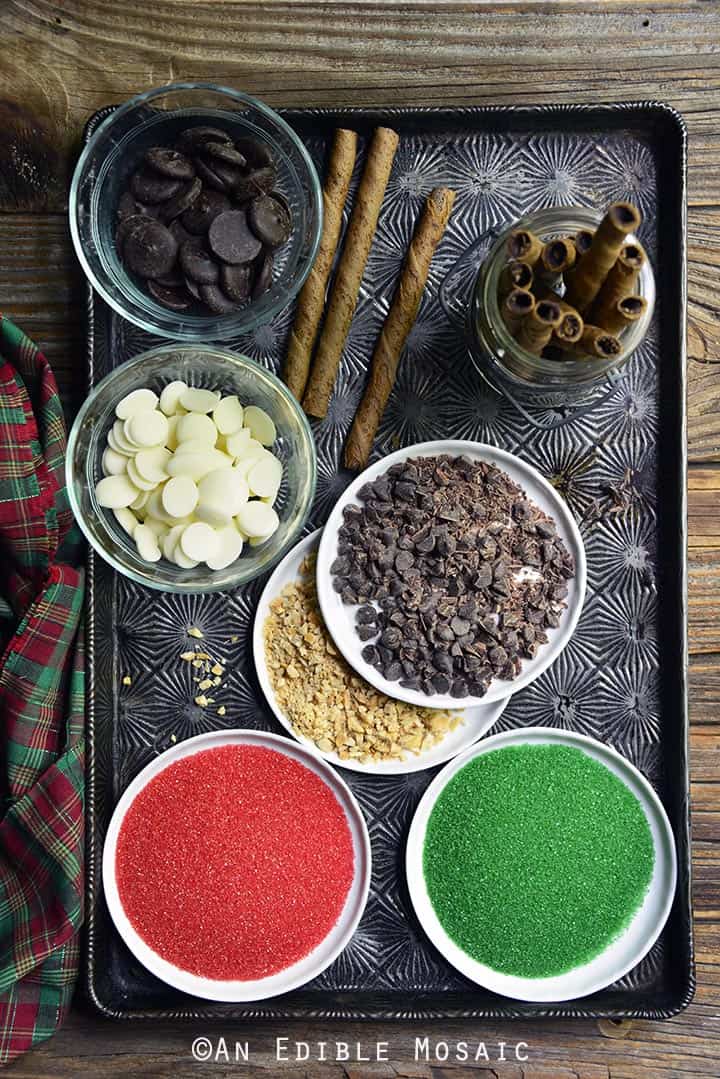 Step 3: Melt milk, dark, and/or white chocolate.
Step 4: Dip a cookie in melted chocolate, letting the excess chocolate run off, and then immediately dip it into whatever topping you want.
Step 5: Lay the cookies out on a parchment-coated baking sheet until the chocolate is set.
Step 6: Arrange them on a pretty platter and revel in how festive they look.
I think they also plate up nicely for Santa along with a glass of milk. ;)
And of course they're perfect for serving as part of a DIY Hot Chocolate Topping Bar! There's nothing better to nibble than a festive cookie while you're sipping hot chocolate.
So, about that DIY hot chocolate topping bar. It's the same concept as a DIY ice cream sundae bar or on the opposite end of the spectrum, a salad bar. Here we're making an easy homemade hot chocolate recipe that whips up in 10 minutes on the stovetop and is super easy to customize if you want to do so. And then comes the fun part…setting up a topping bar so people can add whatever they want!
It's basically as easy as serving hot chocolate and putting a few fun toppings in small dishes, and here are a few delicious suggestions:
Sprinkles (the festive red and green ones or chocolate ones)
Chopped nuts
Mini chocolate chips or chopped chocolate
Crushed candy canes
Shredded coconut
Colored sugar
Marshmallows
Whipped cream
Flavored syrups (such as hazelnut, raspberry, butterscotch, etc.)
Caramel sauce
And don't forget the cookies!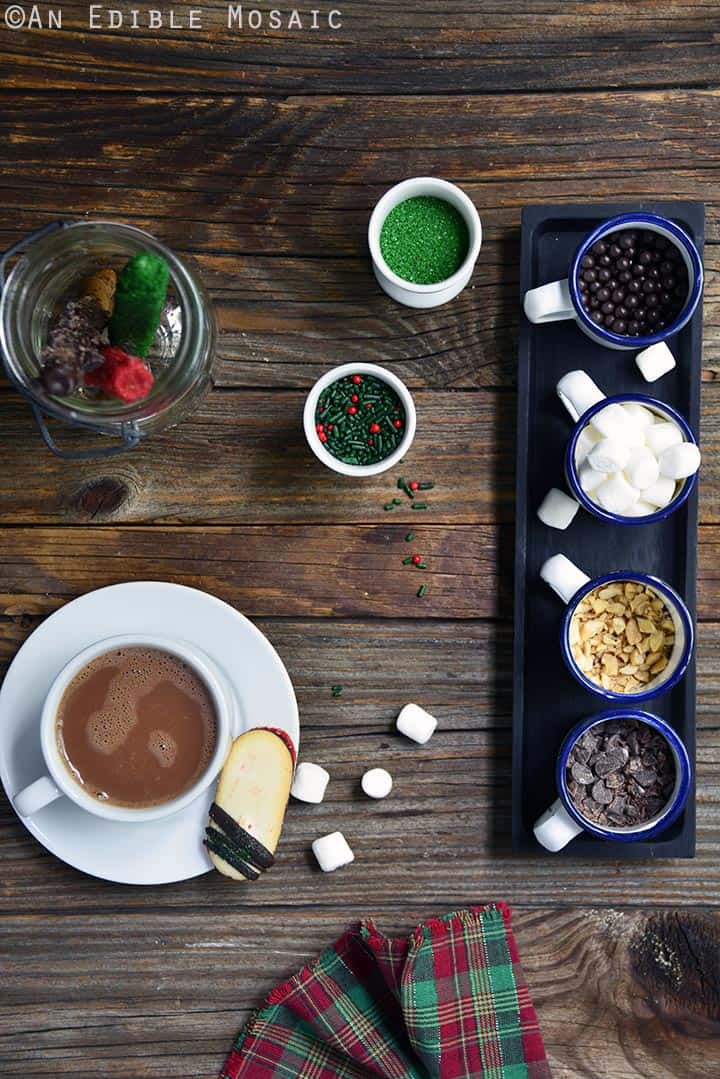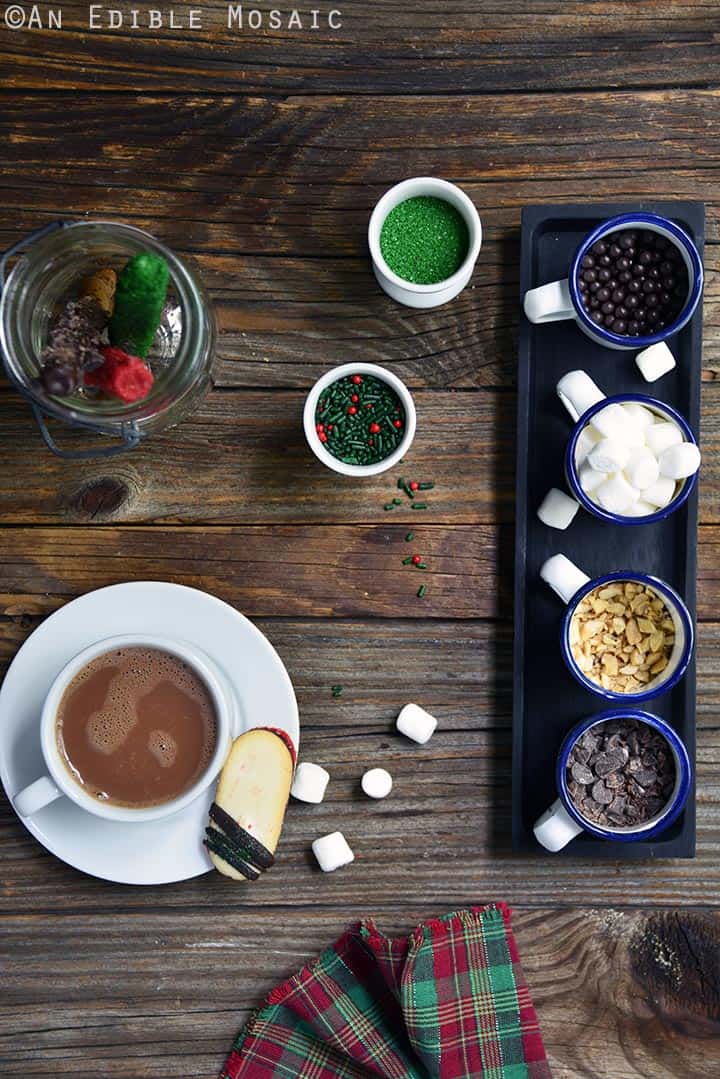 Cheers to a fun and festive holiday season without the stress. What holiday hacks do you have for making this time of year run as smoothly as possible?
Easy Favorite Hot Chocolate
Prep time:
Cook time:
Total time:
This recipe for Easy Favorite Hot Chocolate is the perfect crowd-pleasing hot chocolate to serve at a DIY hot chocolate topping bar party!
Ingredients
4 cups (1 quart) whole milk
½ cup (100 g) sugar (more or less to taste)
6 tablespoons unsweetened natural cocoa powder
4 oz (115 g) semisweet chocolate, chopped
⅛ teaspoon sea salt
1 teaspoon pure vanilla extract
Instructions
Add the milk, sugar, cocoa powder, semisweet chocolate, and salt to a medium-sized saucepan over medium-low heat.
Bring to a simmer, whisking frequently to mix in the chocolate as it melts.
Turn off the heat and stir in the vanilla.
Serve warm.
Notes
Optional Flavorings:

Coffee: Add ½ teaspoon instant espresso powder, or substitute half of the milk for brewed coffee
Mexican-Inspired: Add ¾ teaspoon cinnamon, ⅛ teaspoon ground cayenne pepper (or to taste)
Peppermint: Add ½ to 1 teaspoon peppermint extract added at the end with the vanilla
Nutella or Peanut Butter: Add ¼ cup of whatever you like
Caramel: Add ¼ cup caramel sauce and decrease sugar to ¼ cup