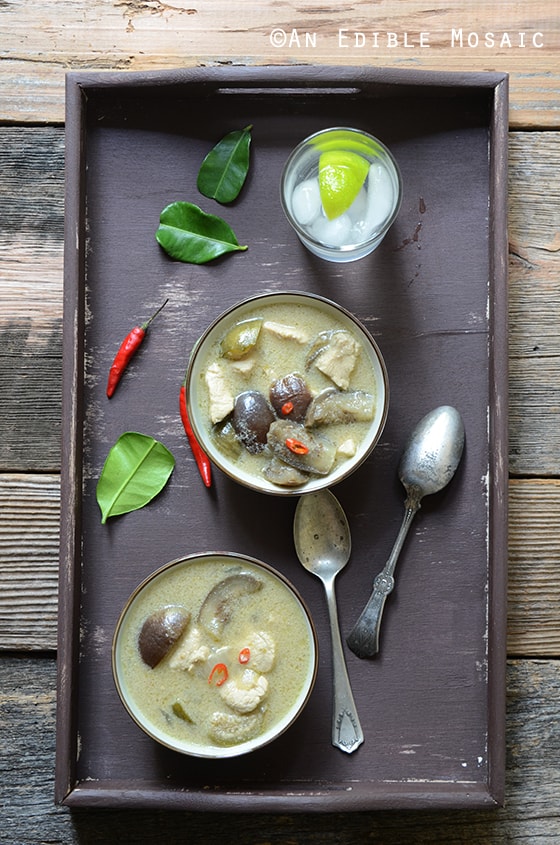 So, I always thought I wasn't a big fan of Thai green curry.
I couldn't put my finger on it exactly, but I always knew there was just something about it – some flavor in there – that didn't quite sit well with me.
(Not that it gave me an upset tummy; no, thankfully, it was nothing like that. It was more of a flavor aversion than anything else, which eventually made sense to me when I recently discovered one of the predominant ingredients…but I'll get to that in a minute.)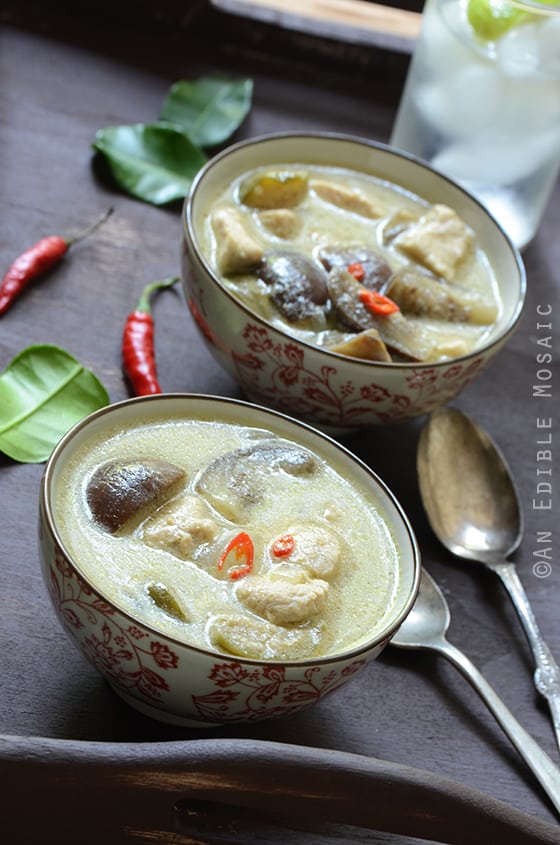 And then we recently had the best green curry on the face of the planet (mind-blowingly good) at the resort where we were staying in Thailand. Actually, better still, we ate the curry while at a cooking class at the resort and they gave me a little recipe booklet with all the recipes we made in it and told me to have fun. They knew me well.
I got the recipe booklet home and the first chance I had, dove into making the curry.
Right off the bat, I noticed that the dish calls for Thai green curry paste, but strangely enough they don't include a recipe for the curry paste in the booklet. Wanting my green curry to be as mind-blowingly good as it was at the resort in Thailand, I almost opted to make the green curry paste myself like they do at the resort. That is, until I did a little research on what's in it.
Here are the eggplants required for this recipe; the green and white ones are Thai eggplant (you can also find purple and white Thai eggplant; here is what they look like), and the purple and white ones shown above are baby eggplant.
As it happens, Thai green curry paste is a bit of a witch's brew, calling for strange-sounding ingredients like cilantro roots and shrimp paste, which might as well be eye of newt and toe of frog to me. I searched high and wide for cilantro roots and couldn't find them anywhere. I've heard it rumored – which I realize totally makes what I'm telling you feel a little too mythical – that they're available frozen at Asian grocery stores, but I have yet to find them (and even if I had, I'm not sure how tasty they would be after being frozen). And as for shrimp paste, it's widely available, but for an entire batch of green curry paste you only need 1/2 to 1 teaspoon of shrimp paste and I refuse to buy it just to throw out the majority of the jar. I guess I could try to find other stuff to do with the shrimp paste so it doesn't get wasted, but (a) there really aren't enough hours in the day, and (b) it's a moot point because I couldn't find cilantro roots anyway. (Phew. If you just read that whole paragraph, virtual high five!)
Anyway, back to why I never really liked green curry: the cilantro roots! (A really long time ago, I mentioned my aversion to cilantro and how it tastes like soap to me; cilantro-lovers, don't blame me though because it's genetic.) Strangely, the green curry made with house-made curry paste that we had in Thailand did not bother me; on the contrary, it was absolutely delicious and no one flavor was overpowering. I'm not sure if my tastes have changed, or if their homemade curry paste really just was that good. (I need to get my hands on their green curry paste recipe to know for sure. ;) )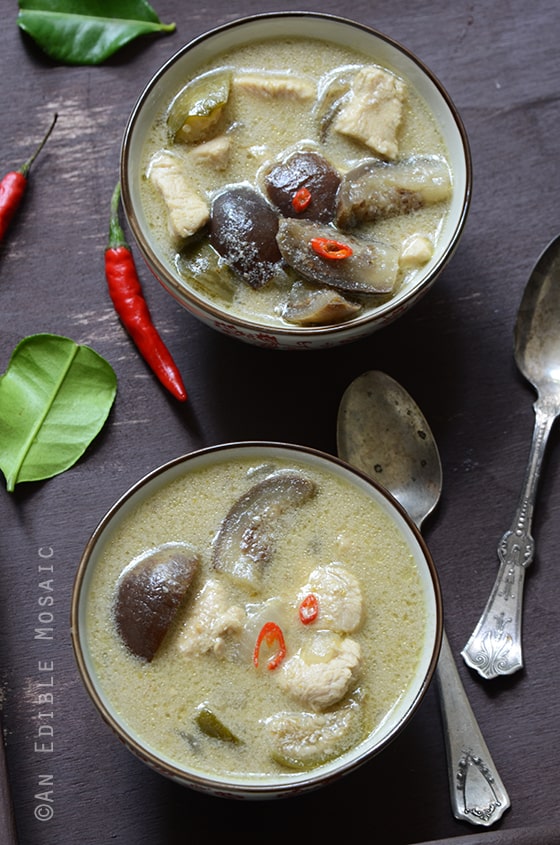 In the end, I went with jarred green curry paste for my recipe, which is fine (it makes the meal come together that much quicker), but it doesn't come anywhere near the flavor of the house-made curry paste we had (seriously, that was like magic). Bottom line, store-bought curry paste works, but if you want to be adventurous and make your own green curry paste, I'm sure your curry will be that much better. Mind-blowing even.
One other thing I want to mention is that the flavor of this dish really is best made with unsweetened, full-fat canned coconut milk. If you insist on cutting back a little on it to reduce the fat content, you can use light coconut milk (or 2 cups full-fat coconut milk + 1 cup water), but if you do so, you might want to add a cornstarch slurry (2 teaspoons cornstarch dissolved in 2 tablespoons cold water) during the last couple minutes of cooking to help the dish thicken up.
Authentic Thai Green Curry with Chicken (Kaeng Kiew Waan Kai)
Prep time:
Cook time:
Total time:
Ingredients
3 cups (710 ml) unsweetened, full-fat canned coconut milk
¾ lb (340 g) chicken breast, thinly sliced
6-8 oz (170-230 g) Thai eggplant
6-8 oz (170-230 g) baby eggplant
1 small onion, thinly sliced
2 kaffir lime leaves
2-4 tablespoons Thai green curry paste
1 tablespoon fish sauce
1½ teaspoons coconut palm sugar
Up to 3 Thai (bird's eye) chilies, thinly sliced (see Note)
A few leaves of Thai basil
Instructions
Add the coconut milk, chicken, eggplants, onion, lime leaves, curry paste, fish sauce, and coconut palm sugar to a medium saucepan over medium heat.
Bring to a gentle simmer and then cook (uncovered) until the eggplant is tender and the chicken is fully cooked, about 15 minutes, stirring occasionally. (Adjust the heat so that it doesn't come to a full boil.)
Turn off the heat and add the chilies (if using) and basil.
Taste and add additional fish sauce or coconut palm sugar to taste; serve.
Notes
Recipe adapted slightly from
Thavorn Beach Village & Spa's
recipe.
Thai (Bird's Eye) Chilies:
If you typically like things "mild" omit the chilies because the curry paste adds heat to the dish too. If you like things "medium" work up from 1 chili, and if you like things "hot" go with 2 or 3 chilies. Note that you can always add more chilies to make it spicier, but once you've added them, it's a lot harder to make the dish not so spicy.
Serving Suggestions:
You can serve this curry along with steamed jasmine rice if you like; I prefer to eat it as-is like soup.