Warm Kale Salad Recipe with Roasted Potatoes and Warm Bacon Dressing is a hearty lunch, or a great side dish for just about anything.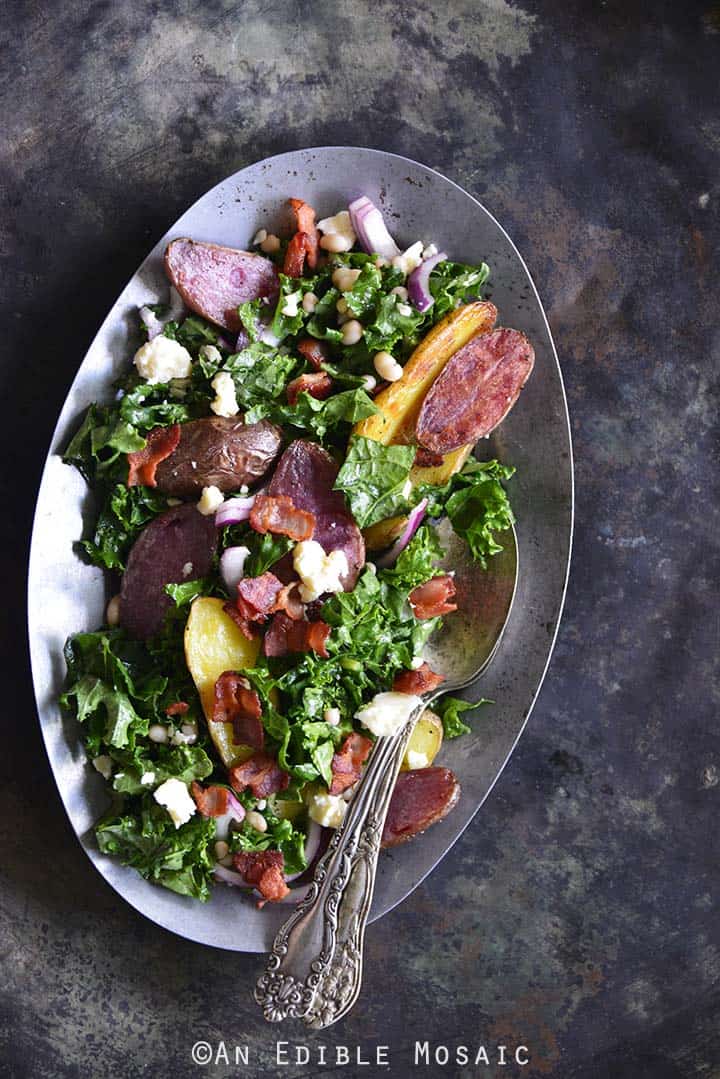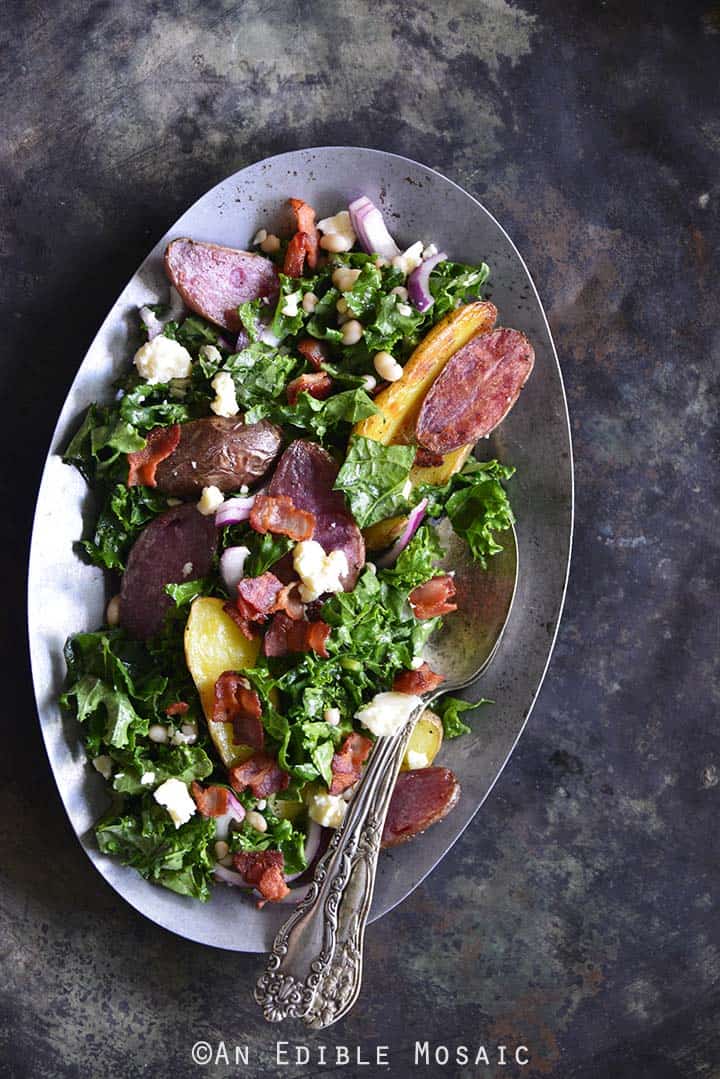 I love kale so much I could eat it every single day in about a thousand different ways.
I put kale in everything from soups to casseroles to baked eggs and of course salads galore (my favorite of which is this beauty, but that has been known to change so don't quote me on that). I'm always sneaking it into something.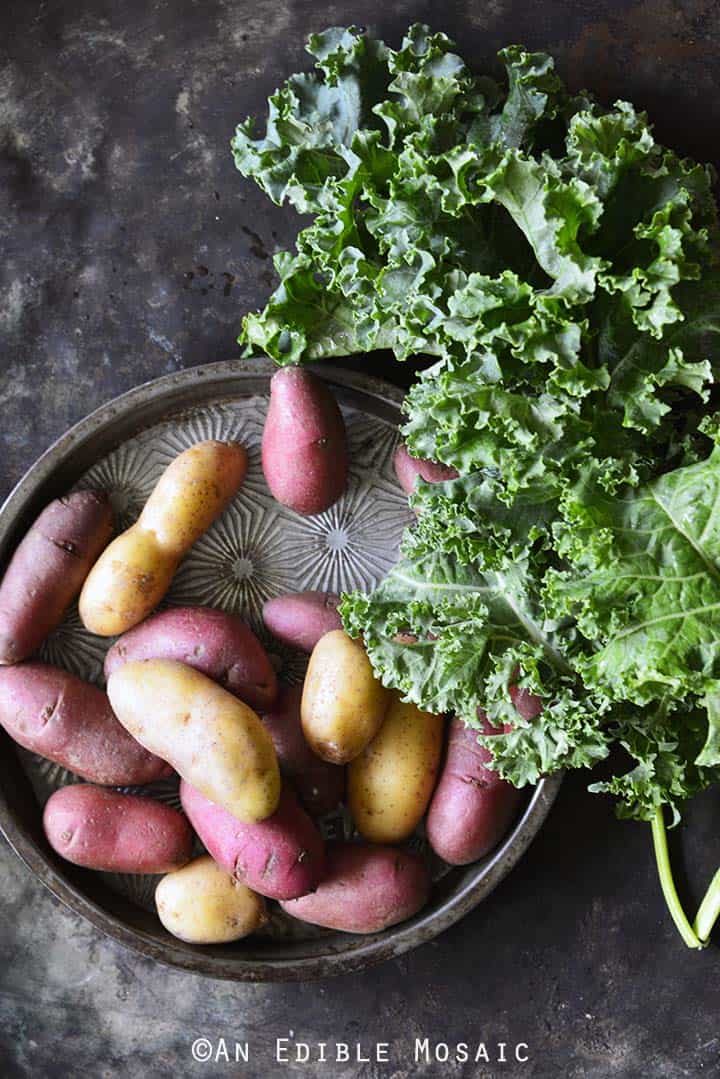 Warm Kale Salad with Roasted Potatoes
For this salad, I leave the kale raw, and toss it with a warm bacon dressing to gently warm the kale. If you prefer to cook the kale, you can sauté it or steam it before tossing it with the warm bacon dressing.
I like to toss the warm bacon dressing with kale while the dressing is still hot, so the kale gets ever-so-slightly wilted. Served with still warm roasted fingerlings, crispy beef bacon, and creamy cheese crumbles, this salad is a work of art.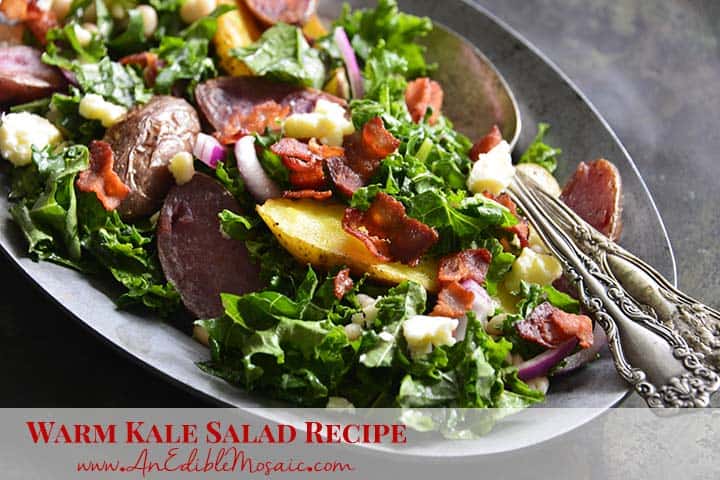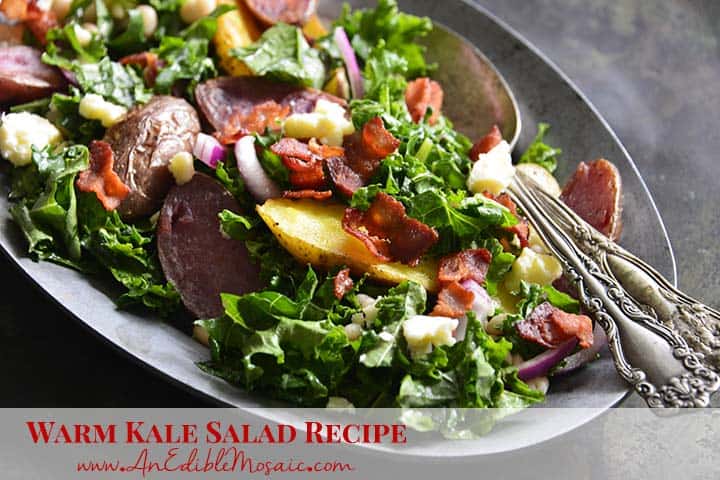 How Do You Soften Kale Leaves?
Toss raw kale with lemon juice and salt to help it soften. Tossing the kale with the warm bacon dressing for this salad also helps soften the kale.
Warm Bacon Dressing
The delicious warm bacon vinaigrette makes this salad! I use hot beef bacon drippings, apple cider vinegar, honey, and a touch of Dijon.
The drippings from beef bacon make it a very flavorful salad dressing.
Roasted Fingerling Potatoes in Warm Kale Salad
Potatoes in general and fingerling potatoes in particular are one of the many stellar additions to a kale salad. If you're not familiar with fingerling potatoes, they are about the size of a finger and sometimes have a knobby or lumpy shape.
Their skin is delicate (no need to peel them), and they hold up well to roasting. Because of their unique shape, I prefer not to cube them. Instead, I leave them whole or just slice them in half lengthwise if they're somewhat large.
Not only are they easy and convenient to prepare, but they are a blank canvas in terms of possibilities, and they are gorgeous in salads!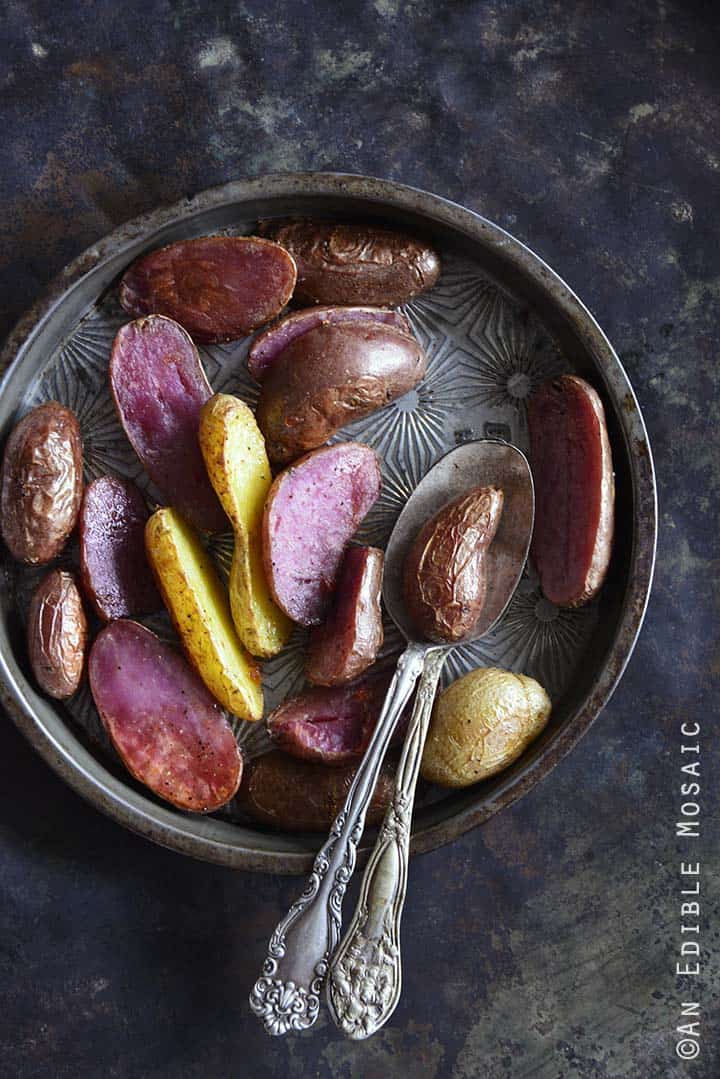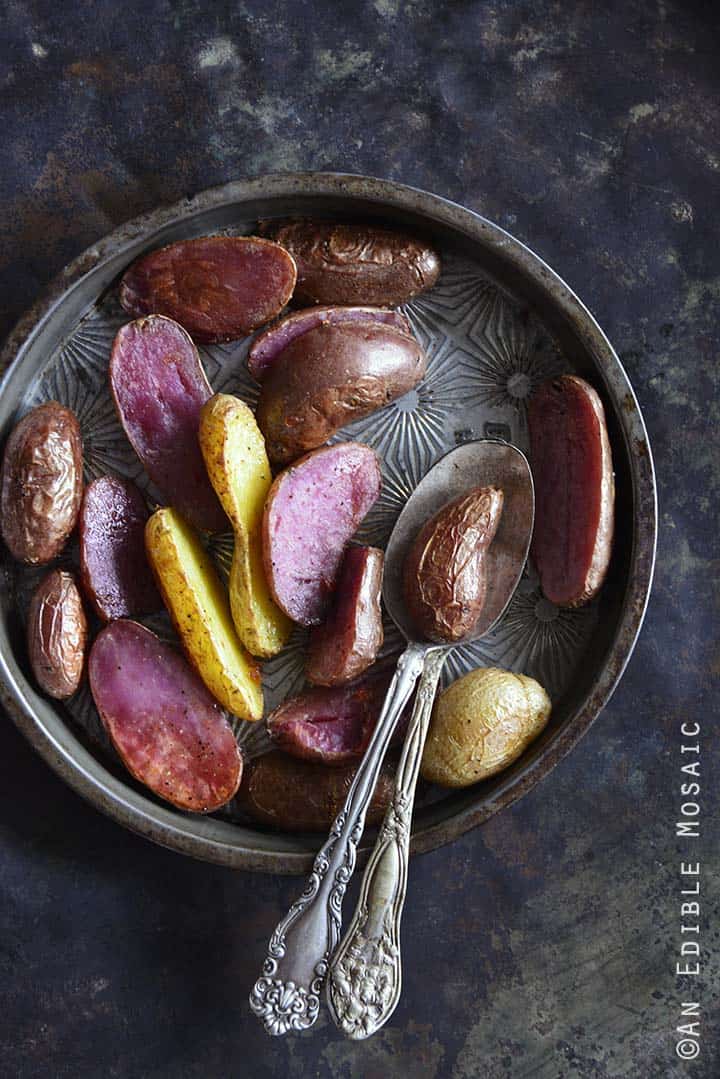 Hearty Kale Salad
I like using potatoes in the colder fall and winter months when I want a heartier meal. Roasted fingerlings boost the nutrition in this recipe, and also add subtle nutty flavor.
White beans and a bit of bacon and cheese bump up the protein content, making this salad filling enough to work as a stand-alone meal.
Of course this Warm Kale Salad Recipe with Roasted Potatoes and Warm Bacon Dressing is also lovely as a side dish paired with chicken or steak.
More Kale Salad Recipes: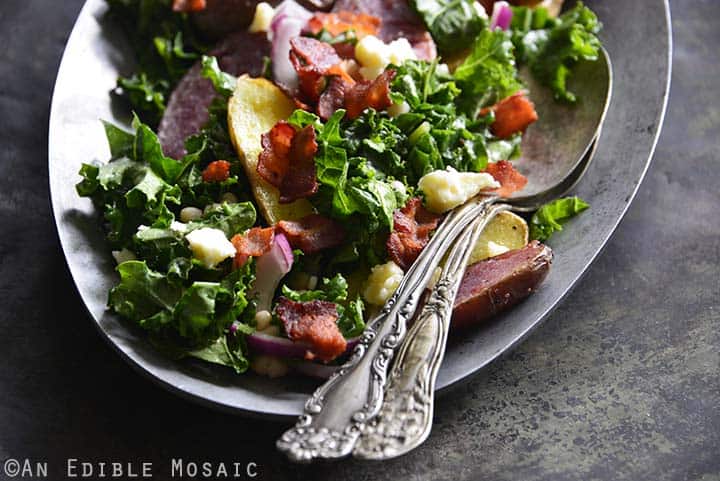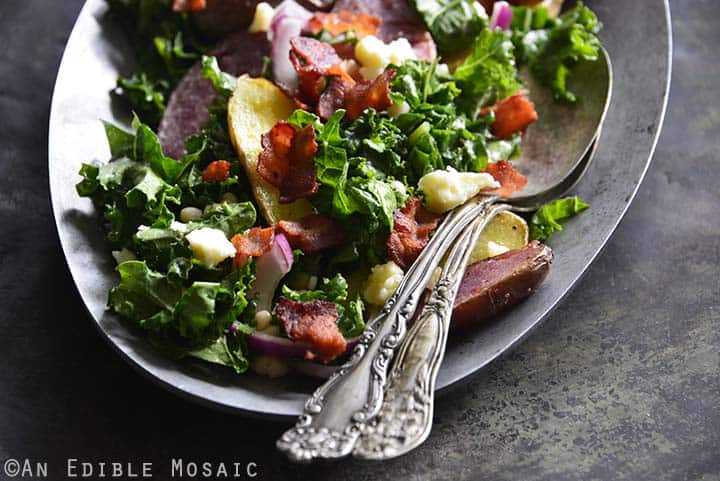 Did you make this recipe? Please rate it and leave a comment below because I love hearing from you! You can also tag @anediblemosaic on social media. To stay up-to-date FOLLOW ME on Instagram, Twitter, and Facebook. Xoxo, Faith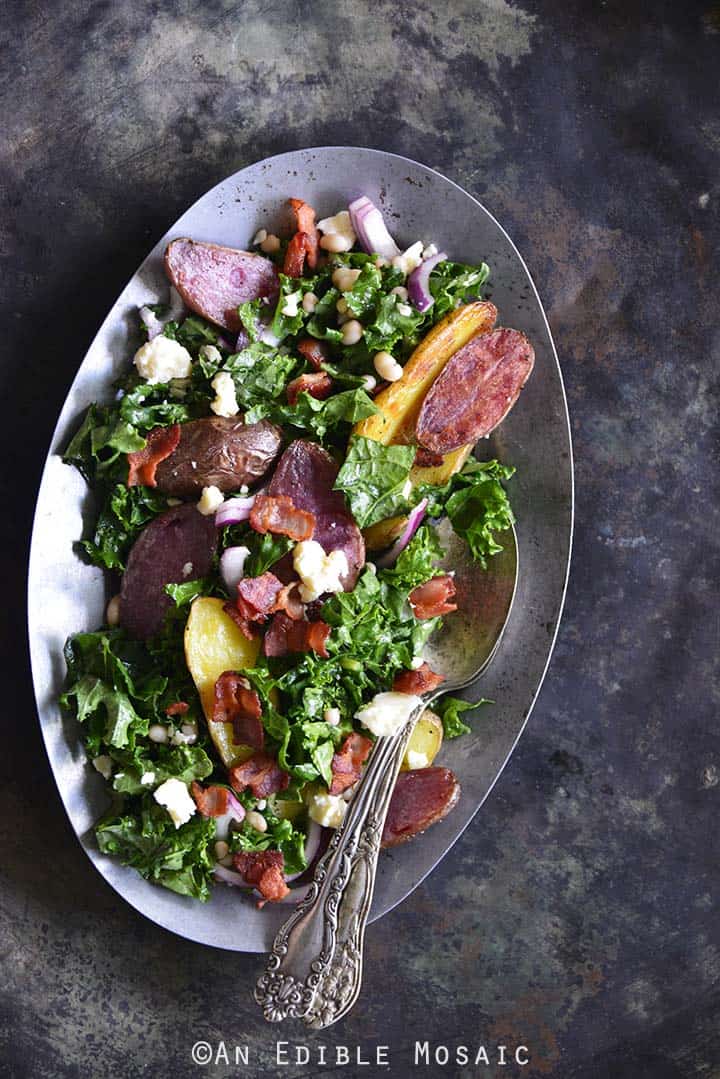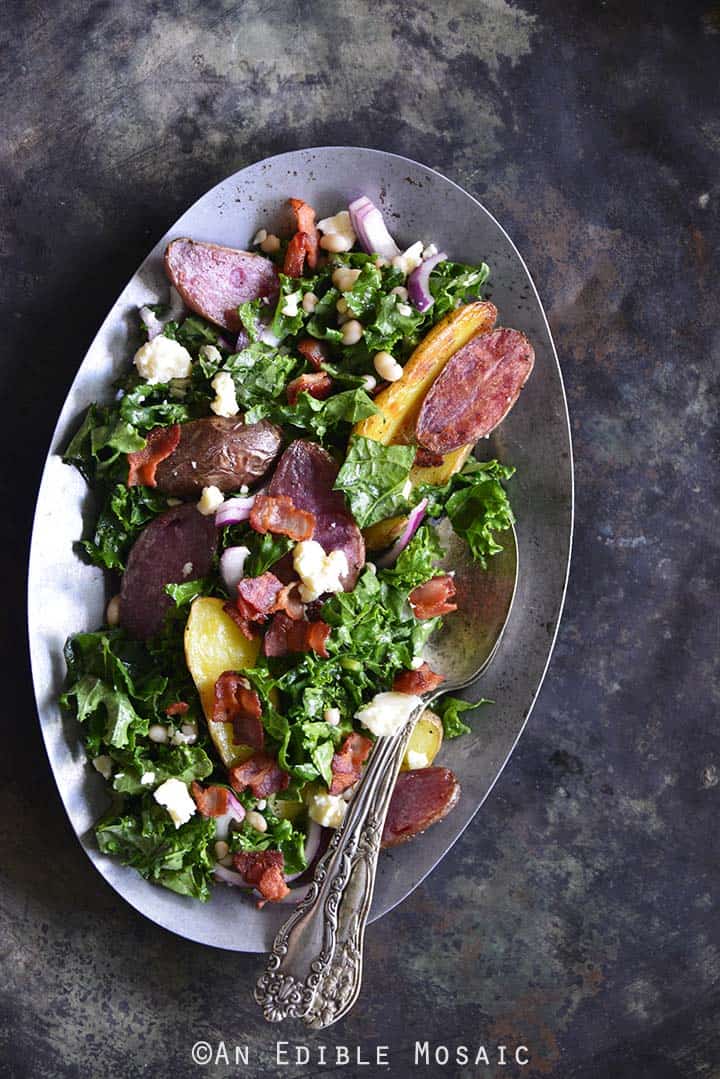 Warm Kale Salad with Roasted Potatoes and Warm Bacon Dressing
Warm Kale Salad Recipe with Roasted Potatoes and Warm Bacon Dressing is a hearty lunch, or a great side dish for just about anything.
Instructions
Potatoes:
Preheat the oven to 425F. Toss the potatoes, oil, and black pepper together and spread out on a large baking tray. Roast until the potatoes are tender inside and starting to crisp outside, about 30 minutes, tossing once halfway through.
Salad:
Meanwhile, add the bacon to a medium-large skillet over medium-high heat and cook until crispy, about 5 minutes, stirring occasionally.

While the bacon cooks, toss together the kale, red onion, lemon juice, and salt in a large bowl and let it sit.

When the bacon is crispy, use a slotted spoon to transfer it to a bowl. There should be about 2 to 3 tablespoons of bacon drippings in the skillet (if there is more than that, discard the extra); to the drippings, add the vinegar, honey, Dijon, and black pepper. Turn the heat down to low and whisk until combined; remove from heat.

While the dressing is still hot, carefully pour it onto the kale mixture and toss to combine. Toss in the white beans.

Pour the kale mixture onto a serving platter. Top with the roasted potatoes, crisped bacon, and crumbled cheese. Serve.
Faith's Tips
Stella Fontinella Cheese: If you can't find this, you can use crumbled Asiago, feta, or goat cheese.
To use turkey bacon instead of beef, just add a splash of avocado oil or olive oil when you cook it.
Nutrition
Nutrition Facts
Warm Kale Salad with Roasted Potatoes and Warm Bacon Dressing
Amount Per Serving
Calories 268
Calories from Fat 63
% Daily Value*
Fat 7g11%
Cholesterol 8mg3%
Sodium 337mg15%
Potassium 899mg26%
Carbohydrates 41g14%
Protein 12g24%
Vitamin A 986IU20%
Vitamin C 36mg44%
Calcium 140mg14%
Iron 3mg17%
* Percent Daily Values are based on a 2000 calorie diet.
Disclosure: This post contains Amazon affiliate links to products I believe in, which means that even though it doesn't cost you anything extra, I will receive a small amount of money from the sale of these items. Thank you for helping to support An Edible Mosaic!