This Creamy Chicken and Kale Enchiladas with Salsa Verde recipe boasts added nutrition from kale in a creamy, piquant sauce.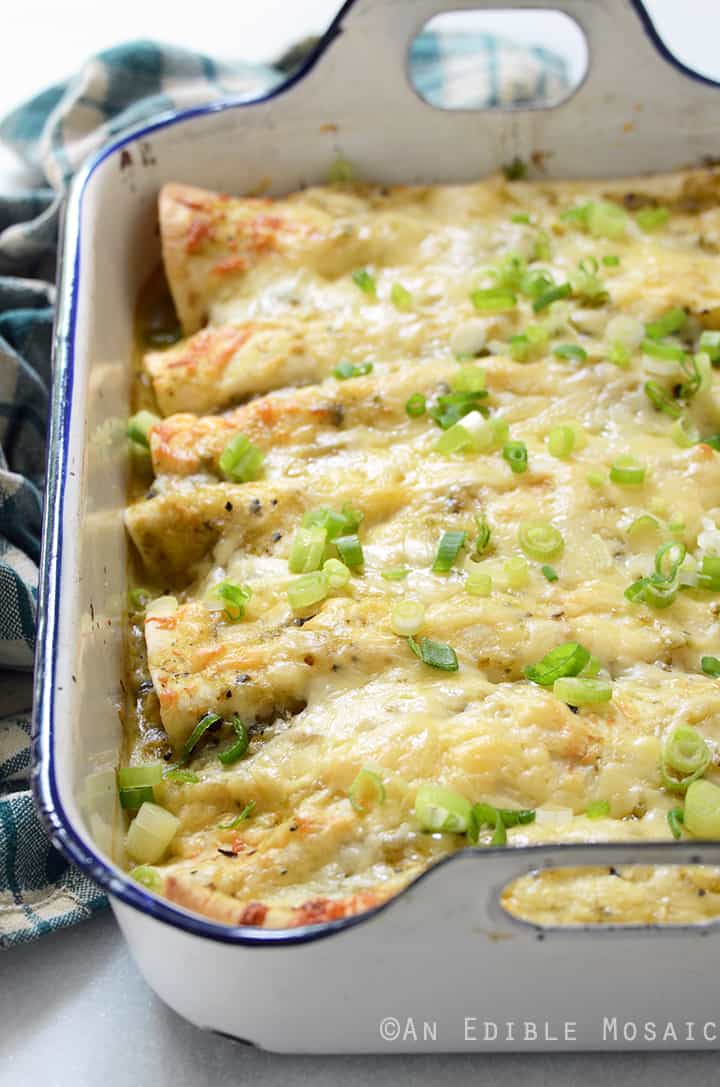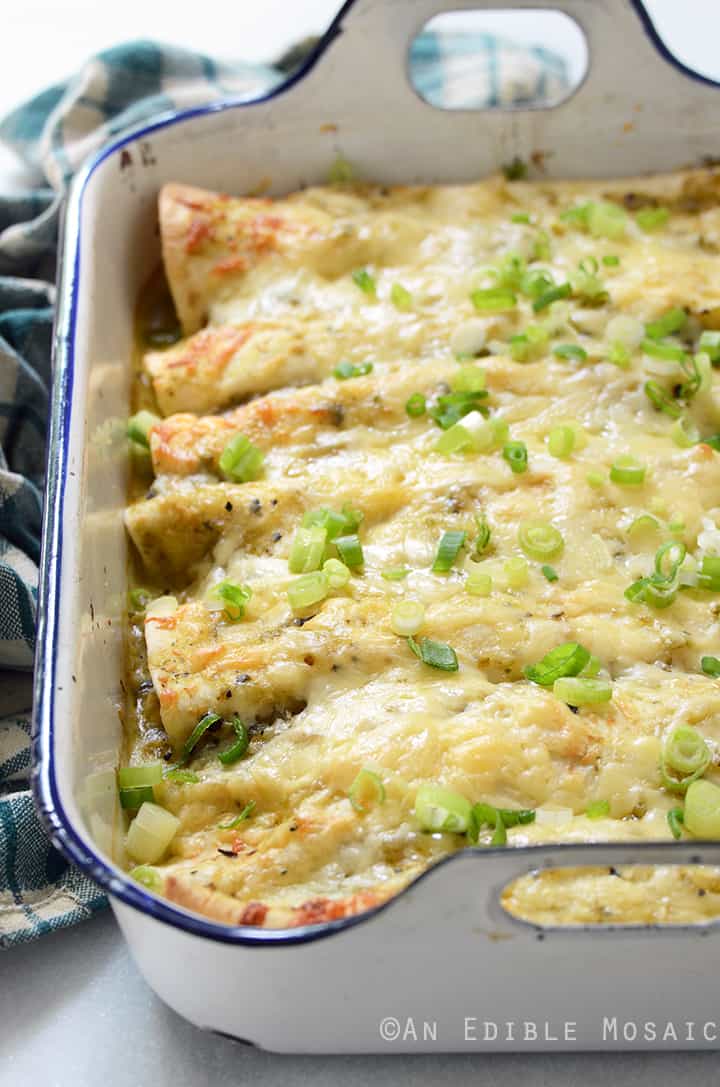 So, kale. That humble leafy green that leaves so many other veggies green with envy.
Kale is wildly popular these days because of its numerous health benefits (and also here and here, if you're interested), plus the fact that it's pretty darn delicious. Suddenly, kale is like the little black dress of the veggie world…everyone's eating it!
For this month's installment of my series A Happier Healthier You 2015, I'm super excited to be featuring kale goddess Jennifer Iserloh. She blogs at Skinny Chef where she shares her healthy, beautiful recipes and lifestyle tips. Jen is truly an all-around wellness guru; she also offers a revitalizing gentle cleanse and a free 7-day smoothie lab.
Here's Jen…isn't she gorgeous?
Jen co-authored Fifty Shades of Kale with Drew Ramsey, M.D., which I've turned to more than once when I'm looking for kale inspiration (the Lacchiato is sooooo good!). And National Kale Day is October 7! Their mission, from the National Kale Day website…
National Kale Day celebrates kale's incredible health benefits, highlight's kale's culinary versatility, and promotes eating, growing, and sharing kale throughout America.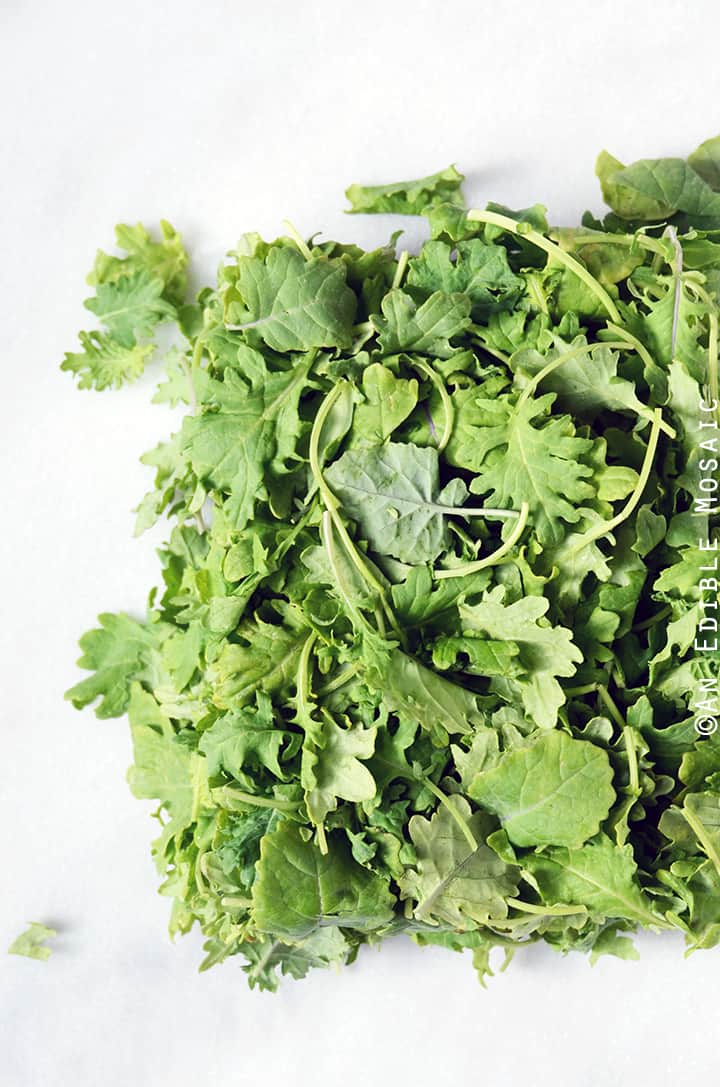 Why kale?, you ask. Their answer:
Kale is not only a superfood, it is a superhero when it comes to health. Kale is the queen of the cruciferous vegetable family (which also includes broccoli, Brussels sprouts, and bok choy), which means you get plant-based power in your diet that goes well beyond just standard vitamins and minerals. Kale is packed with special phytonutrient molecules, making it a power plan that can fight obesity, diabetes, and heart disease.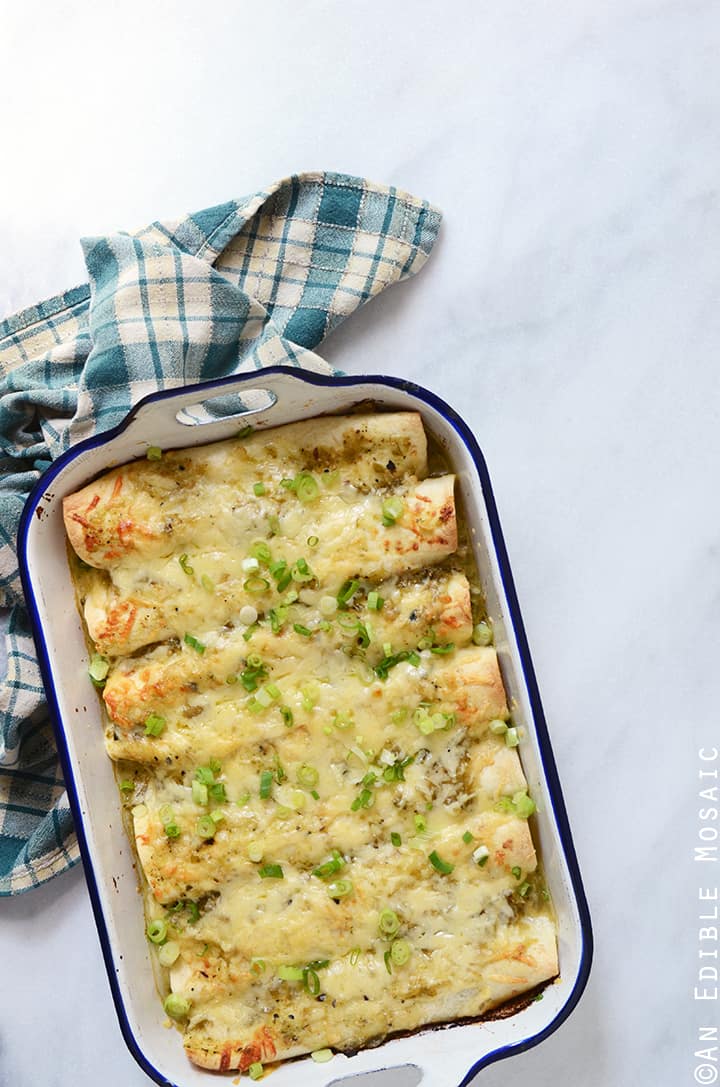 I had the opportunity to meet Jen last year on my trip to Earthbound Farm, I can say from personal experience that she is knowledgeable, sweet, funny, and basically just a pleasure to be around. She was kind enough to answer a few questions for us…
1. What is your eating philosophy?
I follow a plant-based diet, which means the majority (portion-wise) of what I eat are plants. Otherwise, I'm an omnivore. That being said, I eat very few packaged/processed and cook A LOT at home.
2. What are your best tips for remaking our favorite recipes into healthier versions that we can feel comfortable eating every day instead of saving for special occasions?
I love to throw hot dishes like beef stew, grilled fish, and any other protein over a bed of fresh greens to get more nutrition and also have a nice cold/hot contrast.
3. What does a typical day of eating and exercise look like for you?
I cook breakfast/lunch/dinner at home since I work from home. The downside is that I'm in my house all the time (haha!). I work usually from 9am-7pm, and then try to work out at least one hour daily since my home is my office to fend off the cabin fever that I get even in the summer. Otherwise my job is AWESOME and I have two adorable bulldogs to keep me company.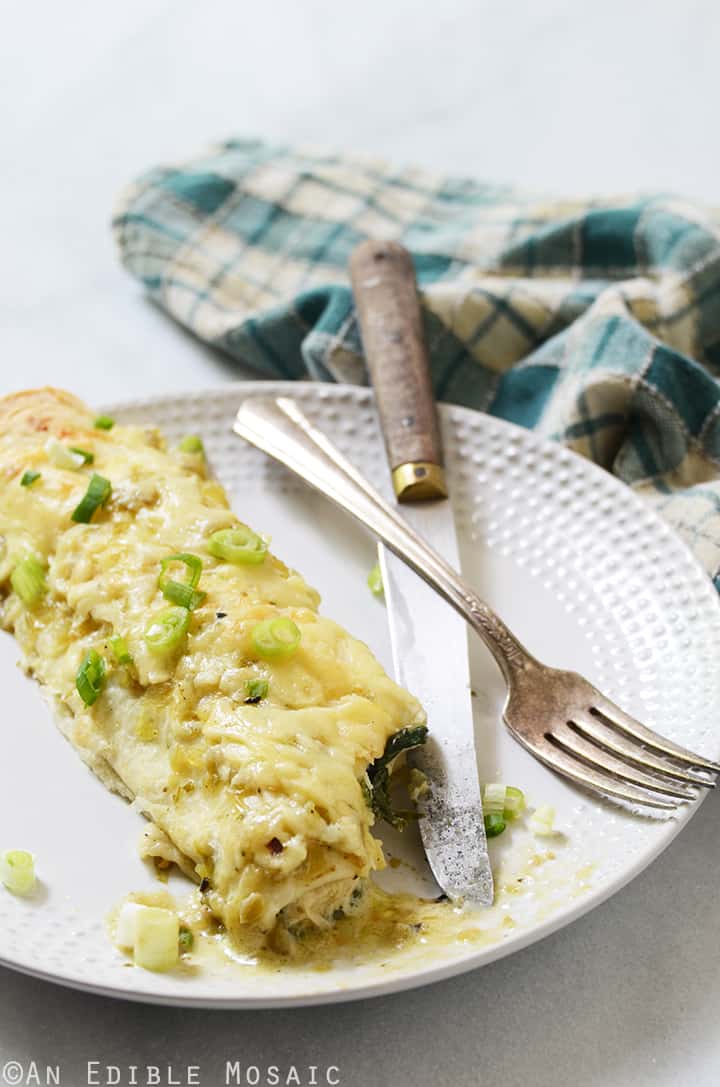 4. Tell us about Fifty Shades of Kale! How did you and Dr. Drew Ramsey come up with the idea for the book? 
Drew came up with the idea, proclaiming that he thought kale was sexy and we should write a book about it. We laughed about it and then both realized that it was a brilliant idea! My favorite thing about the book was the way we shot the images, we styled them at Drew's family farm (so it truly was a farm-to-table experience), and the photographer Ian McSpadden (Drew's family friend) is a farmer and bee keeper as well as an amazing photographer. We had an amazing team.
5. Tell us about your 7-Day Smoothie Lab! What does it entail and what can we expect on it?
I teach people how to make smoothie more nutritionally balanced and more filling. It's a free lab that anyone can grab complete with recipes and video tutorial.
6. You have had some pretty fabulous celebrity run-ins and career moments. What can you share with us?
I used to work some really amazing chefs in Manhattan, and then went on to work for celebs in NYC. My first private chef job was with the uber talented Annie Leibovitz and then onto working with the Seinfeld's a few years later. They were exciting and memorable times, and I feel very fortunate to have had those opportunities.
Here I'm sharing my version of a recipe from Fifty Shades of Kale. Their Chicken Enchiladas sounded pretty tasty and I loved the bumped up nutrition from adding kale. I put my own twists on the recipe, omitting the tomatoes in their dish, and instead whipping up a creamy sauce featuring cream cheese and salsa verde.
I love Mexican and Tex-Mex recipes, so this dish was a real winner for me. It's a great use for rotisserie chicken, which helps it come together pretty quick. The creamy sauce is a nice contrast to the spicy heat of the salsa, and of course there's plenty of melty cheese on top. Kale adds nutrition, as well as gorgeous color and flavor.
Creamy Chicken and Kale Enchiladas with Salsa Verde
Prep time:
Cook time:
Total time:
This Creamy Chicken and Kale Enchiladas with Salsa Verde recipe boasts added nutrition from kale in a creamy, piquant sauce.
Ingredients
2 tablespoons olive oil, plus more for the dish
1 medium-large onion, chopped
5 oz (142 g) baby kale (I used Earthbound Farm Organic Deep Green Blends Kale)
2 cloves garlic, minced
½ teaspoon dried oregano
½ teaspoon ground cumin
½ teaspoon salt
⅛ teaspoon ground black pepper
4 oz (115 g) cream cheese
¼ cup (60 ml) milk, plus more as needed
1 (16 oz/454 g) jar salsa verde, divided
3 cups (12 oz) cooked, shredded rotisserie chicken (or about 2 large chicken breasts)
4 oz (115 g) sharp white cheddar cheese, shredded and divided
7 to 8 (8-inch) round soft flour tortillas
2 scallions, white and green parts, thinly sliced
Instructions
Preheat the oven to 400F and brush the inside of a 9 by 13-inch casserole dish with olive oil.
Heat 2 tablespoons olive oil in a large skillet over medium heat. Add the onion and cook until softened, about 5 minutes, stirring occasionally. Add the kale, cover the skillet, and cook until wilted, about 1 to 2 minutes. Stir in the garlic and cook 1 minute more, stirring constantly.
Add the oregano, cumin, salt, black pepper, cream cheese, milk, and ½ cup salsa verde. Bring up to a simmer, then add the chicken and simmer 1 to 2 minutes, adding more milk to thin the sauce out if needed. Turn off the heat and stir in ⅓ of the shredded cheddar cheese.
Measure ½ cup salsa verde and reserve it for topping; spread the rest of the salsa verde in the bottom of the oiled dish.
Wrap ½ cup of the chicken filling in a tortilla and place them seam-side-down in the prepared dish (you should get 7 to 8 tortillas). Spoon the reserved ½ cup salsa verde on top, and sprinkle on the reserved shredded cheddar cheese.
Bake uncovered until the enchiladas start to brown and are warm throughout, about 10 to 15 minutes.
Sprinkle the scallion on top and serve warm.
Notes
Recipe inspired by the recipe for Chicken Enchiladas from Fifty Shades of Kale by Drew Ramsey, M.D. and Jennifer Iserloh (Harper Wave; July 2013).

To Make Ahead: Complete Steps 1 through 5; cover the dish and keep refrigerated for up to 2 days before baking. Or you can bake it and reheat the leftovers in a 350F oven until warm.
 : : GIVEAWAY : :
I am excited to be giving away a copy of Fifty Shades of Kale to one lucky winner!
To participate in this giveaway, just leave a comment on this post telling me your favorite recipe with kale.
For extra entries, you can do any of the following (please leave a separate comment for each):
Tell me the most unique thing you've ever made with kale.
Like Skinny Chef on Facebook.
Share this giveaway on any of your social media channels using the hashtag #kaleday2015.
You do not need to have a blog to enter this giveaway. For shipping purposes, this giveaway is only open to residents of the U.S. This giveaway ends on October 12, 2015 at 11:59 PM EST. Once the giveaway ends, the winner will be randomly chosen and notified via email. The winner will have three business days to respond with his or her mailing information, otherwise a new winner will be randomly chosen. Good luck to all!
Disclosure: I received a review copy of this cookbook from the publisher, and they are also providing the cookbook for this giveaway; as always, opinions stated are my own. This post contains Amazon affiliate links to products I believe in, which means that even though it doesn't cost you anything extra, I will receive a small amount of money from the sale of these items, which helps me keep this site alive – thank you for helping to support An Edible Mosaic!