Low-Carb Beef Queso Soup is rich, cheesy, and packed with flavor and nutrition.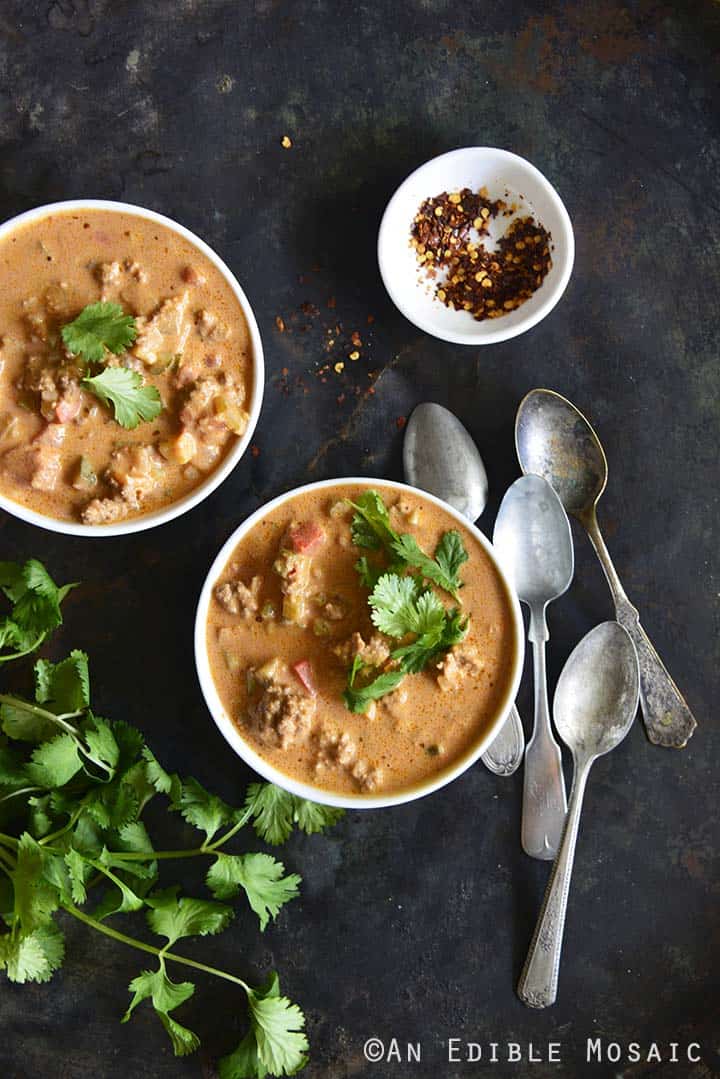 Since I've started eating low-carb more frequently, I've noticed it's the least restrictive way of eating I've ever practiced. The focus turns to quality over quantity and it's not about what you can't eat, but what you can.
Non-starchy vegetables, grass-fed meat and dairy, and healthy fats all satiate in a way that only real food can. And also, I've found that no matter what I'm craving, it's not all that hard to remake it into a keto version of itself.
Take queso, for example. That melty, gooey cheesy goodness that's usually made with things I don't even want to know about (you know that highly processed bright orange concoction they pass off as "cheese"!), let alone put into my body. But you know how darn good it tastes.
I was craving queso and knew it wouldn't be hard to come up with something that's as nutritious as it is tasty, as well as keto-friendly.
This recipe makes a huge pot of soup, which makes it perfect for any type of gathering. It's a crowd-pleaser too; hearty and satisfying man food, but ladies, let's be real, we love queso just as much as any guy. The spice level is low enough that it's kid-friendly too, but you can adjust the heat up if you want.
Because it's somewhat similar to chili, I think this soup would be great to serve for the Super Bowl, and you could even set up a little toppings bar with things like chopped lettuce, cilantro, sliced jalapenos, sour cream, etc.
Make this for your next party and see if anyone guesses it's low-carb!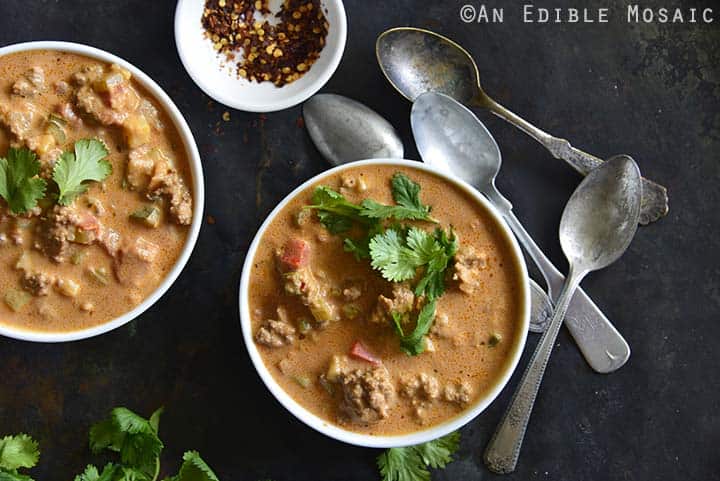 Low-Carb Beef Queso Soup
Prep time:
Cook time:
Total time:
Low-Carb Beef Queso Soup is rich, cheesy, and packed with flavor and nutrition.
Ingredients
2 lbs/907 g grass-fed 85% lean ground beef
3 medium onions, diced
4 large stalks celery, diced
1 lb/450 g zucchini (about 2 medium), diced
1 small red bell pepper, diced
8 large cloves garlic, crushed
3 cups (710 ml) low-sodium beef stock
1 (14.5 oz/411 g) can no-salt-added diced tomatoes
1 (6 oz/170 g) can tomato paste
1 cup (240 ml) heavy cream
4 teaspoons taco spice mix
2 teaspoons Worcestershire sauce
8 oz/227 g cream cheese, at room temperature, cut into cubes
12 oz/340 g shredded cheddar cheese
Salt and black pepper, to taste
Fresh cilantro, for serving (optional)
Instructions
Preheat a large, deep skillet (or a 5-quart pot) over medium-high to high heat. Once hot, add the beef, onion, and celery and cook until the meat is browned, about 10 minutes, stirring occasionally.
Add the zucchini, bell pepper, and garlic, and cook until the vegetables start to soften, about 3 minutes, stirring occasionally.
Add the beef stock, diced tomatoes, tomato paste, cream, taco spice mix, and Worcestershire sauce. Bring to a simmer, and then whisk in the cream cheese a little at a time until fully incorporated. Whisk in the cheddar a handful at a time until fully melted.
Taste and add salt and black pepper as desired. Serve garnished with cilantro if desired.