I just realized that I've shared a recipe with kale once a week for four out of the past five weeks.
I don't know when I turned into such a leafy green pusher.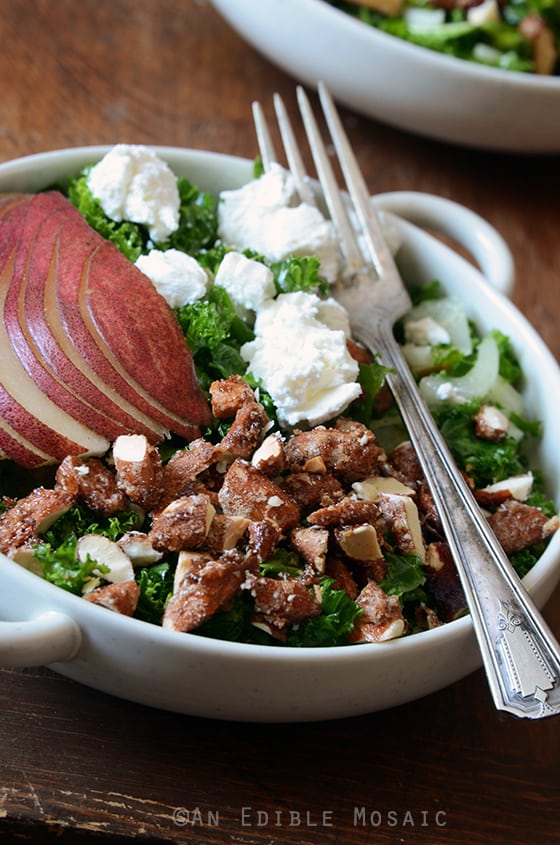 I hope you dig kale as much as I do, but if not you might be so into the other components of this salad that you'll find you really don't mind the kale. (Hey, who doesn't like at least one thing out of the pear, goat cheese, and candied almond trio? And if there's something you don't like, feel free to swap it out with something else.)
This salad is a great combo of sweet/salty/creamy/crunchy. It's full of flavor and perfect as lunch for two or as a dinner side dish for four. It has a very fall/harvest feel to it, so it would be great if you're planning an autumnal dinner party.
On the off chance that you're not sick of kale yet, I want to share one of my absolute favorite kale recipes from a while back: Sautéed Kale with Sausage and White Beans! (Now that's comfort food. ;) )
And if you're saying to yourself right now that you could never be sick of kale, take a look at a few kale recipes on Cooking Light for more inspiration!
Kale Salad with Red Pear and Candied Almonds
Yield:
2 lunch-sized or 4 side dish-sized servings
Ingredients
1½ tablespoons apple cider vinegar
1 tablespoon extra-virgin olive oil
¼ teaspoon salt
⅛ teaspoon black pepper
½ small onion, thinly sliced
4 oz (115 g) kale, de-stemmed, washed, and chopped
1 red pear (I used a red Anjou pear), quartered, cored, and thinly sliced
1½ oz (43 oz) goat cheese, crumbled
6 tablespoons candied almonds (homemade or store-bought), chopped
Instructions
Whisk together the vinegar, oil, salt, and pepper in a large bowl, and then toss in the onion.
Stir in the kale, making sure that it's coated well in the dressing, and let the salad sit for 15 minutes.
Transfer the kale mixture to individual salad bowls; top each with pear, goat cheese, and candied almonds.
Serve.