Full of fresh veggies and packed with different flavors and textures, this Chopped Kale Salad is perfect for meal prep! And it'll have you excited to eat salad.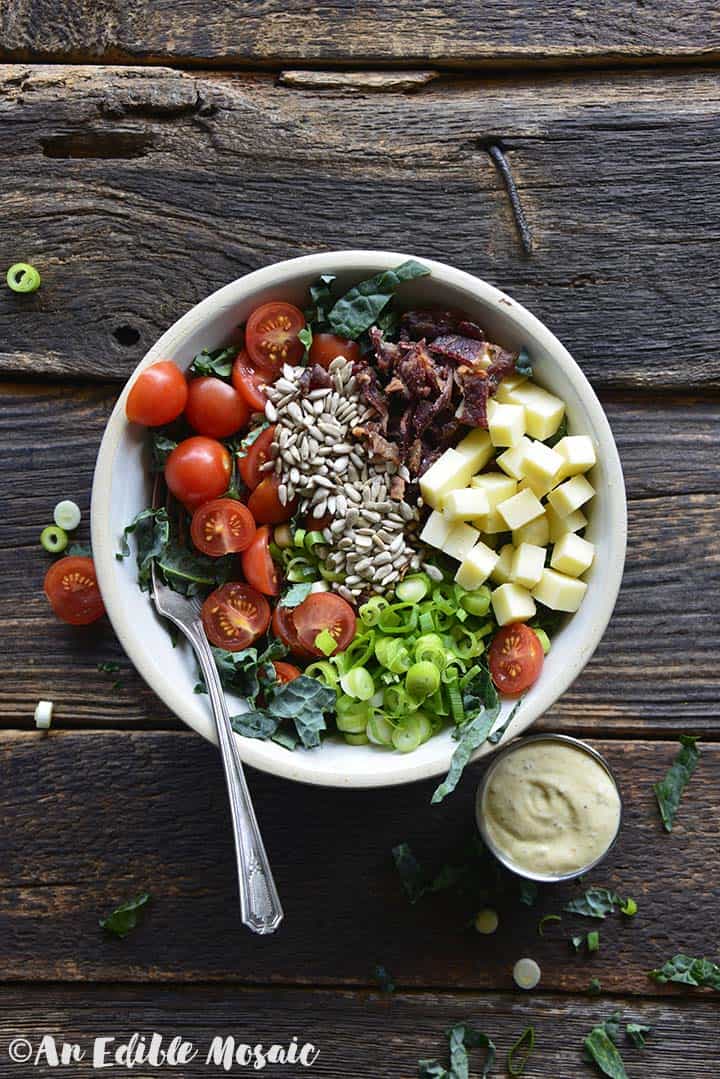 With Labor Day and the unofficial end to summer right around the corner, I've kicked my fresh-veggies-from-the-farmers-market habit into high gear.
This Chopped Kale Salad is basically a combination of whatever fresh produce you find at the market that looks good, all chopped up! With crisped beef bacon and cheese added for protein, along with sunflower seeds for crunch.
I actually get quite a few people who tell me they'd eat more kale if they knew how to wash and chop kale, how to store kale, and what to make with kale! Well friends, I'm going to break it down because there's absolutely no need to be intimidated by kale.
Kale is delicious and and nutrient-dense. It is a good source of vitamins A, K, and C, as well as folate and manganese. (Read more about kale nutrition on Healthline.)
And bonus, it's easy to prepare!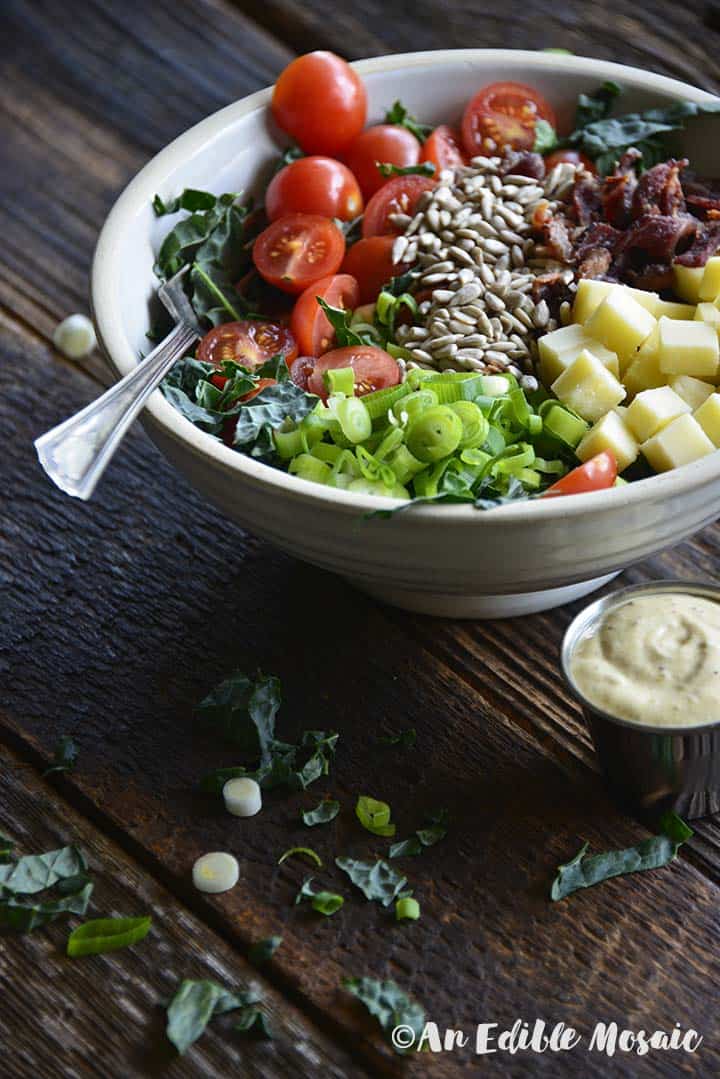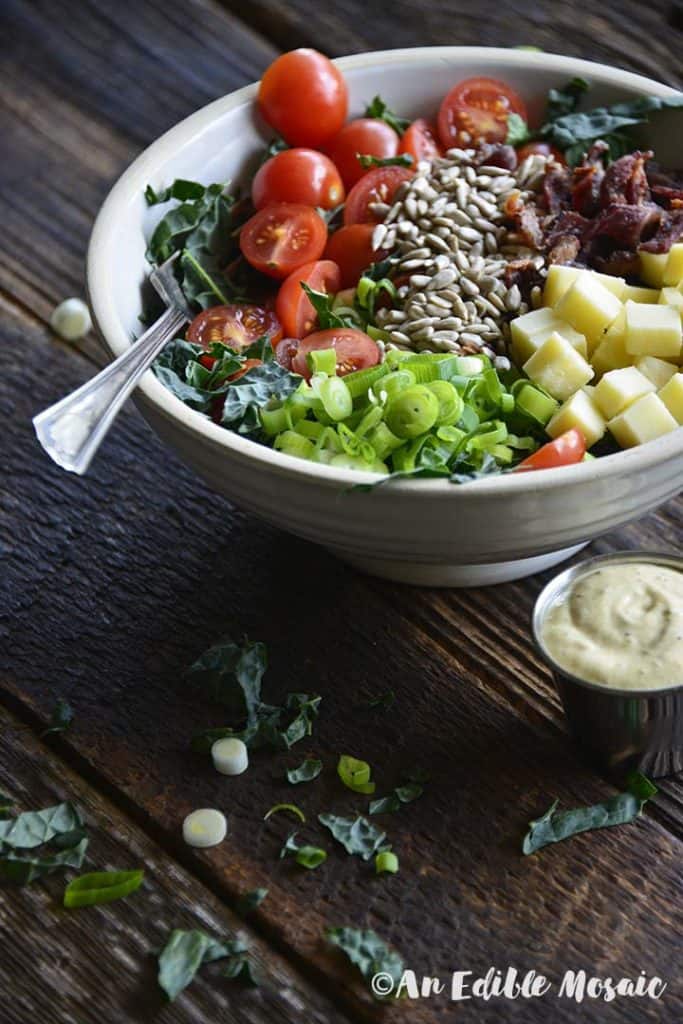 How to Wash Kale
When I buy kale and bring it home, before tossing it in the fridge I loosely wrap the bundle in dry paper towels and then place it in a plastic bag (such as the bag from the produce area in the grocery store or a zip-top plastic bag), but don't seal the plastic bag. I find that kale keeps well stored like that in the fridge for up to 1 week.
Right before using kale, I rinse it under cool running water.
After rinsing the kale, I gently pat it dry with a clean kitchen towel.
Once kale is clean, it's ready to de-stem!
Pro Tip: If kale is particularly sandy or gritty, I'll fill a large bowl with water, plunge in the kale, and gently swish it around to release the grit. Then I will rinse it under cool running water as normal.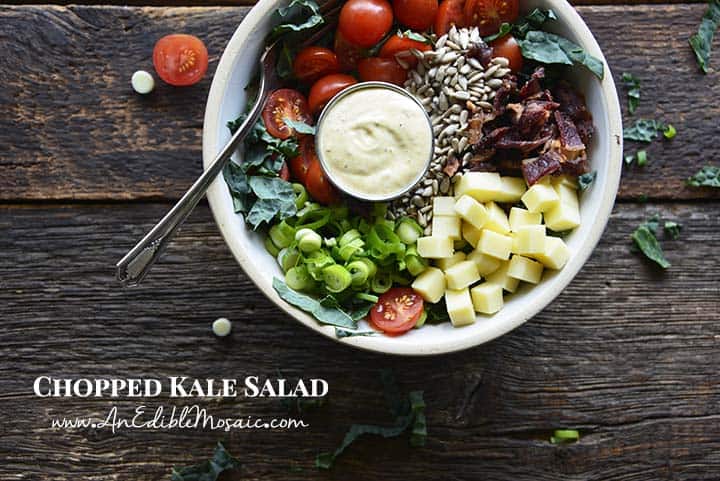 How to De-Stem Kale
Once you get the hang of it, you'll realize that kale is easy to de-stem! Here's how I de-stem kale:
Hold a kale leaf over a large bowl.
Hold the stem with one hand and with your other hand, place your thumb and pointer finger on top of the kale leaf on either side of the stem.
In one swift motion, pull your hand down the length of the leaf, ripping the leaf away from the stem on both sides.
Drop both sides of the leaf into the bowl, and discard the stem (you can use it for juice, to make vegetable stock, or compost it!).
Can You Eat Kale Stems?
Yes, you can eat kale stems! However, even though they are technically edible, they are quite fibrous and tough. When you're making salad, it's best to remove the stems and use them for something else.
But you can learn how to cook kale stems in this article from Bon Appetit, and see what to make with kale stems in this article from The Kitchn.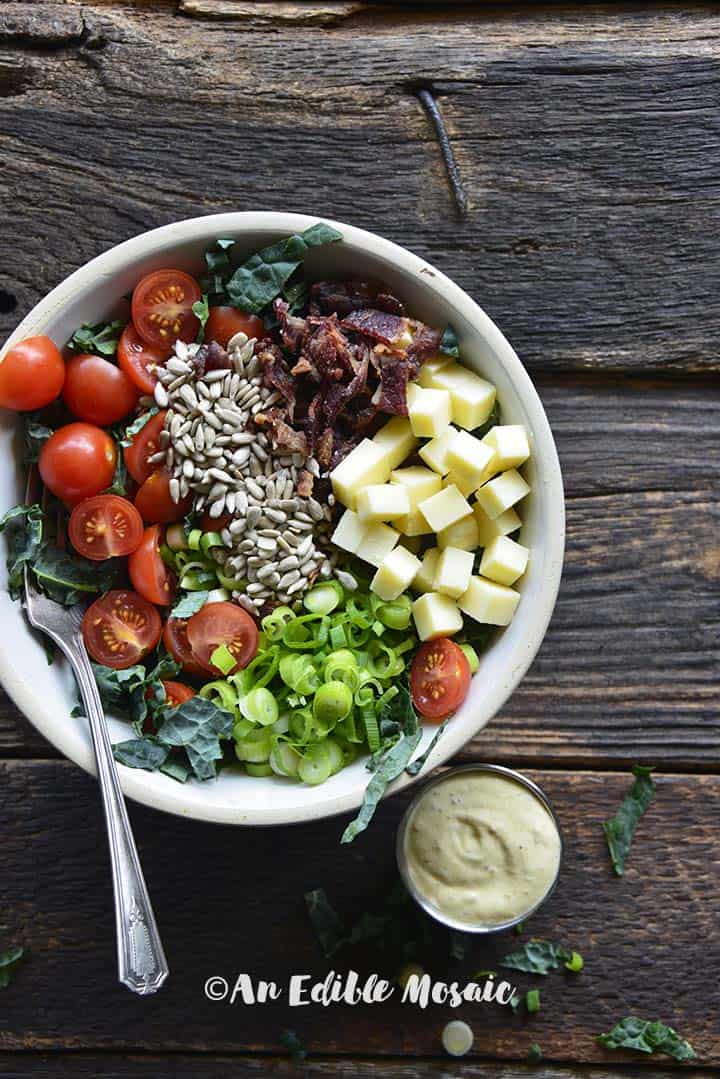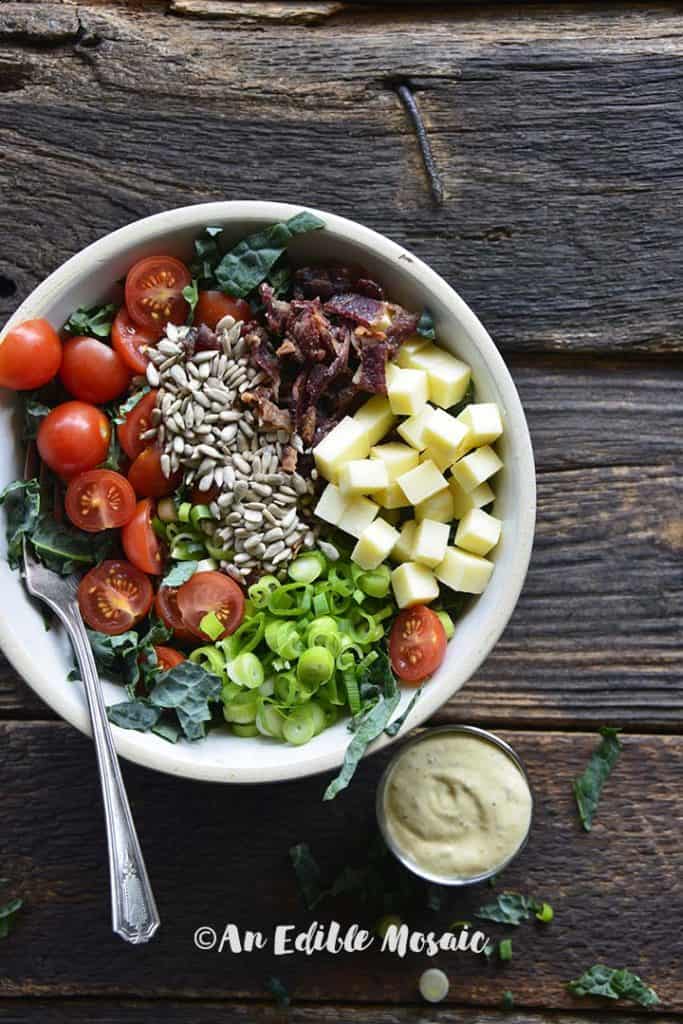 How to Store Kale
I find that kale keeps best when it's loosely wrapped in paper towels and stored in an unsealed plastic bag in the fridge for up to 1 week.
After I de-stem and wash kale, I usually chop it store it in a covered glass container that's lined with paper towels. Stored this way it typically stays good for about an additional 5 to 7 days.
How to Eat Kale
The beauty of kale is how versatile it is! You can treat it like salad greens, or like a sturdier leafy vegetable, such as cabbage. Here are a few of my favorite ways to eat kale: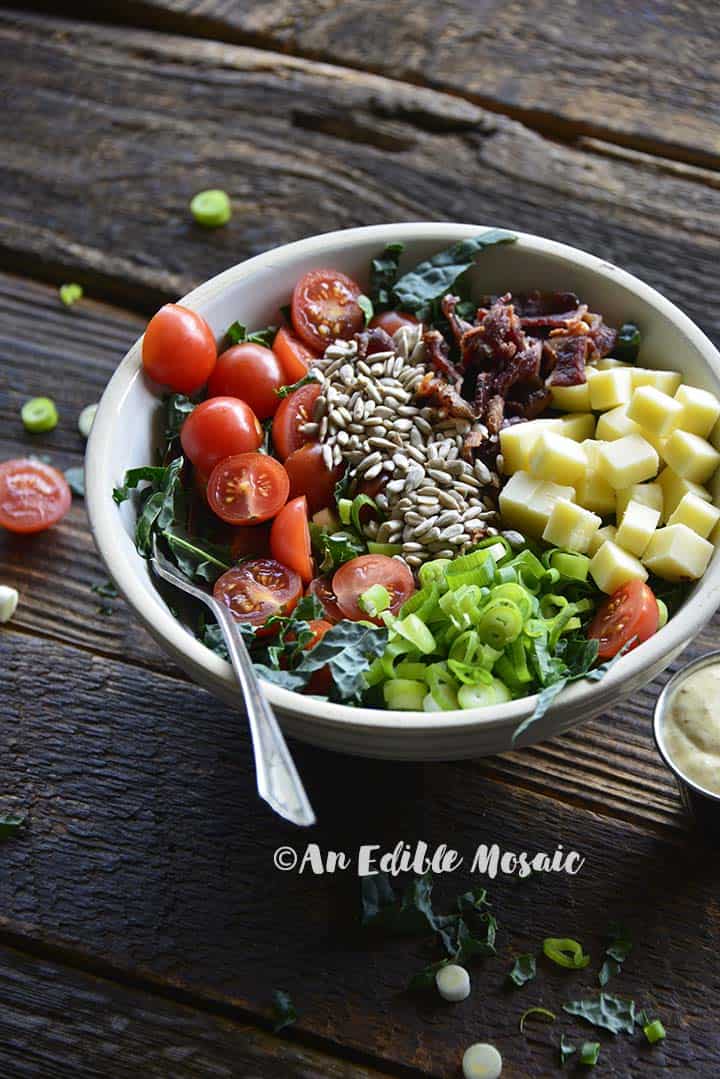 How to Meal Prep This Healthy Chopped Kale Salad Recipe
Store cleaned, de-stemmed, chopped kale in a glass container.
Chop up the cherry tomatoes and scallion and store them in a separate container.
Portion out the crisped bacon, cubed cheddar, and salad dressing and store them in the fridge.
When you're ready to eat your salad, simply toss everything together and enjoy!
More Ways to Get Your Kale Fix:

Did you make this recipe? Please rate it and leave a comment below because I love hearing from you! You can also tag @anediblemosaic on social media. To stay up-to-date FOLLOW ME on Instagram, Twitter, and Facebook. Xoxo, Faith
Chopped Kale Salad
Full of fresh veggies and packed with different flavors and textures, this Chopped Kale Salad is perfect for meal prep! And it'll have you excited to eat salad.
Instructions
Place the kale in the bottom of a bowl and top with the cherry tomatoes, scallion, bacon, cheese, and sunflower seeds.

Serve with the dressing to drizzle on top.
Faith's Tips
Net Carbs: 13g per serving (whole recipe is 1 serving)
Nutrition information for this recipe was calculated without salad dressing.
To meal prep this salad, crisp the bacon 4 to 5 days in advance and keep it in the fridge until assembling this salad.
Make this salad your own! Swap out the kale for any greens you like, and use your favorite kind of dressing. The best kind of salad is one you'll actually eat!
Nutrition
Nutrition Facts
Chopped Kale Salad
Amount Per Serving
Calories 352
Calories from Fat 216
% Daily Value*
Fat 24g37%
Cholesterol 53mg18%
Sodium 637mg28%
Potassium 841mg24%
Carbohydrates 15g5%
Protein 23g46%
Vitamin A 10810IU216%
Vitamin C 139.8mg169%
Calcium 355mg36%
Iron 2.9mg16%
* Percent Daily Values are based on a 2000 calorie diet.
Disclosure: This post contains Amazon affiliate links to products I believe in, which means that even though it doesn't cost you anything extra, I will receive a small amount of money from the sale of these items. Thank you for helping to support An Edible Mosaic!