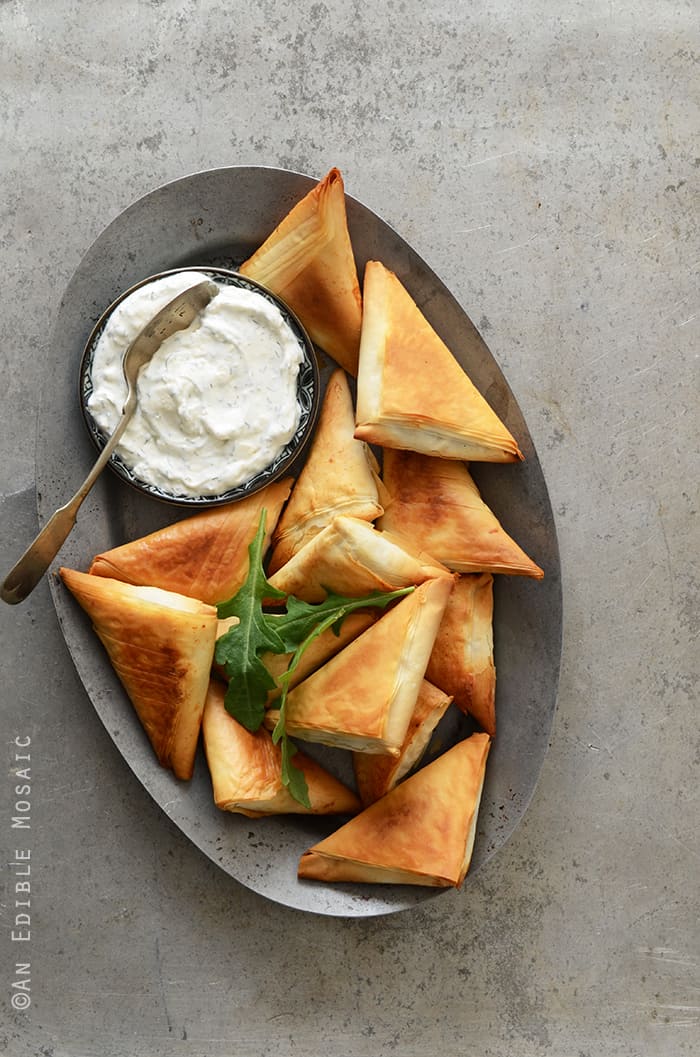 The holidays are over, but that doesn't mean we're done entertaining.
There's always something to celebrate and if there's one thing I think we can all agree on about a party, it's that there should be food. But yeah, maybe food that's a little lighter because the holidays did just end and let's face it, many of us probably need to cut back just a bit on indulgence right now.
We don't have to sacrifice flavor though!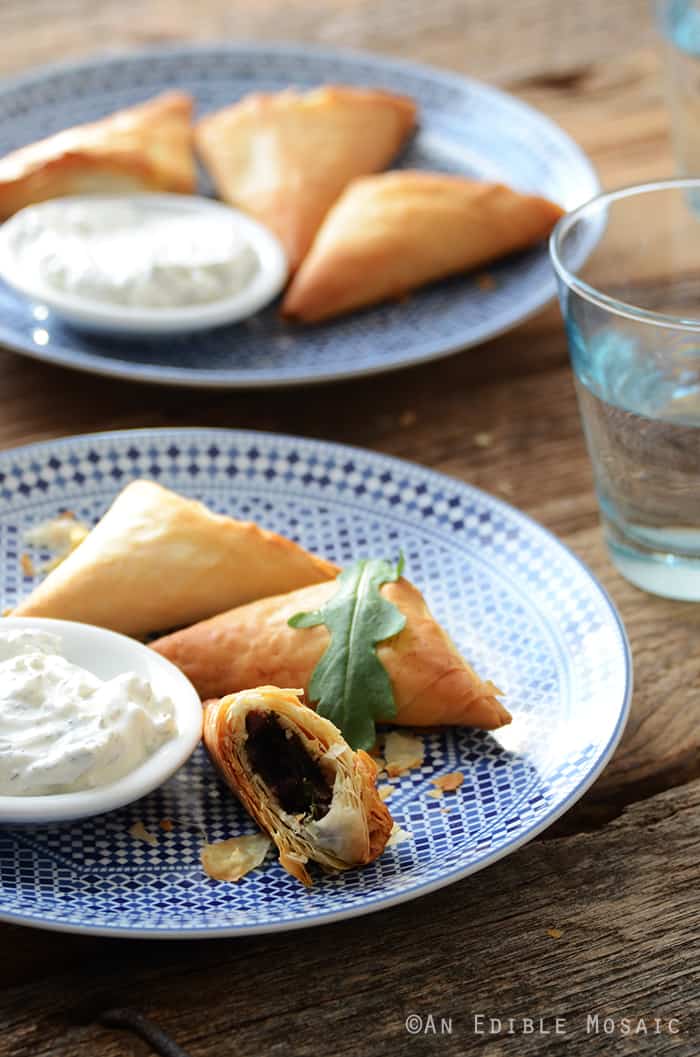 Crispy Baked Kale Phyllo Triangles with 3-Ingredient Feta Yogurt Dip has it all: crispy texture (even though these triangles are baked, not fried), vegetables, and even a dipping sauce (because dipping sauce makes any appetizer more fun). Healthy greens in the form of Earthbound Farm Deep Green Blends Kale Italia amp up the nutrition, and using Greek yogurt as the base for the dip (instead of using all mayo or all sour cream) lightens it up calorie-wise, and also adds protein.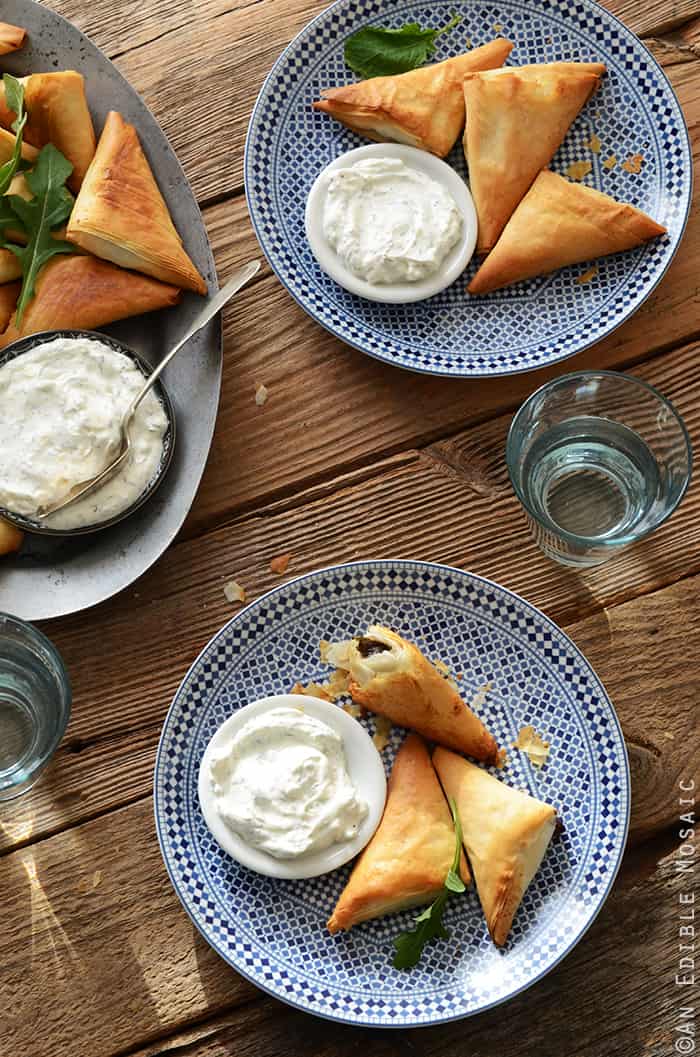 Now about those greens…if you haven't tried Earthbound Farm's Kale Italia blend yet (which they describe as "a zesty mix of baby kale, tangy mizuna and our favorite Italian greens: arugula and radicchio," let me tell you it is pretty fabulous. They weren't kidding; it is, in fact, zesty, with both earthy and peppery notes. Used as a base for salad, I love this blend paired with fruity vinaigrette and toasted nuts.
If you're new to organic food, Earthbound Farm products like their Kale Italia blend make it an easy choice. (I'm hooked on this particular unique blend of greens!) Plus, for me, Earthbound Farm's commitment to quality and farming with integrity seals the deal. (You can read more about Earthbound Farm and check out photos of my trip there in this post.)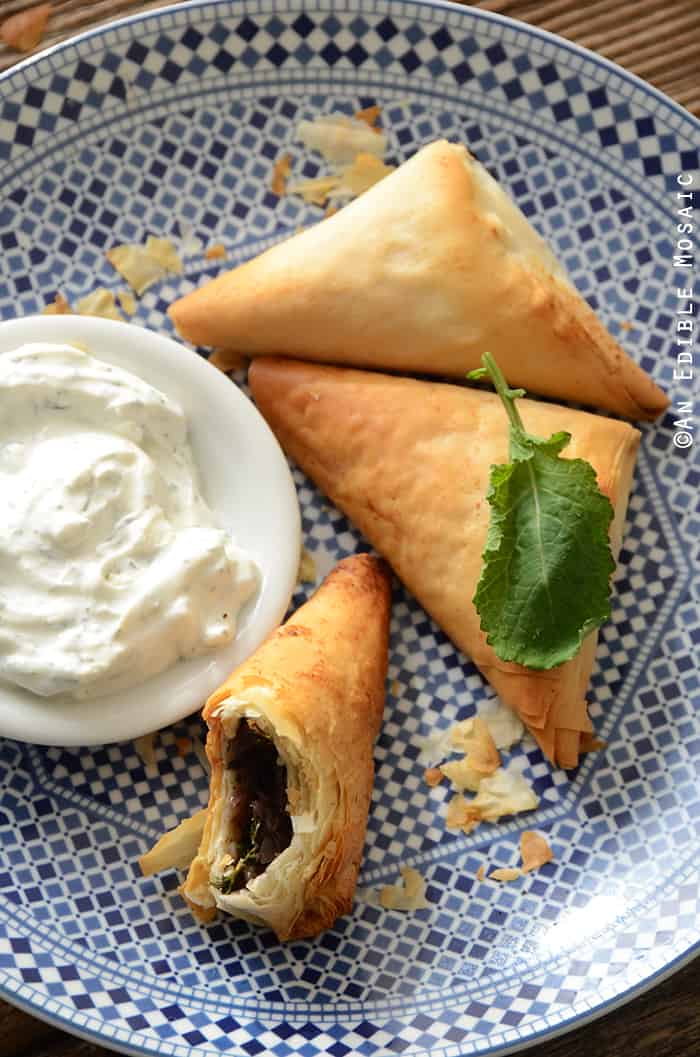 In this recipe, the natural sweetness from onion and the bright flavor of sumac round out the flavor profile nicely. Sumac is another ingredient you might be wondering about; it's a spice commonly used in Middle Eastern recipes such as M'sakhkhan, which is a Palestinian chicken and onion dish (you can take a look at M'sakhkhan in this post). Sumac has a pleasant tartness and brightens up a dish the same way that fresh lemon does.
So, I'm not calling this dish diet food or anything, but it's definitely party food that you can feel good about serving. And with the Superbowl sneaking right up on us, I think it will come in handy!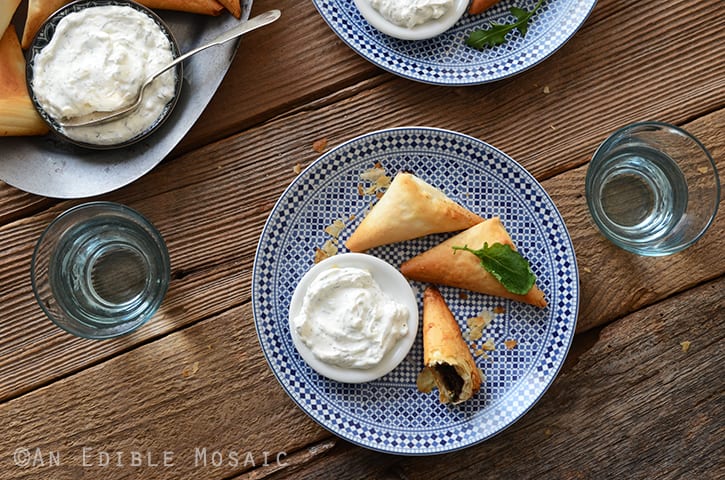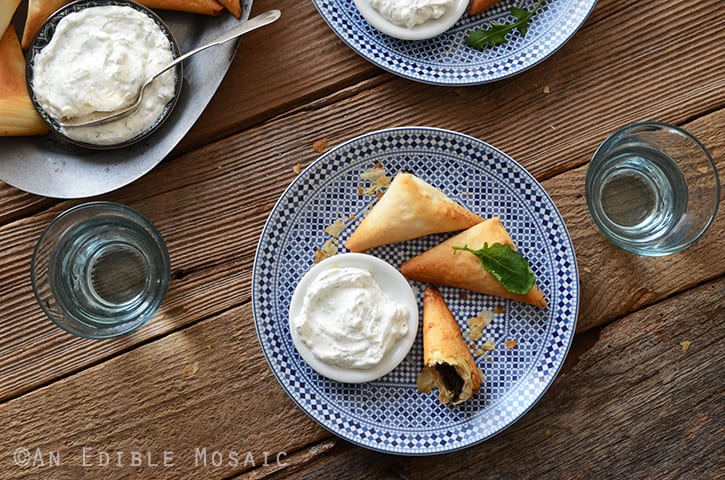 Crispy Baked Kale Phyllo Triangles with 3-Ingredient Feta Yogurt Dip
Prep time:
Cook time:
Total time:
Yield:
20 triangles and about 1 cup of dip
Ingredients
Crispy Baked Kale Phyllo Triangles:
1½ tablespoons olive oil
1 medium onion, finely diced
1 (5 oz) package Earthbound Farm Deep Green Blends Kale Italia
½ teaspoon salt
⅛ teaspoon black pepper
1 teaspoon sumac
½ teaspoon dried dill (or 1½ teaspoons minced fresh dill)
6 large (14 inches by 18 inches) sheets phyllo dough, thawed in the fridge overnight if frozen
5 tablespoons clarified butter (ghee), melted (you may not need it all)
Feta Yogurt Dip:
¾ cup Greek yogurt (or half Greek yogurt and half sour cream)
⅓ cup (55 g) crumbled feta cheese
1 teaspoon dried dill (or 1 tablespoon minced fresh dill)
Instructions
For the phyllo triangles, heat the oil in a large, deep skillet over medium heat. Once the oil is hot, add the onion, kale blend, salt, and black pepper. Cover the skillet and cook until the vegetables are soft and the liquid is evaporated, about 8 to 10 minutes, stirring occasionally. Turn off the heat and stir in the sumac and dill.
Preheat the oven to 400F; line 2 large baking sheets with parchment paper or silpat liners.
Lay 1 sheet of phyllo out on a clean work surface and lightly brush the top with ghee. Place another sheet of phyllo on top and brush with ghee. Place a 3rd sheet of phyllo on top, but don't brush it with ghee. Cut the phyllo into 5 equal strips length-wise, and then cut the 5 long strips in half; you will end up with 10 rectangles, each approximately 2¾-inches wide by 9 inches long. Place about 1½ teaspoons of the vegetable mixture onto the bottom right corner of each phyllo rectangle and fold it over to form a triangle at the end; continue folding it over onto itself, working up the length of the phyllo. (You'll end up with 10 phyllo triangles.)
Repeat Step 3 so that you end up with 20 phyllo triangles.
Arrange the phyllo triangles on the prepared baking sheets and brush with ghee.
Bake until golden, about 15 to 20 minutes.
While the phyllo triangles bake, stir together all ingredients for the dip; refrigerate until serving.
Serve the phyllo triangles warm or at room temperature along with the dip.
Disclosure: I received the Earthbound Farm product that I used in this recipe for free, and I also received compensation for this post. I am happy for the opportunity to share brands that I believe in with my readers, and I hope you enjoy my recipe. As always, opinions stated are my own.