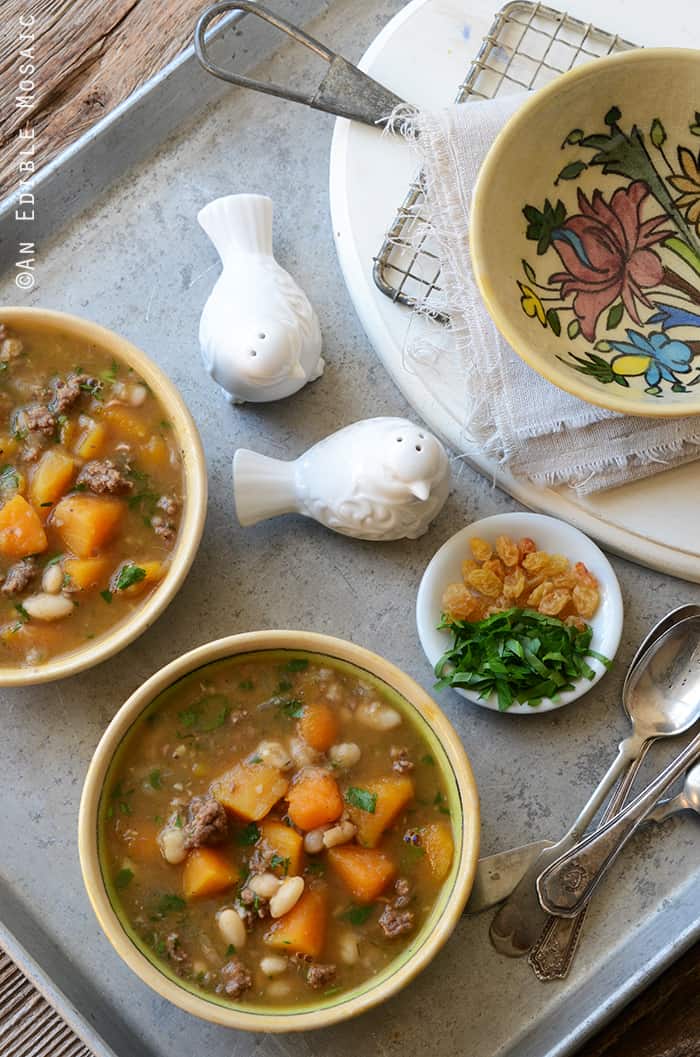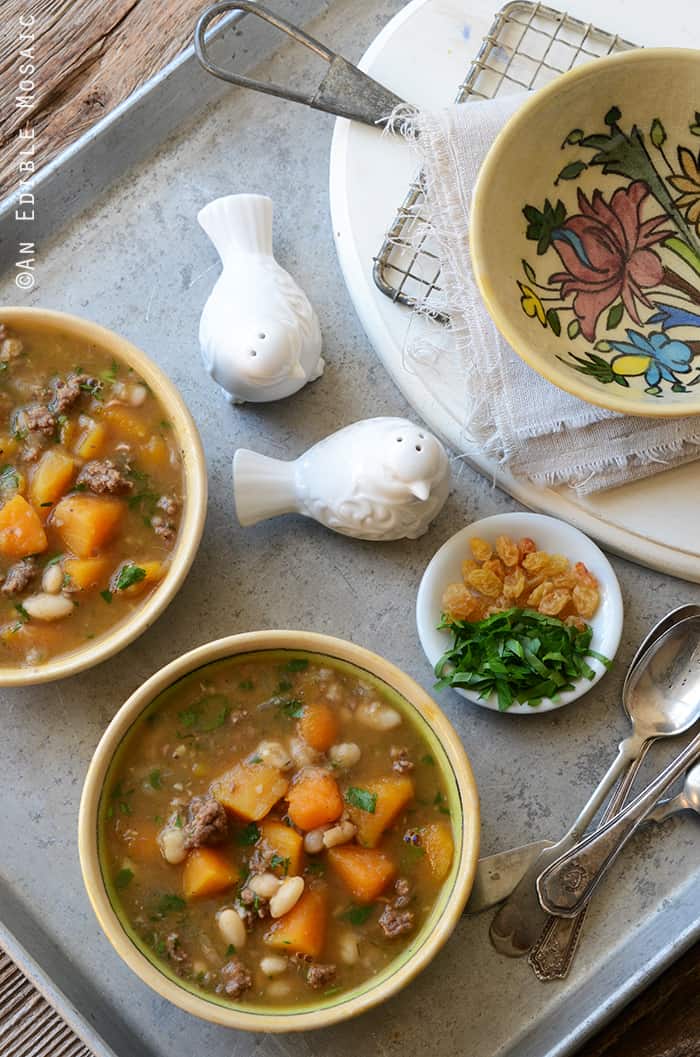 One of the things I miss most about living in Kuwait is the flea markets.
There was one market in particular that stole my heart…
For starters, it was the size of a small city and literally sold anything and everything you could possibly want to purchase.
Carpets, clothes, hats, bags, tables, sofas, fridges, stoves, cleaning supplies. Jewelry, perfume, sunglasses, dishes, silverware, old money (which was the coolest ever; take a look at my photo of the old money here). And tons and tons of vintage food blog prop-type stuff.
I might have the best husband in the world (honey, remind me I said that the next time we argue) because he went there with me almost every weekend when we lived in Kuwait. Each visit was like a treasure hunt because you never knew what would be there, and it was never the same thing twice.
That market is where I found these beautiful bowls.
Their colorful hand-painted design is what immediately caught my eye. The vendor said he had just brought them back from Iran, and knowing I probably wouldn't make it to Iran any time soon, I immediately purchased the three bowls he had left. I was incredibly fortunate that they survived the trip from Kuwait when we moved back to the US (you know how it goes – no matter how well stuff gets packed, inevitably something breaks during a move, especially a move across the world).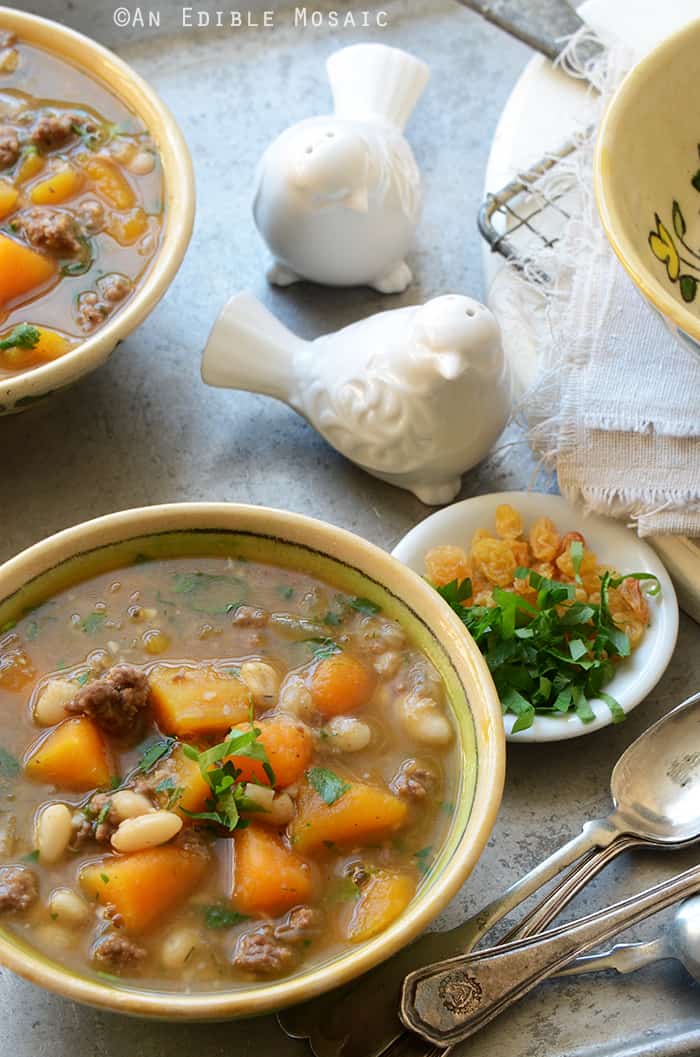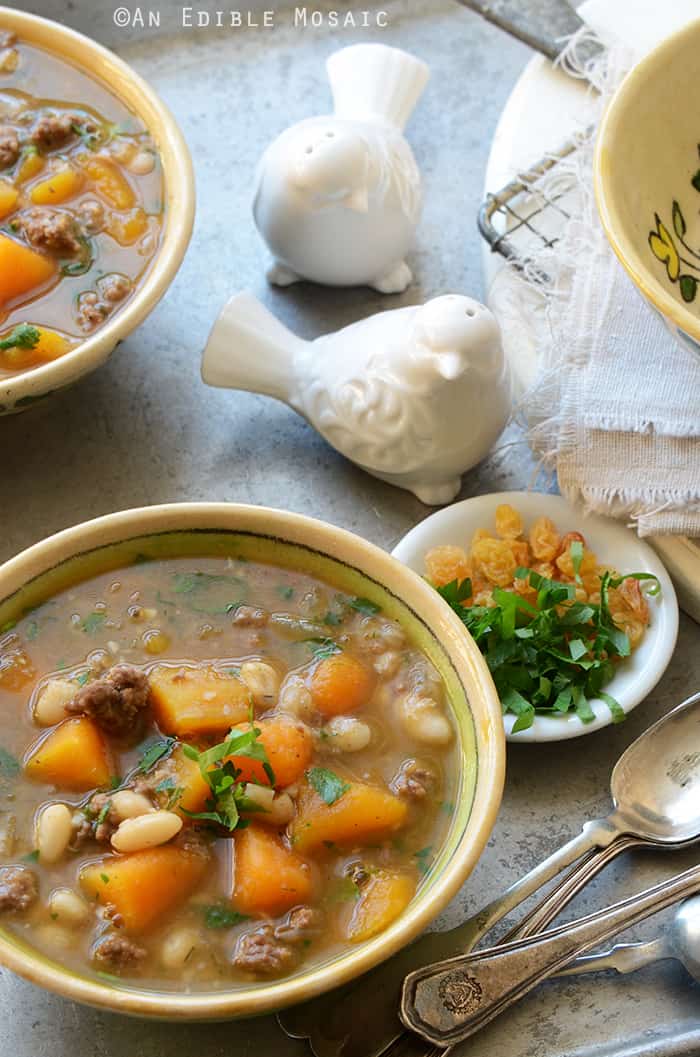 One day I was peering into my prop closet looking for inspiration for another photo shoot, and happened to glance at these bowls. It brought back a whole bunch of memories and a bit of nostalgia. I immediately decided they needed to be showcased.
But what to make to fill them?
Beef and butternut were definites because beef was on the menu for dinner that night and I had a butternut that had been sitting on my counter for quite a while (side note: for tips and info on butternut squash, check out this useful video on Cooking Light!). I always keep beans in my pantry, and they were a natural addition that made this stew a hearty, satisfying comfort food-style meal. I added Arabic 9-Spice Mix (my homemade version – the recipe is in my cookbook!) because I was feeling reminiscent about my Middle Eastern travels, and golden raisins added the perfect counterbalance to a generous dash of hot sauce.
All in all, it was a lovely meal.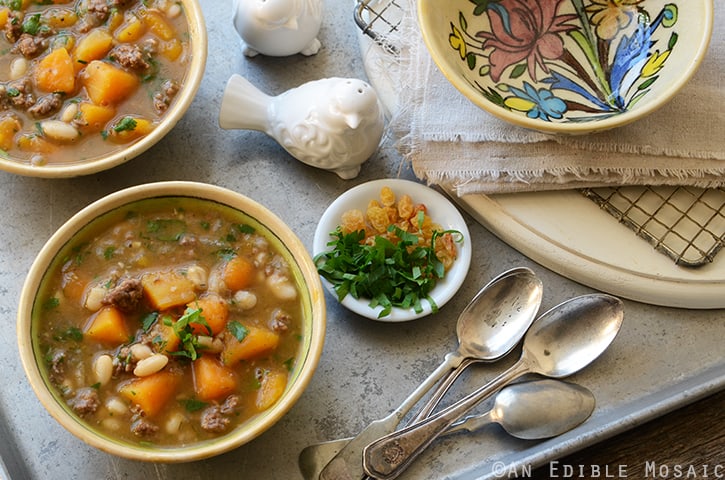 Sweet and Spicy Beef, Butternut, and White Bean Stew
Prep time:
Cook time:
Total time:
Ingredients
1½ lbs (680 g) lean ground beef
1 large onion, chopped
4 large cloves garlic, minced
1 tablespoon minced fresh rosemary
1 medium butternut squash, peeled, de-seeded, and cubed (about 4 cups cubed)
2 tablespoons golden raisins (sultanas), chopped
1 bay leaf
2 teaspoons Arabic 9-Spice Mix
1½ teaspoons hot sauce (more or less to taste)
¾ teaspoon salt
¼ teaspoon black pepper
6 cups (1.4 L) low-sodium beef stock
2 (15.5 oz/425 g) cans no-salt-added white beans, rinsed and drained
½ cup chopped fresh parsley
Instructions
Heat a 5-quart soup pot over medium-high to high heat (no need to add oil). Once hot, add the beef and onion and cook (uncovered) until the beef is browned, about 8 minutes, stirring occasionally.
Add the garlic and rosemary and cook 2 minutes more.
Add the butternut, raisins, bay leaf, Arabic 9-Spice Mix, hot sauce, salt, black pepper, and beef stock. Bring up to a boil, then cover the pot, turn the heat down to simmer, and cook 20 minutes.
Add the beans, cover the pot, and cook 10 minutes more.
Stir in the parsley, then taste and add additional salt, black pepper, and hot sauce as desired.
Serve.
Disclosure:  This post contains Amazon affiliate links to products I believe in, which means that even though it doesn't cost you anything extra, I will receive a small amount of money from the sale of these items, which helps me keep this site alive – thank you for helping to support An Edible Mosaic!