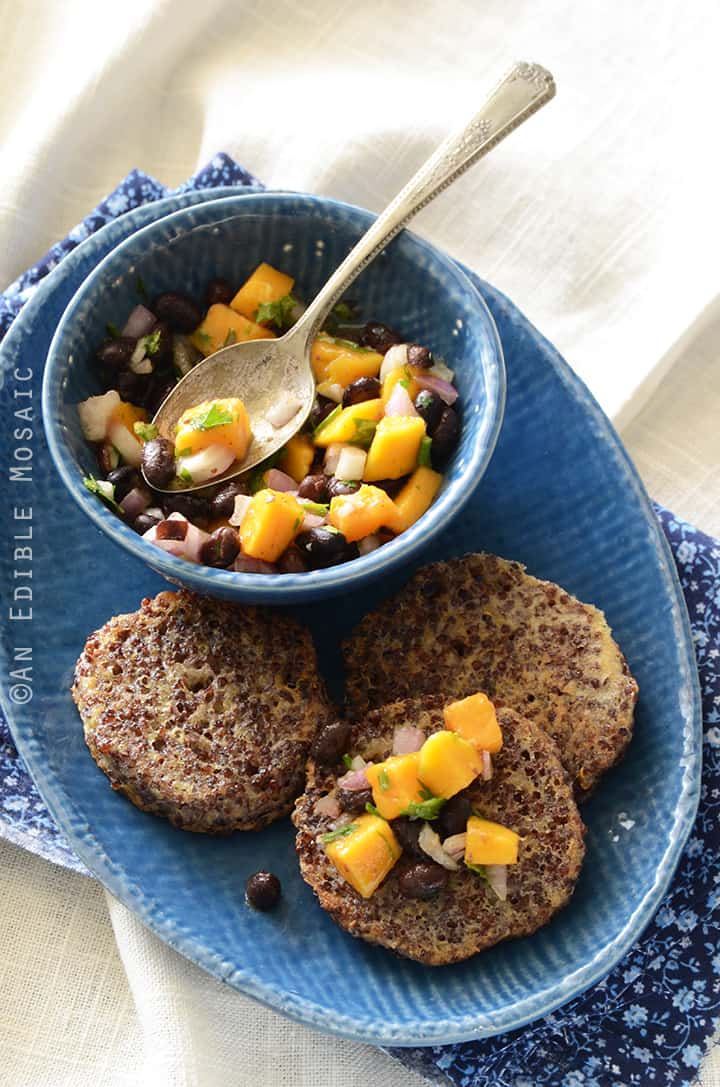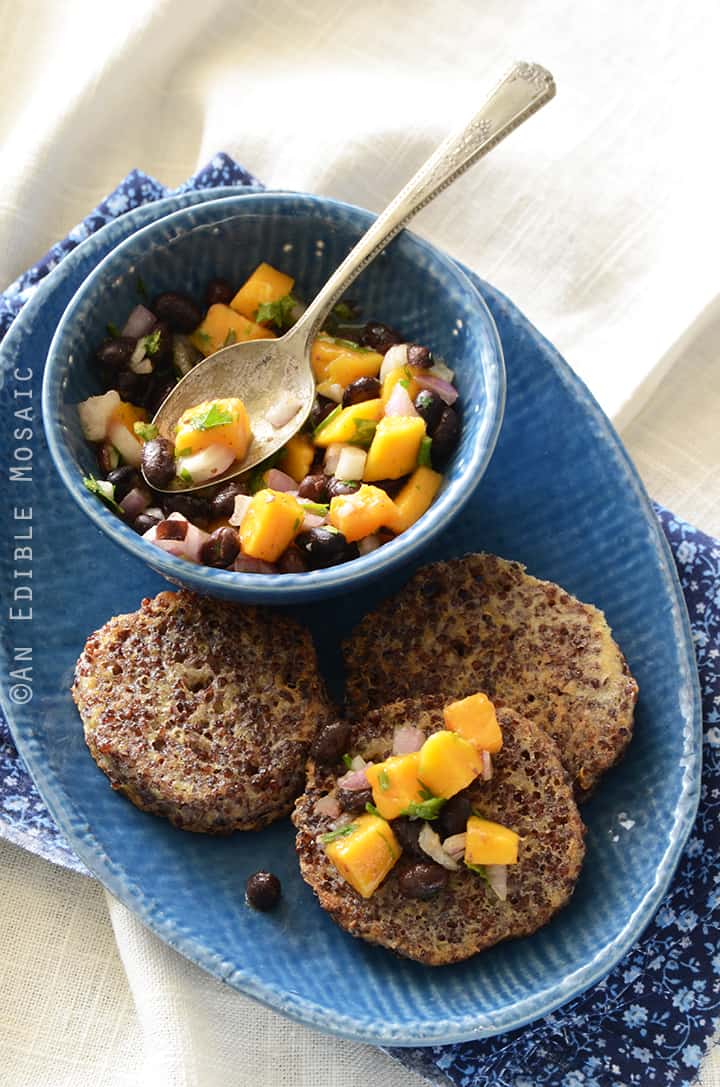 One of the perks of living in Florida is that when fruit trees bear fruit, people suddenly have more than they know what do with, and the wealth inevitably gets shared. I remember waking up to a huge box of mangos on my front porch one morning when I lived there during law school…
One of my friend's parents' had a mango tree in their backyard (along with a grapefruit tree, those lucky ducks) and I was absolutely certain the fruit was from her family (who also frequently dropped off oranges and avocados that they got from a friend who also had fruit trees).
Well, just leaving them on the doorstep does sound like something my dad would do, my friend said with a laugh when I asked her about them; however, later when she asked her dad, he said wasn't the culprit. I asked around a bit more, but never did find out who had left the mango bounty.
It didn't matter though; I said a silent thank-you every time I enjoyed one of those delicious mangos, and I had a lot of fun thinking of different ways to use them.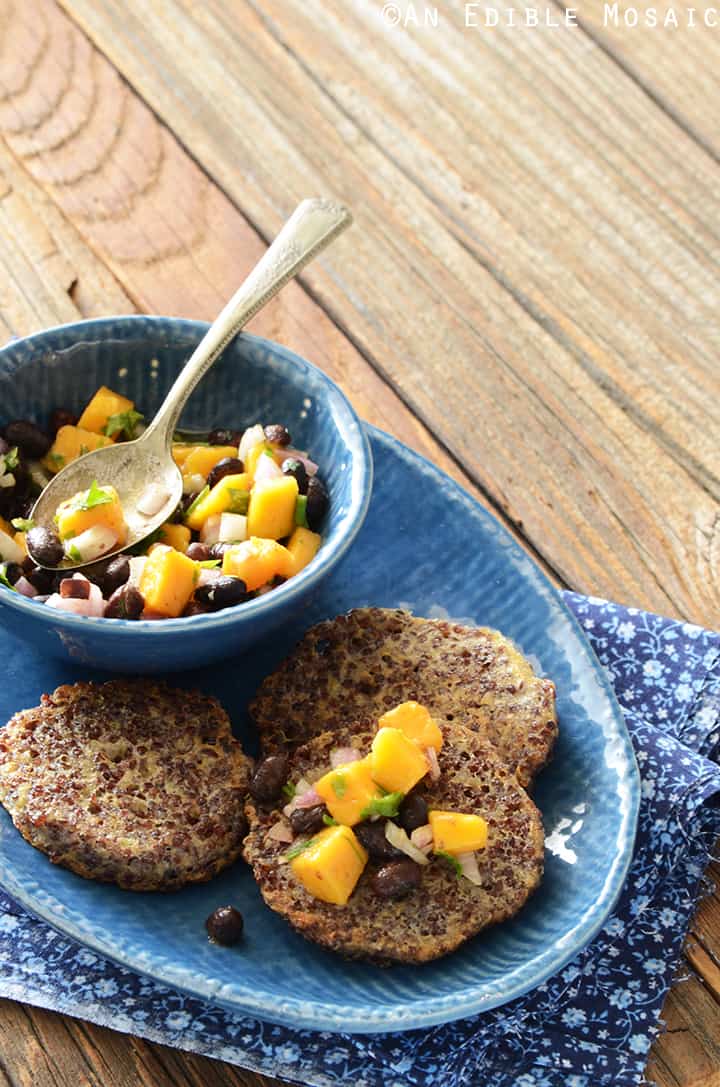 One of my absolute favorite combos was a black bean and mango concoction I made. I'd mix up a big batch – adding other flavorings like onion, garlic, fresh herbs, and vinegar or lemon juice – and keep it in the fridge all week for quick meals.
I used to wrap it up in soft tortilla shells, eat it on top of salad greens, or as a topping for brown rice. Even aside from the fact that I got the mangos for free, it was a super cheap and incredibly tasty meal.
The other day I was at the fresh produce market here in Kuwait and saw stall after stall of produce with beautiful mangos on display. Memories of that mango black bean combo came back to me; before I knew it, I was on my way home with two large armfuls of mangos in tow.
Here I serve that fabulous salsa on top of garlicky red quinoa patties. The savory flavor of the garlicky patties is the perfect contrast to the sweet, fruity flavor of the salsa. It doesn't take much time to fry up the quinoa patties, but if time is an issue, the Mango Black Bean Salsa is also wonderful on top of regular quinoa.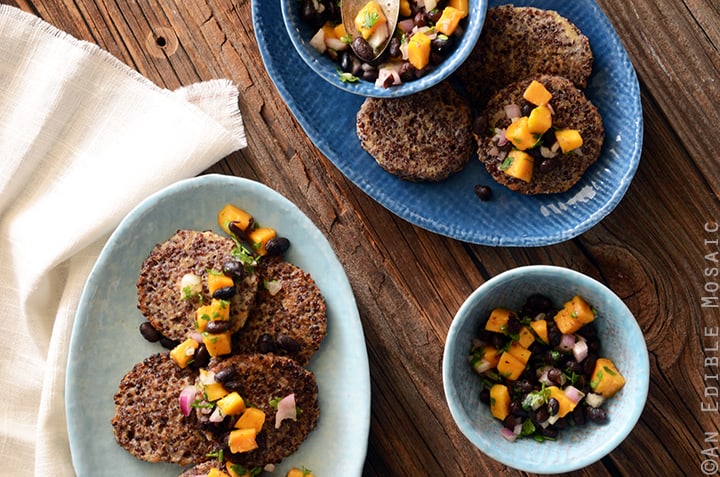 Garlicky Red Quinoa Patties with Mango Black Bean Salsa
Prep time:
Cook time:
Total time:
Yield:
3 lunch-sized or 6 appetizer-sized portions
Ingredients
Garlicky Red Quinoa Patties:
2 cups (250 g) cooked red quinoa (I used Bob's Red Mill)
2 large eggs, lightly beaten
1 large clove garlic, grated on a microplane or crushed using a mortar and pestle
¼ teaspoon salt
⅛ teaspoon black pepper
Oil, for shallow frying
Mango Black Bean Salsa:
1 (16 oz) can no-salt-added black beans, rinsed and drained
1 medium red onion, finely chopped
1 mango, peeled and diced
4 tablespoons chopped fresh parsley
2 tablespoons mango vinegar
2 tablespoons extra virgin olive oil
¼ teaspoon sea salt, plus more to taste
Instructions
For the patties, mix together all ingredients with a fork in a large bowl, smashing the quinoa a bit against the side of the bowl.
Add enough oil to generously coat the bottom of a large skillet, and heat over medium-high. Once hot, add the quinoa batter in 2-tablespoon-sized portions, slightly flattening each (be careful not to over-crowd the pan). Cook the patties until golden on each side, about 3 to 4 minutes per side. Transfer the cooked patties to a paper towel-lined plate to drain the excess oil and finish cooking the rest of the quinoa batter the same way. (You should end up with about 12 to 14 patties.)
For the salsa, stir together all ingredients in a large bowl. Taste and add additional salt as desired.
Serve the patties warm or at room temperature topped with the salsa.
Disclosure: I received the quinoa that I used in this recipe for free from Bob's Red Mill. I did not receive compensation for this post and I was under no obligation to review the product; as always, opinions stated are my own.