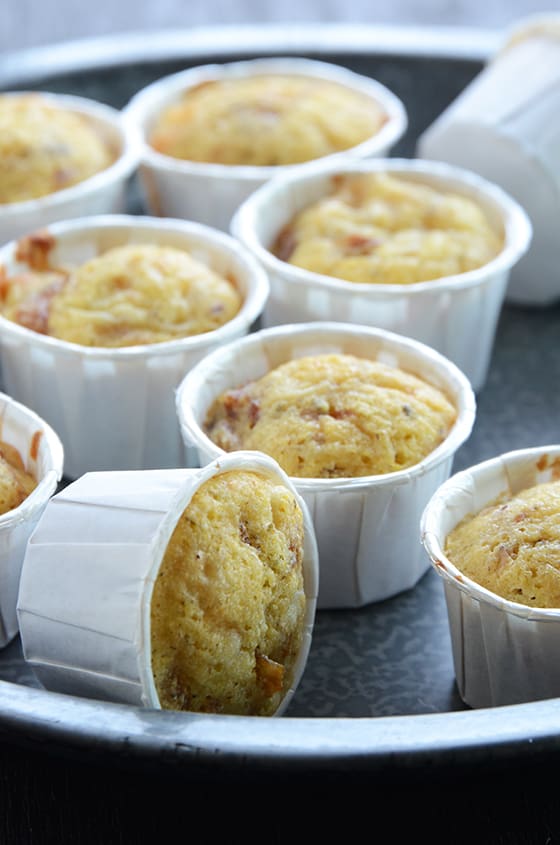 One of the simplest recipes in the world is also one of my favorites. It's easy to make (if you're a little patient – and I only mean about 20 minutes of patient, not all-day patient!), and only takes three ingredients.
And the three ingredients it requires are cheap, common items that I would be willing to guess are staples in your kitchen.
The recipe isn't a secret, you probably make (or at least eat) it frequently...
It's French onion soup! The three ingredients it requires are onion, butter, and stock. Onion is melted down into butter until they basically form onion caramel, deep and rich in both color and flavor. Add stock and you have your basic French Onion Soup. (And of course a little thyme and black pepper never hurt either.)
Onion soup is one of my favorite soups, whether or not it is gratinéed with cheese. I made the classic version here and then a creamy variation here; I also re-made it into bite-sized appetizer tartlets here. These mini muffins are my latest French Onion dish.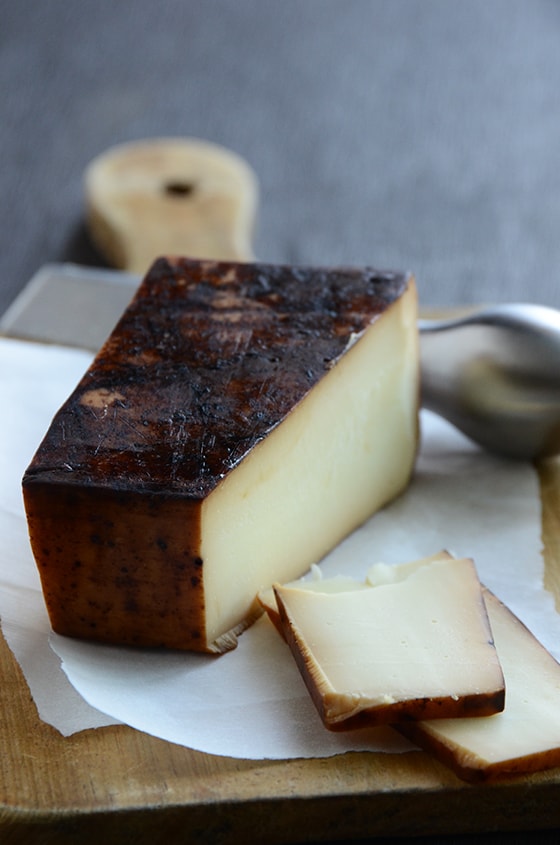 Smoked Swiss Cheese
I added smoked Swiss cheese mainly because it's what was in my fridge (that is what happens when you blog about what you really eat, lol!), but it ended up a nice touch, adding a wonderful dimension. If you can't find it, I think any smoked cheese would work, or you could use Gruyère, which is always a favorite choice when making French Onion Soup.
These muffins are perfect with a hearty soup for dinner, or with eggs and a green salad for brunch…and they were a wonderful addition to my Autumnal Afternoon Tea back in October!
French Onion Mini Muffins
Prep time:
Cook time:
Total time:
Yield:
2 to 2½ dozen mini muffins
Ingredients
1½ tablespoons butter
1 medium-large onion, halved and thinly sliced into half-moons
½ teaspoon salt, divided
1 large clove garlic, minced
⅓ cup yellow cornmeal
2 tablespoons all-purpose flour
½ teaspoon baking powder
¼ teaspoon dried thyme
⅛ teaspoon black pepper
½ cup milk (I used 2%)
1 large egg
1 tablespoon canola oil
½ teaspoon Worcestershire sauce
2 oz smoked Swiss cheese, shredded
Instructions
Preheat oven to 375F; line a mini muffin tray with paper liners, or butter and flour them.
Melt the butter in a medium skillet over medium heat; stir in the onion and ⅛ teaspoon salt. Cook until the onions are a rich caramel color, about 15 to 20 minutes, stirring occasionally. You can turn the heat down slightly or add a splash of water at any point in the process if the onion starts to get too dark. Add the garlic and cook 1 minute more, stirring constantly. Set aside to cool.
Whisk together the cornmeal, flour, baking powder, thyme, black pepper, and remaining ¼ + ⅛ teaspoon salt in a medium bowl. In a separate medium bowl, whisk together the milk, egg, oil, and Worcestershire. Add the wet ingredients to the dry all at once and stir until just combined, being careful not to over-mix. Fold in the caramelized onion and shredded cheese.
Fill each mini muffin well with about 1 scant tablespoon of batter. Bake until a toothpick inserted inside comes out clean, about 12 to 14 minutes.