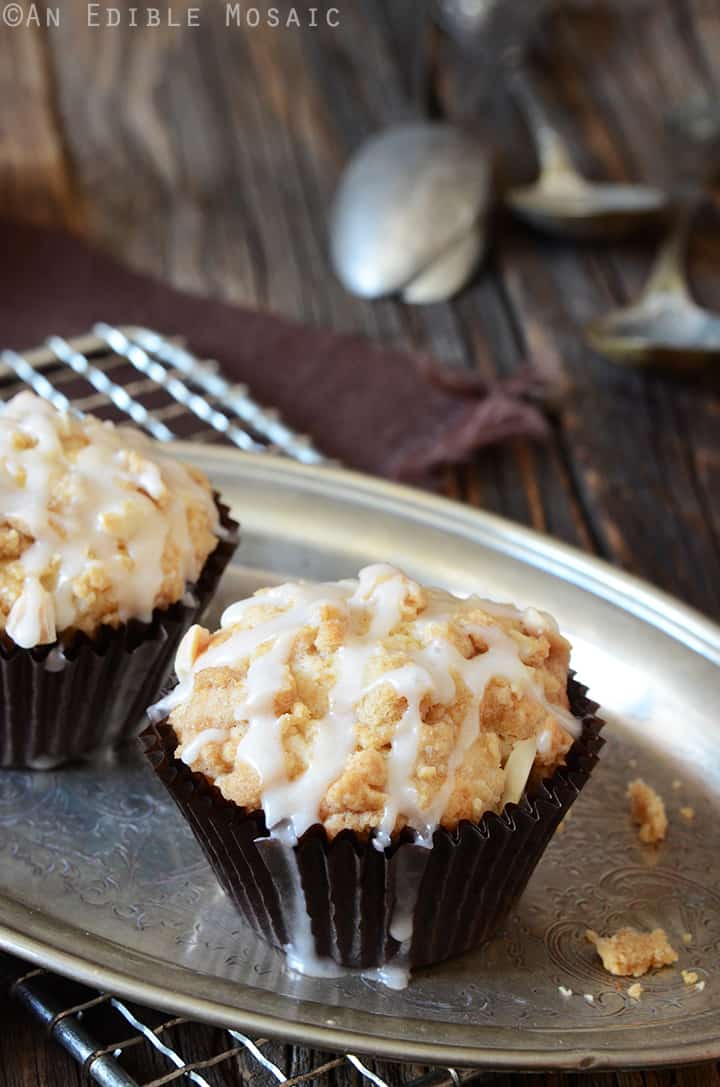 Have I ever told you about my mom's apple pie?
It's killer.
She always makes it deep-dish style (like Chicago pizza). Sometimes she'll make it with a double crust and sometimes she'll make it with what she calls a "French crumble topping", and her thick apple layer is perfectly spiced and sweetened. It is hands-down the best apple pie. In the world. (Tall claim, but I'm sticking to it…but I won't argue if you tell me the same about your mom's pie.)
Her apple pie is what I love about Sundays in the fall at home. My mom would make a cozy meal like Roast Chicken, Pot Roast, or Chicken Kiev, then we'd sit out on the deck if the weather wasn't too chilly, sipping hot tea. Later we all knew what was coming for dessert. And then if I was really lucky, she'd send me home with a piece of apple pie for breakfast the next day.
I'm really not much of a pie maker. I used to be intimidated by it, but a couple years ago I conquered that fear one weekend when I made four pies consecutively to develop the best, most flaky and most flavorful crust ever for a local magazine article. No, luckily I'm not intimidated anymore.
The truth is, I'm a little pie-lazy. You know how it goes…the fruit needs prep, the crust needs a bit of care when handling, it's a (relatively) long bake time, etc. And then because I'm a food blogger and not a normal human, I can't just make a pie to share with my family or friends. No, if I were to make a pie, before sharing it with anyone I would need to photograph the daylights out of it. And let me tell you, pie doesn't photograph easily, not for me, anyway. There you have it; I'm a lazy pie maker.
So instead of bringing you apple pie during pie season, I'm bringing you apple muffins. I know it's not the same, but they are delicious in their own right…I'm telling you, if you pop by and I offer you one of these muffins along with a cup of coffee I don't think you'll turn it down (I know I wouldn't be able to!).
These muffins are moist, sweetly scented, and perfectly apple-y, without being too sweet, too heavily spiced, or too heavy in general. They were inspired by Cooking Light's recipe for Amaretto Apple Streusel Cupcakes, but I made a few changes to lighten them up a bit (don't worry, their flavor was not sacrificed…promise!), and also to make them a little less sweet (I reduced the amount of sugar in them and I also reduced the amount of glaze by half). Oh, and I used almond extract instead of amaretto.
I am perfectly happy dubbing these beauties muffins instead of cupcakes…which of course means they're breakfast-friendly. But don't listen to me, I think my mom's deep dish apple pie is suitable for breakfast. (Of course only in autumn though. ;) )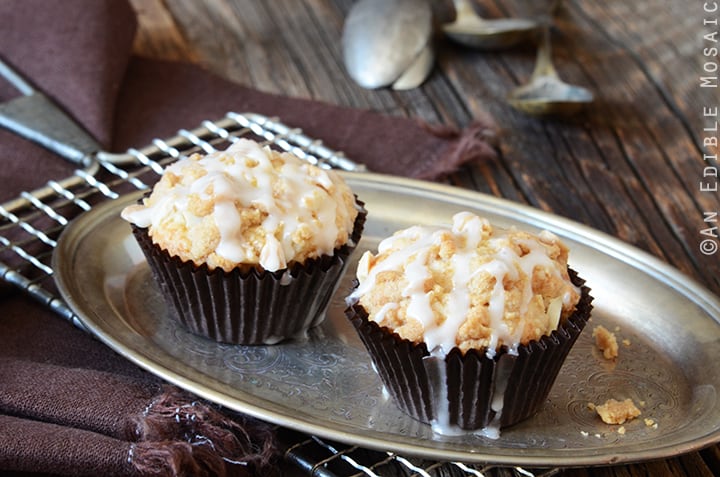 Apple-Almond Streusel Muffins
Prep time:
Cook time:
Total time:
Ingredients
Streusel Topping:
4 tablespoons all-purpose flour
2 tablespoons lightly packed light brown sugar
¼ teaspoon ground cinnamon
2 tablespoons unsalted butter, slightly softened
2 tablespoons chopped almonds
Muffins:
1½ cups (195 g) all-purpose flour
½ teaspoon baking powder
¼ teaspoon baking soda
¼ teaspoon salt
½ cup (100 g) lightly packed light brown sugar
¼ cup (60 ml) canola oil
¼ cup (60 ml) milk (low-fat is fine)
¼ cup (65 g) Greek yogurt
1 large egg
1 teaspoon pure vanilla extract
½ teaspoon pure almond extract
1 sweet red apple, washed, cored, and finely chopped (I leave the peel on)
Glaze:
½ cup (60 g) powdered sugar
½ teaspoon pure vanilla extract
2-3 teaspoons water
Instructions
For the streusel, use a fork to combine the flour, brown sugar, and cinnamon, and then cut the butter in until it forms coarse meal. Toss in the almonds.
For the muffins, preheat oven to 350F and line 12 muffin wells with paper liners.
Whisk together the flour, baking powder, baking soda, and salt in a medium bowl and set aside.
Beat together the brown sugar, canola oil, milk, yogurt, egg, vanilla extract, and almond extract in a large bowl until smooth.
Add the dry ingredients to the wet in 2 batches and stir to combine (a few lumps are fine), being careful not to over-mix. Gently fold in the chopped apple.
Pour the batter into the prepared muffin tray, sprinkle the streusel mixture on top, and bake until a toothpick inserted into the center of a muffin comes out with just a couple crumbs, about 22 to 26 minutes. Cool for 10 minutes in the tray, and then remove to a wire rack to finish cooling before topping with the glaze.
Once the muffins have cooled, make the glaze. Whisk together the powdered sugar, vanilla, and enough water so it reaches your desired consistency.
Drizzle the glaze on the cooled muffins and allow it to set before serving.