After I made White Asparagus Risotto Cakes last week I was lucky enough to have some leftover white asparagus in my fridge. I was planning to simply cook the asparagus and make a hollandaise sauce to serve with it, but when I saw the lonely little wedge of leftover Fontina in my cheese drawer I had another idea. Why not make a cheese sauce instead of hollandaise and serve it topped with hardboiled egg?
This dish ended up being a delicious change from the ordinary. Served with salad greens and some crusty bread it was a really fantastic lunch.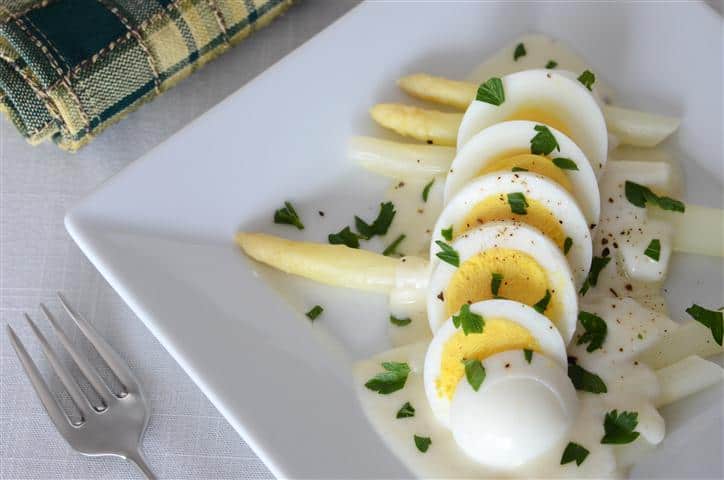 White Asparagus with Hardboiled Egg & Fontina Fondue
(Yield: 2 servings)
½ lb (about 10-12 medium spears) white asparagus, rinsed
2 large eggs
2 teaspoons butter
1 ½ teaspoons all-purpose flour
½ cup milk
⅛ teaspoon Dijon mustard
1 oz Italian Fontina cheese, grated
Salt and pepper
Fresh chopped flat leaf parsley, for garnish (optional)
Put eggs in a small pot and add enough cold water to cover them by about 1 inch. Bring up to a boil over high heat, then turn heat down and simmer 8 minutes. Turn heat off and let eggs sit in hot water 2 minutes, then drain and transfer to a bowl of ice water to cool. Peel and slice eggs.
To peel and trim the asparagus, lay one asparagus spear on a flat surface, such as a cutting board. Use a vegetable peeler to peel off the outer layer starting just below the bud and going all the way down (if the asparagus is particularly thick or looks really tough, you can peel off 2 layers); once peeled, trim off the bottom inch. Repeat this process for all asparagus spears.
Add ½ inch of water and a generous pinch of salt to a large skillet; bring up to a simmer, add asparagus, and cook until tender (about 5-7 minutes). Drain asparagus.
Add butter to a small saucepan and heat over medium-low heat; once melted, whisk in flour and cook 1 minute. Whisk in milk, Dijon, and a pinch of pepper and bring up to a simmer, then turn heat down slightly and simmer one minute. Turn off heat and whisk in cheese. Taste and season with salt and pepper as desired.
Arrange asparagus on a serving platter or 2 plates. Top with Fontina fondue and egg slices and garnish with chopped parsley if desired.