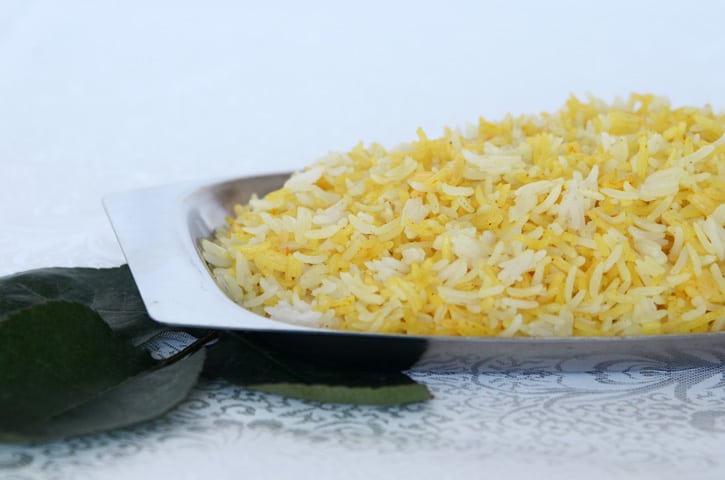 This beautiful rice dish is the other half of the Chicken with Cherry Sauce meal I made the other day. This rice is spiced and fragrant and it pairs amazingly well with not only Chicken with Cherry Sauce, but just about any curry dish you can think of.
White & Yellow Rice
(Yield: 4 servings)
1 ½ cups basmati rice
2 tablespoons canola oil
1 bay leaf
2 whole cloves
1 pod cardamom, crushed
½ teaspoon fine salt
1 ½ cup boiling water
1 pinch saffron threads (or ½ teaspoon turmeric)
1 tablespoon boiling water
Put half a kettle of water on to boil.
Put rice in a mesh sieve and rinse under cold running water a couple minutes until water runs clear; set aside.
Add oil to a medium saucepan with a lid over high heat; once hot, add bay leaf, cloves, and cardamom pod and cook until fragrant (1-2 minutes). Add rice and salt and cook (stirring occasionally) until fragrant (about 2 minutes). Add 1 ½ cup boiling water to rice and bring to a rolling boil. Give it a stir, cover the pot, turn heat down to low, and cook 10 minutes (don't open the pot while the rice cooks).
After the rice is cooked, let the pot sit with the lid on for 15 minutes, then fluff the rice with a fork. Transfer half the rice to a separate bowl.
In a small bowl, combine 1 pinch saffron threads (or turmeric, if you prefer) with 1 tablespoon boiling water; steep 1-2 minutes. Stir the colored water into half the rice (the rice will turn yellow).
Mix together the yellow rice and white rice.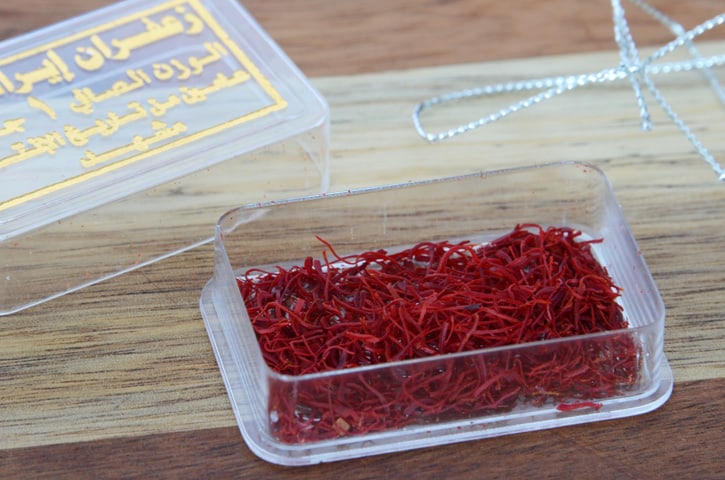 Gorgeous Persian Saffron