Salads are one of the best ways to enjoy seasonal produce. This time of year I like including things like fresh apple, pear, pomegranate arils, dried cranberries, walnuts, cheese, and/or diced turkey. The combinations are just about endless.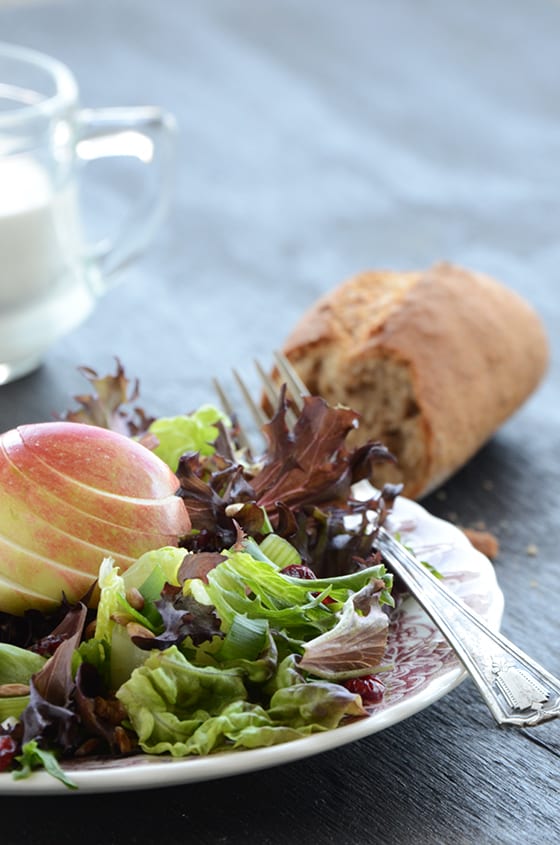 Cheese is one of my favorite additions, especially sharp cheddar or blue cheese. If I'm adding blue cheese, normally I would crumble it on top of a salad, but last weekend Mike and I made these homemade chicken wings and I made homemade blue cheese dressing to go along with them (because really, what are chicken wings without blue cheese dressing?). We had leftover dressing and I've been enjoying it on this delicious salad for weekday lunches.
I served this salad with beautiful Udi's Whole Grain Seeded Dinner Rolls to round out the meal. The rolls they have great texture (crisp outside and tender inside), with wonderful whole grain flavor. If you're gluten-sensitive, they are well worth trying (and even though I'm not gluten-sensitive, I still enjoy them!). If you'd like to try Udi's for yourself, scroll down for info on the giveaway. (Please note that I received this product from Udi's to try for free; as always, opinions stated are my own.)
Festive Fall Salad with Homemade Blue Cheese Dressing
Yield:
Dressing: About 1½ cups; Salad: 2 servings
Ingredients
Homemade Blue Cheese Dressing:
½ cup mayo
¼ cup plain yogurt
2 tablespoons lemon juice
1 teaspoon honey
1 teaspoon apple cider vinegar
¼ teaspoon Worcestershire sauce
¼ teaspoon garlic powder
¼ teaspoon salt
⅛ teaspoon black pepper
¾ cup crumbled blue cheese (about 3 oz)
Festive Fall Salad:
4 cups mixed salad greens
1 apple, washed, cored, quartered, and sliced
2 scallions (white and green parts), thinly sliced
2 tablespoons dried cranberries
2 tablespoons roasted, unsalted sunflower seeds (or any seed or nut you like)
Instructions
For the dressing, whisk together all ingredients (except blue cheese) until smooth; stir in blue cheese and refrigerate until serving.
For the salad, arrange the lettuce on 2 plates; divide the apple, scallion, dried cranberries, and sunflower seeds between the 2 salads. Drizzle 2 tablespoons of dressing on top of each and serve immediately.
Notes
Yogurt Substitution in the Homemade Blue Cheese Dressing: You can substitute sour cream or Greek yogurt instead of regular yogurt for a thicker, dip-like consistency.

Storage: Store the dressing in a sealed jar in the fridge for up to 3 days.
There is more to this post than just a recipe. Today is Giving Tuesday.
So what is Giving Tuesday? The holiday season started last week with giving thanks on Thanksgiving and now the busiest shopping time of the year is upon us, with so many people looking for the perfect presents to give to loved ones. There's Black Friday and Cyber Monday, and now Giving Tuesday, a day not only to give, but to give back to our communities. A day to remember those less fortunate and do what we can to help them or make their lives just a little bit better.
Here are a few ideas to help you get started giving back:
Make homemade cards and drop them off at a local nursing home.
Pick four random days out of the year to donate a bag of nonperishable groceries to your local food pantry. Don't pick holidays, since pantries are typically inundated with donations at that time, but may have trouble getting donations other times during the year.
Go through your family's clothes and donate anything that hasn't been worn in the last 12 months to a local charity. (You can do the same thing with kitchen items and toys!)
Pop by a neighbor's house with a festive treat…it doesn't have to be homemade, it's the gesture that counts.
Keep a family piggy bank, where everyone in the family adds their loose coins to it at the end of the day; when the bank is full, roll the coins and donate the money to charity.
As a family, skip the "extras" (such as coffee from the coffee shop, lunches out, going to the movies, etc.) for one week (or longer if possible!) and donate the money saved to charity.
Have a neighborhood yard sale or bake sale and donate the money to charity.
Volunteer your time at a local shelter or food pantry. This is an incredible thing to do with the whole family.
Give blood, regularly, if possible.
Sponsor an orphan (it's usually a one-year commitment of around $50 per month).
Do one random act of kindness for someone once a week for one month. Get creative here…maybe pay for the car behind you at the tollbooth on the highway…rake your neighbor's lawn, shovel their driveway, or mow their grass…hold the door for someone…return the shopping cart for someone else at the grocery store…send someone you love flowers for no special occasion…pick up and throw out garbage you see on the sidewalk or parking lot…call a friend or family member you haven't talked to lately to ask how they're doing. You never know how your act of kindness could affect someone else, and just how far they might pay it forward.
In honor of Giving Tuesday, I'm giving away five (5) full-value Udi's coupons to one (1) lucky winner. Each coupon is good for any one Udi's gluten-free product up to a $6.29 maximum value. If you're gluten-sensitive or know someone who is, you will want to try Udi's!
You do not need to have a blog to enter this giveaway. To enter, leave a comment on this post telling me one thing you do to give back. It can be anything at all…don't be shy, you might inspire someone else.
This giveaway will end at 5AM EST on Tuesday, December 4, 2012. The winner will be randomly selected and notified via email.