Creamy with the perfect amount of tang and a touch of sweetness, this low carb honey mustard dressing recipe tastes every bit as delicious as the regular stuff, but with just 1g net carbs per serving!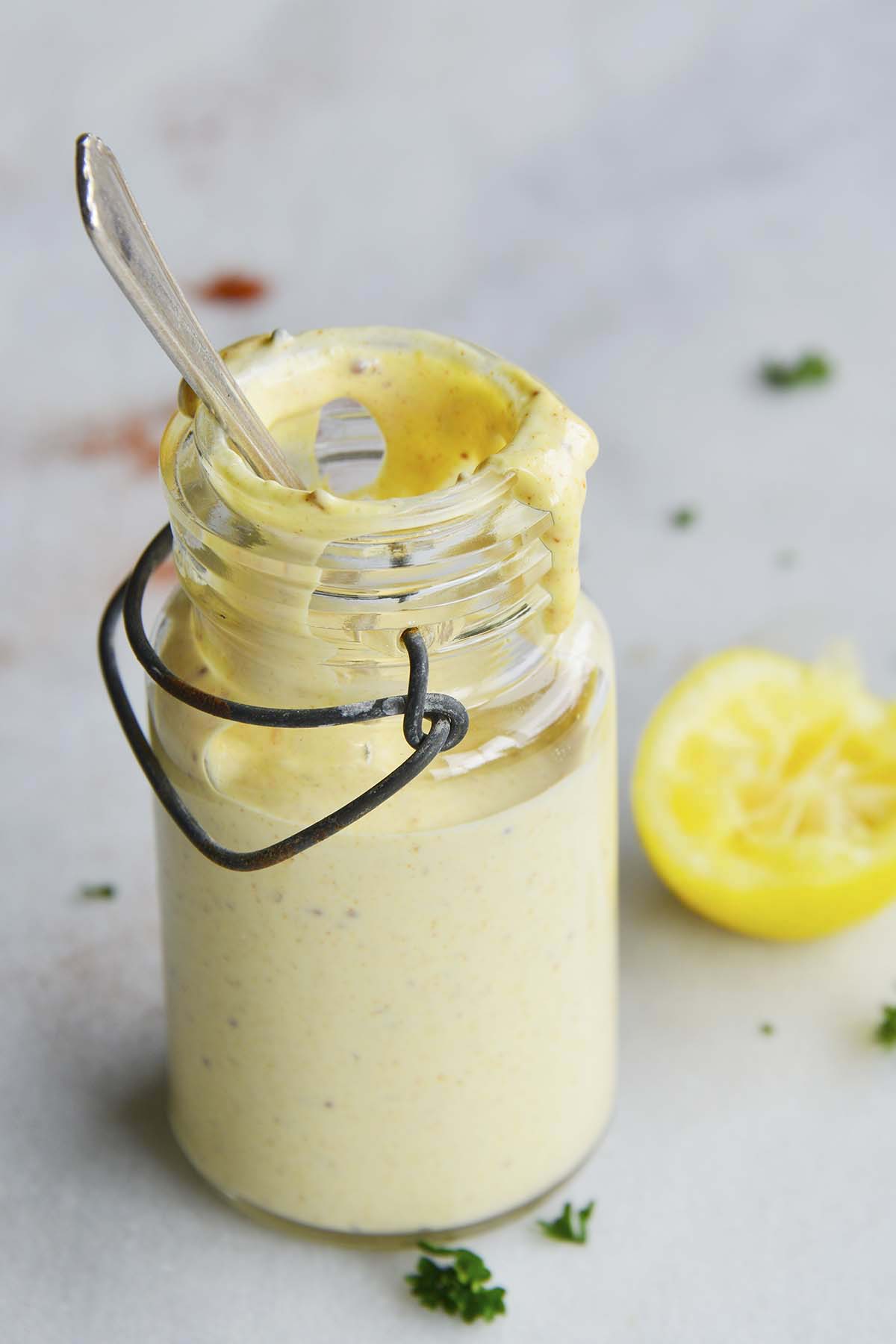 A lot of people tell me they'd eat more salad if salad was more interesting. One of the easiest ways to jazz up salad is to add a flavorful dressing! Honey mustard isn't just for dipping chicken fingers, friends (but yuuum, honey mustard and chicken fingers!).
How many of you switch back and forth between bottled ranch and bottled Italian salad dressing? Growing up, I can't remember if those were the only two salad dressings that my mom kept in the house, or if they were the only two salad dressings my sister and I actually used, other than the occasional blue cheese.
But the best way to keep salad interesting is to switch it up. If you've never had honey mustard dressing, it has a pleasant sweet and tangy mustard-y flavor and creamy texture. Surprisingly, the flavor of mustard isn't overpowering. Even self-proclaimed mustard-haters tell me they enjoy honey mustard as salad dressing.
Give it a try and tell me what you think!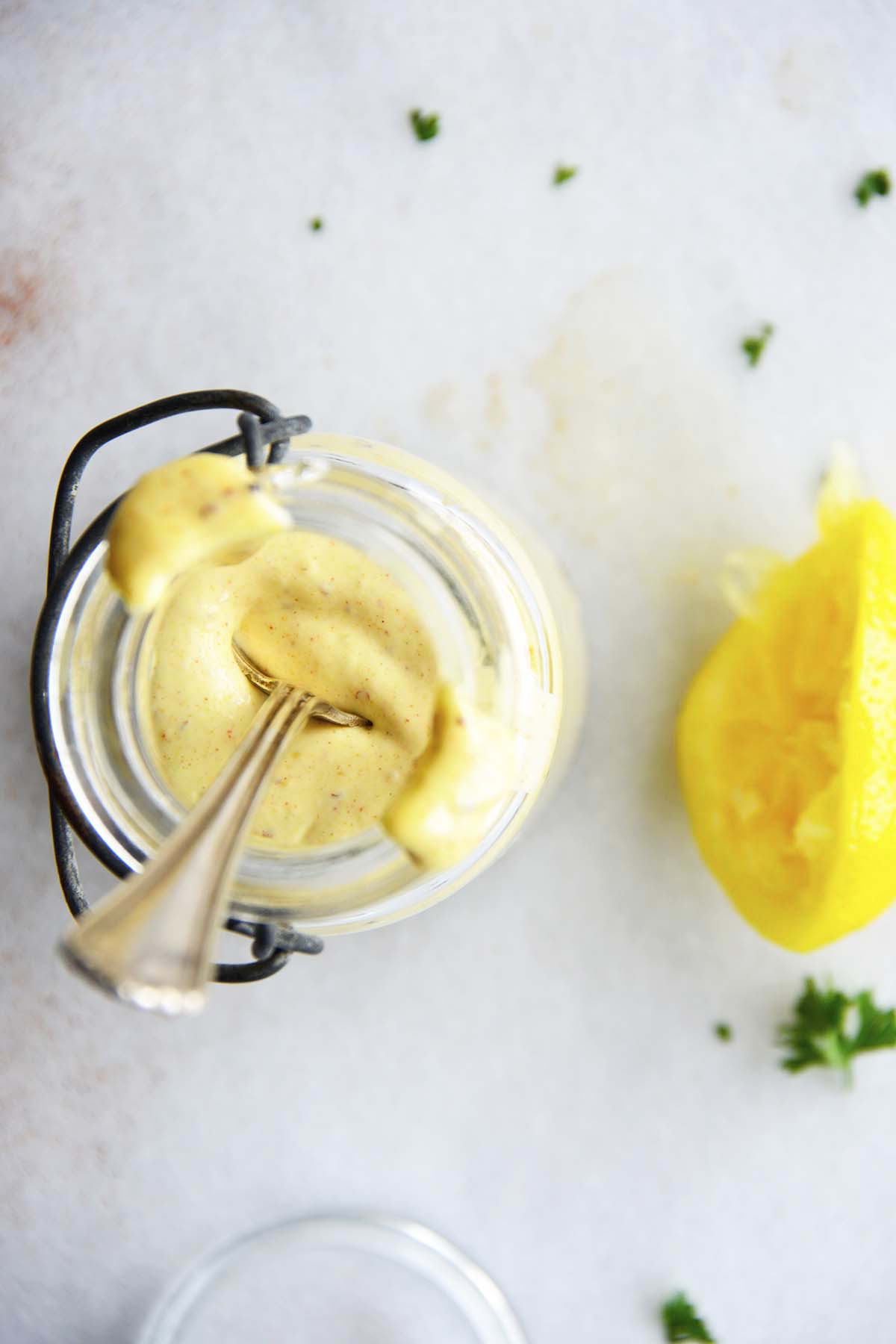 Why You'll Love This Recipe
It whips up in just 5 minutes, flat! And it keeps well for up to a week stashed in the fridge, so it's ready and waiting for you to make a delicious salad.
That gorgeous grainy texture. (Spoiler Alert: It's from the stone ground mustard!)
It's creamy with a balanced sweet and tangy flavor.
It's sugar free and only has 1g net carbs per serving!!
Also, it's gluten free.
The Best 5 Minute Low Carb Honey Mustard Dressing Recipe
Once you see how easy it is to make this dressing, you'll never buy store-bought again! We're using a combination of three different types of mustard for the best flavor and texture.
And I promise you won't miss the carbs in this low carb and keto friendly version. We use liquid stevia instead of honey as the sweetener, but this dressing is every bit as flavorful as regular honey mustard dressing.

Pro Tip: Don't Skip the Stone-Ground Mustard
It adds a sharp, spicy punch of flavor and gorgeous texture to this dressing. A touch of stone-ground mustard makes it!
Honey Mustard Dressing Ingredients
In this section I explain the ingredients and give substitution ideas. For the full recipe (including ingredient amounts), please see the recipe card below.
You probably already have most of these ingredients on hand in your fridge and pantry!
Mayo - this is the creamy base for our homemade honey mustard dressing
Lemon juice - use fresh lemon juice for the best flavor; it adds a hint of bright, tanginess to balance the flavor profile
Dijon mustard - adds a sharp layer of flavor
Stone-ground Dijon mustard - adds a piquant kick and great texture
Yellow mustard - this is classic yellow mustard (the stuff you'd put on a hot dog or hamburger!); it adds a sharp, tangy bite, helps create balanced flavor, and turns it a really pretty shade of yellow
Onion powder, garlic powder, and sweet paprika - this is the spice blend we use for our honey mustard; onion and garlic powder add flavor and aroma, and paprika adds a mild fruity flavor and deepens the color
Salt - to pull out the flavors of everything else
Liquid stevia - we use a little bit of liquid stevia as our keto sweetener in this sugar free honey mustard recipe; if keeping the carbs down isn't a concern, feel free to omit the stevia and use 2 teaspoons of honey instead
How to Make Honey Mustard Dressing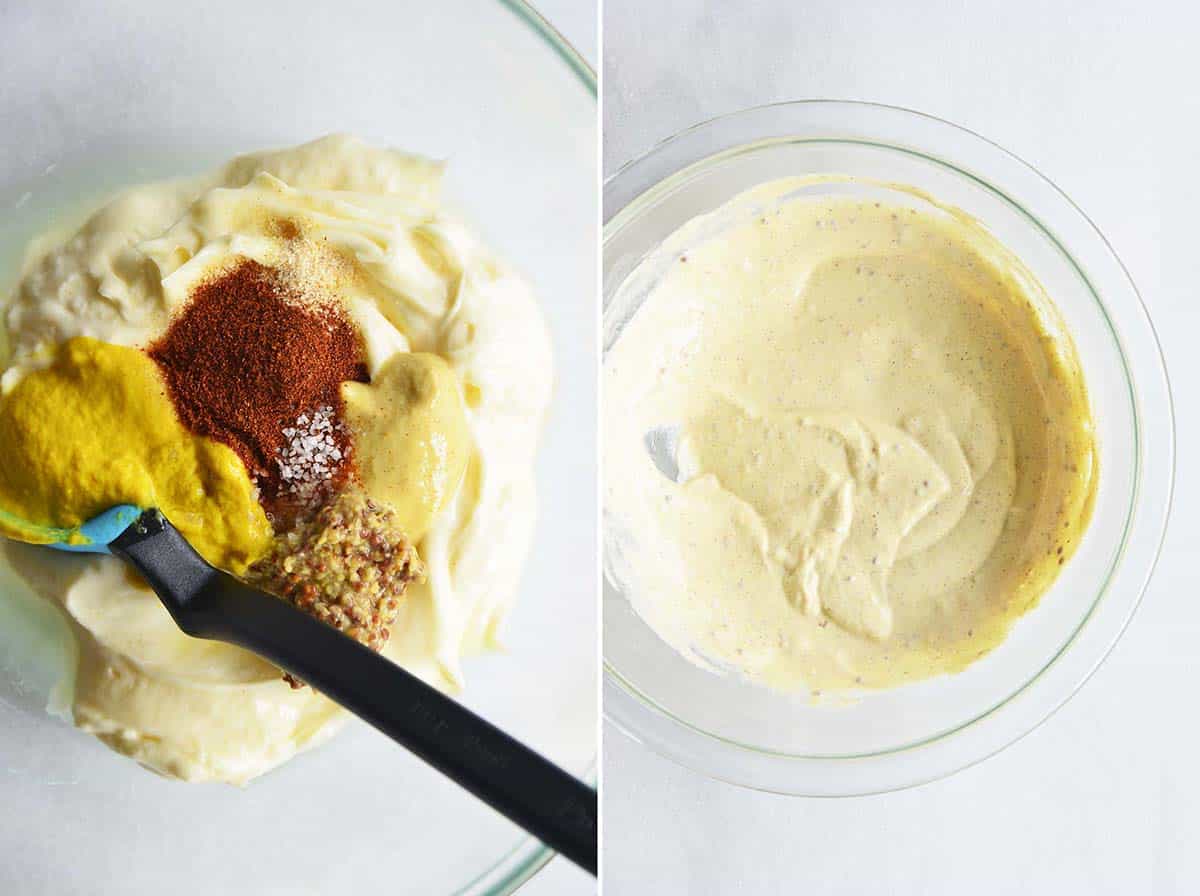 This dressing is as easy as whisking or stirring together all the ingredients! You can then use it right away or pop it in the fridge. Done and done.
Storage
Store honey mustard dressing in a glass jar in the fridge for up to 1 week.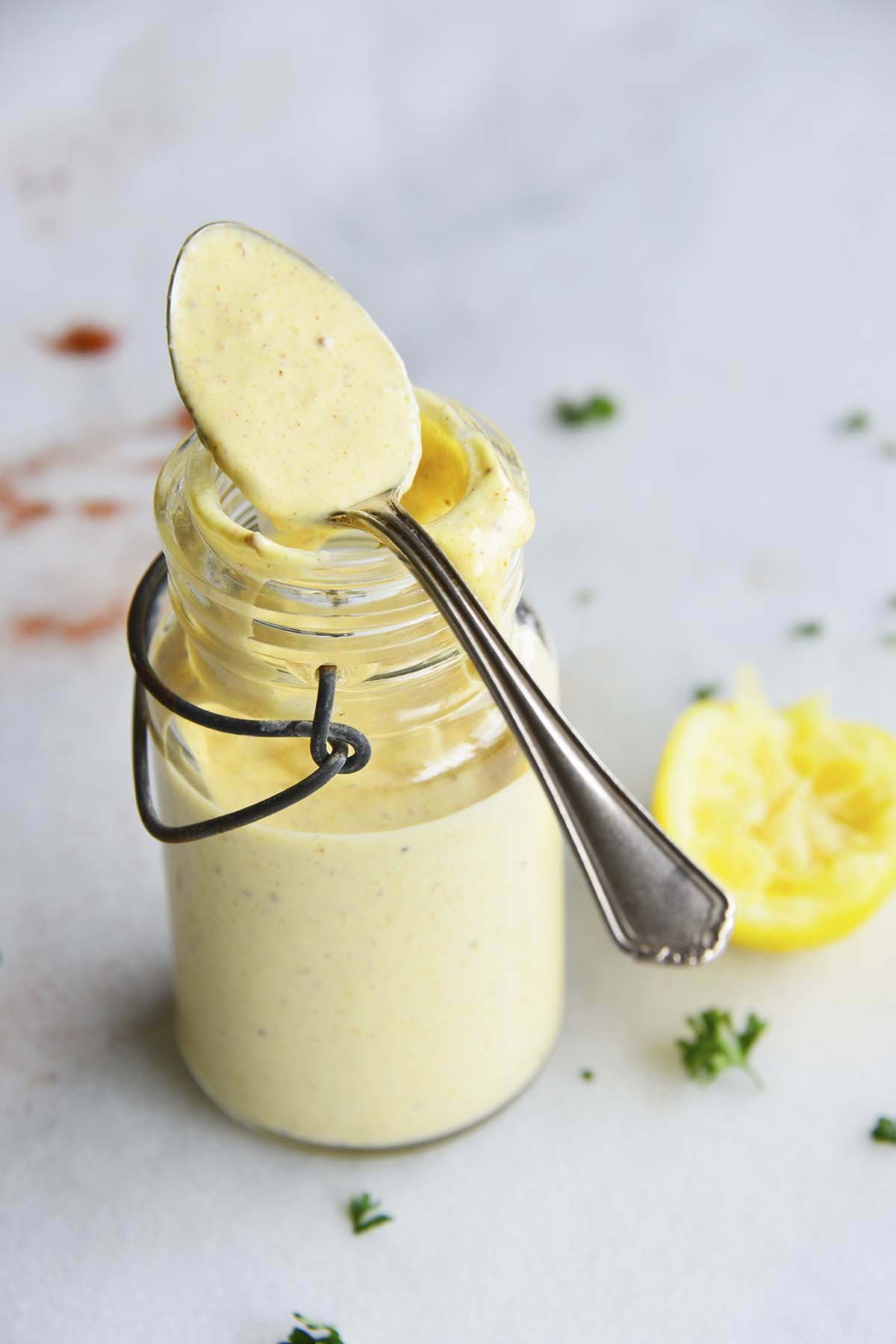 Honey Mustard Chicken Salad
One of my favorite things to make with honey mustard dressing is chicken salad!
I usually use chopped leftover grilled chicken or rotisserie chicken, and combine it with honey mustard and any of the following:
Chopped celery
Minced onion or scallion
Cherry tomatoes
Chopped avocado
Crumbled beef bacon
Raisins or dried cranberries
Sunflower seeds or toasted almonds
Serve up your honey mustard chicken salad on a bed of chopped Romaine lettuce to keep the carbs down, or make it into a sandwich for a more filling meal.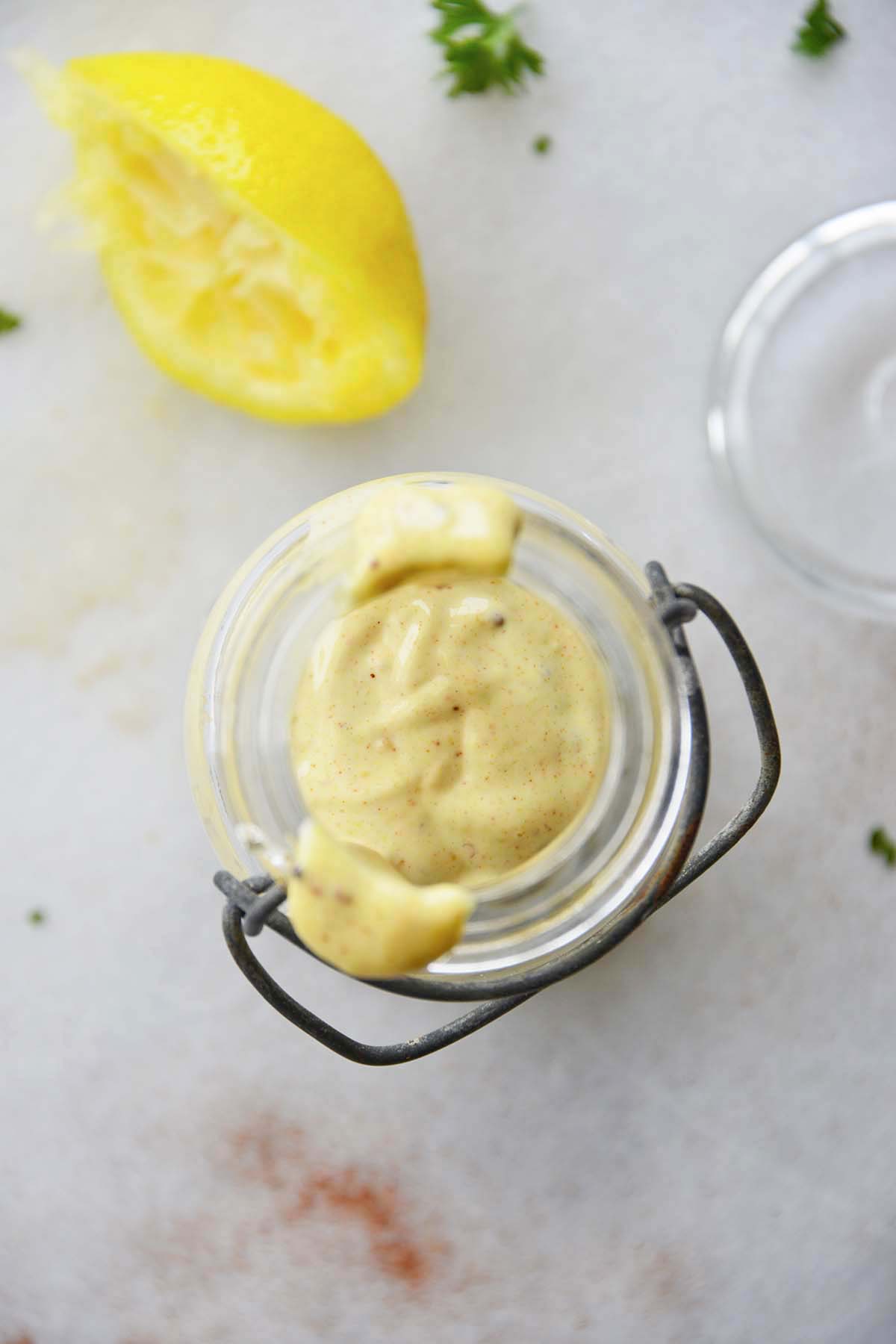 Honey Mustard Dressing Recipe FAQs
How Many Carbs Are in Honey Mustard?
This low carb and keto honey mustard recipe has just 1g net carbs per 2-tablespoon serving!
How are we able to keep the carbs so low?
We omit the honey, and instead use liquid stevia as our sweetener. You will be shocked at how much this sugar free honey mustard tastes like the original - even with no honey!
Is Honey Mustard a Sauce or a Dressing?
I use this versatile condiment both ways! Honey mustard is thick enough to be a good dipping sauce for things like grilled chicken, but still pourable and perfect on salads (green salads, pasta salads, you name it!).
I even take it one step further and use honey mustard as a spread on sandwiches and wraps!
What Goes with Honey Mustard Dressing?
You can use honey mustard as a condiment, dip, sauce, or dressing. Or use it as a replacement for mayo! Here are a few ideas:
Dress up a pasta salad
Make the most flavorful deviled eggs
Use it as a dip for turkey lettuce rolls (just deli turkey and cheese rolled up with lettuce)
Take a burger, roast beef sandwich, or grilled chicken sandwich to the next level with a smear of honey mustard instead of mayo
Use it as a creamy dip for fries or chicken tenders
More Creamy Salad Dressing Recipes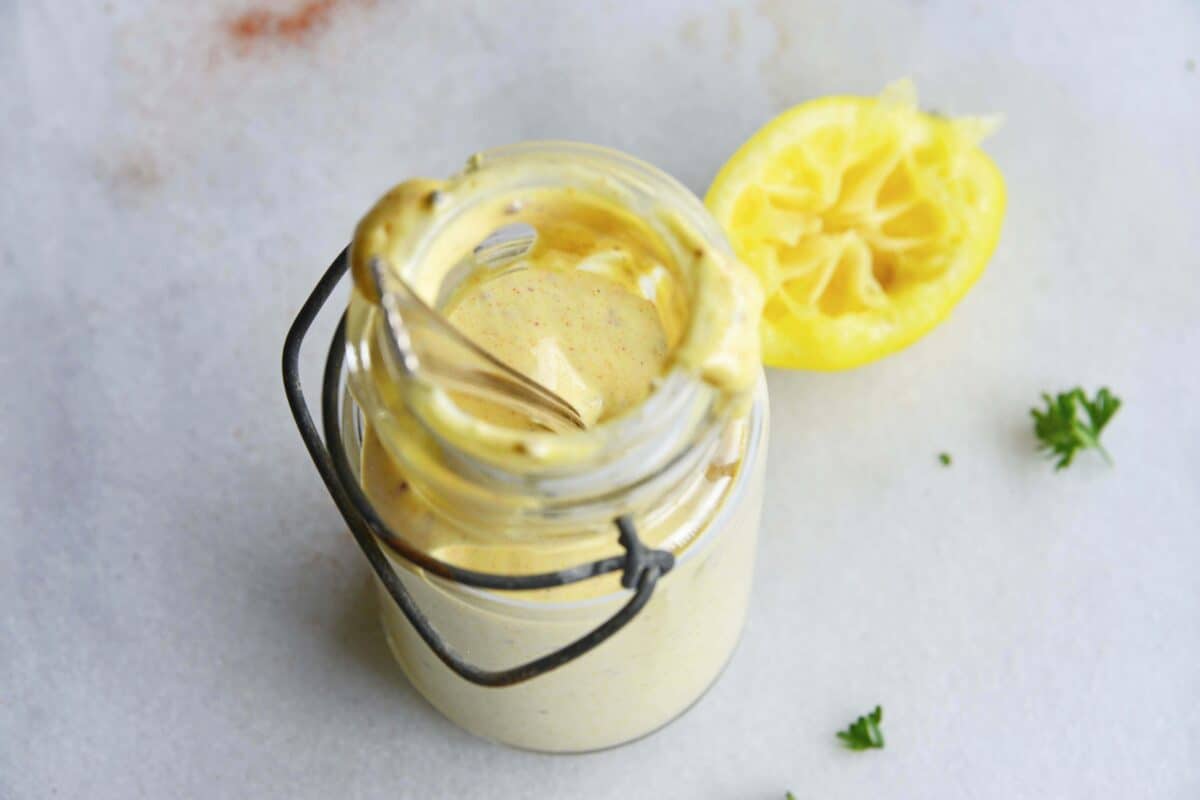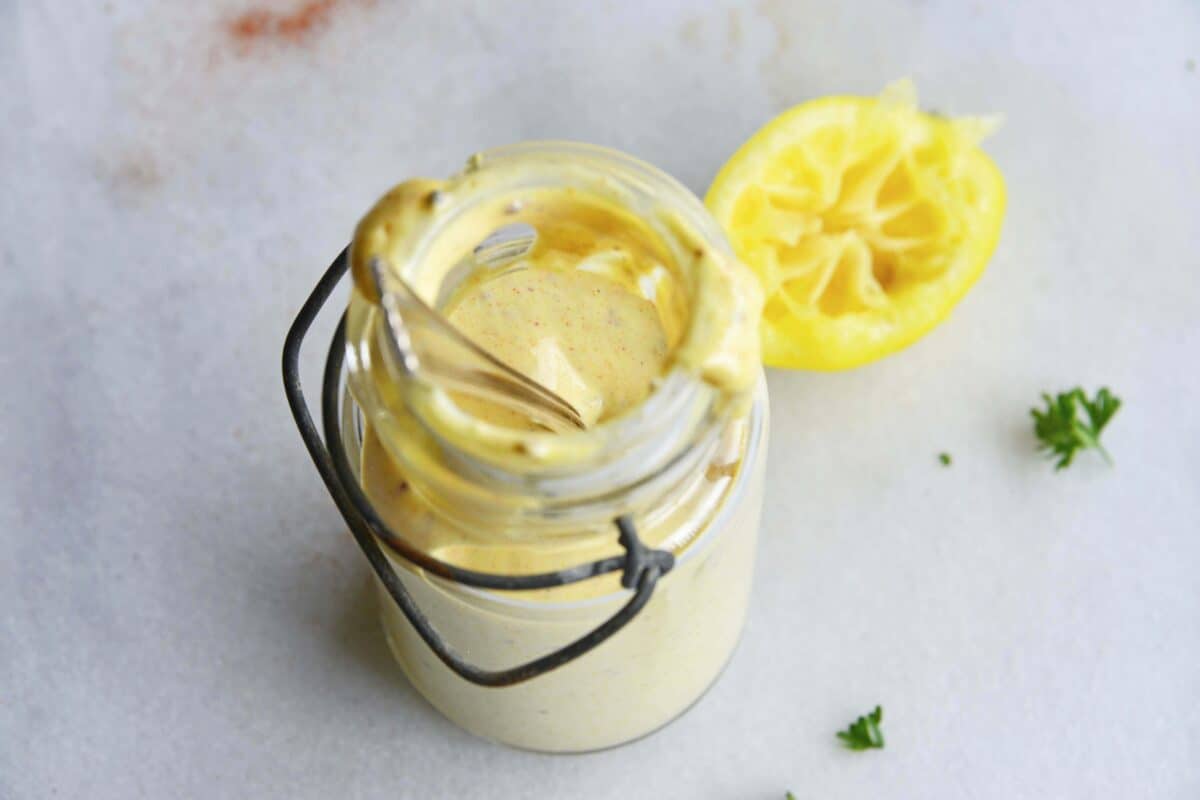 Let's Connect


Did you make this recipe? Please rate it and leave a comment below. You can also tag @anediblemosaic on social media.
To stay up-to-date, follow me on Facebook, Instagram, Pinterest, and Twitter!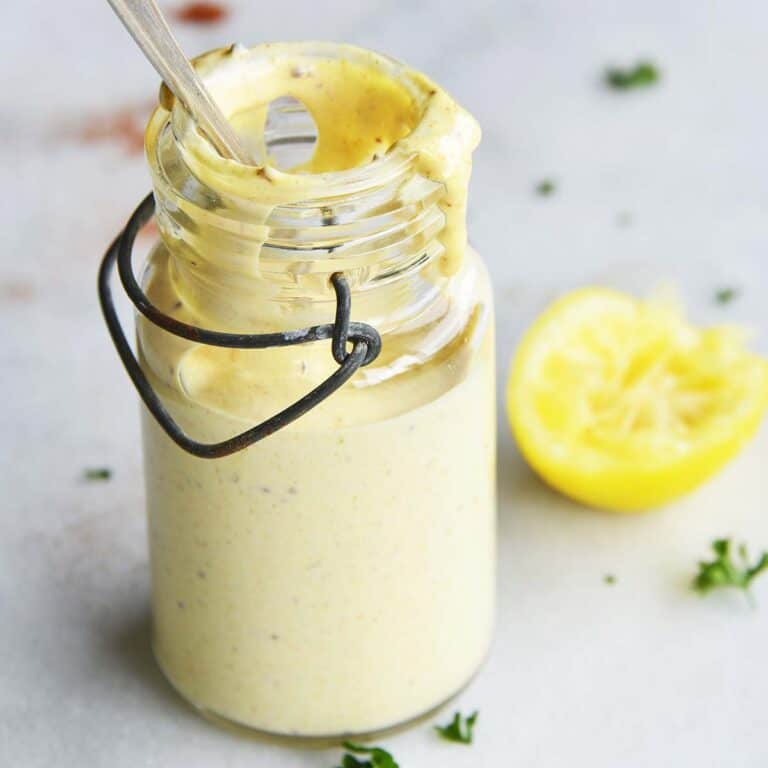 5 Minute Easy Keto Honey Mustard Dressing Recipe
Creamy with the perfect amount of tang and a touch of sweetness, this low carb honey mustard dressing recipe tastes every bit as delicious as the regular stuff, but with just 1g net carbs per serving!
Instructions
Whisk together all ingredients.

Use, or store in a glass jar in the fridge for up to 1 week.
Faith's Tips
Net Carbs: 1g per serving
Recipe Yield and Serving Size: This recipe recipe makes about ¾ cup of dressing, for a total of 6 (2-tablespoon) servings.
Stone-Ground Mustard: Don't skip the stone-ground mustard here, it makes the dressing!
Nutrition
Nutrition Facts
5 Minute Easy Keto Honey Mustard Dressing Recipe
Amount Per Serving (2 tablespoons)
Calories 174
Calories from Fat 171
% Daily Value*
Fat 19g29%
Cholesterol 10mg3%
Sodium 207mg9%
Carbohydrates 1g0%
Protein 1g2%
Vitamin A 55IU1%
Vitamin C 1.9mg2%
Calcium 2mg0%
Iron 0.1mg1%
* Percent Daily Values are based on a 2000 calorie diet.