One of my favorite things about moving to a new place and exploring the area is checking out the local restaurants.
You know, seeing who has the best coffee and where I can grab a quick lunch on the go. It's a tough job, but someone has to do it. ;)
Mike and I found this adorable little Indian café and bakery so incredibly close to our house (it's literally a stone's throw away), and immediately wondered if it was too good to be true. We put off going for a while, and even checked out a couple other Indian restaurants first. Those other places were ok at best, but when we finally took a look at that little café/bakery so close to home? A total win.
Not only do they have both of our favorites (Chicken Makhani for me and Tandoori Lamb for Mike), but the Mango Lassis are to die for and the ambiance is charming. And every meal comes with a simple salad of spring mix (no boring Iceberg lettuce here!) served with a sweet and spicy mango vinaigrette that they make in-house.
I have two things to say about that vinaigrette: 1) suddenly Butter Chicken seems a lot healthier if I eat it with a big salad, and 2) forget the Mango Lassi – that vinaigrette is the sort of thing I could drink. (No not really, but I do love it enough to have asked twice about whether or not they're planning to start selling it by the bottle. Of course that was after the waitress very sweetly told me that the cook refused to share the recipe with me, lol.)
I made it my job to replicate that dressing because the world needs it. That might sound a little dramatic, but tell me that again after you've tried it.
And take note, this vinaigrette is very forgiving. Try to use a very ripe mango for best flavor, but an extra splash of vinegar or drizzle of honey will compensate for any discrepancies in personal taste and/or ripeness.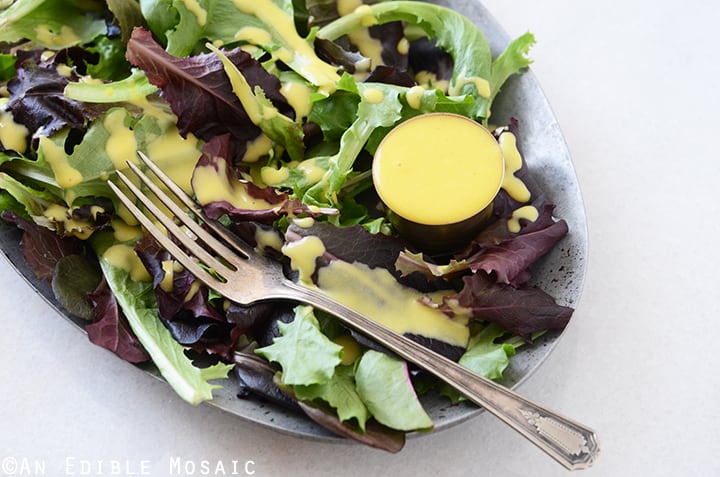 Sweet and Spicy Mango Vinaigrette
Ingredients
1 medium very ripe mango, peeled and pitted
½ cup (120 ml) water
¼ cup extra-virgin olive oil
3 to 4 tablespoons honey
2 to 4 tablespoons apple cider vinegar
¾ teaspoon crushed red pepper flakes (more or less to taste)
¼ teaspoon salt
⅛ teaspoon black pepper
Instructions
Add all ingredients to a blender and process until completely smooth.
Taste and adjust seasonings (vinegar, honey, and salt) as desired.
Store refrigerated for up to 2 weeks.