Ladies, for those of you who cook for picky kids or hubbies, you will appreciate this.
I wanted to make this dressing, thinking that my hubby would love it if he would only give it a try. (Kind-of like how he went crazy for my Broccoli-Cheddar Bites, which are basically Arancini, after I told him they were "Sicilian falafel". I know I'm not the only one to tell a little fib when trying to coax a picky eater into trying something new, right?)
Mike adores homemade mayo…I mean seriously adores it, the way I heart ketchup. He'll ask for homemade shawarma (spiced Middle Eastern chicken wraps) if he's dying for mayo just to have an excuse to eat the mayo, lol.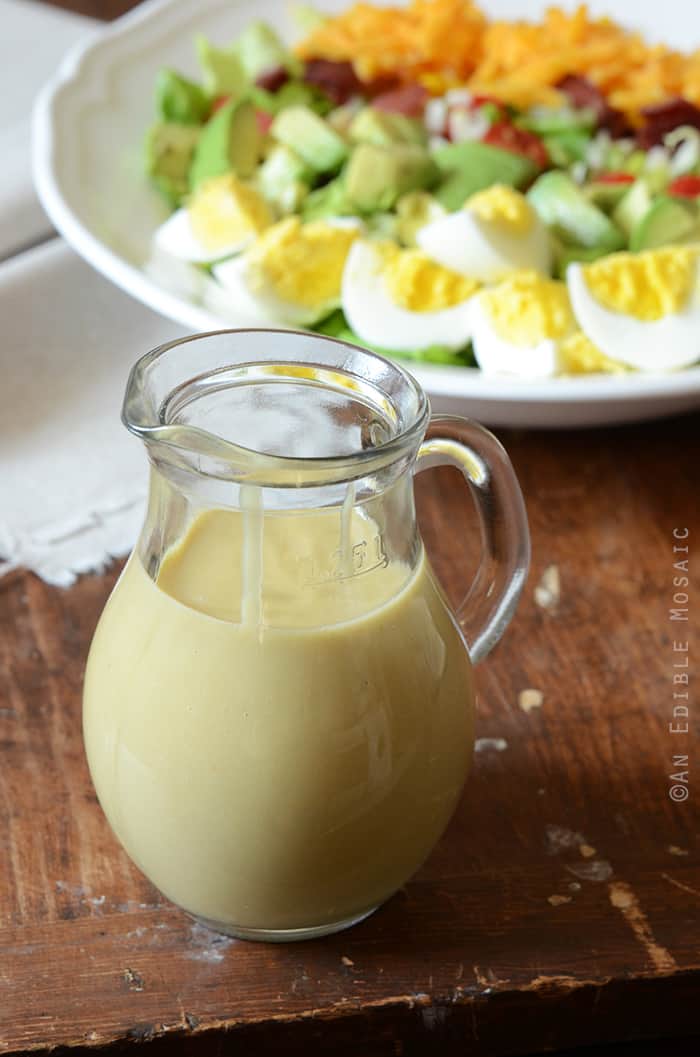 This dressing is amazing on Cobb salads.
Since this dressing is thick and creamy, I thought I could win him over with a homemade mayo trick…I asked him to try a "new mayo" I made, and he happily obliged. Then after taking a small taste he made a face of disgust and shouted, That's NOT mayo…it just tastes like olive oil, vinegar, and garlic!
At that point I had to laugh out loud because that's exactly what this dressing is. Then for added drama he doubled over, held his stomach, and said, I think I'm going to be sick. Lol…he wasn't. He gave me a pretty good laugh though, which seemed to fuel his "stomachache".
I tasted the dressing and could barely stop myself from eating the entire batch with a spoon (I think it's a roasted garlic thing for me). If you're a fan of roasted garlic in all its gloriously caramelized, nutty, mellow flavor, you will love this dressing. If there was a way I could drink this for breakfast without people thinking I had totally lost it, I think I would do so.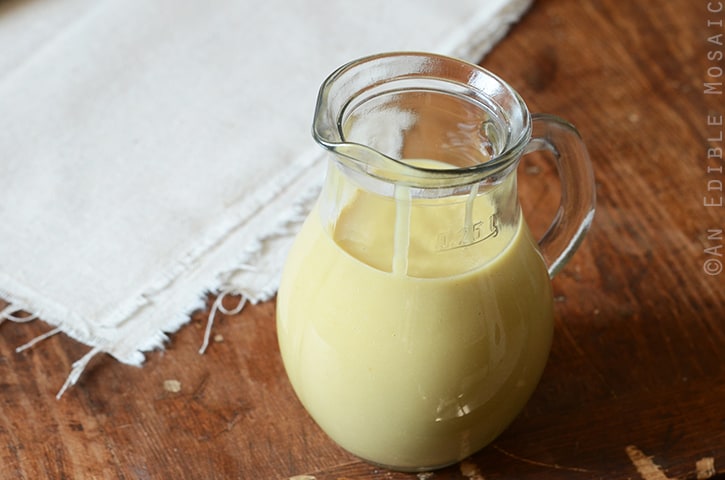 Roasted Garlic Salad Dressing
Yield:
About 1¼ cups/300 ml of dressing
Ingredients
⅓ cup Roasted Garlic Spread
6 tablespoons (90 ml) water
¼ cup (60 ml) olive oil
¼ cup (60 ml) apple cider vinegar
1 tablespoon honey
½ teaspoon sea salt
Instructions
Combine all ingredients in a food processor or blender and process until smooth.
Store in an airtight container in the fridge for up to 1 week.