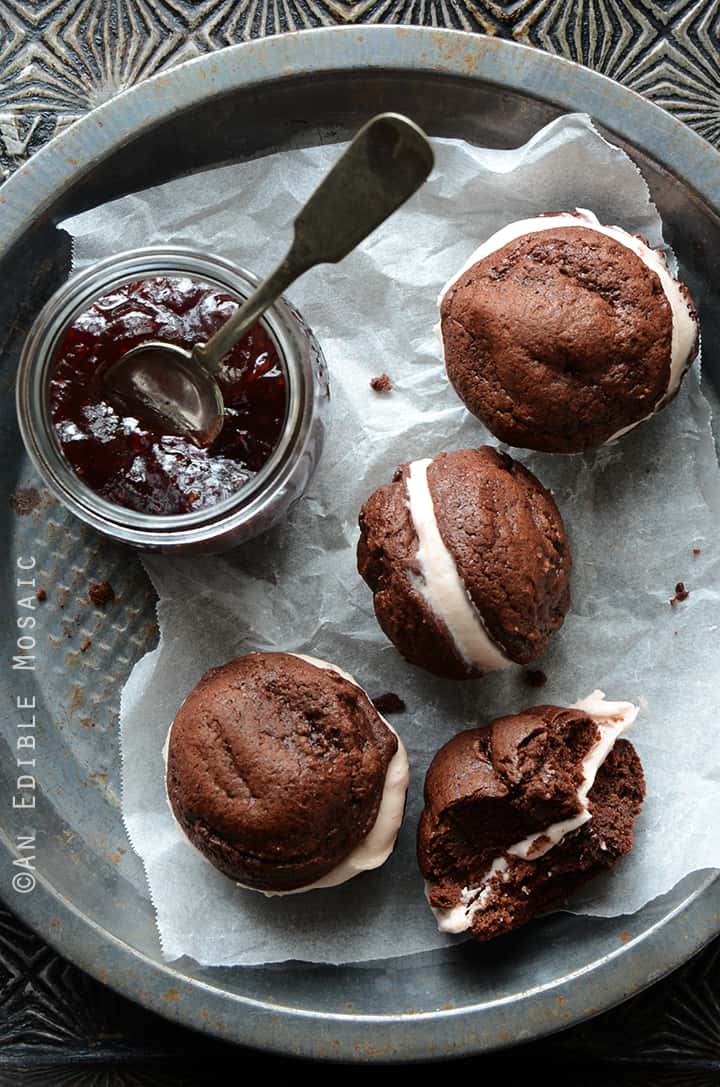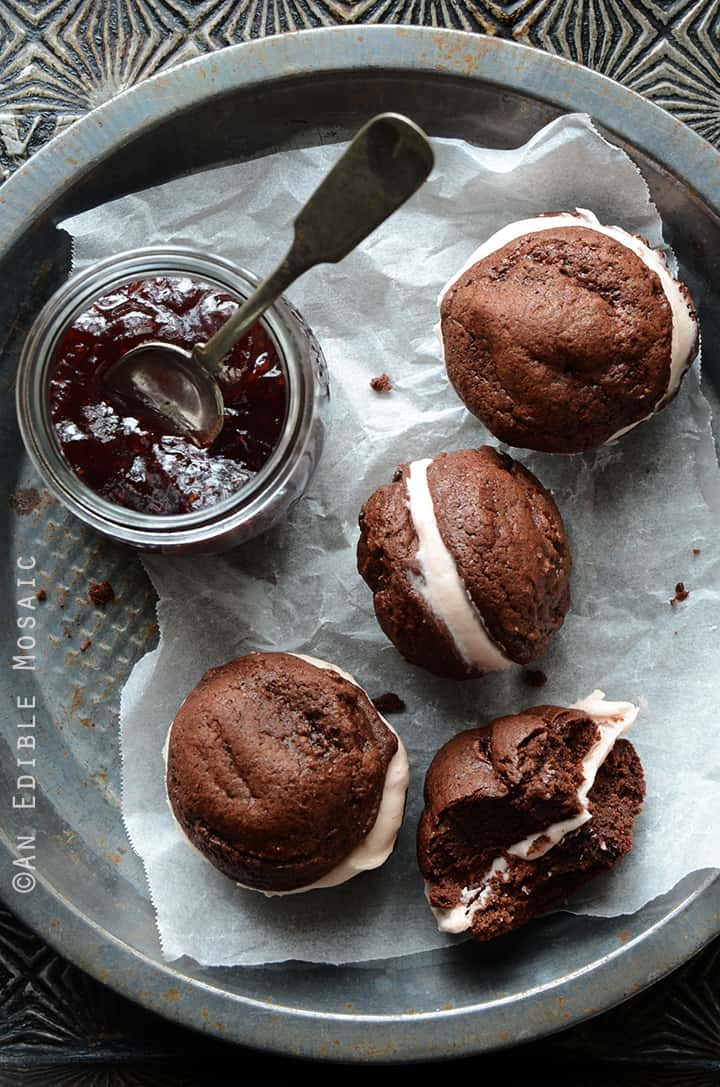 Dessert isn't an everyday thing in my house, but when I make it, I think it should be special. Valentine's dessert in particular, because for some reason it just goes hand-in-hand with the whole idea of romance.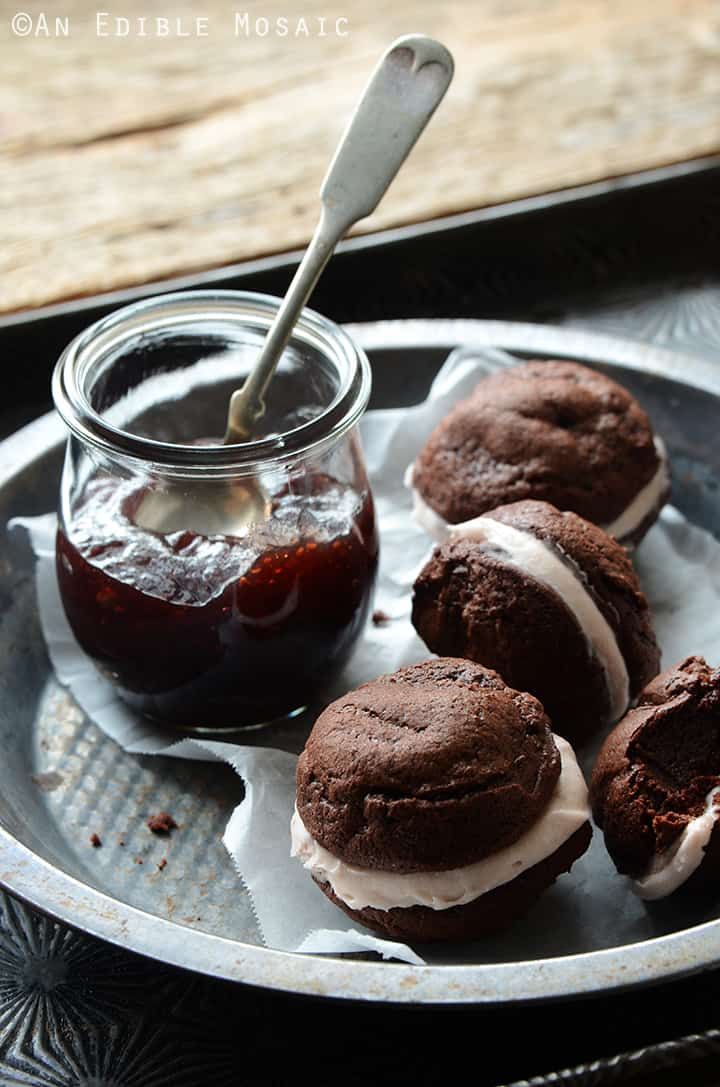 But coming up with the right treat can be tricky. On Valentine's Day, you probably don't need a whole batch of cookies or an entire pan of brownies. Scaled-down sizes will do quite nicely if it's just for you and your sweetie. And I'll admit I'm a bit of a conformist when it comes to V-Day dessert: chocolate is a must for me.
Small-Batch Fudgy Dark Chocolate Cookie Sandwiches with Raspberry Buttercream fit the bill perfectly.
Rich, super fudgy, dark chocolate cookies that are so velvety their texture is almost like ganache. Sandwiched together with pretty pale pink buttercream that's subtly flavored with raspberry. Oh my.
These are sure to please on Valentine's or any day you need a little something sweet.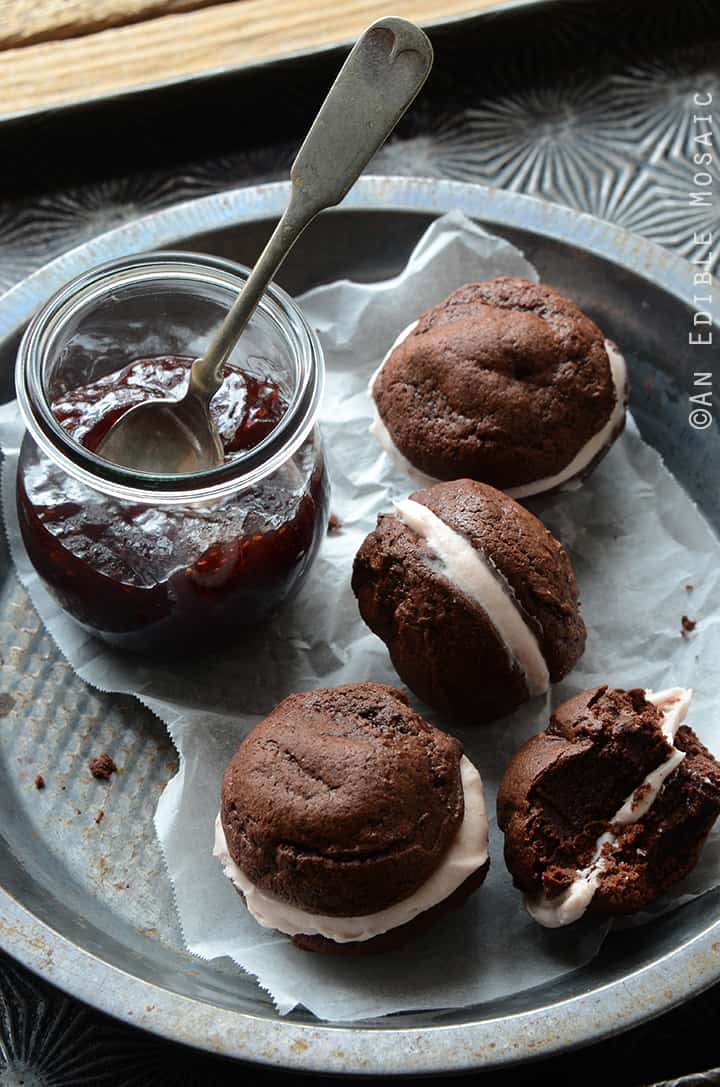 And here are a few other scaled-down chocolaty treats from around the web to inspire:
Chocolate Cupcakes for Two from An Edible Mosaic
Deep Dish Hot Fudge Brownie Sundaes for Two from Chocolate Moosey
Easy Mini Chocolate Layer Cake for Two from Two Red Bowls
Perfect Chocolate Chip Cookies for Two from The Baker Chick
Strawberry Swirl Brownies from Dessert for Two
The Moistest Chocolate Mug Cake from Table for Two
Thick and Creamy Hot Chocolate for Two from Healthy Sweet Eats
Two-Ingredient Dark Chocolate Fondue from An Edible Mosaic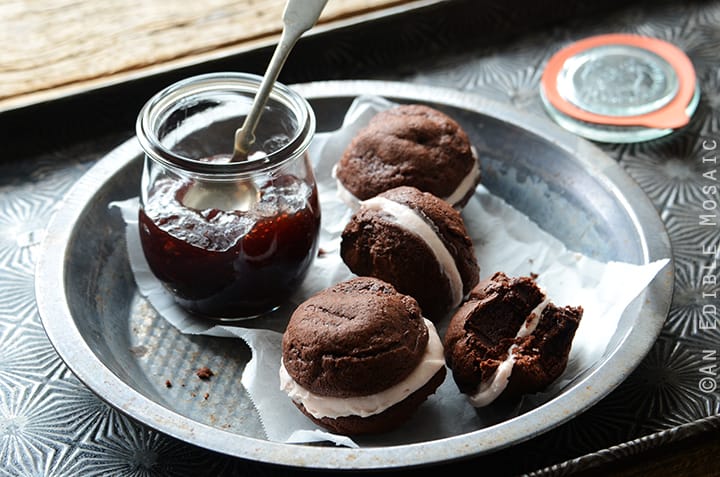 Fudgy Dark Chocolate Cookie Sandwiches with Raspberry Buttercream for Two
Prep time:
Cook time:
Total time:
Yield:
4 sandwich cookies
Ingredients
Cookies:
Buttercream:
2 tablespoons unsalted butter
2 teaspoons raspberry jam
½ cup powdered sugar
Instructions
For the cookies, melt the chocolate and butter together in a large bowl in a microwave or double boiler; cool slightly. Whisk in the sugar, egg, and vanilla. Stir in the flour, cocoa powder, baking powder, and salt (the batter will be soft). Cover the bowl with plastic wrap and put it in the freezer until stiffened, about 15 to 20 minutes.
Preheat the oven to 350F and line a large baking sheet with parchment paper or silpant liners.
Use a 2-tablespoon scoop to measure out the dough. Roll into balls and arrange on the prepared baking sheet. Bake until the cookies are light golden on the bottom, but not firm in the center, about 8 to 10 minutes. Cool completely on the tray before removing.
Once the cookies are cool, make the buttercream. Use a handheld electric beater to mix the butter and jam together in a medium bowl. Add the powdered sugar and continue beating until smooth and creamy. (Depending on how thick your jam is, you may need a little more jam or powdered sugar to achieve the right consistency.)
Assemble the cookie sandwiches by sandwiching 2 cookies together with frosting in the middle.
Disclosure: I received the chocolate that I used in this recipe for free from Chocoley. I did not receive compensation for this post and I was under no obligation to review the product; as always, opinions stated are my own.