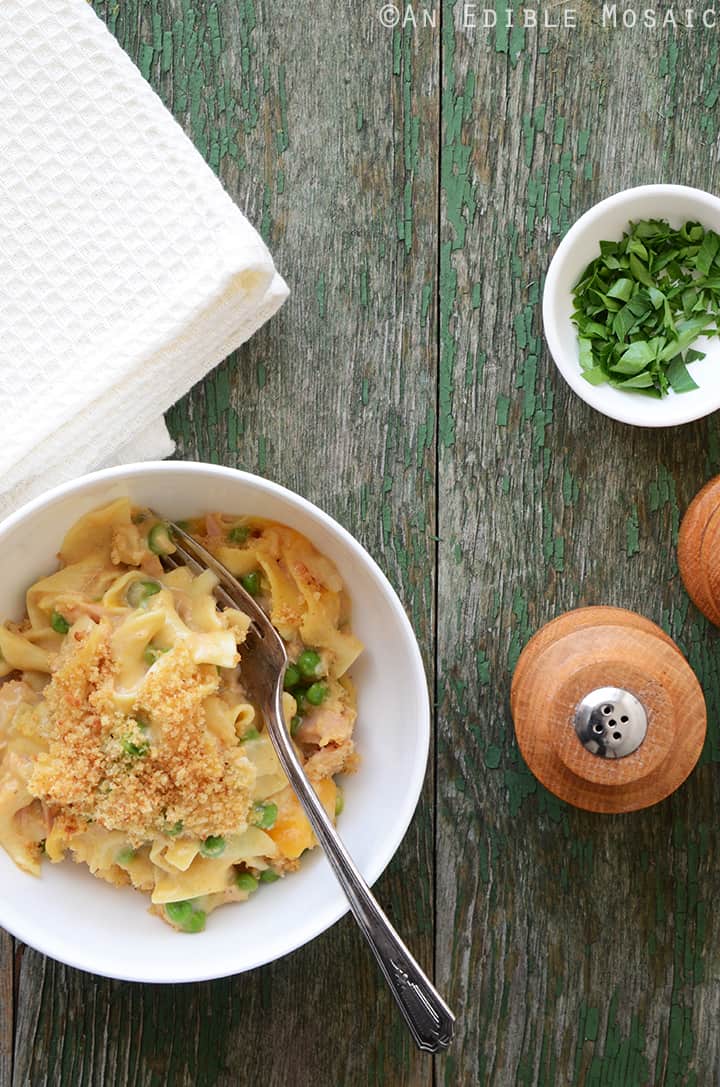 It's just a fact of life: anyone growing up in the late '80s and/or early '90s most likely had to endure some variation of tuna casserole. Frequently, in my case.
Specifically, I remember my mom making three different kinds of tuna casserole.
The first, which was our family favorite, was a vintage recipe straight from the Depression era that also happened to be a favorite of my great-grandfather. It was a creamy tuna mix topped with brown sugar-sweetened potato chips. It deserves to live on, and I definitely need to share this heirloom recipe with you at some point.
There was also a layered toast and tuna casserole with cream of mushroom soup and peas, I think. Even though I didn't outright hate it, this was my least favorite tuna casserole growing up.
Of course we couldn't claim to be a family familiar with tuna casserole if there wasn't also a cheesy tuna noodle variation in our dinner rotation. There was, and we were in fact familiar with it.
The good thing about eating a lot of tuna casserole is that we all loved tuna, lol.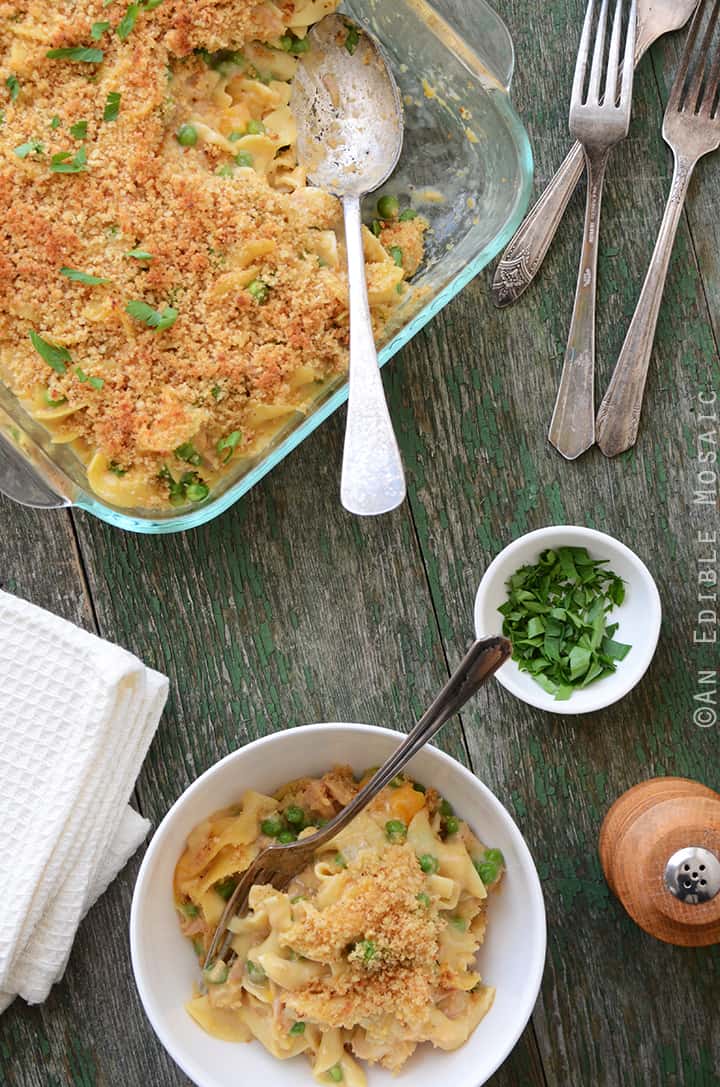 Until recently, it had been years since I even thought of tuna casserole. Out of nowhere, I was suddenly craving it something fierce. I saw an opportunity to take a classic childhood comfort food and up the ante a little, giving it a fresh spin and a slightly more grown-up flavor profile.
Living in the DC area, we have access to some fabulous seafood and Old Bay Spice is pretty common; I thought it would be a fun flavor twist on tuna casserole. The cheese sauce starts off pretty basic here, but is turned into something special with a little Dijon and Worcestershire in addition to Old Bay. This casserole is super cheesy; most of the sharp cheddar gets melted into the sauce, but some gets cubed and stirred in with the noodles so you end up with gooey areas of melted cheese. And the buttered toast topping adds crunch and depth of flavor; it's similar to breadcrumbs, but just a little different.
In the end, this dish is a wink and a nod to my mom's tuna and toast casserole, as well as her cheesy tuna noodle casserole. It's gooey, cheesy, savory, nostalgic comfort food that deserves to be brought back.
Here are a few other recipes featuring pasta and canned tuna that caught my eye:
Low-Carb Broccoli Tuna Casserole Bake from Grassfed Mama – This one has all the comfort of tuna casserole using broccoli and cauliflower instead of pasta!
Mediterranean Tuna Pasta from Sarah's Cucina Bella – One of the classiest tuna/pasta combos I've come across!
Tuna, Celery, and Egg Inspiralized Pasta Salad (No Mayo) from Inspiralized – I love that cucumber and zucchini take the place of pasta here and that Greek yogurt is used instead of mayo!
Tuna-Fennel Pasta Salad from Cooking Light – This would be a great one to bring to a picnic or potluck; I love that apple/fennel combo!
Tuna Noodle Casserole from Rachel Cooks – Great weeknight meal and wonderful use of water chestnuts here!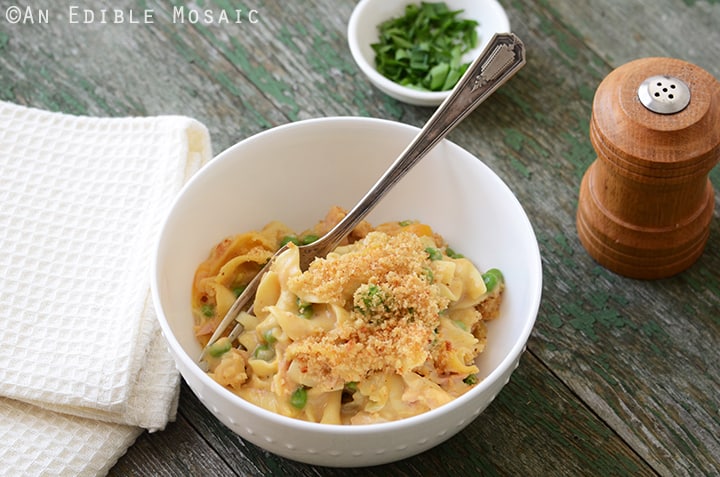 Old Bay-Spiced Cheesy Tuna Noodle Casserole with Buttered Toast Topping
Prep time:
Cook time:
Total time:
Ingredients
Casserole:
6 oz (170 g) wide egg noodles
3 tablespoons butter
1 large onion, diced
3 tablespoons flour
2 cups (475 ml) low-fat milk (not fat-free)
1 bay leaf
1½ teaspoons Old Bay Spice
1 teaspoon Dijon mustard
1 teaspoon Worcestershire Sauce
¼ teaspoon ground black pepper
8 oz (225 g) sharp cheddar cheese, divided (6 oz shredded, 2 oz cubed)
2 (6 oz/170 g) cans tuna in water, drained well
1½ cups (200 g) frozen green peas, thawed and drained well
Topping:
2 slices bread, toasted
⅛ teaspoon Old Bay Spice
1 tablespoon butter, melted
Instructions
Preheat the oven to 400F. Butter an 8 by 8-inch casserole dish and set aside.
Cook the noodles to al dente according to the package directions; drain well and set aside.
Melt 3 tablespoons butter in a medium saucepan over medium-high heat. Once melted, add the onion and cook until softened, but not browned, about 7 to 10 minutes, stirring occasionally. Stir in the flour and cook 1 minute. Whisk in the milk, bay leaf, Old Bay Spice, Dijon mustard, Worcestershire sauce, and black pepper. Stirring frequently, bring up to a boil. Turn off the heat and whisk in the shredded cheddar. Remove and discard the bay leaf and stir in the noodles, tuna, peas, and cubed cheddar. Pour the tuna noodle mixture into the prepared dish.
For the topping, pulse the bread in a food processor until crumbled. While processing, pulse in the Old Bay Spice, and then gradually the butter. Sprinkle the topping on the casserole.
Bake until the casserole is warm throughout and golden on top, about 15 minutes.
Serve.