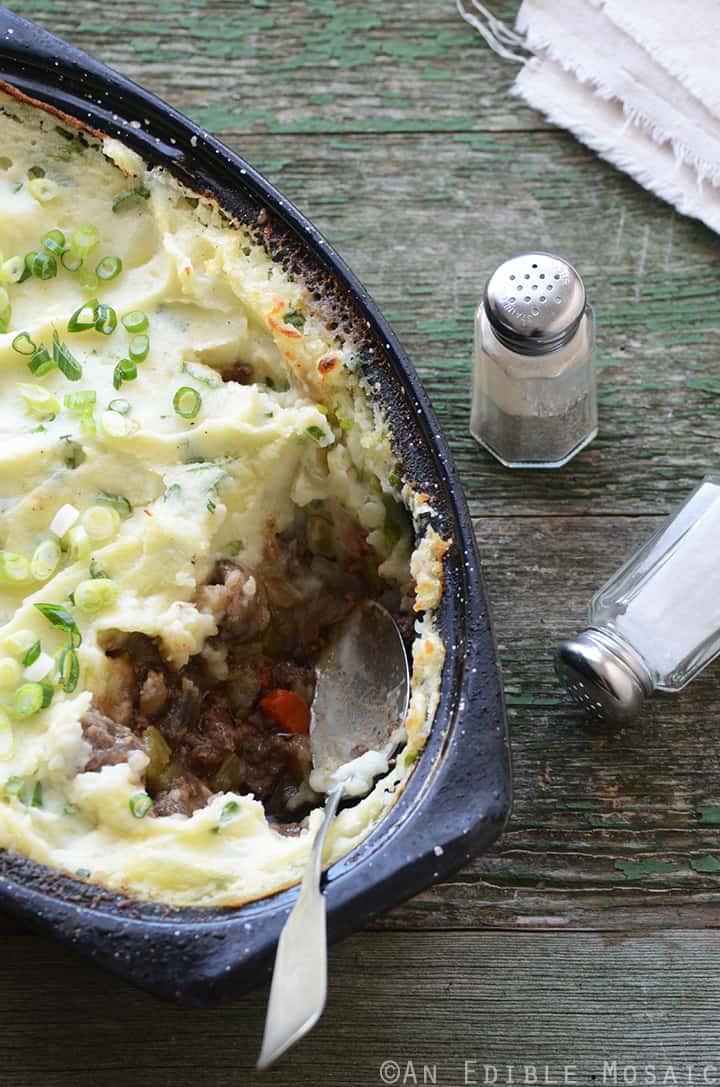 Right now you're probably wondering what the heck Champ is.
Champ, my friends, is an Irish thing; basically mashed potatoes with scallion and loads of butter. (Because we all know potatoes and butter go together like white on rice…or, well, like potatoes and butter.)
I wanted to make something in honor of St. Paddy's Day next week, and comfort food came to mind. Incidentally, one of the most common recipe requests I get are for easy, casserole-type dinners, so I saw my opportunity here.
This dish couldn't be much easier or more comforting. It's basically a super quick-cooking stew that's made on the stovetop, topped with Champ, and given a quick stint in the oven. Really, that's all there is to it.
You wouldn't believe how good it is though.
And it has a couple bonus features, the first of which is that it can be made up to three days ahead; to do so, complete instructions one and two below and just bake it on the day you want to serve it. Also, leftovers reheat exceptionally well even after it's been baked, so this is a good one to pack up for hot lunches.
Champ-Topped Vegetable Beef Guinness Casserole
Prep time:
Cook time:
Total time:
Ingredients
Filling:
1½ tablespoons olive oil
1 lb (450 g) lean ground beef
8 oz (225 g) cremini mushrooms, quartered
3 medium carrots, chopped
2 large stalks celery, chopped
2 medium parsnips, chopped
1 large onion, chopped
1 tablespoon minced fresh thyme
1 teaspoon salt
¼ teaspoon black pepper
1 bay leaf
1 cup (240 ml) Guinness Stout (see Note)
2 teaspoon Worcestershire sauce
1 tablespoon arrowroot starch (or cornstarch), dissolved in 1 tablespoon cold water
Topping:
1½ lbs (680 g or about 3 medium-large) starchy potatoes, such as Russet, peeled and cubed
4 tablespoons unsalted butter
½ cup (120 ml) half and half (or milk)
¾ teaspoon salt
¼ teaspoon black pepper
6 scallions, white and green parts, thinly sliced, divided
Other:
Butter, to grease the dish
Instructions
For the filling, add the oil to a large, deep skillet over medium-high to high heat. Once hot, add the beef, mushroom, carrot, celery, parsnip, onion, thyme, salt, black pepper, and bay leaf. Cover the skillet and cook 15 minutes, stirring occasionally. Stir in the Guinness and Worcestershire and cook (uncovered) until the sauce is reduced and thickened, about 10 minutes, stirring frequently. Stir in the arrowroot or cornstarch slurry during the last 1 minute of cooking.
Meanwhile, make the mashed potato topping. To do so, add the potatoes to a medium pot along with enough water to cover them by 1 to 2 inches. Cover the pot and bring the potatoes up to a boil; once boiling, turn the heat down and crack the lid (so they don't boil over), and cook until the potatoes are very tender, but not mushy, about 10 to 12 minutes. Drain well. Mash the potatoes with the butter, and then stir in the half and half, salt, black pepper, and ⅔ of the scallion (reserving ⅓ for topping).
Preheat the oven to 450F, and grease a 2½-quart casserole dish with butter. Spread the filling into the bottom of the dish and spread the potatoes on top. Bake until golden in places, about 10 minutes.
Sprinkle the reserved scallion on top and serve.
Notes
Guinness: If you don't cook with beer, you can substitute non-alcoholic beer or beef stock.

To Make Ahead: Make this dish through steps 1 and 2 (up to 3 days before you want to serve it), and bake it on the day you want to serve it.

For more Irish fare, check out my recipes for…
Guinness Beef Stew and Irish Soda Bread