Guinness Beef Stew and Irish Soda Bread are a cold-weather classic that's sure to warm you up!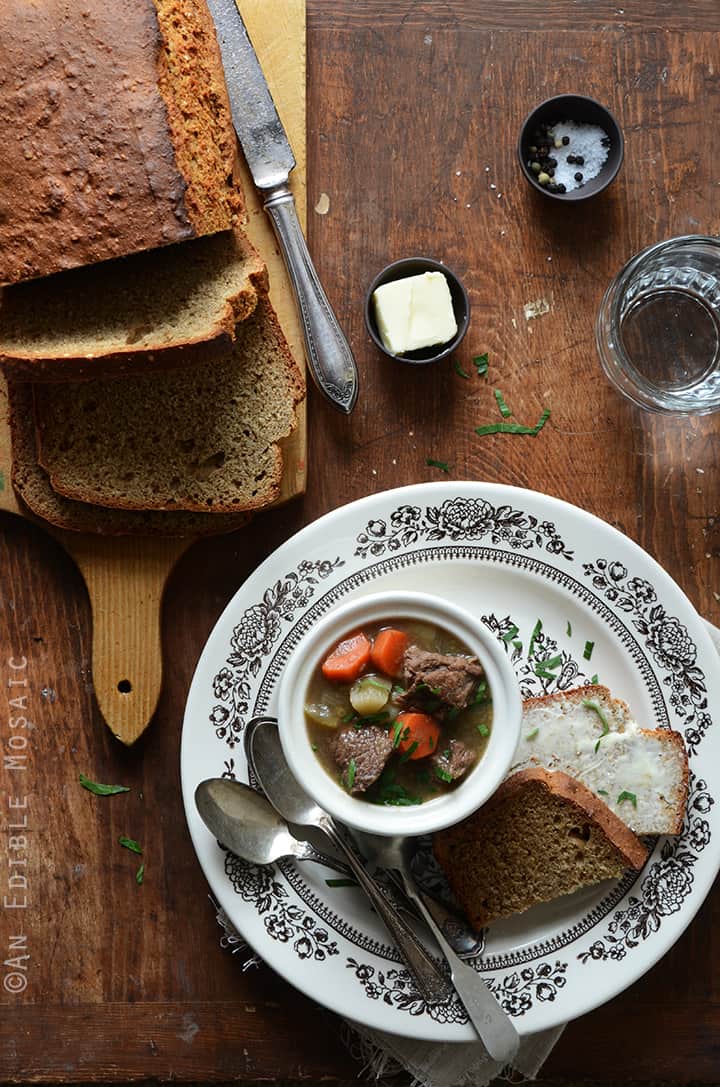 Saint Patrick's Day is almost here! A time for parades, wearing of green, and dying of anything and everything to match that brilliant shade of emerald.
Most people I know (Irish or not) celebrate St. Paddy's Day in some way because after all, everyone is Irish on St. Paddy's Day, right? ;)

The Chicago River, Dyed Green for St. Paddy's Day (I originally found the image on Flickr, but it isn't up there anymore!)
When you think of St. Paddy's Day, what is the first thing that comes to mind? Corned beef and cabbage? Shamrocks? Green beer?
I think of hearty, warming foods. Slow-cooked, braised meat dishes…potatoes, root veggies, and comfort. Recently, I was looking through one of my new cookbooks, The Irish Pub Cookbook by Margaret M. Johnson. The book is full of lovely pictures and homey recipes. Simple, quality ingredients are combined with traditional cooking methods, and the result is food that withstands the test of time.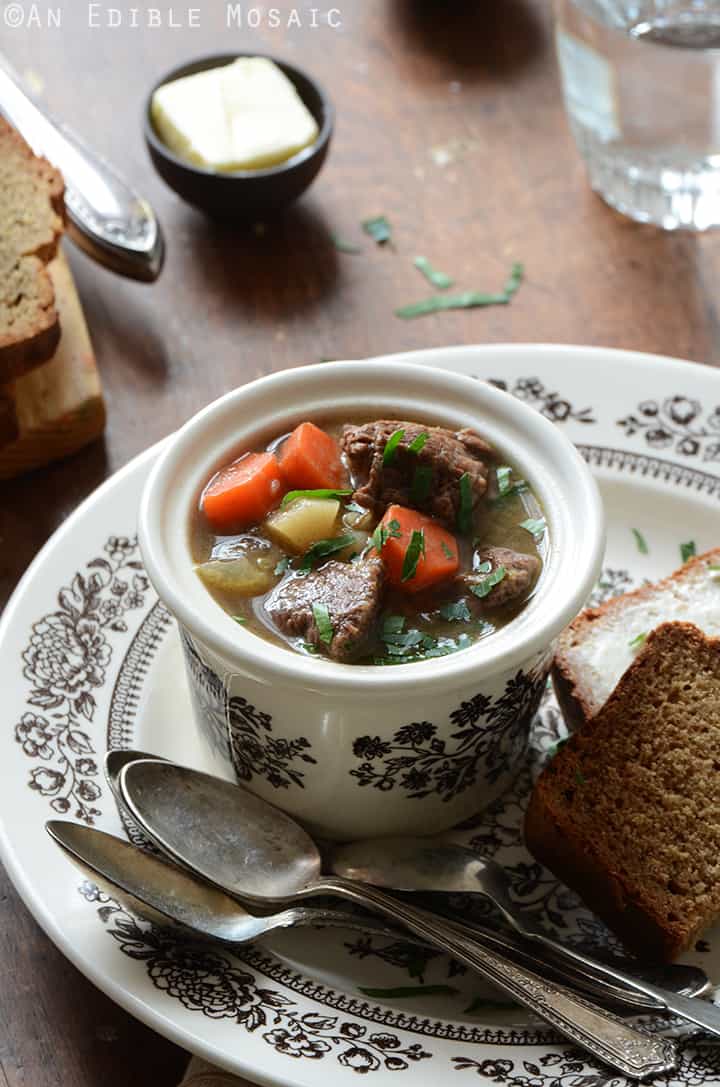 When I was thumbing through the book, I came across a recipe for Guinness Beef Stew. If you've been reading my blog for a while you might know that Mike and I don't drink alcohol…but that doesn't mean I don't like to use alcohol in recipes for the flavor and let it cook off. This stew basically jumped off the page at me.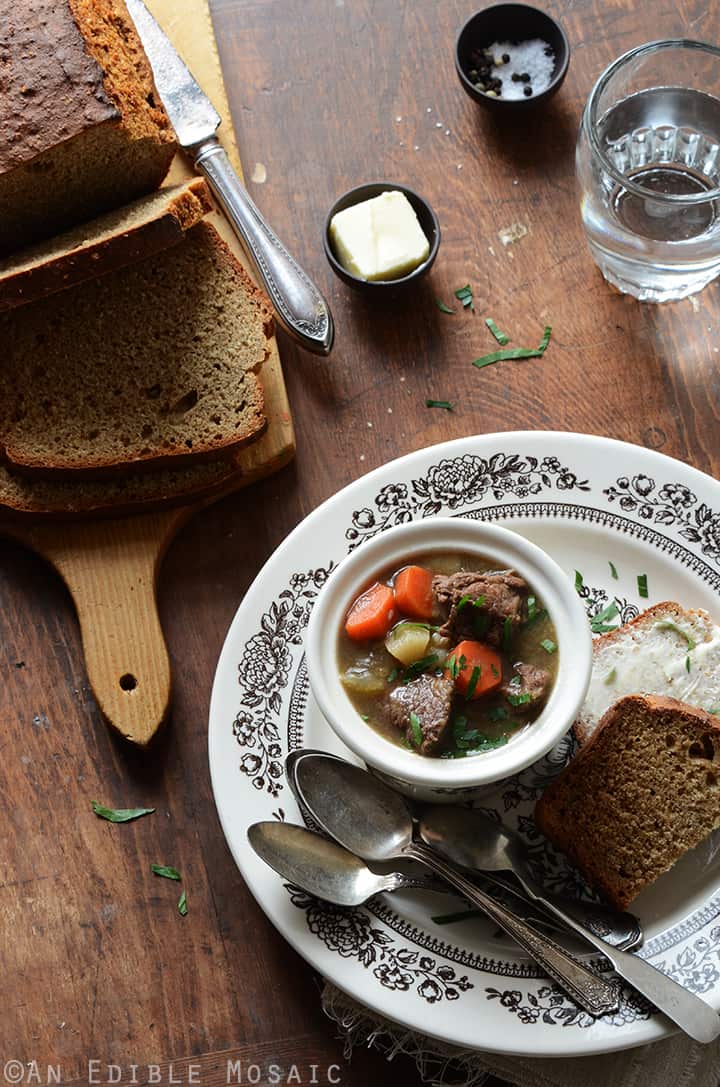 I made several changes to the recipe. The original called for a turnip; believe it or not, I've never eaten a turnip in my entire life (and I was raised in a veggies-every-day household!). Despite that, I added a turnip to my shopping list and looked for it at the store. I couldn't locate a turnip to save my life so I asked a grocer who told me they didn't have any that day. Oh well.
I decided to add some celery and cabbage to bulk it up. (I cooked the cabbage along with the beef and the cabbage just seemed to melt into the broth, which was exactly what I was going for.)
The original recipe didn't have any potato in the stew; instead, it suggested serving the stew with mashed or boiled potatoes. I just saved myself a step and added a potato to the stew.
Lastly, the original recipe called for quite a bit more butter and oil than the amounts I used (it originally called for 4 tablespoons butter and 1/4 cup oil), but I found that the recipe was perfect without all that added fat. The end result was nothing short of pure comfort.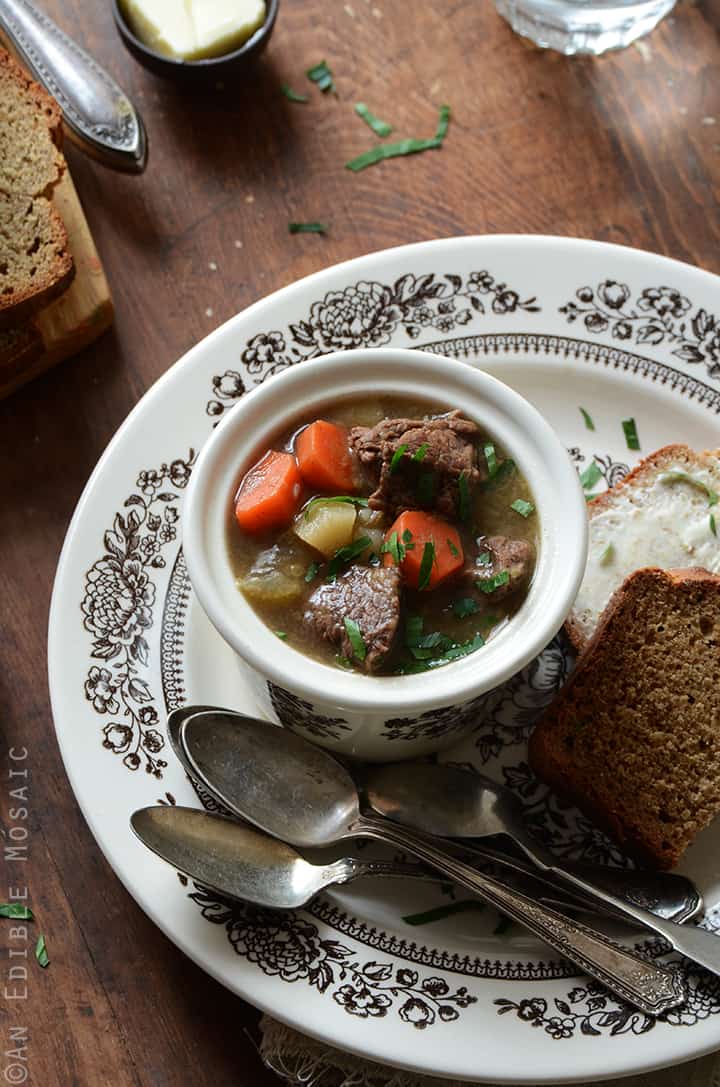 In The Irish Pub Cookbook, I also came across several fabulous-looking recipes for Brown Soda Bread. I couldn't decide which one sounded the most delicious, so I made a variation incorporating the best of a couple different recipes. This bread is the perfect accompaniment (and utensil) for soaking up hearty Guinness Beef Stew.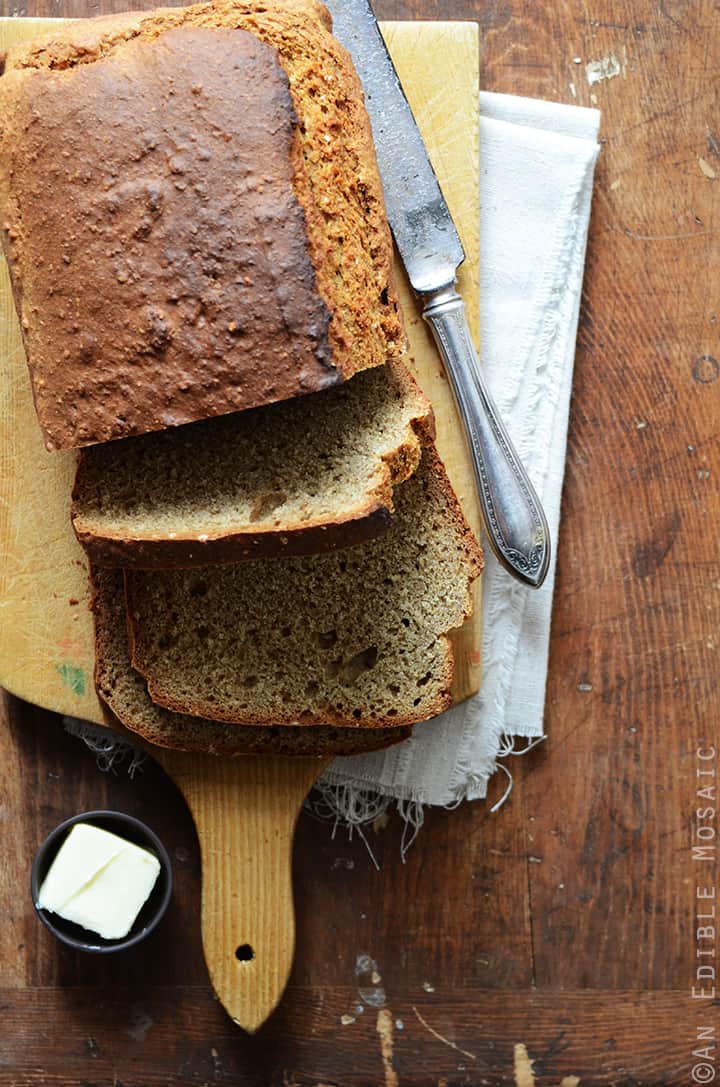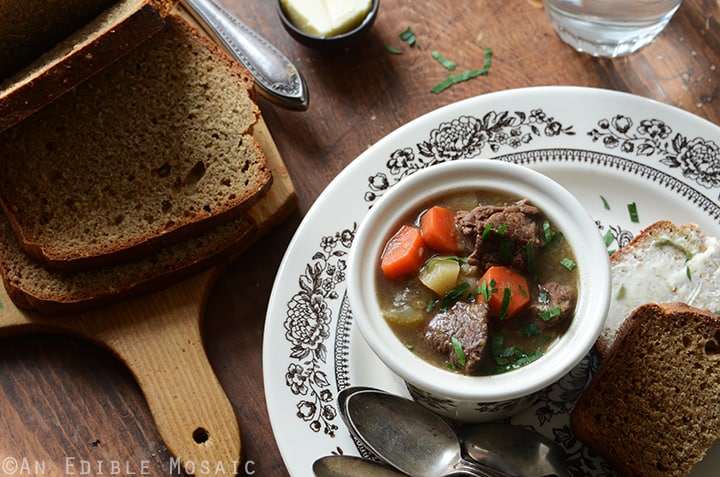 Guinness Beef Stew and Irish Brown Soda Bread
Yield:
1 (5 quart) pot of stew and 1 (9 by 5-inch) loaf of bread, about 8 servings
Ingredients
Guinness Beef Stew:
1½ tablespoons olive oil
2 lbs stew beef, trimmed of fat and cut into 1-inch cubes (I like to use sirloin)
½ small head cabbage (I use Savoy), sliced into thin shreds
2 large white onions, chopped
1¾ cups (415 ml) Guinness Stout
6 cups low-sodium beef stock
2 bay leaves
1 teaspoon ground marjoram
1 teaspoon salt
½ teaspoon black pepper
4 medium carrots, peeled and sliced
4 medium parsnips, peeled and sliced
4 medium stalks celery (leafy tops included), chopped
1 starchy potato (such as Russet), washed and diced (not peeled)
1 tablespoon unsalted butter, at room temperature
1½ tablespoons all-purpose flour
Fresh minced parsley, for garnish (optional)
Irish Brown Soda Bread:
3 cups whole wheat flour
1 cup all-purpose flour
¼ cup wheat or oat bran
2 teaspoons baking soda
1½ teaspoons fine salt
1 large egg, lightly beaten
4 tablespoons unsalted butter, melted and cooled slightly (plus more to grease the pan)
2 tablespoons honey
2 cups buttermilk
Instructions
For the stew, heat the oil over medium to medium-high heat in a 5-quart pot. When the oil starts to ripple, add the beef and cook until browned on both sides, about 5 minutes (cook in batches if necessary to avoid crowding the pot). Add the cabbage, onion, Guinness, beef stock, bay leaves, marjoram, salt, and pepper. Bring the soup up to a boil, then cover it, turn it down to a simmer, and cook until the meat is tender, about 60 to 90 minutes, stirring occasionally. Add the carrots, parsnips, celery, and potato, and bring the soup up to a boil; turn it down to a simmer, cover it, and cook until the veggies and meat are tender, about 20 to 30 minutes, stirring occasionally. In a small bowl, mix together the butter and flour until completely combined. Whisk this mixture (called a beurre manié) into the stew to thicken it. Season to taste with additional salt and pepper. Serve garnished with fresh minced parsley along with Irish Brown Soda Bread.
For the bread, preheat the oven to 375F and butter a 9 by 5-inch loaf pan. Combine the butter and honey in a small bowl and set aside. Whisk together the whole wheat flour, all-purpose flour, wheat bran, baking soda, and salt in a large bowl. Make a well in the center of the dry ingredients and use a wooden spoon to stir in the egg, then the butter/honey mixture, and then about half of the buttermilk. Gradually add just enough buttermilk so that a soft dough forms; be careful not to over-mix. Transfer the dough to the prepared pan and smooth the top with a spatula that has been dipped in water or buttermilk. Bake until a wooden skewer inserted into the center comes out clean, about 40 to 50 minutes. Let the bread cool in the pan for 5 minutes, then turn it out onto a wire rack and cool for about an hour.
Disclosure: This post contains Amazon affiliate links to products I believe in, which means that even though it doesn't cost you anything extra, I will receive a small amount of money from the sale of these items, which helps me keep this site alive – thank you for helping to support An Edible Mosaic!
Update (February 8, 2015): I made this dish again and perfected the recipe and snapped a few pictures, so I decided to update both the recipe and the photos in this post.