With a slightly tangy flavor, crisp crust, and chewy interior, this No Knead Bread Recipe reminds me of a loaf of sourdough.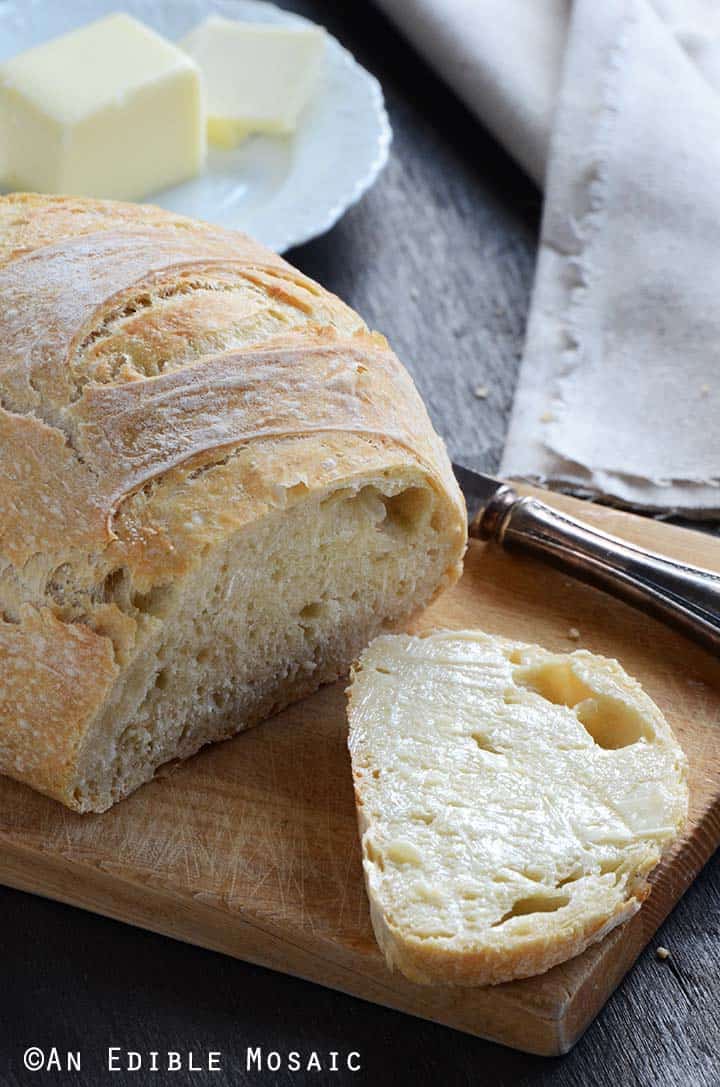 I know it's been a couple years now since no-knead bread first took the food world by storm. I am no doubt behind the times for only now trying it! Especially because it's probably considered passé to some. Even so, there can be no denying that it's a pretty fantastic discovery.
I think the reason I waited so long is I'm the sort of person who finds solace in mundane tasks.
Growing up, I liked watching my mom vigorously mash potatoes by hand with the simple hand masher that she used since the time I was young. And then studying her every move as she took care to add the perfect combination of milk, butter, and salt. She gauged it by feel, with not a single measuring cup or spoon in sight.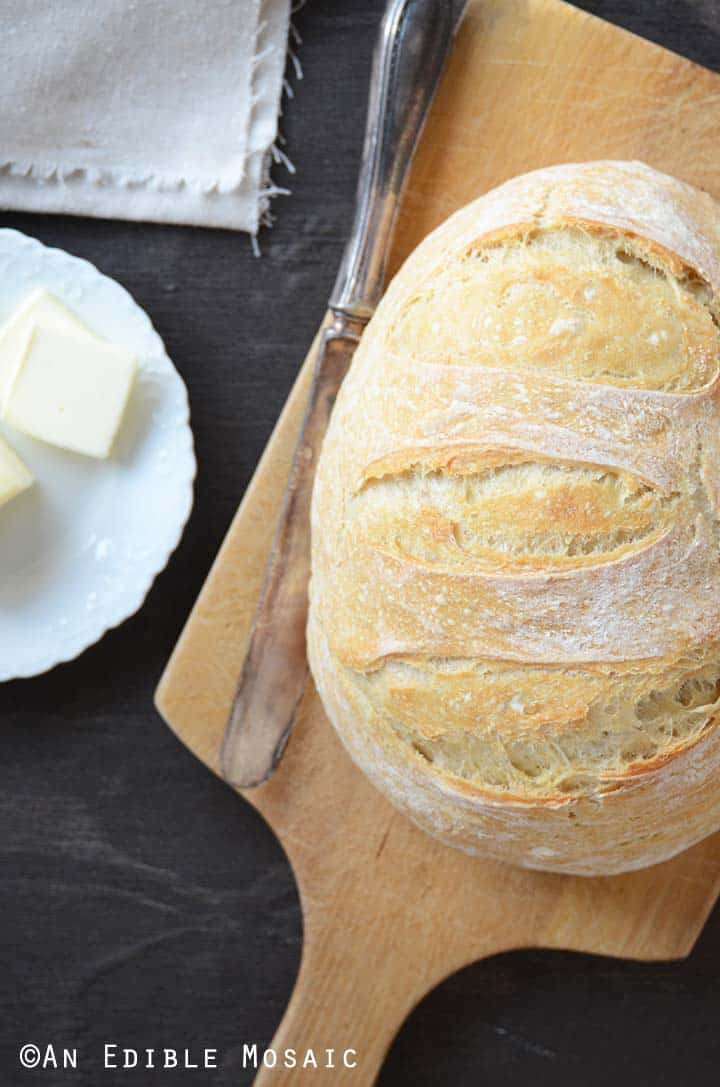 Or watching my mother-in-law shape kibbeh or hollow out vegetables for mahashi for hours. She worked with nimble hands and a level of ease that only comes from years of practice.
Or myself in the kitchen, taking great pride and pleasure in the tedious labor of making bread the traditional way. The precision of mixing ingredients to make dough, then giving it a good knead. Watching patiently as the yeast works its magic and causes the dough to swell. And then working the dough again, feeling it transform in my hands. Letting it rest a bit longer, and then waiting impatiently as the bread bakes, its enticing aroma permeating the house.
I'm somewhat of an old soul when it comes to things like that.
But I'll admit there's also something magical about this No Knead Bread Recipe!
No Knead Bread Recipe
As far as the finished product goes, I still prefer a kneaded bread. However, this is honestly pretty delicious for being no-knead and nearly instant.
I say nearly because there is the 12 to 18 hour rise time, as well as a second 30 to 45 minute rise. But the rising takes care of itself, and is really no trouble if you plan ahead.
The slightly tangy flavor of this No Knead Bread Recipe is very similar to sourdough. Its texture is dense, but with a spongy quality. The first day it's perfect as-is, or with a little butter spread on top. After the first day, I enjoy this bread toasted or used to make grilled cheese sandwiches.
More Yeast Bread Recipes to Try:
Did you make this recipe? Please rate it and leave a comment below because I love hearing from you! You can also tag @anediblemosaic on social media. To stay up-to-date FOLLOW ME on Instagram, Twitter, and Facebook. Xoxo, Faith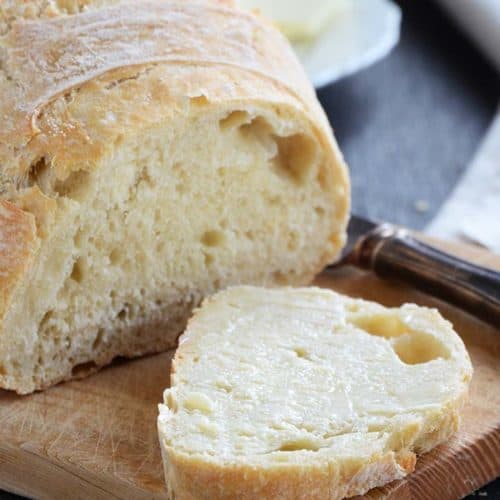 No Knead Bread Recipe
With a slightly tangy flavor, crisp crust, and chewy interior, this No Knead Bread Recipe reminds me of a loaf of sourdough.
Instructions
Whisk together the flour, salt, sugar, and yeast in a large bowl. Add the water and mix until a shaggy mixture forms. Cover the bowl with plastic wrap and let sit at room temperature for 12 to 18 hours. (After sitting, the dough will be sticky and sponge-like.)

Preheat oven to 450F. When the oven is hot, place a cast iron pot with a lid in the oven and heat the pot for 30 minutes. Meanwhile, pour the dough onto a very heavily floured surface, flour your hands, and shape into a ball (without kneading), adding more flour as necessary so the dough holds its shape without expanding too much. Cover with plastic wrap and let it rise until puffed, about 30 to 45 minutes.

Remove the hot pot from the oven and drop in the dough. Cut 3 slashes across the top of the dough with a sharp knife. Cover and return to oven for 30 minutes. After 30 minutes, remove the lid and bake an additional 15 minutes.

Remove bread from the pot and place on a cooling rack to cool.
Faith's Tips
This recipe makes 1 loaf of bread. Cut the loaf into 12 slices and each slice is a serving. Nutrition information is for 1 slice.
Nutrition
Nutrition Facts
No Knead Bread Recipe
Amount Per Serving (1 slice)
Calories 117
Calories from Fat 9
% Daily Value*
Fat 1g2%
Sodium 196mg9%
Potassium 41mg1%
Carbohydrates 24g8%
Protein 4g8%
Calcium 6mg1%
Iron 1mg6%
* Percent Daily Values are based on a 2000 calorie diet.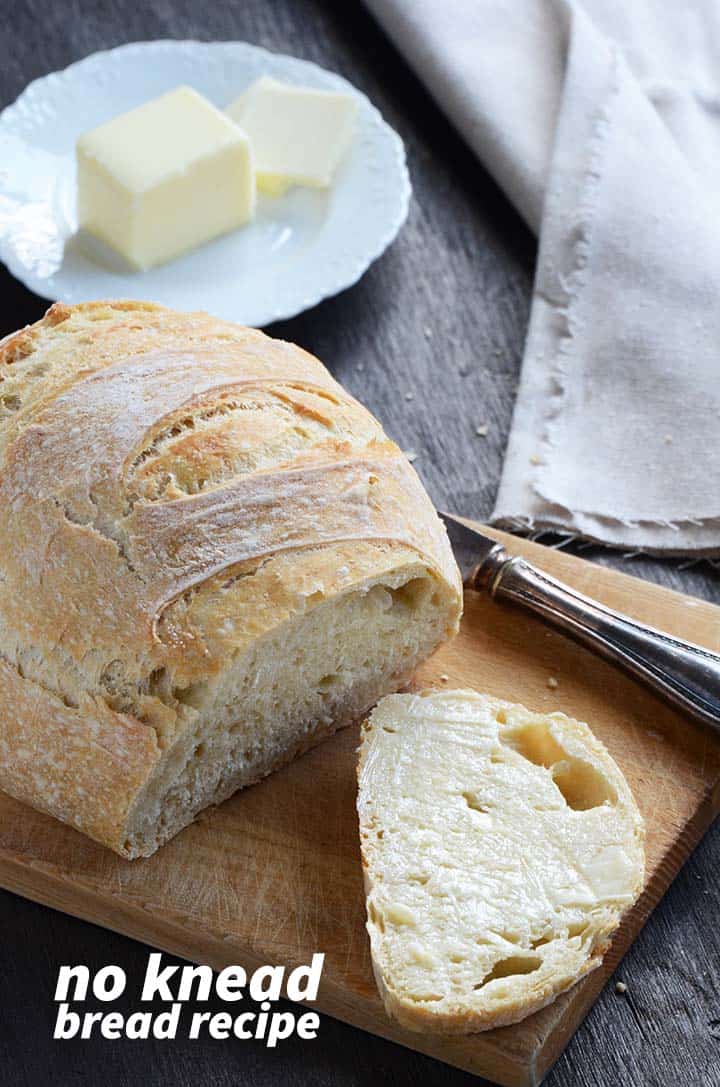 This post was first published on An Edible Mosaic on January 21, 2013. I updated it with more information on April 14, 2020.
Disclosure: This post contains Amazon affiliate links to products I believe in, which means that even though it doesn't cost you anything extra, I will receive a small amount of money from the sale of these items, which helps me keep this site alive – thank you for helping to support An Edible Mosaic!