I can't think of a more comforting food than pizza at the end of a long week…hot from the oven, oozing cheese, with crust that's crispy outside and soft inside…the whole house filled with the smells of Italy (or your favorite pizza place, close enough, right?)…
I usually make thin-crust pizza, but for some reason I was dying for thick-crust, and this pizza did not disappoint.  I made my own dough (it literally took less than 5 minutes to make – of course, not counting rise time – and it required no kneading!), but if you want you can buy pre-made dough.  You can switch up the toppings and add whatever you like (any veggies would be great), or you could even use tomato sauce if you don't want a white pizza.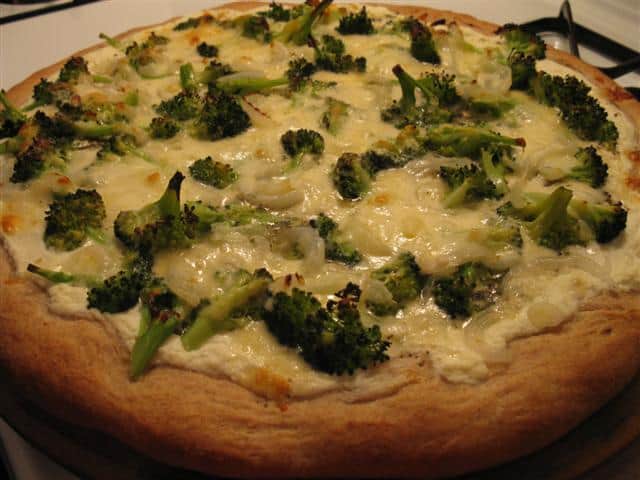 Cheesy Broccoli White Pizza
(Yield:  1 pizza, ~15" in diameter)
Pizza Toppings:
6 oz reduced-fat mozzarella cheese, shredded
1 ½ c reduced-fat ricotta cheese
1 small onion, thinly sliced and softened in the microwave for ~2 minutes (stirring occasionally)
2 c broccoli, steamed until crisp-tender
½ tsp salt
¼ tsp pepper
1 tsp dried basil
½ tsp garlic powder
½ tsp dried oregano
1 TB olive oil (optional, to brown up the top of the pizza)
Thick-Crust Pizza Dough (Adopted from Delish.com):
1 c all-purpose flour
1 c whole wheat flour
1 tsp sea salt
2 ¼ tsp instant yeast
1 tsp sugar
~1 c water
2 TB olive oil
Cooking spray
Round pizza stone (~15" in diameter…or whatever pan you have to cook pizza)
In a food processor, pulse together the flours, salt, instant yeast, and sugar; once combined, stream the olive oil in through the feed tube (while still pulsing), then slowly stream in as much water as needed for the dough to form a ball (the dough might not need all of the water).  Spray a large bowl with cooking spray and transfer the ball of dough to the oiled bowl.  Cover the bowl with a damp towel and let it rise for an hour in a warm, draft-free place (the ball should double in size).  Punch the dough down, cover it, and let it rise for another 30 minutes.  Roll the dough out to the size of your pan, using flour as needed. 
Preheat the oven to 475F.  Transfer the dough to your pizza stone and spread it out; poke the dough several times with a fork and then let it rest for ~10 minutes.  Spread the ricotta on the dough; on top of the ricotta, evenly sprinkle the salt, pepper, basil, garlic powder, and oregano.  Layer the broccoli and onion, then sprinkle the cheese on top.  If desired, drizzle 1 TB of olive oil over the pizza.  Bake the pizza for 15-20 minutes or until the crust is light golden brown and the top is browned in places.