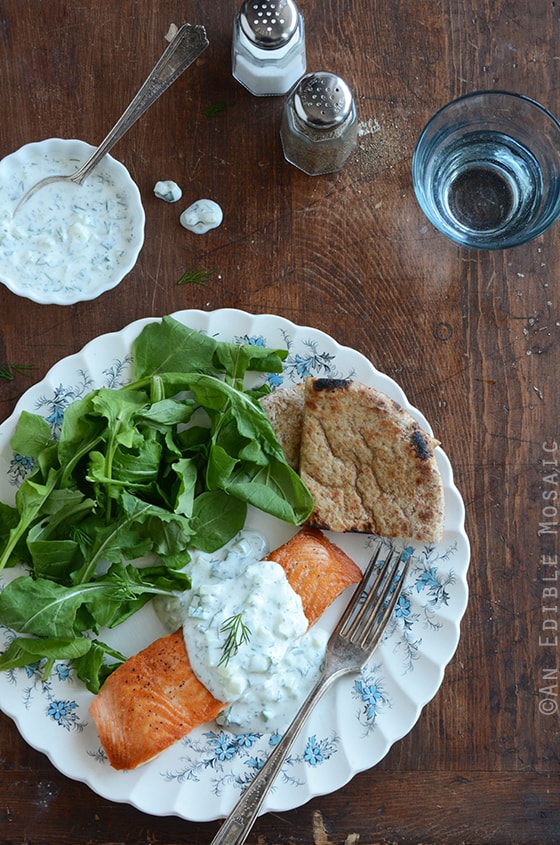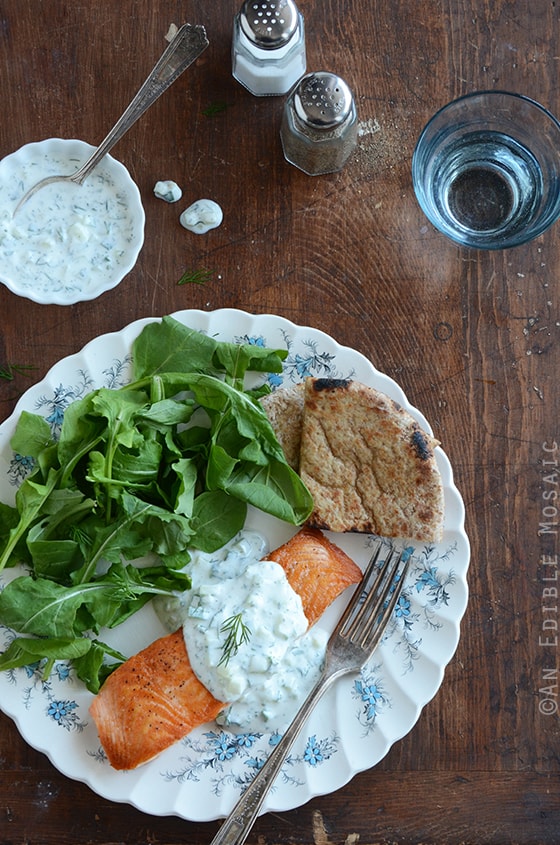 I don't really consider myself a clean freak, but I guess if the shoe fits. Or if she walks like a duck and talks like a duck…or in this case, if she feels the need to clean daily whether the apartment needs it or not…
Ok, I guess you can go ahead and call me a clean freak (my husband already does).
Which is why I'm appalled to say we had an ant issue not too long ago. (Ok, that's a little dramatic. But I was at the very least surprised.) And to make matters worse, one day I heard one of our elderly lady neighbors yelling profanities out in the hallway; I ran out to see what was wrong (yup, some neighbors still do that, lol) and she was complaining about ants!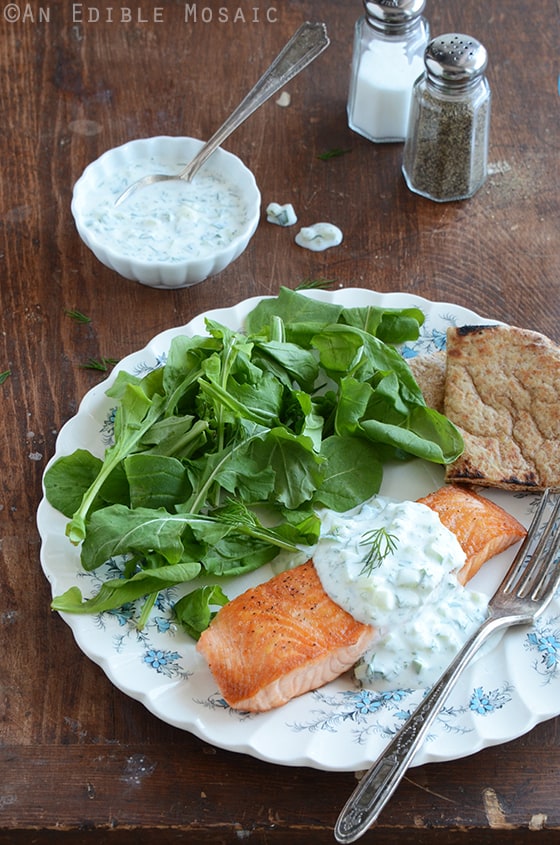 Do you have an ant problem in your apartment?, she asked barked. I could have sworn I heard accusation in her voice. I felt like the Spanish Inquisition was at my door. Umm, uh, yeah, we've had a few ants this season, I murmured nervously, all the while thinking How did you know?! I was like a criminal trying to cover the tracks of her crime lest she be condemned.
Of course that chat sent me straight back inside for a two-hour cleaning spree.
I figured if I couldn't get rid of the ants (why do traps not work?!), at least I could make my home as inhabitable to them as possible.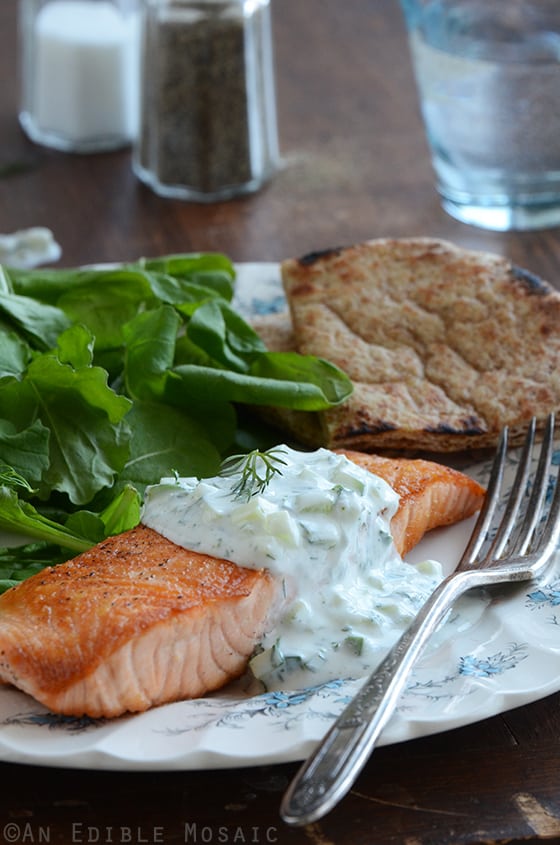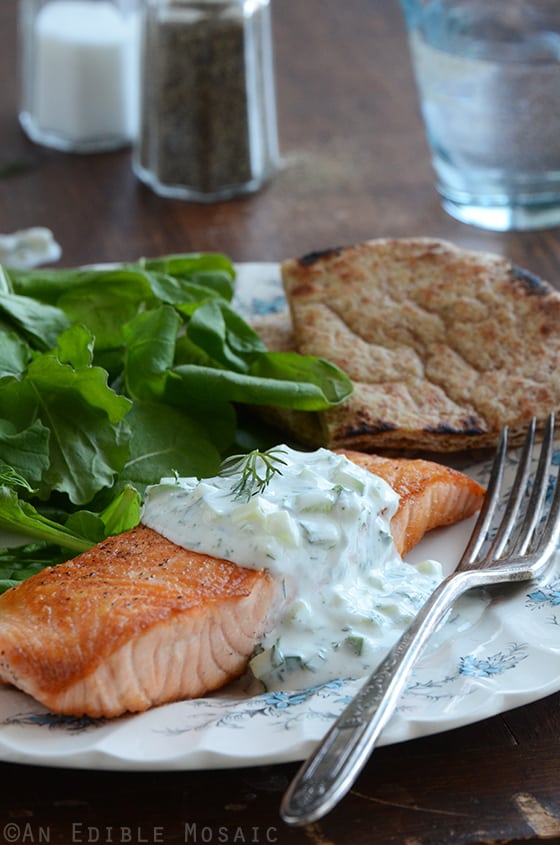 But along with ants, warmer weather also brings good things. Like popsicles. Country bike rides. Picnics. Day trips to the beach. And lighter, easy-to-make meals. (Because who wants to spend an exorbitant amount of time cooking when there are – sometimes, anyway – better things to do?)
This salmon dish is perfect lighter fare for hotter days. I like to serve this salmon with salad greens and charred pita bread to spoon the extra tzatziki on top of. This whole meal comes together before you know it.
And hopefully won't draw ants, lol.
Looking for other ways to enjoy this healthy fish? Check out 100 Ways to Cook with Salmon on Cooking Light.
Seared Salmon with Tzatziki Sauce
Prep time:
Cook time:
Total time:
Ingredients
Tzatziki Sauce:
¾ cup (175 g) Greek yogurt
2 tablespoons lemon juice
⅓ English cucumber (or 1 Persian cucumber), diced
1 clove garlic, crushed using a mortar and pestle or grated on a microplane
2 tablespoons minced fresh dill
½ teaspoon dried crushed mint
¼ teaspoon coarse salt
⅛ teaspoon ground black pepper
Seared Salmon:
Olive oil
Salt and pepper
4 (4-6 oz) salmon fillets
Instructions
For the tzatziki, stir together all ingredients and refrigerate until serving.
For the salmon, heat a large nonstick skillet over medium-high heat; once hot, add enough oil to lightly coat the bottom.
Let the oil heat up for a few seconds, and meanwhile, season the salmon on both sides with salt and pepper.
Place the salmon into the hot skillet and cover it (so the oil doesn't splatter everywhere), leaving the lid ajar. Cook 2 minutes on the first side, then flip the salmon and cook 2 minutes more.
Turn the heat off, fully cover the skillet, and let the salmon sit for 2 minutes so the steam can finish cooking it through. (It should be opaque and flake easily with a fork when it's fully cooked.)
Serve the salmon with the tzatziki spooned on top.
Notes
Making the Tzatziki Sauce Ahead: You can make the tzatziki a couple days ahead, but note that as the liquid seeps out of the cucumber, the sauce will become thinner. If you prefer a super thick consistency, omit the lemon juice and serve it right away after making so the cucumber doesn't have time to release its water.