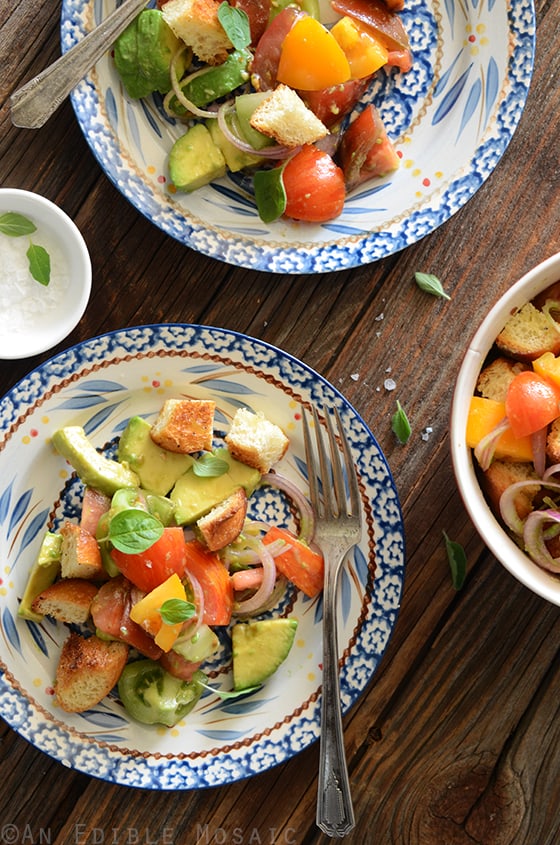 There is nothing better than fresh, local tomatoes in their peak season.
I crave them just about nonstop this time of year, and have been known to make dinner out of them for the better part of a week straight (and I could have happily gone longer if I hadn't run out of tomatoes and if the farmer I bought them from weren't a two-hour car ride away).
Sliced up and sprinkled with salt, in-season tomatoes don't need anything else. (But of course a little glug of good-quality olive oil doesn't hurt!)
Panzanella salad (which I love, but will only eat when I have access to local, peak-season tomatoes because they make the salad) is another fabulous option.
This panzanella is a bit different from most. Tomato, avocado, and red onion are the only veggies used (and yes, I know that technically two out of those three are actually fruit), so make sure you use the best quality tomatoes and avocado you can find. Sweet summer tomatoes with their hint of acidity are a lovely play off creamy avocado, and crunchy fresh-made croutons are always a fun addition to just about any salad.
I'm happy eating my fill of this salad as a meal on its own, but if you want to bulk it up with some protein, a can of cannellini beans or some cooked, cubed chicken are both nice additions. Or you can serve it along with something grilled (steak or fish are both fabulous) for a quick dinner that won't heat up the kitchen.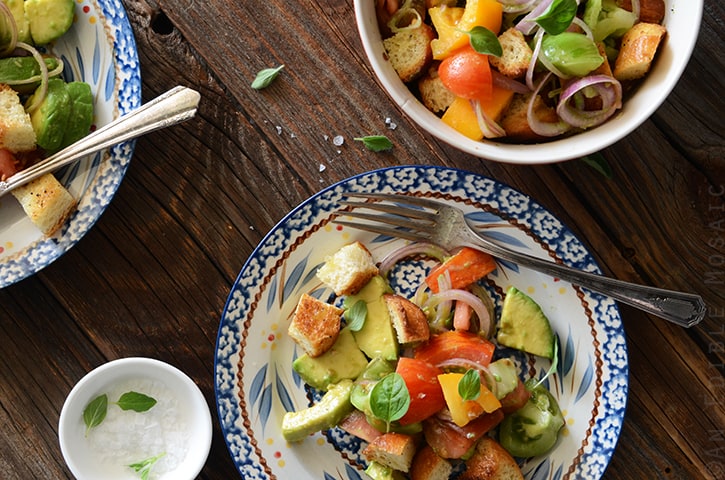 Heirloom Tomato and Avocado Panzanella Salad
Prep time:
Cook time:
Total time:
Yield:
4 side dish-sized servings or 2 main dish-sized servings
Ingredients
2 cups cubed, stale bread
2 tablespoons olive oil, divided
Salt and pepper
1 avocado, chopped
½ of a fresh lemon
¾ to 1 lb (340 to 450 g) heirloom tomatoes (I used Incan heirlooms), chopped
1 small red onion, thinly sliced
A small handful of fresh herbs (I used oregano, but basil would also be great)
Instructions
Preheat the broiler. Toss the bread together with 1 tablespoon olive oil and a pinch of salt and pepper. Broil until the bread is golden brown, about 5 minutes, tossing a couple times to prevent burning. Cool.
As soon as you remove the avocado's peel and pit, squeeze some fresh lemon juice on it. Chop the avocado and squeeze a bit more fresh lemon juice on top.
Gently toss together the avocado, tomato, red onion, remaining 1 tablespoon olive oil, and a pinch of salt and pepper. Add the toasted bread and give it another gentle toss.
Transfer to a serving dish and top with a few leaves of fresh herbs.
Serve immediately.