This Warm-Spiced Pumpkin Yeast Bread is slightly sweet, subtly scented of warm spices, and rich in color from pumpkin. And it only requires 30 minutes of hand-on prep time to make!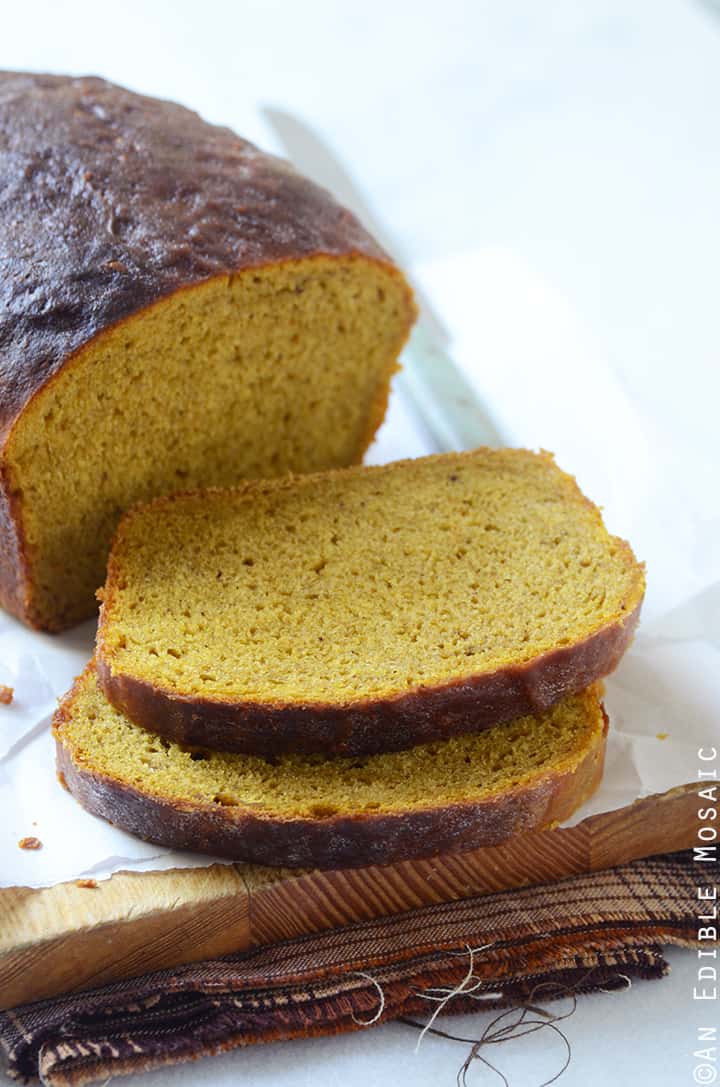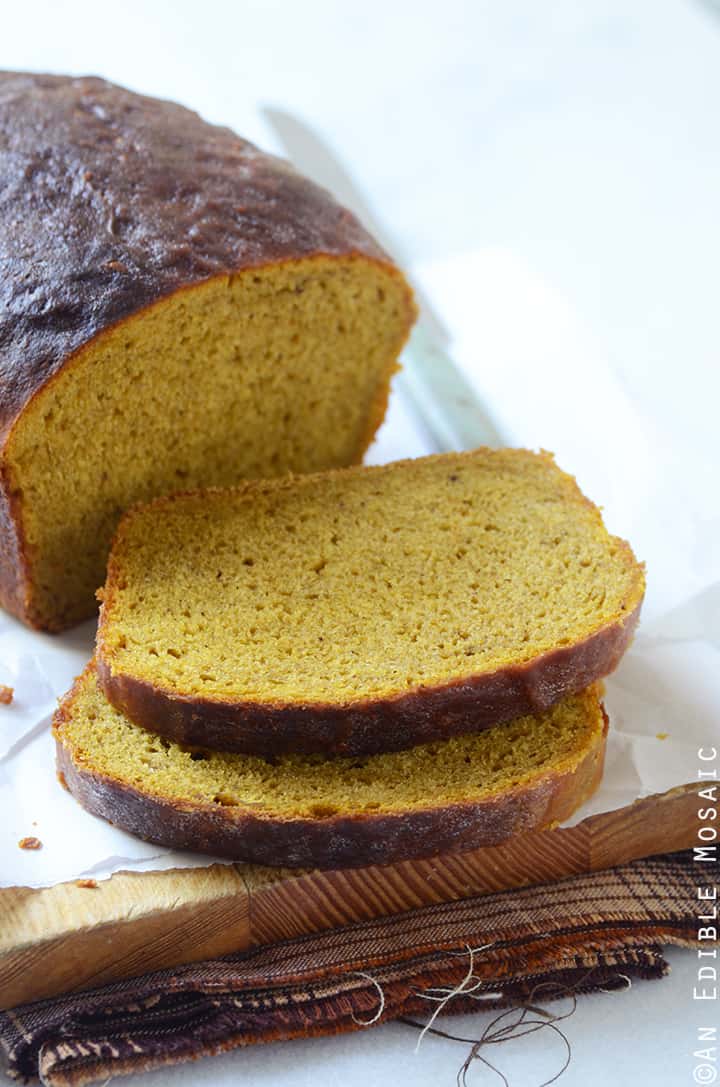 I find that the smell of baking bread is just one of those things that puts people at ease.
Maybe it evokes childhood memories or maybe it reminds them just how delicious fresh bread tastes. In any case, I wish I could bottle the smell of fresh baked bread.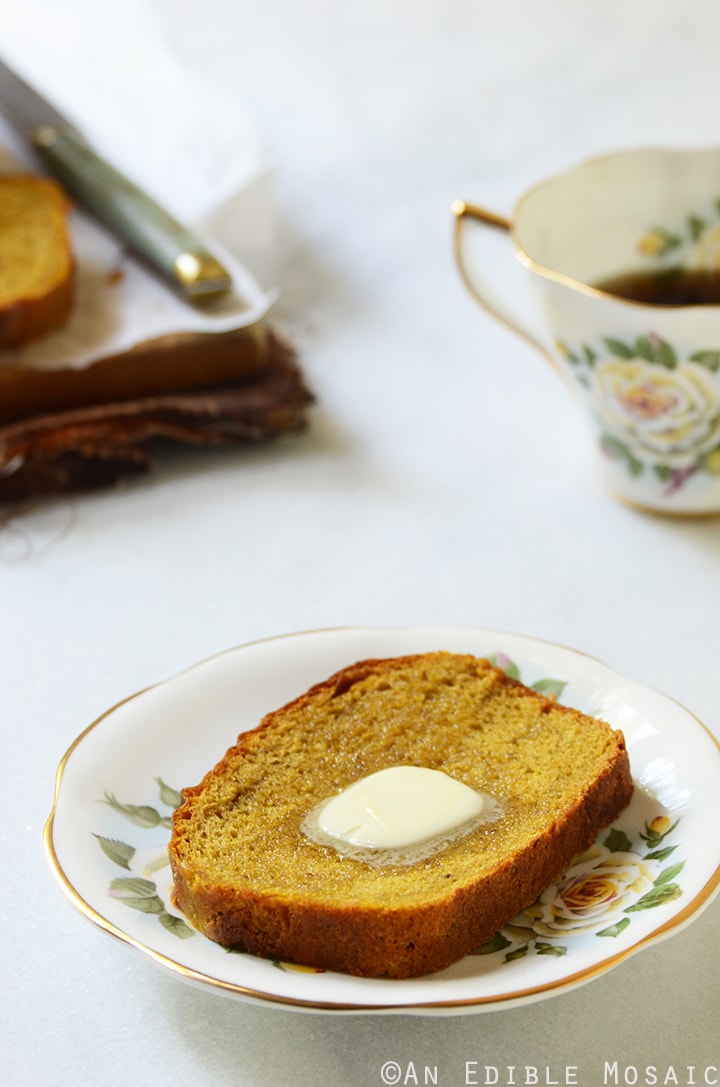 I don't really consider myself a baker, but that's mostly because I don't take the time to bake. I forget just how addictive an experience it is to mix flour, water, yeast, and salt and watch as it comes to life. And I forget that it doesn't have to be a full-afternoon affair…it helps to be able to make the dough and leave it be for a bit while I tend to other things.
Enter Donna Currie's lovely Make Ahead Bread cookbook.
The book follows an easy two-day bread-making process: day one involves mixing, kneading, and chilling the dough and day two is shaping and baking. Breaking it down like this means I don't have to devote an entire afternoon (or day) to the process…and it means I'm much more likely to actually bake bread!
Make Ahead Bread is beautiful. Many of the recipes feature a full-page color photo, and I love that Donna shares an introduction to each recipe, either to give the background or to share tips. The bread recipes all sound incredible and there are several that are begging to be made in my kitchen…like Oatmeal-Honey-Date Loaf, Sauerkraut Rye (which has both sauerkraut and caraway seeds), Stuffing Bread with Dried Cranberries (which has poultry seasoning and Donna recommends using to make a turkey sandwich), Blueberry and Cream Cheese Buns with Lemon Zest (I can't think of a better way to start a weekend morning than with one of these buns), Maple Sugar and Candied Walnut Swirl Bread, and Apple Chai Turnovers.
It bears noting that Donna also shares info on how to make a Sourdough Starter, which can then be used in many different recipes. There are also classic recipes – like croissants and pizza dough – that should be part of any home baker's repertoire. There are several gluten-free recipes included, such as Gluten-Free Seed and Nut Bread and Gluten-Free Dinner Rolls. And because bread goes so perfectly with a little schmear of something, there's an entire chapter devoted to butters and spreads, like Apple and Sage Compound Butter and Stone Fruit and Almond Jam.
Literally the hardest part for me was deciding which recipe to make first.
Remembering the open can of pumpkin I had in the fridge, the realist in me won out and I decided on the Pumpkin Loaf. I put just a couple twists on this recipe to make my own; namely, the addition of a hint of warm spices and rubbing a knob of salted butter along the top of the loaf as soon as it's done baking, so the butter melts and soaks into the bread, a trick I've watched my mom do 100 times.
This bread is lovely; slightly sweet and subtly scented of warm spices, and rich in color from pumpkin. When warm, it's perfect as-is, but it's also wonderful toasted and spread with a little salted butter or Nutella. I had high hopes of being able to make French toast with it, but alas, the loaf disappeared all too quickly. I'll just have to make another.
Here are more recipes from Donna's cookbook:
Blueberry & Cream Cheese Buns with Lemon Zest from Meghan of Clean Eats, Fast Feets
Buttermilk Rolls from Renee of Magnolia Days
Cinnamon Rolls from Sandra of Dear Lauren Love Mom
Pizza Bread from Karen of Karen's Kitchen Stories
Sesame Seeded Semolina Bread from Karen of Karen's Kitchen Stories
Sourdough English Muffins from Alisa of Go Dairy Free
Stuffing Bread with Dried Cranberries from Stacy of Food Lust People Love
Sweet Potato Monkey Bread from Kirsten of Farm Fresh Feasts
Sweet Potato Monkey Bread from Renee of Magnolia Days
Sweet Potato Monkey Bread from Laura of Mother Would Know
Whole Wheat Pita from Jenni of Pastry Chef Online
Whole Wheat and Parmesan Pizza Crust from Kirsten of Farm Fresh Feasts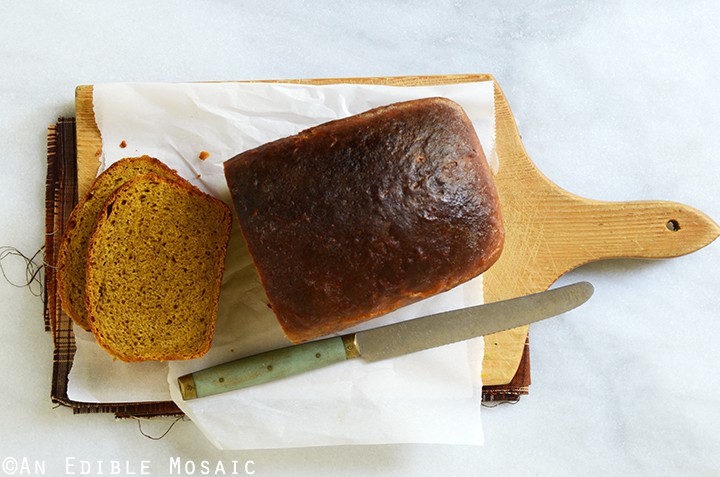 Warm-Spiced Pumpkin Yeast Bread
Prep time:
Cook time:
Total time:
Yield:
1 (8 by 4½-inch) loaf
This Warm-Spiced Pumpkin Yeast Bread is slightly sweet, subtly scented of warm spices, and rich in color from pumpkin. And it only requires 30 minutes of hand-on prep time to make!
Ingredients
2 cups (255 g) bread flour, plus more for kneading
¼ cup (60 ml) honey
1 teaspoon active dry yeast
1 cup (245 g) pumpkin puree
1 teaspoon coarse kosher salt
½ teaspoon pumpkin pie spice mix
1 tablespoon avocado oil or light olive oil, plus more to oil the loaf pan
Cornmeal, for the pan
A knob of salted butter, for the top (optional)
Instructions
On Prep Day 1: Put the flour, honey, yeast, pumpkin puree, salt, pumpkin pie spice mix, and oil in a gallon-size zip-top plastic bag. Close the bag and squish around all the ingredients until combined. Refrigerate for 8 to 24 hours.
On Prep Day 2: Transfer the dough to your counter and let it come to room temperature, at least 2 hours and up to 4 hours.
Flour your work surface and turn out the dough. Knead until the dough is smooth and somewhat elastic, adding flour only as needed to keep the dough from sticking to your hands and work surface.
Brush an 8 by 4½-inch loaf pan with oil and sprinkle cornmeal in the bottom.
Shape the dough into a log about 8 inches long and put it into the prepared pan. Cover the pan with plastic wrap and refrigerate overnight.
On Baking Day: Take the pan out of the refrigerator and preheat the oven to 350F.
Remove the plastic from the pan and bake the bread until golden brown outside and it reaches an internal temperature of 190F on an instant-read thermometer, about 45 minutes.
Right after you remove the bread from the oven, rub the knob of butter all along the top (it will melt and soak into the bread).
Turn the bread out onto a wire rack and let it cool before slicing.
Notes
Recipe inspired by and adapted from Donna Currie's recipe for Pumpkin Loaf in her cookbook
Make Ahead Bread
(Taunton Press; November 2014).
Disclosure: I purchased my own copy of Donna's beautiful cookbook and wanted to share my thoughts on it with my readers; as always, opinions stated are my own. This post contains Amazon affiliate links to products I believe in, which means that even though it doesn't cost you anything extra, I will receive a small amount of money from the sale of these items, which helps me keep this site alive – thank you for helping to support An Edible Mosaic!