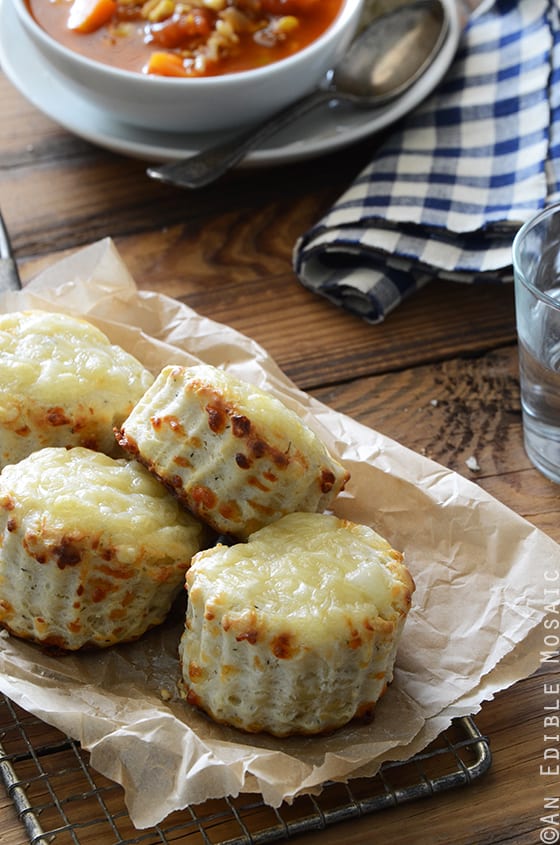 When the weather starts to cool down, there's nothing like a hot bowl of soup and fresh bread (in any form) to warm up with.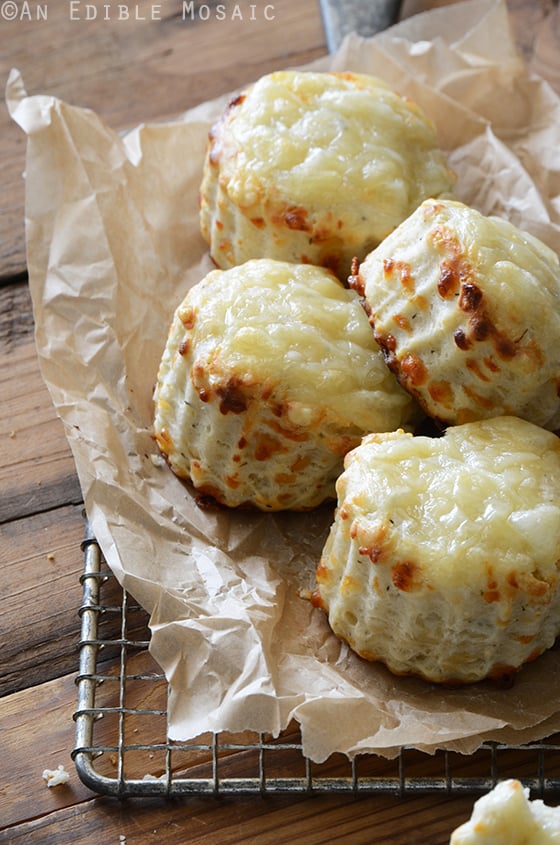 Making homemade bread is a great weekend project, but during the week, fresh biscuits or scones are completely manageable. To make sure that you have time to whip these scones up when it's time for dinner, you can make the dough (which is just a 10 minute affair) either the night before or in the morning on the same day that you want to make them.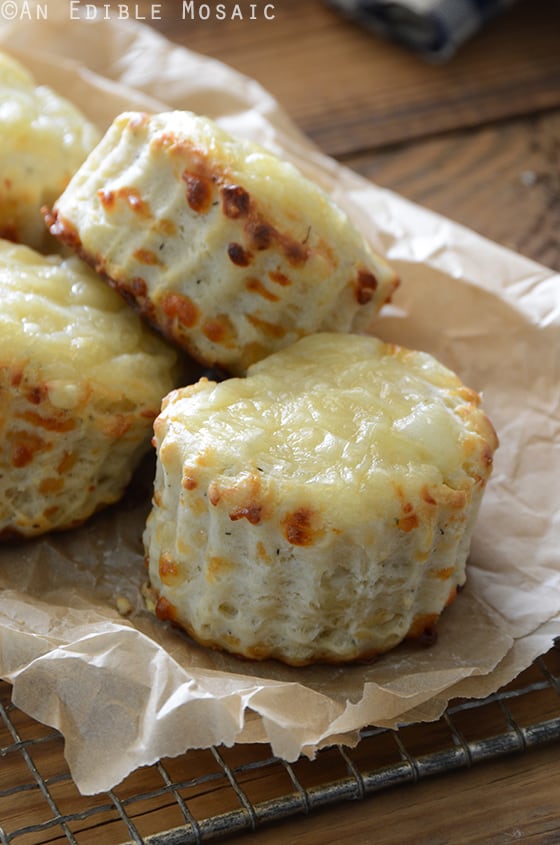 Thyme and Swiss cheese make a really tasty flavor profile here. For a kid-friendly meal, I served these scones with Vegetable Beef Alphabet Soup, but the flavors lend themselves to being paired with just about anything. Plus they dress up well and can be paired with a more grown-up meal; a French classic like Coq au Vin or Boeuf Bourguignon would be particularly nice.
And if you have any scones leftover the next day, they are wonderful split in half and toasted, or you can make them into little turkey sandwiches!
Savory Thyme and Swiss Cheese Scones
Prep time:
Cook time:
Total time:
Ingredients
2½ cups (320 g) all-purpose flour
1 tablespoon baking powder
¾ teaspoon salt
1 tablespoon minced fresh thyme (or 1 teaspoon dried thyme leaves)
6 tablespoons (80 g) unsalted butter, chilled and diced
5 oz (142 g) Swiss (or Emmentaler) cheese, shredded
¼ cup (60 ml) heavy cream
½ cup (120 ml) milk (whole or reduced-fat, but not skim), plus 1-2 tablespoons more as necessary
Instructions
Preheat oven to 450F and line a baking sheet with parchment paper or a silpat liner.
Whisk together the flour, baking powder, salt, and thyme in a large bowl.
Cut in the butter with a fork or using two butter knives until the butter is mostly incorporated, but there are a few larger pieces about the size of peas. Stir in ⅔ of the shredded cheese until it's completely coated with flour (reserving ⅓ of the shredded cheese for topping).
Use a fork to mix in the cream and then the milk until the dough comes together; knead it a couple times with your hands. (The dough should come together, but not be too wet; if the dough is still too crumbly, you can add milk a little at a time until it comes together.)
Shape the dough into a ball, then flatten it into a disk; wrap it in plastic wrap and chill 10 minutes in the freezer. (Or chill it in the fridge a couple hours or overnight.)
Turn the dough out onto a lightly floured surface. Roll or press the dough out to a circle about 7 to 8 inches in diameter and ¾ inch thick. Use a floured 2½ inch round cookie cutter to stamp out the scones, then gather up the dough scraps and repeat as necessary (you should get about 8 to 10 scones).
Transfer the scones to the prepared baking sheet, lightly brush the tops with a little milk and sprinkle on the remaining ⅓ of the shredded cheese.
Bake until the scones are puffed and light golden brown on top and bottom, about 14 to 16 minutes.