Small Batch Maple Walnut Scones for Two are perfect when you want to surprise your sweetie with a special treat, but the recipe is easy to double if you're feeding more people or want a couple extra on hand. These scones are tender inside with a beautifully golden crust outside, and a slight maple-y aroma and nutty flavor from walnuts.
Have you ever had afternoon tea at a hotel or teahouse? It's such a deliciously fun experience, with a variety of finger sandwiches, bite-sized pastries, and scones served with butter, clotted cream, jam, and curd. It's always elegant and fun, but I also enjoy serving scones as part of weekend brunch at home just as much!
Scones and How They're Different From Biscuits
Scones are a form of quick bread made with flour, leavener (usually baking powder), fat (such as butter), and dairy (commonly cream, milk, or buttermilk). They are frequently slightly sweet, although they can also be savory. Scones are traditionally served with clotted cream and jam along with tea. Scones are similar to American biscuits, but a bit more crumbly and not as light and flaky as American biscuits. I've found that scones are usually a touch drier and more golden outside than biscuits are. But it bears mentioning that inside, scones have a lovely soft and tender crumb. Like most homemade baked goods, scones are usually best served the same day they're baked.
Something interesting that I've noticed is that scones can be round, square, or triangle shaped, but biscuits are typically round (or round-ish, if they're drop biscuits).
Where Scones Come From
Scones are generally thought of as originating from Scotland, England, and/or Ireland, but it's difficult to know exactly where. The Nibble says that the first mention of scones in print was in Scotland in 1513.
The Original Scones
According to Wikipedia, scones were originally unleavened. They were made of oats, round and flat in shape (almost like a disk or medium-sized plate), scored into four or six individual triangular-shaped scones, and baked on a griddle.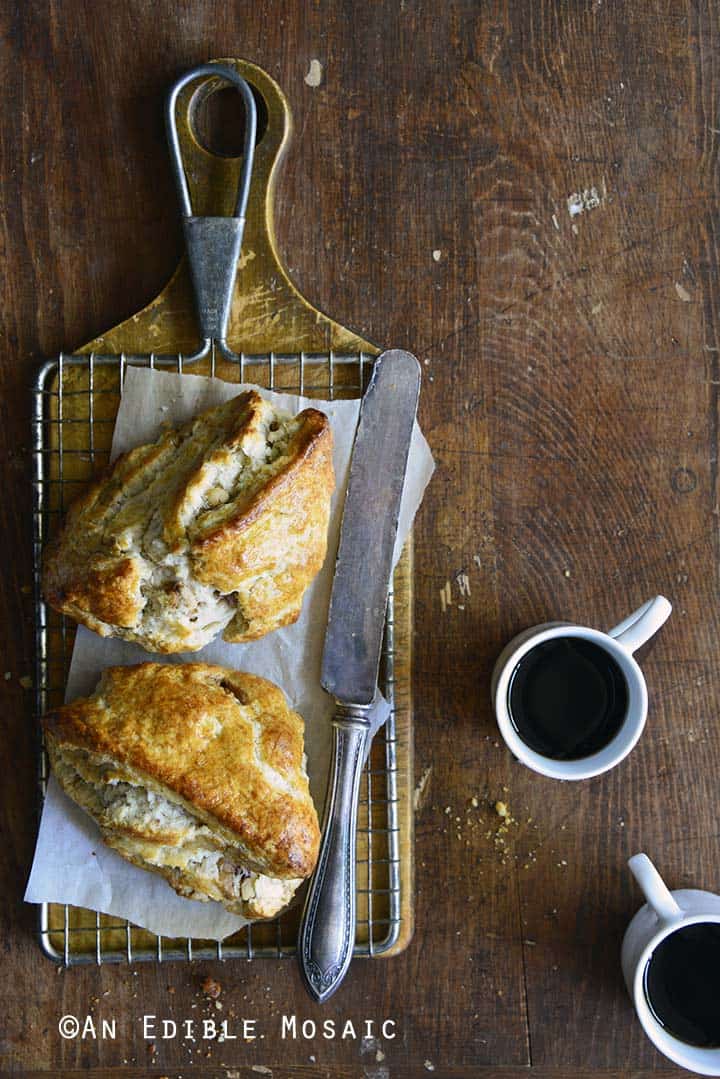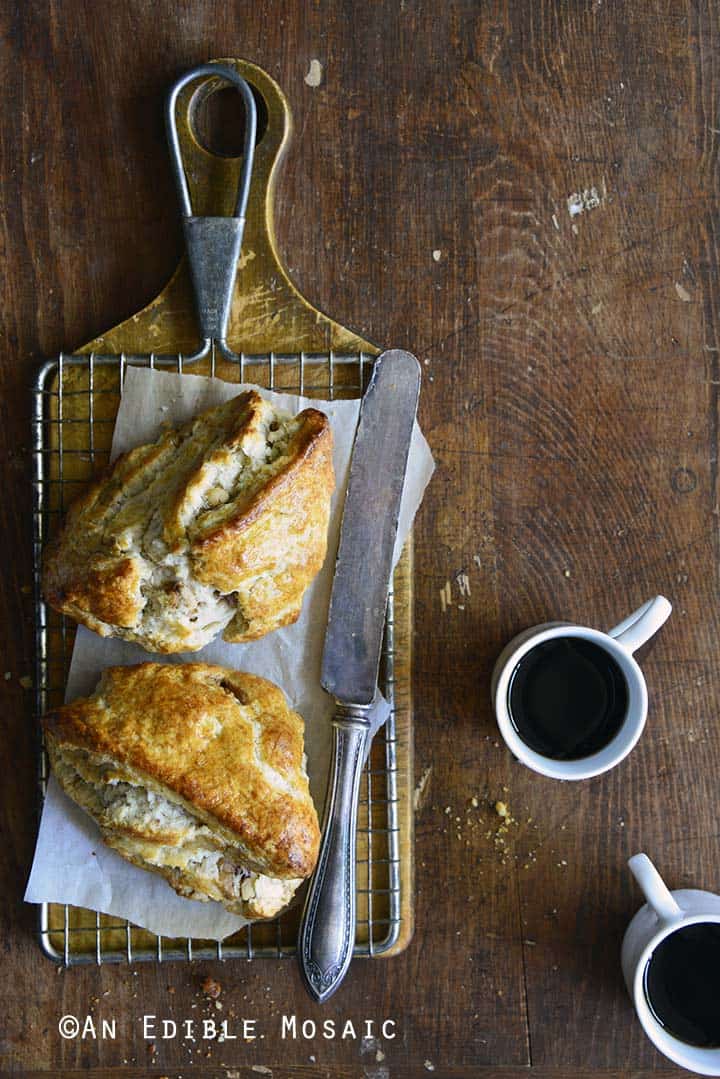 How to Make the Perfect Scones
I recommend using real butter and heavy cream because they're what I find make the best scones in terms of flavor and texture, and after that, the only other tips are in the method.
Fully whisk or sift together your dry ingredients before adding your wet ingredients, otherwise things like salt and baking powder might not be fully integrated and that's not at all what we want (and may lead to the scones not rising evenly).
Make sure your butter is cold! It's going to be cut into the dry ingredients, the same way you'd make pie crust.
Whisk together the liquids (cream, maple syrup, and vanilla in this recipe) before mixing them into the dry ingredients, otherwise you run the risk of things like streaks of vanilla extract.
Be careful not to over-mix the dough (or your scones could be tough) and don't let it get too warm (or your butter will melt).
If you have the time, wrap the dough and let it chill in the fridge overnight. I find this helps yield the best texture and flavor!
Small Batch Baking and Baking for Two
A lot of times I just want one or two sweet treats, like two perfect cupcakes, strawberry shortcake for one, or single-serving chocolate mousse. Baking in particular is much more of a science than cooking is, which makes it a little trickier to scale down a regular-sized batch of baked goods. Putting the leavening agents like baking powder, baking soda, and yeast aside (because sometimes it's just not as easy as cutting them in half if you're halving a recipe), what about a recipe that calls for three eggs? If you're cutting the recipe in half, do you use 1 egg + 1 yolk, 1 egg + 1 white, or do you scramble the second egg and measure exactly half of it? Hmm, tricky.
This recipe takes the guesswork out of a small batch. There's no need to scale it down because it yields just two gorgeous scones! (But if you want to scale it up, I give directions on how to do that too.) Take note though, each scone is quite large.
How to Double This Recipe
This recipe doubles quite easily. For a double batch, use 1/16 teaspoon ground fenugreek and use the same amount of eggwash (you will probably still have extra eggwash). All the other ingredients are easy to double. Keep the method and cooking time the same.
It's not at all traditional, but I like to serve these scones with a generous pat of butter and a drizzle of maple syrup as a fun play on pancakes or waffles.
Maple Walnut Flavor Combination and Why Fenugreek is Used in This Recipe
Maple walnut is a classic ice cream flavor combination. I love that ingredient pairing so much I frequently find other ways to incorporate it into my cooking in various recipes, such as cheesecake truffles and even salad.
Fenugreek naturally has a caramel/maple-like aroma, and it's actually an ingredient in imitation maple flavor. I used a touch of fenugreek in this recipe (this is the brand I use) to naturally enhance the flavor of maple. (I also use fenugreek in my Low-Carb "Maple" Cheesecake Mousse recipe in my other blog, Healthy Sweet Eats.)
Other Scone Recipes
One of the things I love most about scones is that there are almost endless variations. Currants are a classic addition in England, but any dried fruit you like is fair game. Nuts are also delicious, and so is citrus zest and/or chocolate. You can also add spices, such as cinnamon. Or go the savory route with additions like herbs and cheese. Here are a few ideas: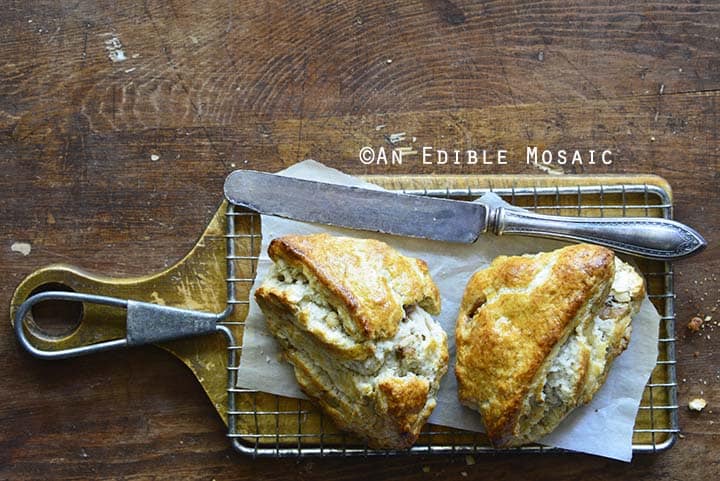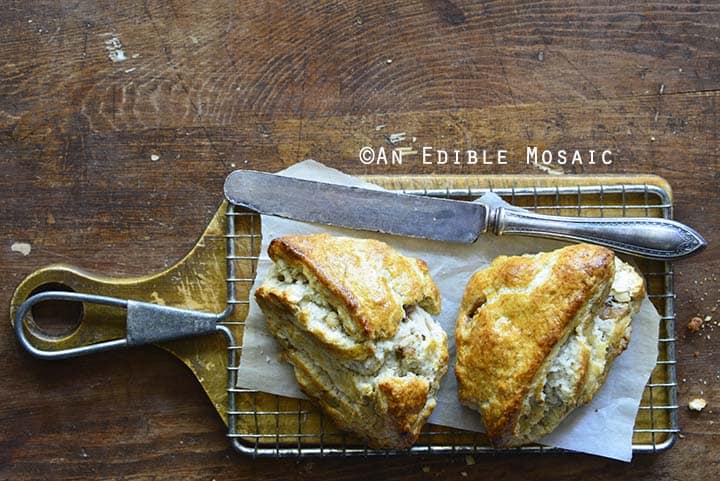 Small Batch Maple Walnut Scones for Two
Prep time:
Cook time:
Total time:
Small Batch Maple Walnut Scones for Two are perfect when you want to surprise your sweetie with a special treat, but the recipe is easy to double if you're feeding more people or want a couple extra on hand. These scones are tender inside with a beautifully golden crust outside, and a slight maple-y aroma and nutty flavor from walnuts.
Ingredients
¾ cup + 1½ tablespoons (107 g) all-purpose flour
2 tablespoons sugar
1 teaspoon baking powder
¼ teaspoon salt
¼ teaspoon freshly ground nutmeg
1 pinch ground fenugreek
2 tablespoons unsalted butter, chilled and diced
⅓ cup (80 ml) heavy cream
1 teaspoon pure maple syrup
½ teaspoon pure vanilla extract
3 tablespoons walnuts, chopped
1 egg yolk + 1 tablespoon water, beaten (for eggwash)
Instructions
Preheat oven to 425F; line a baking sheet with parchment paper or a silpat liner.
Whisk together the flour, sugar, baking powder, salt, nutmeg, and fenugreek in a medium bowl.
Cut in the butter with a fork or using two butter knives until it looks like coarse meal. Whisk together the cream, maple syrup, and vanilla in a small bowl, and stir it into the flour mixture being careful not to over-mix. (The dough should come together, but not be too wet.)
Shape the dough into a ball, then flatten it into a disk; wrap it in plastic wrap and chill 10 minutes in the freezer (or better yet, let it chill overnight in the fridge).
Shape the disk into a square (or as close to a square as you can get it), and then cut it into 2 pieces on the diagonal.
Transfer the scones to the prepared baking sheet, lightly brush the tops with the eggwash (or heavy cream), and bake until puffed and light golden brown on top and bottom, about 14 to 16 minutes. Cool completely.
Disclosure: This post contains Amazon affiliate links to products I believe in, which means that even though it doesn't cost you anything extra, I will receive a small amount of money from the sale of these items, which helps me keep this site alive – thank you for helping to support An Edible Mosaic!