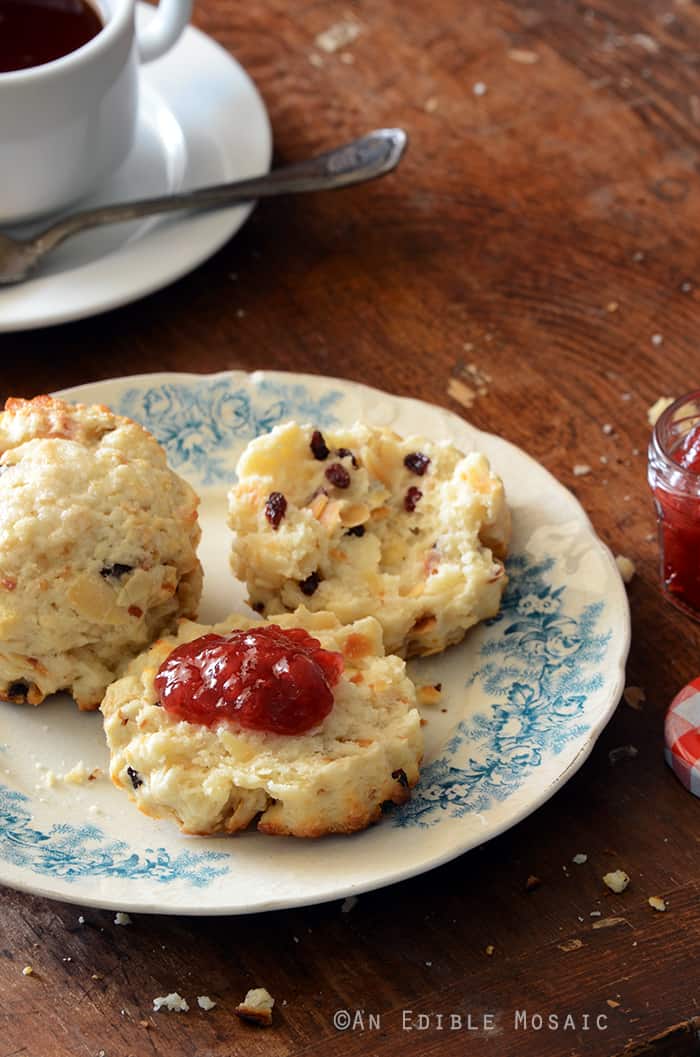 When Mike and I lived in Kuwait last year, I picked up the habit of taking tea in the afternoon.
It might have been because one of the best friends I made there had lived in England for a good while (so of course she enjoyed a nice afternoon tea every day), and she and I took to spending quite a few afternoons together.
Or it could have been a result of getting up very early every day (think 3:40 am early), so by mid-afternoon I needed a little something to help me power through.
But it could just be because afternoon tea is a lovely tradition.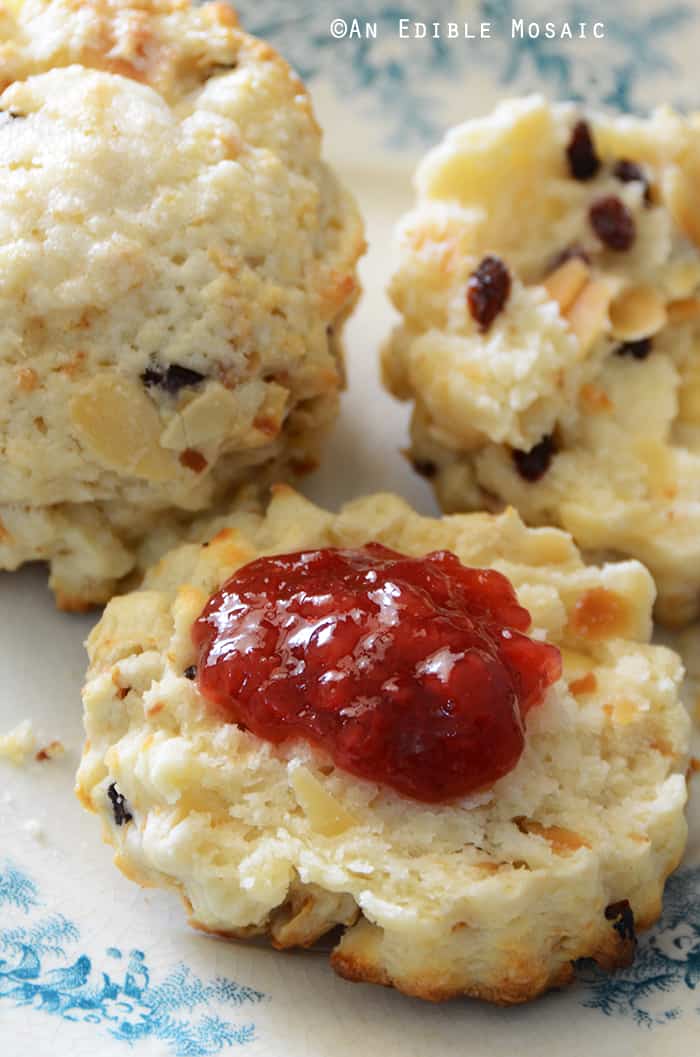 (I'm speaking from personal experience when I say that taking even just 20 minutes of "me time" in the middle of a hectic day will do wonders for your sanity.)
Naturally, tea sometimes calls for just a little something to snack on, and what better than scones? I made these for tea one day with my friend and it was love at first bite.
Now, if you've been following my blog for a while, you probably know that I make all kinds of scones (like Savory Cheddar-Dill Scones, Spiced Pumpkin Scones with Cinnamon Pumpkin Cream, and just about everything in between). This is another completely unique recipe though.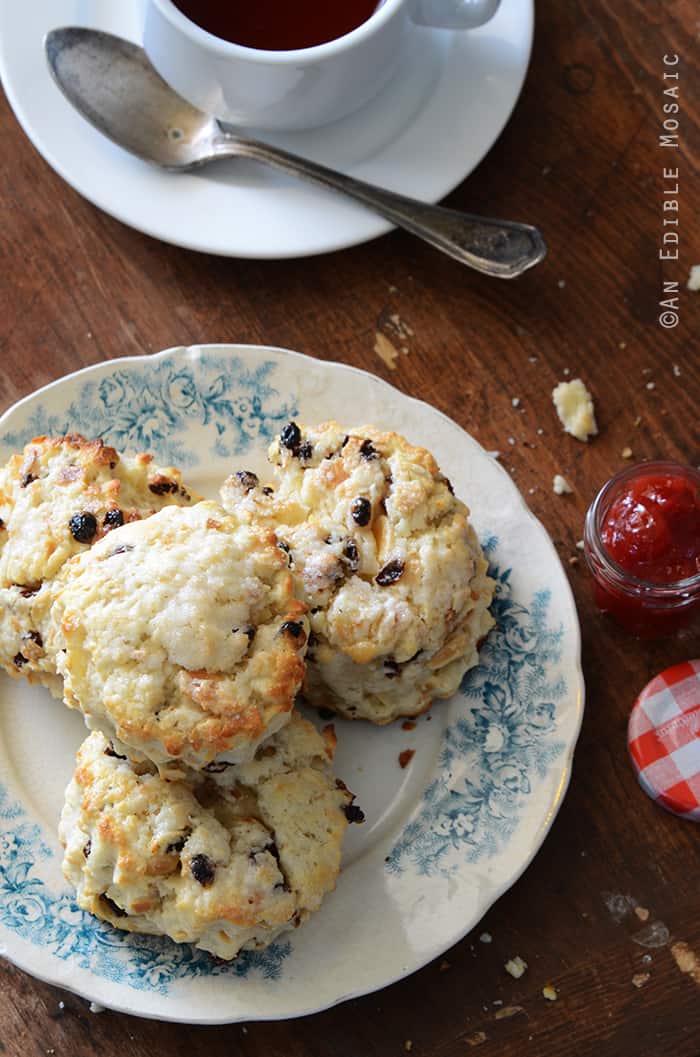 Sweetly aromatic (thanks to one of my absolute favorite spices – mahlab, which you can read more about in this post) and dusted with a sparkly layer of sugar, these scones have a very dainty feel to them. Not to mention, the dried cranberries inside almost give them a jeweled look. They're pretty perfect for an afternoon of tea and chatting with a couple of your besties.
This is the third recipe I'm sharing in my Crazy for Cranberry series, and it's the only one that features dried cranberries instead of fresh. I did that on purpose because I know that in some places it's hard to find fresh cranberries, and in case you're having trouble, I wanted to give you a festive cranberry option that utilizes dried. So there are no excuses for not diving into something cranberry!
And if you want to up the cranberry ante even more, you can split these scones in half and top with cranberry jam.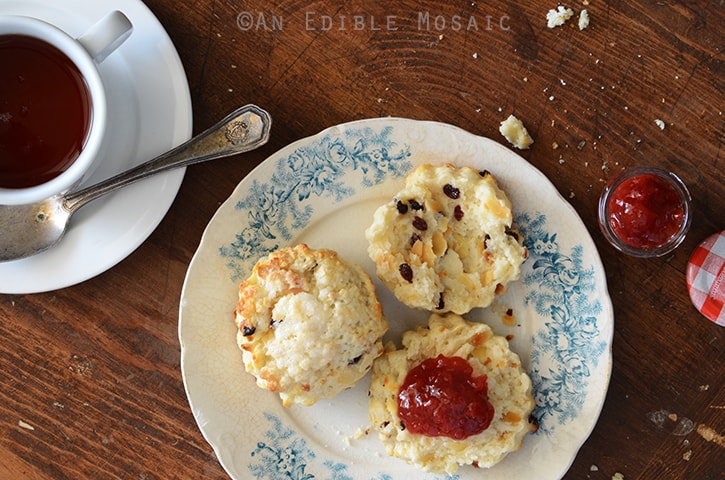 Cranberry Almond Scones
Prep time:
Cook time:
Total time:
Ingredients
2½ cups (320 g) all-purpose flour
⅓ cup (70 g) sugar
1 tablespoon baking powder
¾ teaspoon salt
¼ teaspoon mahlab
6 tablespoons (80 g) chilled unsalted butter, diced
¼ cup (60 ml) heavy cream
½ cup (120 ml) milk (whole or reduced-fat, but not skim), plus 1-2 tablespoons more as necessary
½ cup (55 g) toasted sliced almonds
4 tablespoons unsweetened, dried cranberries
2 tablespoons milk, for the tops
1 tablespoon sugar, for the tops
Cranberry jam, for serving (optional)
Instructions
Preheat oven to 450F and line a baking sheet with parchment paper or a silpat liner.
Whisk together the flour, sugar, baking powder, salt, and mahlab in a large bowl.
Cut in the butter with a fork or using two butter knives until the butter is mostly incorporated, but there are a few larger pieces about the size of peas.
Use a fork to mix in the cream and then the milk until the dough comes together; knead it a couple times with your hands. (The dough should come together, but not be too wet; if the dough is still too crumbly, you can add milk a little at a time until it comes together.) Knead in the almonds and cranberries.
Shape the dough into a ball, then flatten it into a disk; wrap it in plastic wrap and chill 10 minutes in the freezer.
Turn the dough out onto a lightly floured surface. Roll or press the dough out to a circle about 7 to 8 inches in diameter and ¾ inch thick. Use a floured 2½ inch round cookie cutter to stamp out the scones, then gather up the dough scraps and repeat as necessary (you should get about 8 to 10 scones).
Transfer the scones to the prepared baking sheet, lightly brush the tops with a little milk and sprinkle on a little sugar.
Bake until the scones are puffed and light golden brown on top and bottom, about 14 to 16 minutes.
Disclosure: This post contains Amazon affiliate links to products I believe in, which means that even though it doesn't cost you anything extra, I will receive a small amount of money from the sale of these items, which helps me keep this site alive – thank you for helping to support An Edible Mosaic!