I have always loved tea parties.
I remember being a little girl and playing make-believe tea time with my best dolls arranged around a little table. I'd wear a hat, gloves, dress, and high-heeled shoes spirited away from my mom's closet…and of course I always gracefully (haha!) tripped all over the place because of the shoes and too long dress. I only served water and crackers, but with a very proper (at least to my five year old ears) British accent, it always felt nothing short of elegant.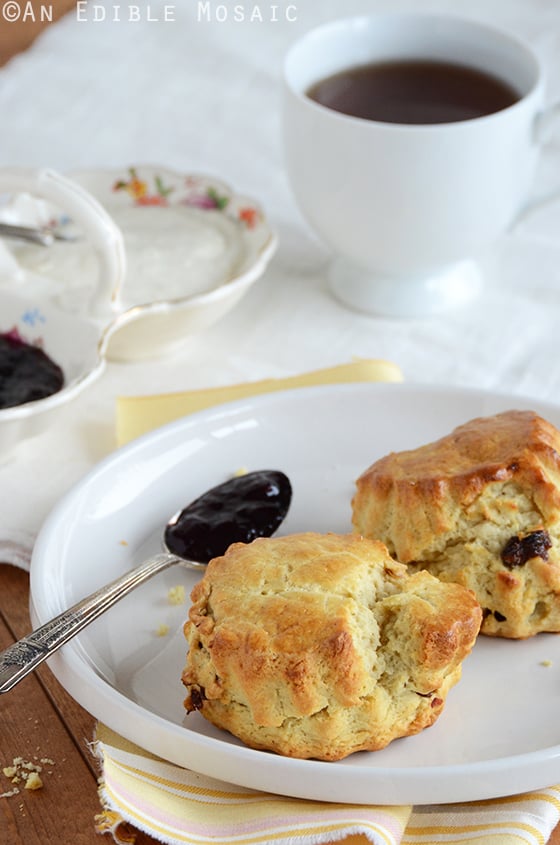 I still love tea time (here's the afternoon tea at Disney's Grand Floridian I posted about earlier this year), and I was excited when Natasha and Laz announced that the 5 Star Makeover theme for this month was Tea Party.
I set out thinking about what I wanted to make, and finger sandwiches came to mind. But really, my favorite part about tea is scones. Steaming hot from the oven, crisp on the outside, tender and soft inside, there is nothing better than splitting a scone in half and spreading it generously with jam and cream (or cream and jam, as the case may be…I won't get into the cream/jam ordering debate though).
My favorite way to enjoy scones is in the morning for breakfast with tea and fresh fruit. The scone dough can be chilled overnight so the only thing to do in the morning is bake them. Since they're easy to whip up but really impressive (and make the whole house smell amazing), they are especially lovely to make if you have guests staying over.
These beautiful golden scones are perfectly soft, fluffy, and sweetly scented. I think they may be my favorite scones yet, but my recipe for Olive Oil Scones with Cinnamon Figgie Butter is a pretty close second.
Cherry-Vanilla Sour Cream Scones with Vanilla Cream Spread
Prep time:
Cook time:
Total time:
Ingredients
Cherry-Vanilla Scones:
1 large egg
½ cup sour cream
1 teaspoon vanilla bean paste
1 teaspoon pure almond extract
2 cups plus 2 tablespoons all-purpose flour, divided (plus a little more to roll out the dough)
2 teaspoons baking powder
1 teaspoon baking soda
½ teaspoon salt
3 tablespoons sugar
½ cup (1 stick) unsalted butter, chilled and cubed
¼ cup dried cherries, chopped
1 egg lightly beaten with 2 teaspoons water, for eggwash
Jam, for serving
Vanilla Cream Spread (for serving):
2 tablespoons butter, softened slightly
6 tablespoons sour cream
1 tablespoon powdered sugar
½ teaspoon vanilla bean paste
¼ teaspoon pure almond extract
Instructions
For the scones, in a small bowl, whisk together the egg, sour cream, vanilla bean paste, and almond extract; set aside.
Add the following to the bowl of a food processor: 2 cups flour, baking powder, baking soda, salt, and sugar; pulse to combine. Add the butter and pulse a few times until it looks like coarse meal and you have a few pieces the size of peas. Gradually stream in the egg mixture while pulsing, being careful not to over-mix (the dough will be a sticky). (Alternatively, you can make the dough by hand; just whisk together the dry ingredients, cut the butter in with a fork, and then stir in the wet ingredients.)
Turn the dough out into a large bowl and sprinkle the remaining 2 tablespoons flour and the cherries on top; gently knead the dough a couple times to incorporate. Shape the dough into a ball and flatten it slightly into a disk; wrap in plastic wrap and refrigerate until chilled, at least 2 hours (overnight is fine).
Preheat oven to 425F and line a baking sheet with parchment paper or a silpat liner.
Turn the dough out a lightly floured surface and flatten it into a ¾ inch-thick circle. Use a floured 2½ inch cookie cutter to stamp out the scones, then gather up the dough scraps and repeat (you should get about 8 scones total).
Transfer the scones to the prepared baking sheet and lightly brush the tops with eggwash. Bake until light golden brown, about 14 to 16 minutes.
Meanwhile, mix together all ingredients for the Vanilla Cream Spread, leaving a few lumps if desired to resemble clotted cream.
Serve the scones warm with the Vanilla Cream Spread and/or jam.