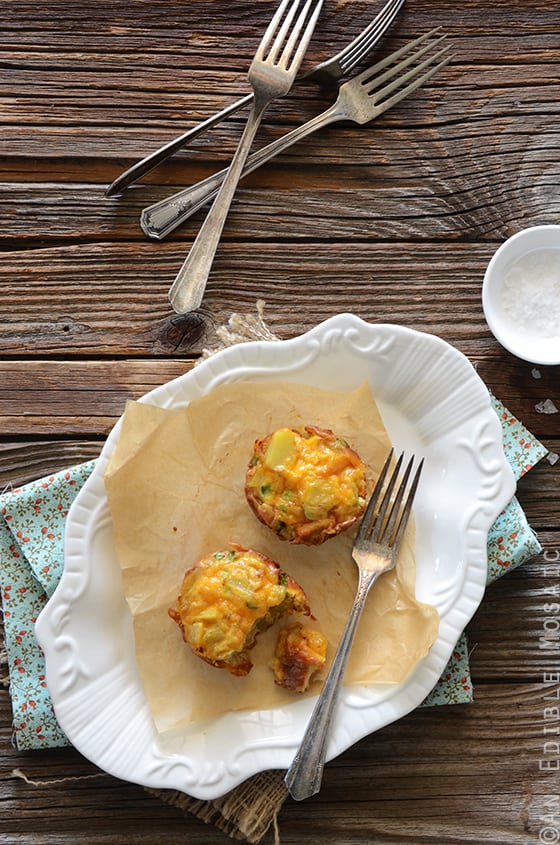 I ended up making this recipe three times in ten days so I could share it with you.
On the first day that I made these frittatas, a couple friends popped by unexpectedly so I ended up serving these frittatas to them. (And between three people and two hours, the whole batch somehow vaporized.)
The second time I made this recipe I was all geared up to take pictures of the frittatas, but Mike surprised me with lunch reservations out. So I stuck them in the fridge and they were eaten within two days…and I was completely surprised to find that they were long gone by the time I was ready to snap their picture.
The third time was a winner though. I was able to photograph this dish, but I confess, the photos aren't my favorite (I admit, I'm picky though…why is it we are always our own worst critic?). After taking a look at the pictures, I was tempted to make and shoot them again, but I thought that might be pushing my luck.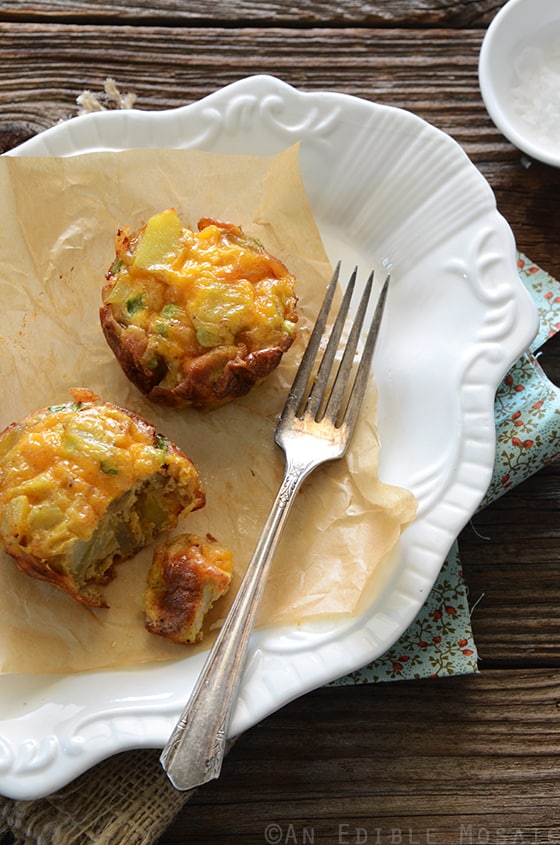 So even though the photos aren't my favorite, I still think you should make these frittatas. The flavors might be simple on their own, but put together they make a pretty tasty combo. I give instructions in the recipe how to roast potatoes for this dish, but it's even better (or at least less work) if you already have leftover potato on hand to use up.
One of the things I love about this recipe is that it's good warm or at room temperature, which makes it an ideal candidate for brunch or even a picnic. And another great thing: feel free to add other leftover veggies you have on hand instead of potato!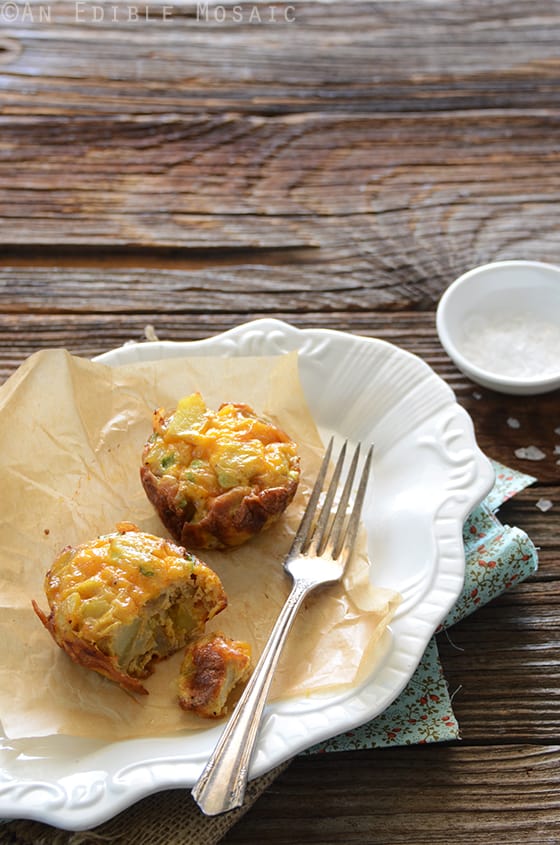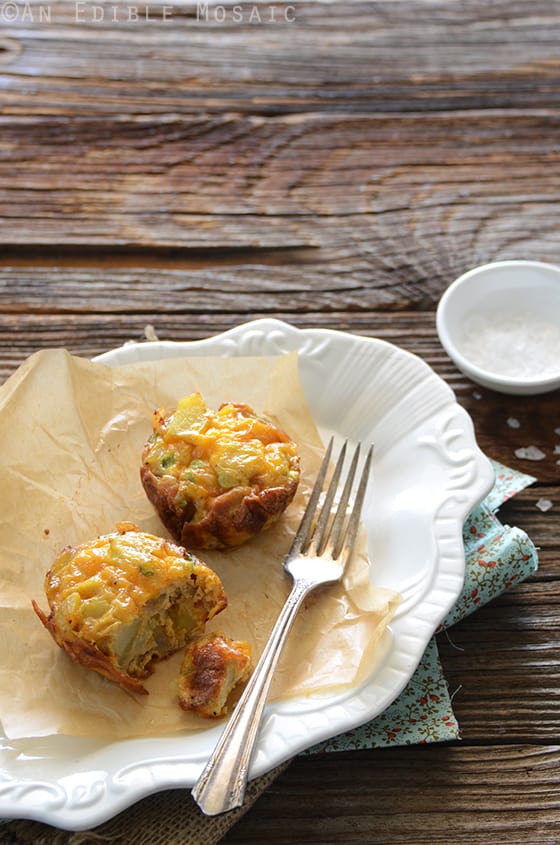 Mini Potato Frittatas with Cheddar and Scallion
Prep time:
Cook time:
Total time:
Yield:
12 mini frittatas, about 3 to 4 servings
Ingredients
1 lb (450 g) potatoes, cubed
1½ tablespoons olive oil
¾ teaspoon salt, divided
¼ teaspoon black pepper, divided
Cooking oil or cooking spray
6 large eggs
2 large scallions, green and white parts, thinly sliced
½ teaspoon smoked paprika
¼ teaspoon garlic powder
4 oz (115 g) cheddar cheese, shredded
Instructions
Preheat oven to 400F. Toss together the potatoes, olive oil, ¼ teaspoon salt, and ⅛ teaspoon black pepper in a large bowl and spread evenly on a large baking sheet. Roast until the potatoes are tender inside and slightly browned outside, about 25 to 30 minutes, tossing once halfway through. Cool the potatoes completely then give them a coarse chop.
Preheat oven to 350F. Line a muffin tray with paper liners and spray the inside of each with cooking spray or brush with cooking oil.
Whisk together the eggs, remaining ½ teaspoon salt, remaining ⅛ teaspoon black pepper, scallion, smoked paprika, and garlic powder. Stir in the potato and cheddar.
Divide the egg/potato mixture between the 12 muffin wells, using a spoon to press the filling down slightly so it's completely covered in egg.
Bake until the egg is set and the frittatas are golden, about 20 to 22 minutes, rotating the tray once.
Serve warm or at room temperature.