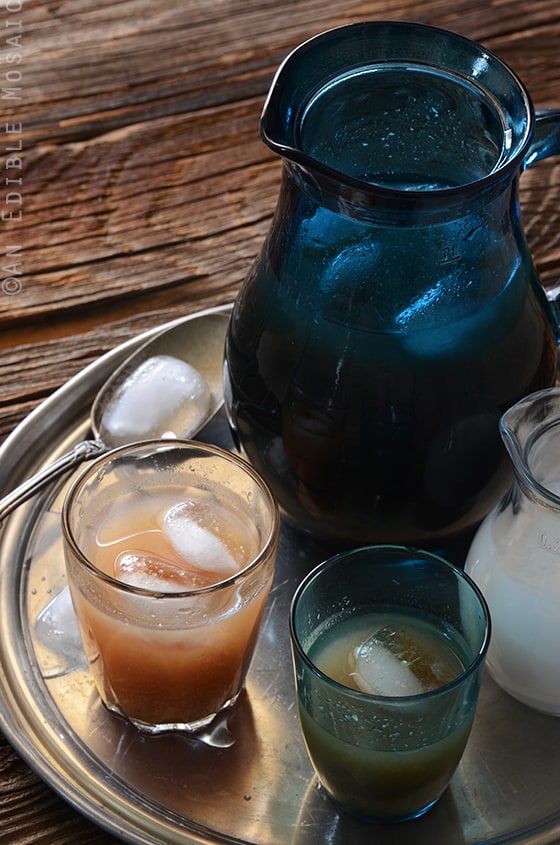 One of my sweet friends recently went to Sri Lanka and came back with all kinds of stories about her homeland. I had to live vicariously through her, listening to her exotic tales and seeing her country's beauty through her eyes, because it's pretty unlikely that I'll get the chance to visit.
She also came back with a ton of fruit for me – huge, fragrant pineapples, mangos, and wood apples – and if you know me, you can probably guess that I was just about shrieking with delight.
As much as I love pineapple and mango, I was so excited, I had to start with what was new to me: wood apples (which are also called elephant apples or monkey fruit)! Wood apples are such an interesting fruit. They look like a potato or a small melon, but with a harder shell; the shell isn't quite as hard as a coconut shell, but I'd say it's more similar to a coconut shell than anything else. I asked my friend how to open them and she surprised me by picking up a wood apple, bending down, and throwing it hard onto the floor to smash it open. Once open, you can get at the pulp inside.
And when they're open, you can really smell the intoxicating aroma of wood apple. To me, it smells like a mix of overripe banana, mango, and maple syrup, with a slightly vinegary/fermented finish. I also picked up notes of something more astringent, like peppermint, menthol, or camphor. It's quite a heady smell; I can see how it wouldn't be some peoples' thing, but I love the complex aroma.
They are quite sour as-is though (especially the smaller wood apples), so once the pulp is scooped out, it's frequently made into juice, which is the recipe I've shared below. It's a very easy process, but note that the juice will need to sit overnight so be sure to give yourself enough time.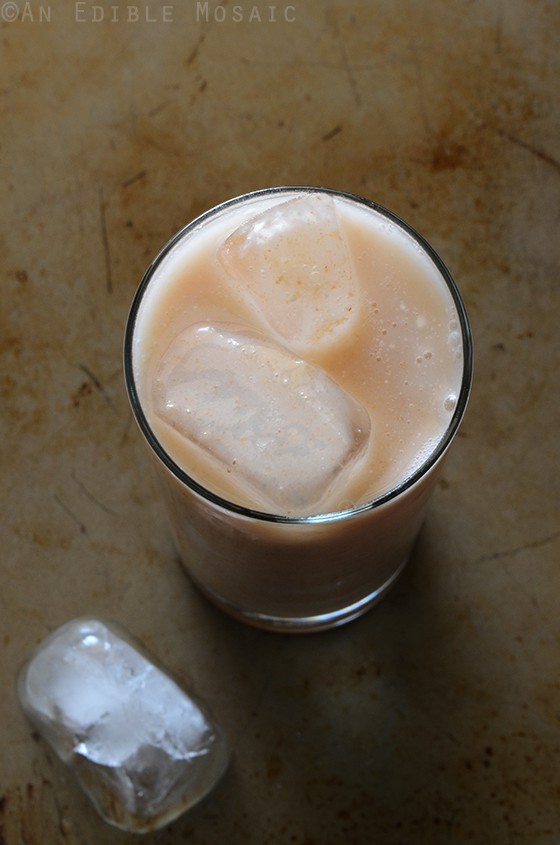 Wood Apple Juice with Coconut Milk
The finished juice is quite delicious; it smells exotic and it's sweet from the added sugar, but with a refreshingly tart finish, like lemonade. I think it's the perfect cooler for a hot day, but my friend told me that it's commonly drunk warm, except for when you add coconut milk. My friend highly recommended the addition of coconut milk to give it a creamier texture and to round out the flavors. I like it both ways – with and without coconut milk – but I much prefer it iced either way!
Wood Apples
If you can find wood apples where you live, I definitely recommend giving this recipe a try. The health benefits alone are incredible, and here are just a few:
Good for the Digestive System: Wood apples are useful for alleviating indigestion, diarrhea, dysentery, peptic ulcers, and intestinal worms.
Good for Detoxing and Cleansing: Wood apples boost kidney and liver function, and also cleanse the blood.
Good for Diabetics: Wood apples help to balance blood sugar and regulate insulin.
(Information on the health benefits of wood apples from this post is from Organic Facts and Sify Health. Please note that I am NOT a doctor or medical practitioner of any kind. Nothing in this post should be construed as medical advice. If you need medical advice you should immediately seek a physician's care.)
Wood Apple Juice
Prep time:
Cook time:
Total time:
Ingredients
To Soak:
8 oz (225 g) wood apple pulp
1½ cups (350 ml) water
Simple Syrup:
⅓ cup coconut palm sugar (or lightly packed light brown sugar)
⅓ cup (80 ml) water
To Finish:
2 cups (475 ml) water
¼ to ½ cup (60 to 120 ml) full-fat canned coconut milk (optional)
Ice (optional)
Instructions
Add the wood apple pulp and 1½ cups water to a medium bowl and stir, mashing the pulp with a fork, to combine well. Cover with plastic wrap and refrigerate 8 hours or overnight.
After the pulp has soaked, strain it through a fine mesh sieve placed over a bowl to catch the liquid. Use a rubber spatula to help you extract all the liquid from the pulp, and then discard the pulp.
For the simple syrup, add the sugar and water to a small saucepan over medium heat; stir until the sugar is dissolved, and then remove from the heat.
Cool the simple syrup slightly, and then add it to the bowl of wood pulp liquid; stir in the remaining 2 cups of water.
Serve at room temperature, or if adding coconut milk, I prefer it iced. (Coconut milk should be added to taste, but I like about 1 tablespoon per 8 oz of juice.)