Thank you Council for Responsible Nutrition for sponsoring this post. This is #MyWeekSupplemented.
Honey-Apple Cranberry Ginger Tisane is a soothing, hot drink that's rich with nutrients and full of flavor.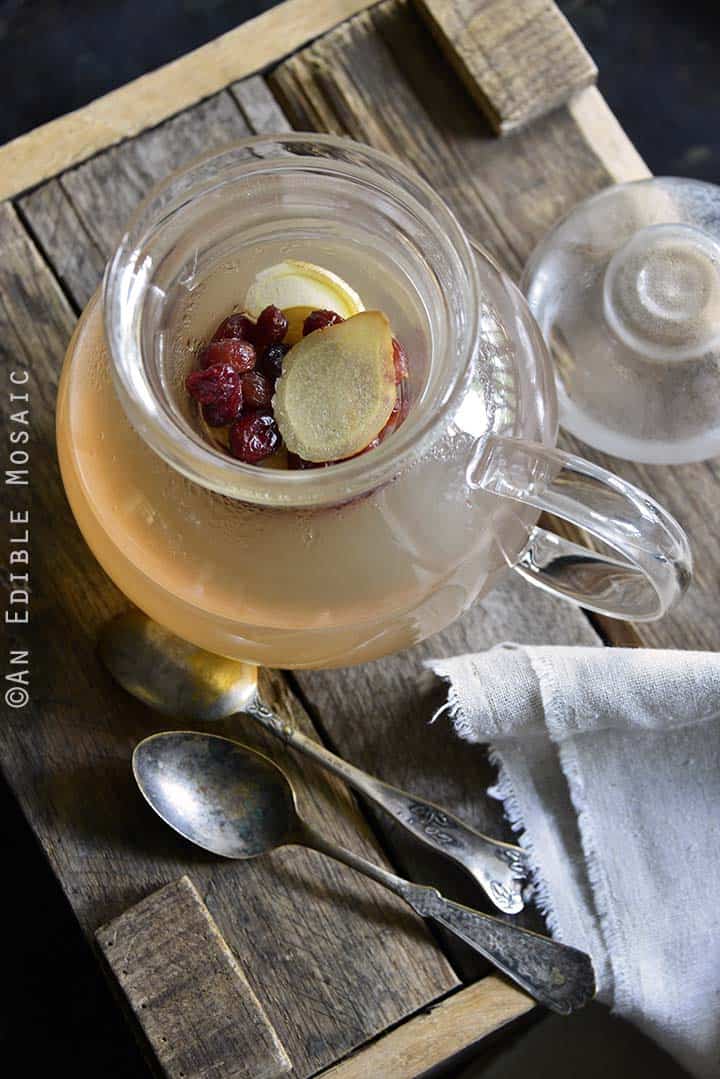 Whenever someone tells me that they don't take vitamins or dietary supplements, their reason is typically because they eat healthy. The quality of food we put into our bodies is obviously a vital aspect of health (which is why I try to buy organic and grass-fed products as much as I can, especially when it comes to dairy, meat, and the dirty dozen), but there are a few pieces to the puzzle that also should be factored in.
Coffee with Collagen Peptides
My mom explained it to me a few years ago in a way that's really easy to understand: due to our soil being less nutrient-dense than it was in the past, our crops are less rich in vitamins and minerals. Of course there are other factors that impact the need to take supplements (such as the quality of the food a person eats, how much a person exercises, and a person's age), but for me, the fact that soil depletion, something I have absolutely no control over, is a very real concern is enough to convince me to take supplements while engaging in other healthy habits, like exercise and eating nutrient-dense "real" food whenever possible.
Breakfast On-the-Go with Turmeric Supplement
According to the Council for Responsible Nutrition, more than 170 million Americans (76% of U.S. adults) take dietary supplements each year! Here's my supplement routine:
Daily: Multivitamin; Calcium; Collagen Peptides (dissolved in coffee)
Every Other Day: Turmeric; Fish Oil; Coenzyme Q-10; Vitamin C
As Needed: Probiotic
As Often As I Remember (Maybe Twice a Week): Organic Raw, Unfiltered Apple Cider Vinegar with "Mother" (diluted in water)
Snack with Fish Oil Supplement
Lunch with Coenzyme Q-10 Supplement
This is the routine I've found works best for me, and I can actually feel a difference in my energy level if I'm off my routine for a significant period of time. Because there are so many supplement options, it's best to talk to a doctor to find out what's best for you.
The tisane recipe I'm sharing is basically another way for me to get a boost of nutrition. Antioxidant-rich dried cranberries, anti-inflammatory ginger, apple cider vinegar with "mother", and raw local honey combine for soothing, hot drink that's as potent as it is delicious.
If you're not familiar with the word tisane, it's basically a caffeine-free infusion of herbs, spices, flowers, bark, and/or fruit. They can be served hot or cold, but particularly during cooler months, I find a hot tisane like this one very relaxing.
What dietary supplements are part of your health routine?
Honey-Apple Cranberry Ginger Tisane
Prep time:
Cook time:
Total time:
Honey-Apple Cranberry Ginger Tisane is a soothing, hot drink that's rich with nutrients and full of flavor.
Ingredients
¼ cup (30 g) organic dried whole cranberries
8 thin slices organic fresh ginger
4 cups (950 ml) filtered water
2 tablespoons organic raw, unfiltered apple cider vinegar with "mother"
1 tablespoon raw, local honey
Instructions
Add the cranberries, ginger, and water to a 3-quart saucepan and bring to a boil. Cover the saucepan, turn the heat off, and steep 20 minutes.
Reheat briefly just to rewarm the tisane, and then stir in the vinegar and honey.
Strain out the cranberries and ginger, and serve warm.
I was selected for this opportunity as a member of CLEVER and the content and opinions expressed here are all my own.