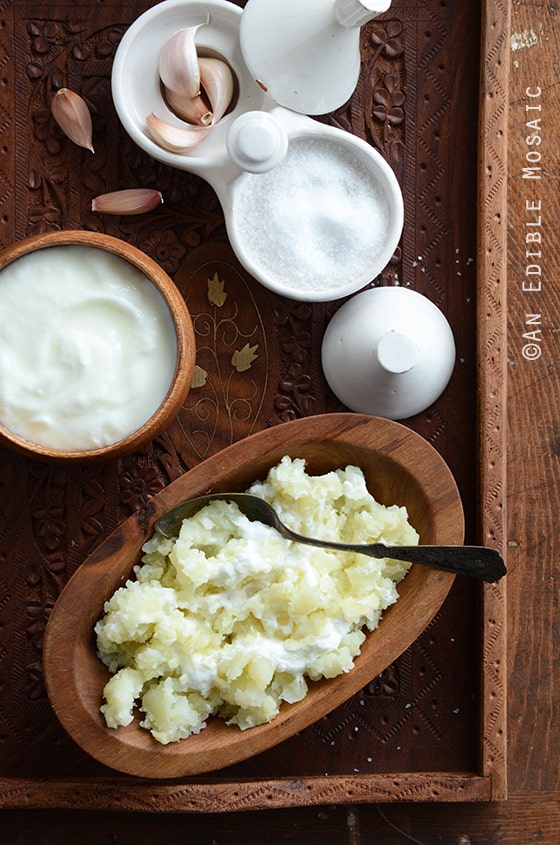 The last time Mike and I were in the Middle East I came down with stomach bugs three different times in 40 days. That's more times than I've been sick with tummy troubles during the rest of my adult life combined (other than that trip, I only remember having stomach flus twice since being a kid!). Lucky for me, my mother-in-law is well-versed not only in cooking, but also in home remedies, many of which very effectively use food as medicine.
As Hippocrates said, Let thy food by thy medicine and thy medicine be thy food.
My mother-in-law Sahar isn't a doctor: she's a Syrian homemaker, which means she's pretty fabulous at everything. Here's the short list: cooking; baking; ancient food preservation techniques like lacto-fermentation and meat-curing; cleaning everything (among many things, she taught me that ash is used to polish silver, and lemon and salt is used to polish brass and copper); home maintenance (she showed me how to sharpen knives on earthenware); laundry; sewing and mending; raising children (she raised six children of her own and several orphans); keeping her husband happy; diplomacy, especially negotiation and mediation; organizing; budgeting; listening; providing advice as needed; belly dancing; beauty regime, including the art of henna and use of it as hair dye, as well as other natural beauty treatments; soothing aches and pains, whether they're emotional or physical; and home remedies, whether they're preventative or curative.
This particular home remedy comes from Mike's dad's Palestinian mother – my mother-in-law's mother-in-law – who passed it on to Sahar, who passed it on to me. Her name was Zahara (which means "flower") and she was a truly remarkable woman; although is no longer with us, she lived to an incredibly healthy age of over 100. She drank a small cup of extra virgin olive oil every night and had radiant hair, skin, and nails her whole life. Although she never went to school and couldn't read or write, you'd never know it based on the incredible amount of life knowledge she had.
Zahara had ten children of her own and with all the tummy issues kids are bound to get while growing up, she needed a foolproof treatment. According to her (and also in my own experience), this remedy works for stomach bugs of every kind including nausea, cramping, vomiting, and diarrhea. There hasn't been a single time when someone with a stomach bug has thrown up after taking this remedy. That has been my personal experience, and also my mother-in-law Sahar's experience (who dealt with the tummy troubles of her six children) and her mother-in-law Zahara's experience (who raised ten children and dealt with even more tummy issues than Sahar did). Since Sahar showed me this remedy I've passed it on to my own family who has had the same results.
I think it's amazing how Zahara knew the purpose of every aspect of this remedy without any formal education (and by no formal education I'm not talking about no medical school – I mean no grade school). Mike described the following purpose of each ingredient to me, as he remembers his grandmother Zahara telling him:
Potato: Very easy to digest, this gives the body energy and helps to "hold the stomach together". A great source of vitamins and minerals (including the mineral potassium, which functions as an electrolyte), potato also helps to replenish the body with vitamins and minerals that have been depleted because of vomiting and diarrhea.
Yogurt (with live cultures): A probiotic, this replenishes the healthy or "good" bacteria in the intestines that have been lost, especially because of diarrhea.
Raw garlic: With its antibacterial and antiviral properties, this kills the stomach bug(s) that started the problems in the first place.
Salt: This replenishes electrolytes that have been lost because of vomiting and diarrhea, and helps prevent or minimize dehydration.
Like I said, Zahara was a remarkable woman and so is my own mother-in-law. I'm grateful to both of them for the knowledge and legacy they've passed on.
Next time you or someone you know gets a stomach bug consider giving this a try. You probably already have everything you need right at home, and like I mentioned before, no one who has taken this remedy has thrown up afterward – those are pretty good odds, right?
I hope this home remedy gets put to use in your family, soothing tummies for generations to come.
As a side note, this dish is pretty delicious too; when you're not looking for food as medicine you can enjoy it as a side dish with just about any meal!
An Old Palestinian Potato Home Remedy for Tummy Troubles
Prep time:
Cook time:
Total time:
Ingredients
1 medium white or yellow potato
¼ to ½ cup plain, unsweetened yogurt (with live cultures)
2-3 medium cloves raw garlic, peeled and crushed
Salt, to taste
Instructions
Put the whole potato in a medium saucepan and add enough cold water so the potato is covered by about 2 inches.
Bring to a boil over high heat, then turn heat down slightly and boil (uncovered) until the potato is softened but not fully tender, about 30 minutes; do not overcook. (The best way to test if the potato is done is to pierce it with a sharp paring knife. The knife should easily go straight through to the other side, but when you lift up the knife, the potato should stay on the knife for about 1 second before falling off.)
Cool the potato slightly, then peel and coarsely mash it. (It should not be easy to mash, since the potato should not be overcooked; I was told that keeping the potato slightly undercooked helps hold the stomach together.)
Mix in the yogurt, raw crushed garlic, and salt to taste.
Notes
One dose is usually enough to alleviate stomach problems; however, you can repeat this dose at your next meal if necessary.
Please note that I am NOT a doctor or medical practitioner of any kind, and neither is my mother-in-law Sahar or her mother-in-law Zahara. Nothing in this post should be construed as medical advice; I am merely recounting personal experience in case it might benefit anyone else. If you need medical advice you should immediately seek a physician's care.