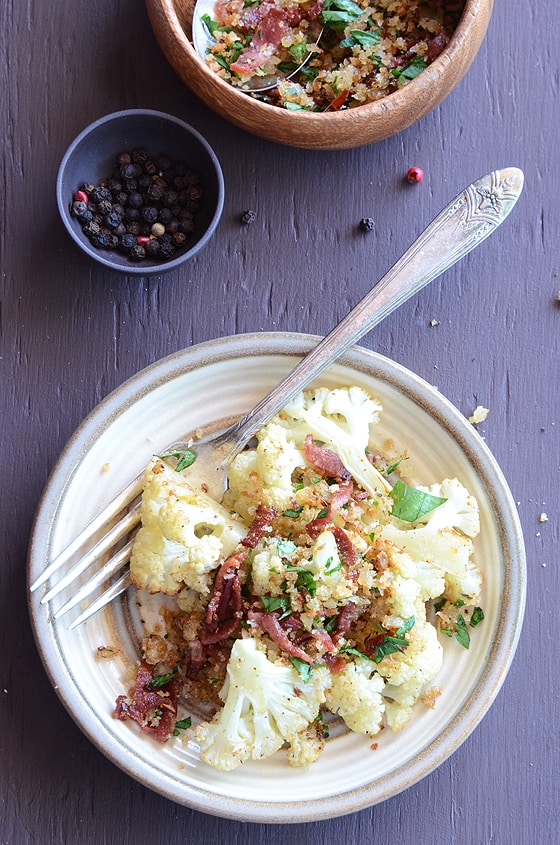 If you've been following my blog for a while, you might remember that for a time I went through a cauliflower-averse phase.
(It was completely my fault, and completely – unintentionally – self-induced. To read more about my cauliflower debacle, you can check out this post.)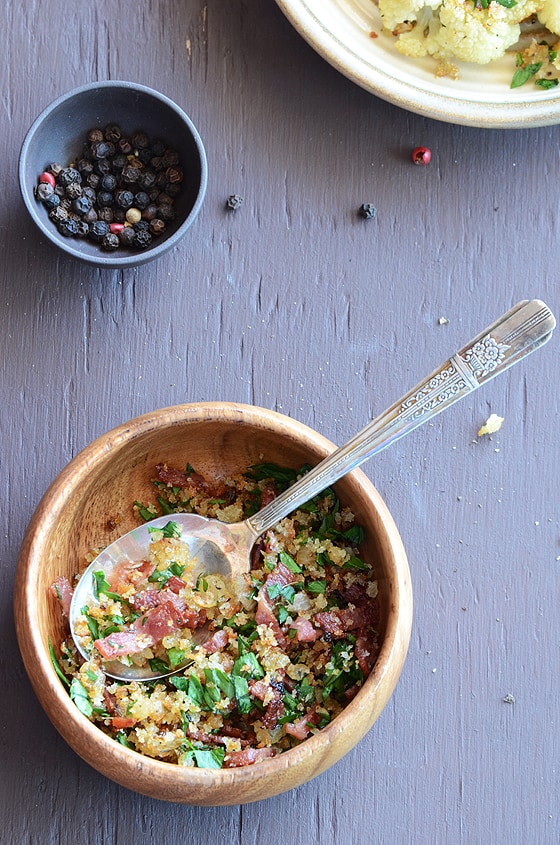 Anyway, since then, cauliflower has happily made its way back into my kitchen several times (in things like Indian-spiced cauliflower and potatoes and cheesy cauliflower chowder). This time of year when there is the most gorgeous looking local cauliflower available, I can't resist buying it almost every time I see it. This recipe in particular is a favorite…roast cauliflower is always a crowd-pleaser, and the crunchy topping in this recipe brings a fun new twist to a classic.
In this recipe I use Cooking Light's method for roasting cauliflower (from the recipe for Roasted Cauliflower with Fresh Herbs and Parmesan), and my recipe for breadcrumb topping (from my recipe for Bread Crumbed Salad).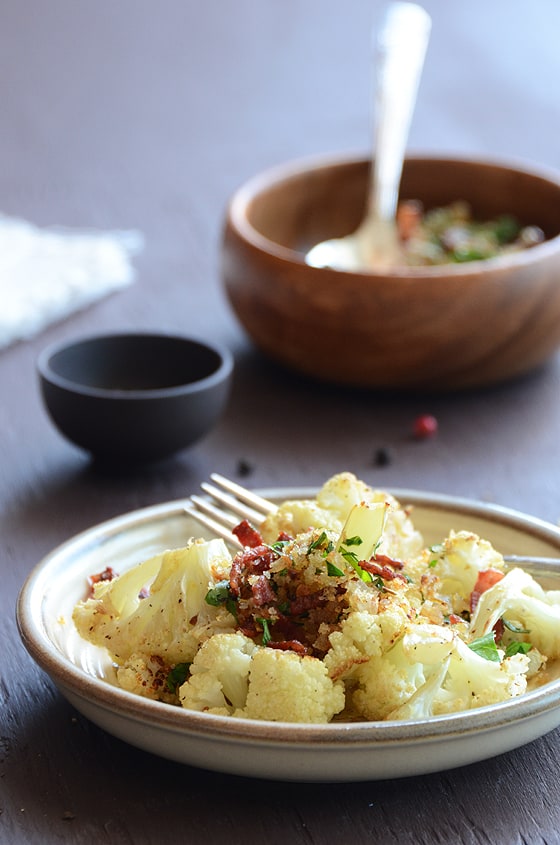 Roasted Cauliflower with Bacon Breadcrumb Topping
Serves 6
1 (1 ½ lb) head of cauliflower, cut into florets (about 6 cups)
1 tablespoon olive oil
¼ teaspoon salt
⅛ teaspoon black pepper
Bacon Breadcrumb Topping (recipe below)
Preheat oven to 450F. Place the cauliflower on a large baking sheet and toss with the oil, salt, and pepper. Bake until tender and browned, about 25 minutes, tossing every 5 to 7 minutes. Serve topped with Bacon Breadcrumb Topping.
Bacon Breadcrumb Topping:
2 tablespoons olive oil
3 slices turkey bacon, diced
1 small onion, finely diced
1 large clove garlic, grated on a microplane
4 tablespoons Panko breadcrumbs
1 ½ teaspoons fresh minced (or ½ teaspoon dried) thyme or rosemary
2 tablespoons fresh minced parsley
Pinch black pepper
Heat the oil in a small to medium-sized skillet over medium heat. Add the turkey bacon and sauté until crispy, about 3 to 5 minutes, stirring occasionally; use a slotted spoon to transfer the bacon to a bowl and set aside. To the same skillet, add the onion and sauté until tender and just starting to brown, about 3 minutes, stirring occasionally. Turn the heat down to low and add the garlic and breadcrumbs; sauté until the garlic is fragrant and the breadcrumbs are light golden brown, about 3 to 5 minutes, stirring frequently. Turn off heat and stir in the herbs, pepper, and browned turkey bacon. Serve on top of roasted cauliflower.