Japanese noodle bowls are relatively new to me. As a kid the closest I came to experiencing a noodle bowl was when my mom would make egg drop soup with ramen noodles (a delicious dish she learned from a friend of hers who was married to a Japanese man). I had my very first actual noodle bowl at Wagamama in London only a couple years ago. Since then, I've been hooked.
Noodle bowls are great for cleaning out the fridge, since you can use just about any combination of veggies and lean protein that you have on hand. This combination is one of my absolute favorites…and I think it represents me, so it's the perfect dish for me to submit to the fabulous Sophia's "You Are What You Cook" Challenge!
This dish is hearty, healthy, and warming. There is a nice balance between the different elements of this dish…the mild flavored salmon is enhanced by the sweet and spicy glaze, and the earthy greens provide a good contrast to the sweet onions. This dish mirrors my personality; there's no place in the world I'd rather be than home with my family, and this is reflected in this earthy, comforting, sweet and spicy dish.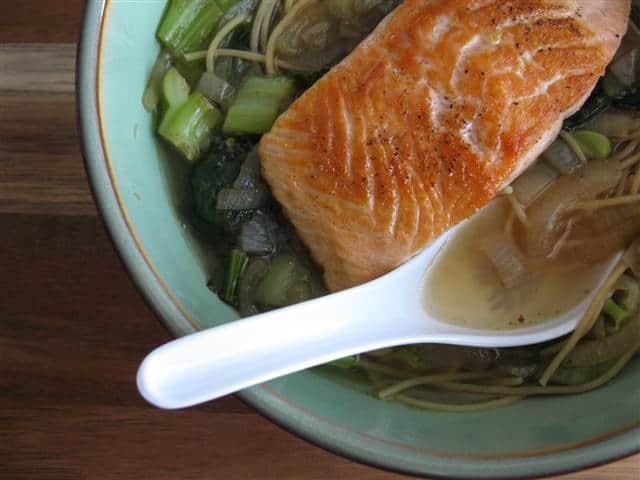 Fishbowl (Salmon Noodle Bowl with Greens & Garlic-Ginger-Honey Glaze)
(Yield: 1 serving)
2-3 oz whole grain pasta or soba noodles (I used whole grain spaghetti noodles because it's what I had on hand)
1 (4-6 oz) salmon fillet
1 (about ⅓ lb) baby bok choy, washed and chopped
1 small onion, thinly sliced into half-moons
1 clove garlic, grated
1 teaspoon fresh grated ginger
½ TB honey
½ TB soy sauce
2 teaspoon olive oil, divided
1 ½ to 2 c chicken, fish, or vegetable stock
Salt and pepper
Sriracha to taste (optional)
Cook the pasta to al dente according to the package directions. Bring the stock up to a simmer.
In a small skillet, heat 1 teaspoon oil over medium to medium-low heat. Add the onion and bok choy and season with a little salt and pepper; sauté (covered) for about 5 minutes until the veggies are tender, stirring occasionally. Add the garlic, ginger, honey, and soy sauce to the veggies and sauté another 2 minutes, stirring continuously; turn off the heat.
In another small skillet, heat the remaining 1 teaspoon oil over medium-high heat; season the salmon with salt and pepper and when the oil ripples add the salmon. Cook the salmon for about 2 minutes on each side, then put a lid on the skillet, turn off the heat, and leave it for 3 minutes to steam the inside of the fish.
Put the noodles in a bowl, add the veggies, and place the salmon on top; pour in enough stock to cover the noodles and veggies. If desired, add sriracha to taste.