I want to announce that the wonderful people at CSN Stores offered to let me do a review of one of their products. Choosing a product was hard since they have so many wonderful things…they literally have everything from bar stools to cookware to shoes! I decided on a cast iron skillet with a lid since this is such a versatile kitchen tool…I like to use it for fried eggs (it makes literally the best fried eggs, ever), frittata, potatoes anna, pancakes, or even sautéed veggies. I can't wait to review this product and let you all know how it is!
Now for these fabulously moist and delicious cupcakes! Apologies to my non-chocolate loving friends out there…these cupcakes are a chocoholic's dream. The cake recipe is none other than my mom's Crazy Chocolate Cake (that I used last summer to make my dad's Vegan Birthday Hoho), made even more indulgent by the addition of chocolate hazelnut truffles. And then comes the real crowning jewel, the complete gilding of the lily, the hazelnut buttercream…yes, that's all that really can be said about that…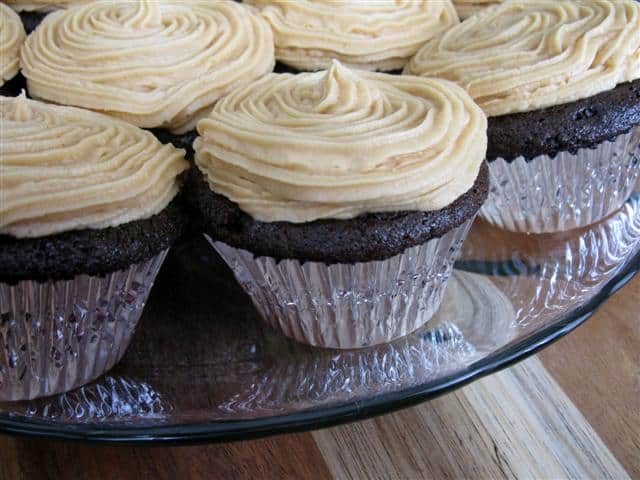 This makes about double the amount of buttercream that is actually needed to frost the cupcakes (which – since I was experimenting – I didn't realize until after I had made the buttercream), so you can either cut the buttercream recipe in half, double the cake recipe, or double-frost the cupcakes like I did.
I actually made these cupcakes a few weeks ago, on a day when I was snowed in and not able to make it in to work. (What could be more fun than baking on a snow day, right?) I took these cupcakes to work with me the next day and they were a huge hit. And I was glad to share these dangerously delicious cupcakes with my co-workers and get them out of my house…they were good for a little indulgence, but I did not want a whole batch of them around tempting me!
Chocolate Hazelnut Truffle Cupcakes with Hazelnut Buttercream
(Yield: About 22 to 24 cupcakes and 4 c of buttercream)
Crazy Chocolate Cake:
2 2/3 c flour, plus a little extra to roll the truffles in
2 c sugar
2 tsp baking soda
1 tsp salt
2/3 c cocoa
2 tsp vanilla
2 tsp distilled white vinegar
2/3 c canola oil
2 c cold water
22-24 chocolate hazelnut truffles (I used Lindt, but you can use any brand you like)
Hazelnut Buttercream:
1 stick butter
1 1/2 c smooth hazelnut butter (or any nut butter you like)
2 tsp pure vanilla extract
16 oz (1 lb) powdered sugar
About 1/2 c milk, added in 1 TB increments (or more to reach your desired consistency)
Muffin tray & 22-24 paper liners
Cooking spray
For the cupcakes: Preheat the oven to 350F. Line the muffin tray with paper liners and lightly spray each liner with cooking spray. Mix 2 2/3 c flour with the sugar, baking soda, salt, and cocoa, and make three wells in this mixture. To each well add the vanilla, vinegar, and oil. Use a handheld mixer to combine and add the water. The batter will be thinner than most cake batters. Lightly roll each truffle in flour and shake off the excess. Fill each well of the muffin tray about 2/3 full, place a flowered truffle in the center of each well, and then add a little more batter to cover the truffles.
Bake for about 20 minutes until they're fully risen and don't jiggle when you shake the tray (I didn't use the toothpick test here because of the truffles inside). Allow to cool slightly in the muffin tray, then remove (the cupcakes might pucker or sink a little in the center because of the truffles…don't worry, the buttercream will cover it). Make sure they're completely cool before frosting.
For the buttercream: Cream together the hazelnut butter and butter, then cream in the vanilla. Alternate adding milk and powdered sugar until you've added all the powdered sugar and the frosting is the consistency you want (you'll probably end up using about 1/2 c of milk). Store the frosting in the fridge until ready to use.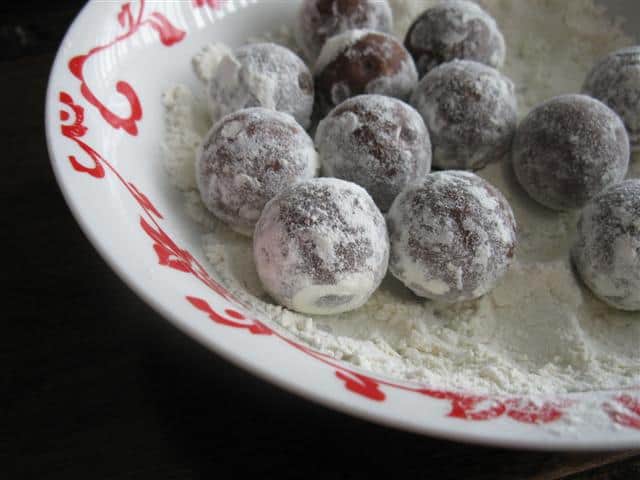 Recently the lovely Nicole of Prevention RD passed on the Sunshine Award on to me. If you haven't visited Nicole's blog, please do so! She is a real sweetheart and her blog is full of healthy inspiration, information, and recipes. Thank you so much for passing this award on to me, Nicole!
The sunshine award is awarded to bloggers whose positivity and creativity inspire others in the blog world.
I would like to pass this award on to the following wonderful bloggers:
1. Veronica of Recipe Rhapsody
2. Mary of Keep Learning Keep Smiling
3. Juliana of Simple Recipes