This is the final course of our homemade Valentine's Day meal. And it really goes out with a bang. It's not your typical mousse, since you won't find any eggs here. Instead I used Greek yogurt to make it a little healthier (let's face it, this meal was not light on calories, so we might as well make up for it a little bit ;) ), and also because with this method the dessert is literally made in minutes. This mousse is so decadent you won't miss the eggs.
I'm sending this mousse over to Natasha of 5 Star Foodie for her 5 Star Mousse Makeover!
If you haven't done so yet, head over to All Through the Year Cheer for our Valentine's Day event!
A Note on the Sweetness: This mousse isn't overly sweet, so before you serve it make sure to taste it so you can add more sweetener to taste.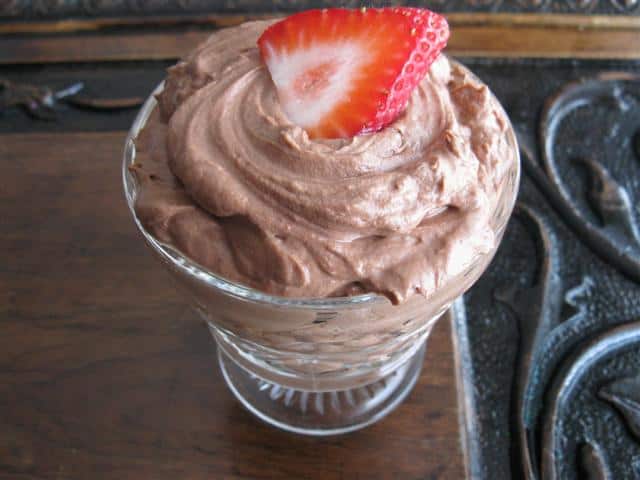 Dark Chocolate Mousse
(Yield: 2 to 4 servings)
1 (3.5 oz) good quality semi-sweet chocolate bar (I like to use 60% cacao), chopped
1/2 c heavy cream
7 oz plain Greek yogurt
2 TB honey or other sweetener (or more to taste)
Strawberries for garnish (optional)
Strain the Greek yogurt in the fridge overnight to make it extra thick. Melt the chocolate either in a double boiler or in the microwave and let it cool slightly. Whip the cream and in a separate bowl, whisk together the cooled chocolate and honey, and then whisk in the yogurt. Gently fold the whipped cream into the yogurt mixture, being careful not to over mix (it's okay if there's some white spots left). Serve garnished with strawberries if desired.