Where you live, does it snow for Christmas? It used to snow here religiously every year. (Actually, I remember being a kid and trick-or-treating in the snow on Halloween some years!) Alas, we haven't been guaranteed a white Christmas for the past four years or so.
Which is a crying shame, really…there's just something about a blanket of white that makes Christmas feel so special.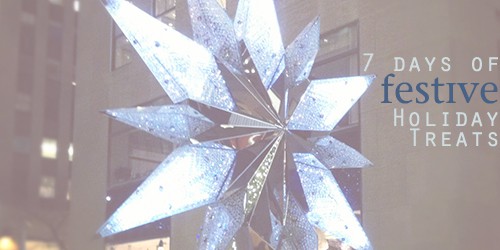 The other night we had our second snowfall of the season. Late at night, right before bed, Mike told me he had a surprise for me. He grabbed my hand and took me to the window. As he opened the curtains I all but squealed in delight – there was snow! Only about an inch, but it was still lovely. Of course it was completely melted by noon the next day, lol. But I'm still holding out hope for a white Christmas – there's snow in the forecast for next week so we'll see!
This recipe (which is day number five of my 7 Days of Festive Holiday Treats) always reminds me of snow, Christmas, and holiday festivities in general. I make a batch for the holiday season in early December every year, and the cookies keep quite well for about three weeks. Sometimes I'll dip the bottoms in dark chocolate and other times I'll drizzle white chocolate on top, but I admit, they're absolutely perfect as they are.
And if you'd like to try a gluten-free, naturally-sweetened version of this recipe, here's their sister biscotti: Toasted Coconut-Almond Biscotti. Either way you can't go wrong!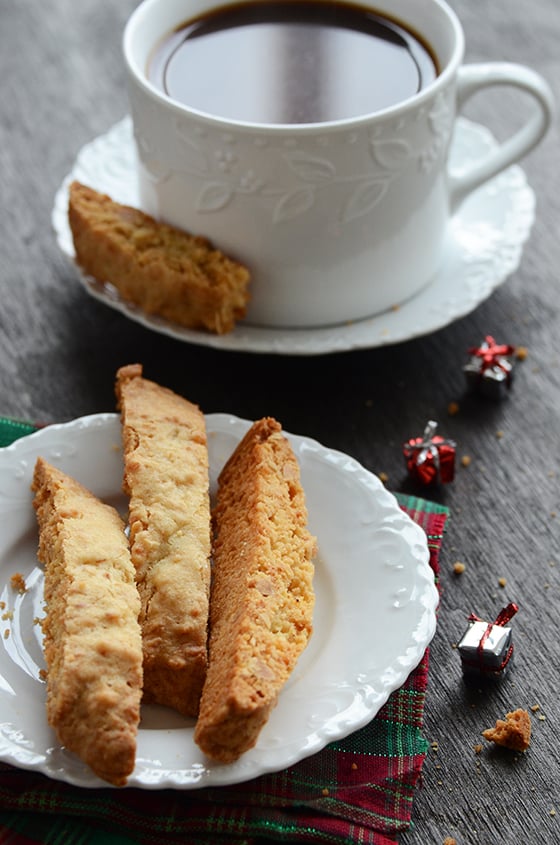 Nutty Biscotti
Prep time:
Cook time:
Total time:
Yield:
About 3 dozen biscotti
Ingredients
1 cup desiccated, unsweetened coconut
½ cup slivered almonds
½ cup butter, at room temperature
1 cup sugar
2 large eggs
2 teaspoons pure vanilla extract (or 1½ teaspoons vanilla extract + ½ teaspoon almond extract)
2 cups all-purpose flour
¾ teaspoon baking powder
½ teaspoon salt
Instructions
Preheat oven to 350F and line a half sheet pan with parchment paper or a silpat liner. Toast the coconut and almonds in a medium skillet over medium-low heat until fragrant and golden brown, about 5 to 7 minutes, stirring frequently. Cool.
Cream together the butter, sugar, eggs, and vanilla with a handheld electric mixer until light and fluffy. In a separate bowl, whisk together the flour, baking powder, and salt. Use a wooden spoon to stir the dry ingredients into the wet, then stir in the toasted coconut and almond. (The dough will somewhat sticky for a cookie dough, but still manageable.)
Divide the dough into 2 equal portions. Spread each portion out to a rectangle about 1 to 1½ inches wide by 14 inches long, leaving about 4 to 5 inches between the 2 rectangles. Bake until the loaves are golden and feel dry, about 30 minutes, rotating the pan once.
Cool for 10 to 15 minutes on the tray, and then use the parchment paper or silpat liner to slide the loaves off. Use a large, sharp, non-serrated knife to cut each loaf cross-wise on a slight diagonal into ½ to ¾-inch thick cookies (I got about 3 dozen cookies of this size).
Arrange the cookies on a large baking sheet so that they're close but not touching; bake until light golden brown, about 15 to 20 minutes, flipping once halfway through.