Low-Carb Fathead Carrot Cake Sticky Buns have everything you love about sticky buns, minus the carbs and sugar!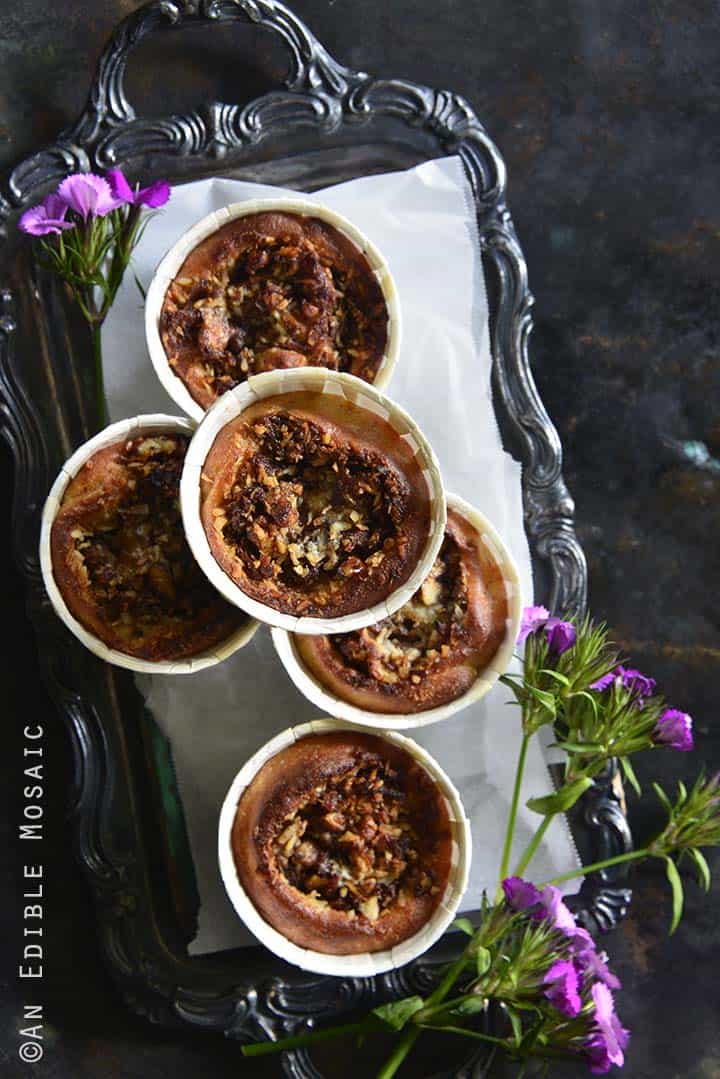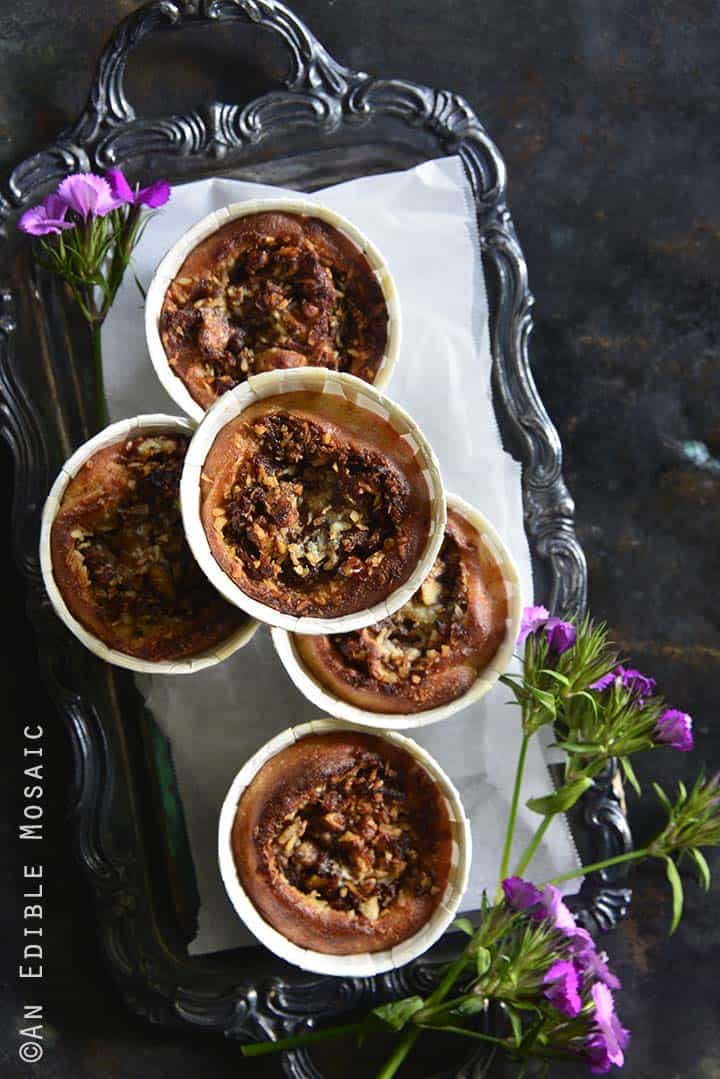 I think there isn't any dessert that's more representative of spring than carrot cake (or maybe some kind of lemon treat!). I'm always surprised by how many people like it! (I mean, it's a little surprising…it is cake with veggies in it, lol.) I make my family and close friends cakes for their birthdays and carrot cake is definitely a fan favorite.
Now, I'll admit, I enjoy carrot cake, but I'd much rather have a slice of classic chocolate with vanilla buttercream or even yellow cake with fudgy ganache. Carrot cake might come in as my third favorite, and even then, I'm probably forgetting about another type of cake that I'd choose before it, lol. But I do love a good sticky bun.
These buns are actually low-carb, inspired by the ubiquitous fathead dough in the keto world. If you've never made anything with fathead dough (it's commonly used to make keto pizza), I have to say you're in for quite the surprise! It's one of the most interesting things I've ever worked with. (The first time I ever saw fathead pizza was on Ditch the Carbs; she talks about how fathead was created by Tom Naughton's oldest brother's oldest son, and was named after his Fat Head movie.)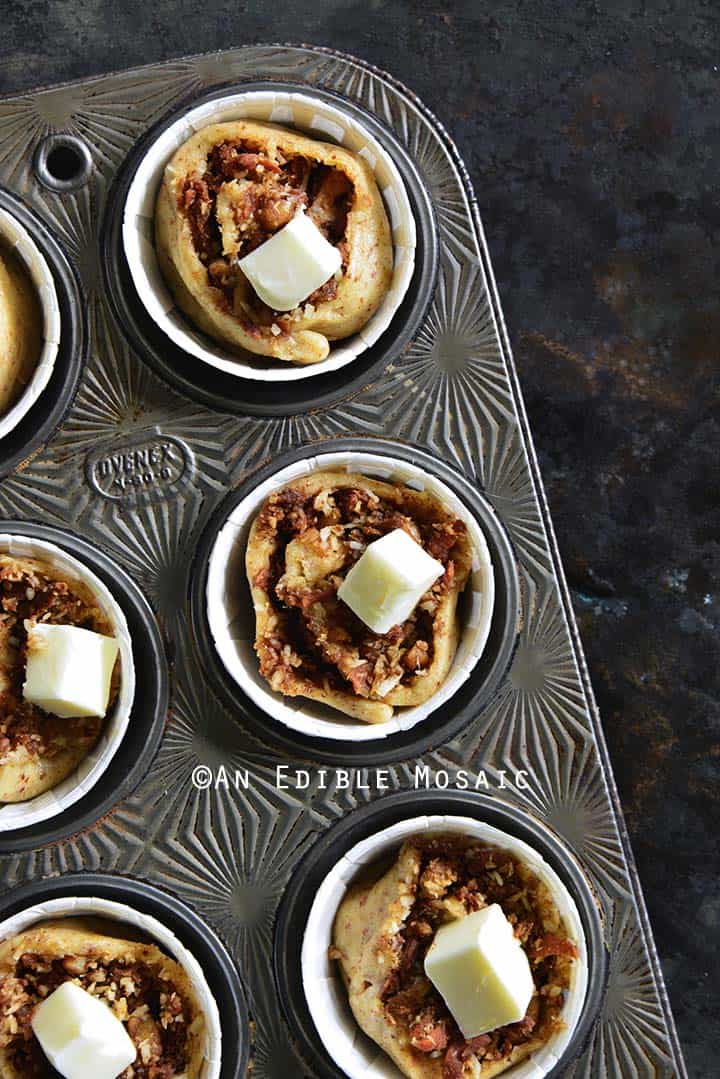 Fathead dough starts by melting mozzarella cheese, which acts as the base of the dough, and then it gets odder from there. Somehow (as proof that magic happens every day in the kitchen), it comes together as a cohesive dough with egg and almond flour and a few other key components. Anyway, I made a slightly sweet version of that dough for my sticky buns.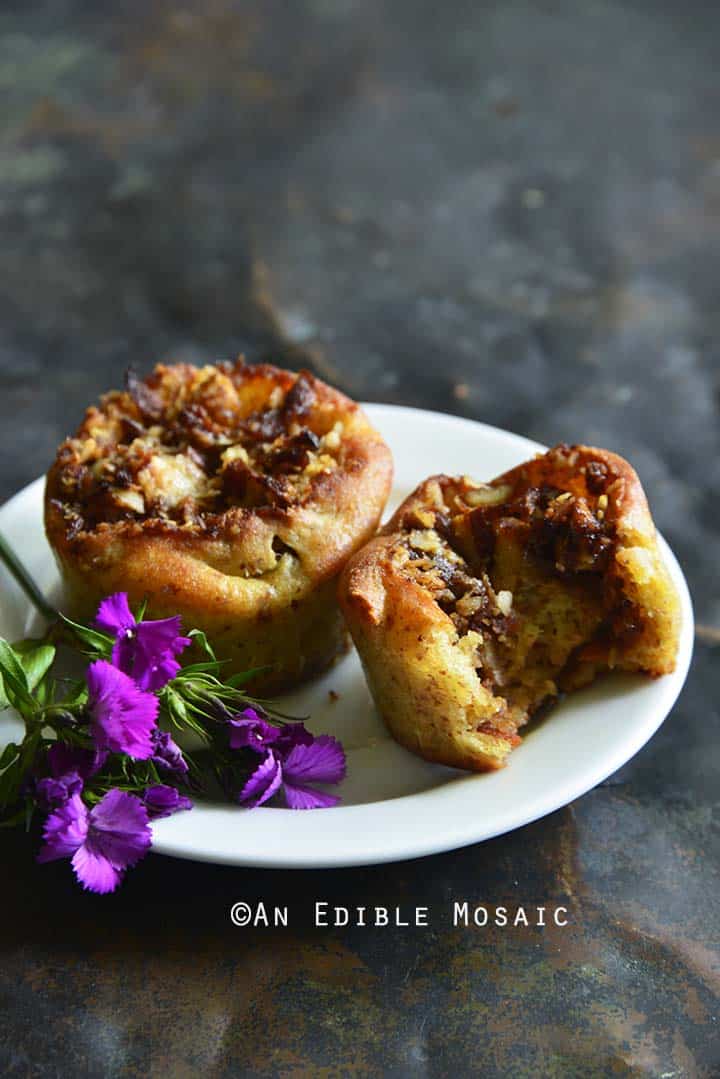 For the center of my buns, I did a sweet spiced carrot-walnut filling as my own play on the flavors in carrot cake. I actually meant to make these into carrot cake cinnamon buns, but took the photos before I remembered to frost them; and hence, these sticky buns were born.
I tested this recipe out on my mom who adores carrot cake and is by no means keto; two thumbs up!
What's your favorite kind of cake?
Low-Carb Fathead Carrot Cake Sticky Buns
Prep time:
Cook time:
Total time:
Low-Carb Fathead Carrot Cake Sticky Buns have everything you love about sticky buns, minus the carbs and sugar!
Ingredients
Carrot Cake Filling:
1 small carrot, shredded (about ⅓ cup shredded carrot, lightly packed)
¼ cup chopped walnuts or pecans
1 tablespoon unsalted butter
3 tablespoons granulated erythritol
1½ teaspoons ground cinnamon
½ teaspoon ground nutmeg
1 teaspoon blackstrap molasses
1 teaspoon pure vanilla extract
⅛ teaspoon stevia glycerite
1 pinch sea salt
½ cup unsweetened shredded coconut
Dough:
½ teaspoon instant yeast (see Note)
1 tablespoon warm water
½ cup (56 g) almond meal or flour (see Note)
½ teaspoon psyllium husk powder
1 teaspoon baking powder
1 pinch sea salt
1 pinch ground nutmeg
¾ cup (85 g) shredded part-skim mozzarella cheese
1 oz (30 g) cream cheese
1 tablespoon unsalted butter
1 large egg yolk
1 teaspoon pure vanilla extract
2 drops stevia glycerite
Other:
2 tablespoons unsalted butter, cut into 8 pieces
Instructions
Preheat the oven to 400F; line 8 wells of a muffin tray with paper liners.
For the filling, add all ingredients to a small-medium skillet over medium-high heat. Cook until the liquid is bubbling, and then boil until the liquid is thickened slightly, about 2 minutes, stirring constantly. Set aside while you make the dough.
For the dough, add the yeast and warm water to a small bowl and stir with a fork to combine; let it sit for 5 to 10 minutes. Meanwhile, whisk together the almond flour, psyllium husk powder, baking powder, salt, and nutmeg in a medium bowl and set aside.
Melt the mozzarella, cream cheese, and butter together in a double boiler or microwave. If using the microwave, start out with 1 minute and then stir the cheese with a fork; continue heating it in 15-second intervals until it's melted.
Whisk the egg yolk, vanilla, and stevia glycerite into the dissolved yeast mixture.
Stir the dissolved yeast mixture and the dry ingredients into the cheese mixture. It's easiest to do this with your hands; to help prevent the dough from sticking, lightly spray your hands with a little coconut oil before kneading the ingredients together until they form a dough.
Press or roll the dough out into a rectangle about 7½ by 13 inches on a piece of parchment paper. Spread the filling on top, leaving a border of about ¼-inch along the outside. Use the parchment paper to help you roll up the dough. Slice the dough into 8 equal pieces.
Place a roll into each of the 8 prepared muffin wells and top each with 1 piece of butter.
Bake until golden, about 16 to 18 minutes.
Cool slightly before serving.
Notes
Yeast: The yeast is only in this recipe to give it a bread-like aroma, not as a leavening agent.

Almond Meal or Flour: Either almond meal or almond flour will work for this recipe. Almond meal will give it more of a "whole wheat" look, and almond flour will give it more of a "white flour" look.