Robin's Egg Vanilla Sugar Cookie Cups with Strawberry White Chocolate Ganache are an adorably spring-y Easter-themed treat.
White chocolate really is an interesting thing. To me, it doesn't taste like chocolate at all (although the aroma of cacao butter – white chocolate in its purest form – is deeply chocolaty and pretty fantastic), and since it can be considered a byproduct of making cocoa powder (which is then used as-is or made into milk or dark chocolate) some people don't think of white chocolate as chocolate at all!
I confess, I used to really dislike white chocolate.
It was always way too sweet for me, and I much prefer the flavor complexities of a great-quality dark chocolate. Recently I tried a little piece of white chocolate at the urging of a friend and realized that it was actually pretty good. I didn't think of it as chocolate; to me, it tasted like birthday cake-flavored candy!
I do like birthday cake flavor (my blondies will attest to that!) and I realized that white chocolate is a misnomer; if I think of it as candy instead of chocolate, I actually really enjoy it! Long story short, that was the inspiration for the ganache frosting for these cookie cups.
The cookie base here is pretty basic; aromatic with vanilla and butter the way any good sugar cookie should be. The ganache is strawberry white chocolate, in which I used powdered freeze dried strawberries for both color and flavor. The real fun is the adorable decorations on top.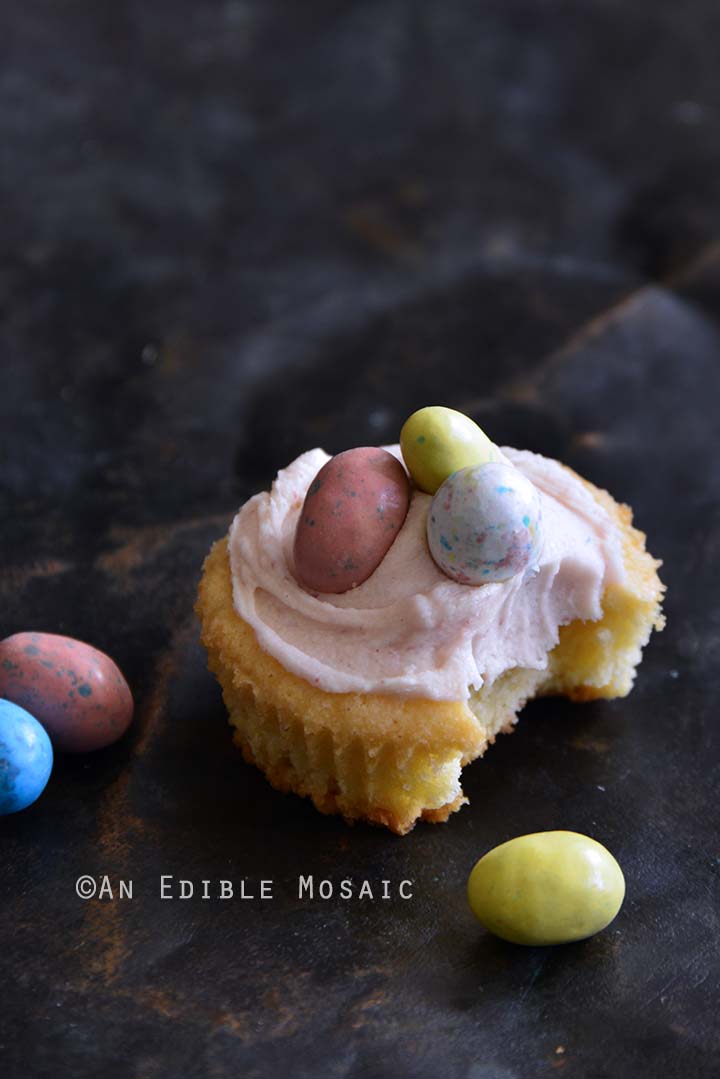 Here I kept the topper pretty simple with Peeps and mini robin's eggs, but you could do these up any way you want. I've seen toasted coconut used to look like a bird's nest, or green-dyed coconut to look like grass (on my other blog, Healthy Sweet Eats, I have a post on How to Naturally Dye Shredded Coconut Green). It just depends what look you're going for, and how much patience you have for the project!
This would be a great thing to do with kiddos. You could set up a little toppings bar and let them go crazy decorating any way they like! They're a great dessert for any spring or Easter-themed gathering, or if you're looking for a way to help use up some of your candy after Easter, these would definitely help. You could sub out jelly beans for the mini robin's eggs if that's what you have on hand, or put little chocolate bunnies on top.
Are you a fan of white chocolate?
Robin's Egg Vanilla Sugar Cookie Cups with Strawberry White Chocolate Ganache
Prep time:
Cook time:
Total time:
Robin's Egg Vanilla Sugar Cookie Cups with Strawberry White Chocolate Ganache are an adorably spring-y Easter-themed treat.
Ingredients
Cookies:
6 tablespoons unsalted butter, at room temperature
½ cup + 2 tablespoons (113 g) sugar
1 large egg
1½ teaspoons pure vanilla extract (I like Nielsen-Massey)
¼ teaspoon pure almond extract
1 cup (128 g) all-purpose flour
½ teaspoon cream of tartar
¼ teaspoon salt
Ganache:
6 oz (170 g) white chocolate, chopped
¼ cup (60 ml) heavy cream
1 tablespoon unsalted butter
¼ teaspoon pure almond extract
1 teaspoon powdered freeze dried strawberries (see Note)
Other:
Instructions
Preheat the oven to 350F. Line 8 wells of a muffin tray with paper liners.
For the cookies, cream together the butter and sugar, and then beat in the egg, vanilla extract, and almond extract. Stir in the flour, cream of tartar, and salt. Cover the dough and refrigerate until chilled, about 30 minutes.
Scoop the dough out into the prepared muffin tray and push it down into each well. Bake until the cookies are golden along the outside, about 25 to 30 minutes. Cool completely.
For the ganache, melt the white chocolate, heavy cream, and butter together in a double boiler or microwave and stir together until smooth. Stir in the almond extract and strawberry powder. Let the ganache cool to room temperature, and then refrigerate briefly to chill (just until it's spreadable like frosting).
Spread the ganache onto the cooled cookie cups. Before the ganache sets, decorate the tops with mini robin eggs and Peeps marshmallows.
Serve.
Notes
Strawberry Powder:
I haven't found something like this commercially available, but strawberry powder is very easy to make. I buy freeze dried strawberries (I like
Crunchies
), crush them up into a powder, strain them through a fine mesh sieve two times, and use the powder. I like to use strawberry powder as a natural dye, and it also adds a strawberry flavor. Alternatively, if you want this ganache pink but without strawberry flavor (or if you don't have access to freeze dried strawberries), you could use a couple drops of red food coloring.
Disclosure: I received a sampling of Nielsen-Massey and Crunchies products for free; as always, opinions stated are my own. This post contains Amazon affiliate links to products I believe in, which means that even though it doesn't cost you anything extra, I will receive a small amount of money from the sale of these items, which helps me keep this site alive – thank you for helping to support An Edible Mosaic!