This Vegan Baked Beans Recipe is a meat-free version of Boston Baked Beans. It has all the flavor and comes together in a fraction of the time that the original recipe takes; it's the perfect side dish!
I confess, I've never been one to be all that sad when Labor Day rolls around.
Yes, I like summer (as much as any Buffalo-born-and-raised-girl can). But in all honesty, I love autumn way too much to be disappointed about summer's end. And don't even get me started about the first snowfall; I look forward to it every year the way a kid looks forward to summer vacation or a trip to Disney. What can I say? Buffalo is in my blood.
But still, it feels appropriate to memorialize the (unofficial) end of summer with a seasonally-appropriate dish. Now, truthfully, I don't know why we don't eat baked beans year-round (they're a substantial, hearty dish), but in my family they're a strictly summer-only side.
This Vegan Baked Beans Recipe goes well with anything you could think of grilling up, from hot dogs to tuna steaks. And baked beans travel and re-heat perfectly, making them picnic, potluck, and BBQ-friendly.
My mom is usually the baked beans maker in our family. She got a killer recipe from her dad, after putting her own few tweaks on it. When I recently asked my mom for her recipe, she recalled it from memory, having made it so much. Those are the recipes I love; the foods that shape your childhood and take you back every time you smell them filling the kitchen with their rich aroma.
What Makes Boston Baked Beans Different?
Let's talk about Boston Baked Beans for a quick minute. They're typically made with either Great Northern or navy beans flavored with some kind of pork and molasses. And Boston Baked Beans usually cook a very, very long (like eight hours long) time.
A couple things to note about this vegan version of baked beans. First and foremost, if you've been following my blog for any length of time you've probably noticed that hubby and I don't eat pork, so I went vegan here. (Just be sure to use vegan Worcestershire sauce and you'll be good to go with a vegan version.)
I mimicked the same lovely smoky flavor that bacon provides by using hickory smoked sea salt.
Pro Tip: If you can't find hickory smoked sea salt, you could also use smoked sweet paprika or even smoked tea (like lapsang souchong).
Additionally, I scaled back a bit on the amount of molasses and sugar that my mom uses in her recipe. However, the beans didn't suffer for it! They boast a very balanced flavor profile.
I also tweaked the cooking time so that you don't need to spend eight hours or more cooking these beans. (Because who has time for that in this day and age? Two and a half hours is quite long enough!)
And lastly, I scaled way back on the size of this recipe because sometimes you just need a smaller batch instead of enough baked beans to feed an army…twice.
Ketchup in Baked Beans
I want to bring attention to the ketchup because I doubt it's an ingredient in the original Boston Baked Beans recipe. My mom adds it to her recipe and I don't think the idea is completely out in left field because I've seen a lot of Boston Baked Beans recipes that call for tomato paste, vinegar, and sugar, and really, what is ketchup if not these same ingredients cooked down?
My point is, trust me and add the ketchup; it adds incredible depth of flavor here!
Are Beans Vegan?
Beans are a vegan food. And the nice thing about beans is that in addition to containing fiber, they also contain protein!
If you're looking for pre-made baked beans, be sure to read the ingredients on the label to make sure they're vegan.
More Side Dishes to Bring to a Potluck: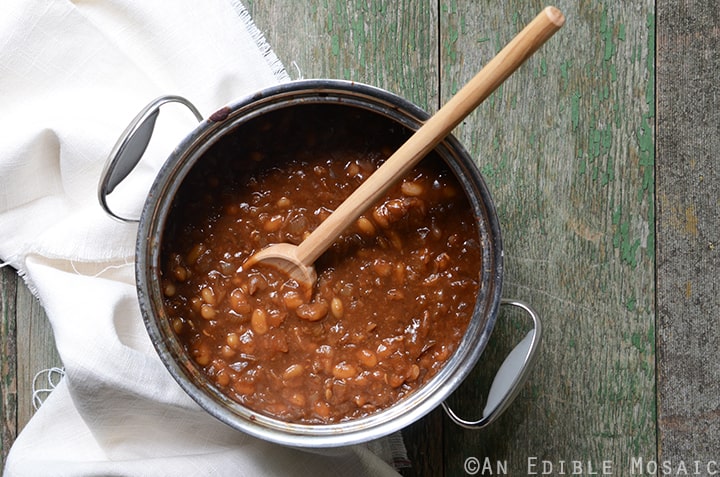 Did you make this recipe? Please rate it and leave a comment below because I love hearing from you! You can also tag @anediblemosaic on social media. To stay up-to-date FOLLOW ME on Instagram, Twitter, and Facebook. Xoxo, Faith
Vegan Baked Beans Recipe
This Vegan Baked Beans Recipe is a meat-free version of Boston Baked Beans. It has all the flavor and comes together in a fraction of the time that the original recipe takes; it's the perfect side dish!
Print
Pin
Rate
Instructions
Put the beans in a large bowl, fill the bowl with cold water, and soak overnight; the next day, rinse and drain the beans. Put the beans in a 3-quart pot and cover them by 2 inches with cold water. Bring up to a boil, then turn heat down slightly and boil (covered with the lid ajar) until soft but not mushy, about 45 minutes, stirring occasionally.

Preheat the oven to 350F.

Add enough water to the beans so they're just barely covered (if necessary). Stir in all remaining ingredients.

Bake (covered) for 1 hour, stirring once halfway through.

Turn the oven down to 300F.

Bake (uncovered) until the sauce is thickened, about 30 minutes (they will thicken more on standing).
Helpful Tips
Use vegan Worcestershire sauce to keep this recipe vegan.
If you don't have hickory smoked sea salt, you can use 3/4 teaspoon smoked paprika to add smoky flavor.
Nutrition
Calories:
207
kcal
|
Carbohydrates:
43
g
|
Protein:
9
g
|
Fat:
1
g
|
Saturated Fat:
1
g
|
Sodium:
711
mg
|
Potassium:
811
mg
|
Fiber:
8
g
|
Sugar:
19
g
|
Vitamin A:
51
IU
|
Vitamin C:
4
mg
|
Calcium:
102
mg
|
Iron:
3
mg
Disclosure: This post contains Amazon affiliate links to products I believe in, which means that even though it doesn't cost you anything extra, I will receive a small amount of money from the sale of these items. Thank you for helping to support An Edible Mosaic!