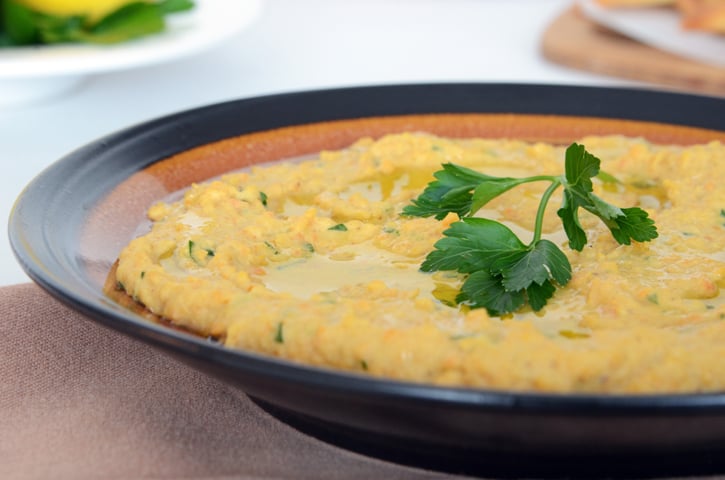 A while ago found myself gifted with five pounds of carrots. I wanted to make something unique and special with the carrots, and as I hemmed and hawed on what to make, they weren't getting any fresher. Meaning, I had to think of a way to use a significant amount of carrots and I had to do it fast. I had a party coming up and I knew just what to do. I came up with this recipe, doubled it, and brought it to the party. This dip was the first thing to go and I ended up wishing I had made more!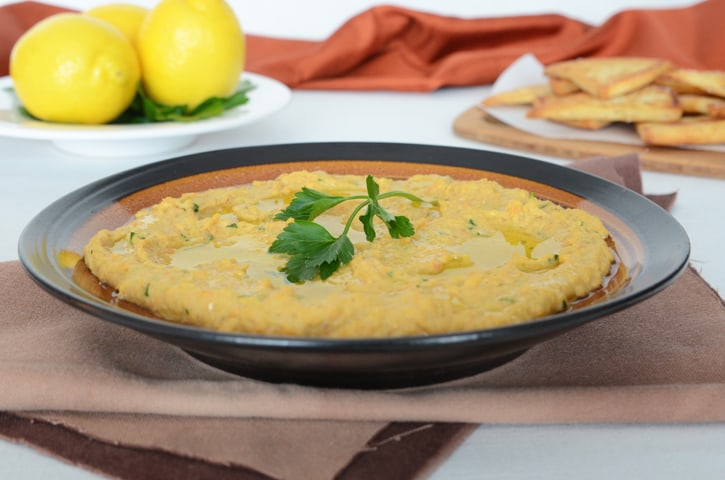 And there's a funny little story about this dip. If you've been reading my blog for any length of time you probably know that Mike is as picky an eater as a toddler who wants to live off chicken nuggets and cheerios. (Ok, maybe he's not that bad…but he's pretty bad.) Since he loves hummus I wanted him to try this dip but I knew that if I told him what was in it there's no way he would agree to it…either that or he would take one small bite, make in ick face, and say he doesn't like it, which he has been known to do. Anyway, I got around this by telling him that I made him "a new kind of hummus" to try, which he happily agreed to…and loved.
Roasted Carrot Red Lentil Dip
(Yield: About 3 ½ cups, or 14 (¼ cup) servings)
1 lb carrots, peeled and chopped into 1-inch pieces
6 large cloves garlic
5 tablespoons olive oil, divided
1 cup red lentils
2 teaspoons cumin
1 teaspoon coriander
½ teaspoon dried ginger
⅛ teaspoon cinnamon
2 tablespoons fresh lemon juice
4 tablespoons tahini
2 tablespoons minced fresh flat-leaf parsley
Salt and pepper
Preheat oven to 425F. Put garlic (with peel still on) in foil, drizzle with 1 TB oil, and wrap securely. Toss carrots with 1 TB oil and a pinch of salt and pepper and arrange on a baking pan. Roast carrots and garlic until tender and caramelized (about 40 minutes), giving the pan of carrots an occasional toss. Cool; peel garlic.
Add lentils and 2 cups water to a medium saucepan; bring up to a boil, then cover the pan, turn the heat down to a simmer, and cook until the lentils are mushy (about 8-10 minutes), stirring occasionally. Take off the lid and cook until thickened (about 2 minutes), stirring constantly. Cool.
Add cumin, coriander, ginger, and cinnamon to a dry pan. Toast over medium heat a couple minutes until fragrant.
To the bowl of a food processor, add peeled garlic, carrots, and 2 tablespoons oil; pulse until they form a chunky paste. Pulse in the toasted spices along with 1 teaspoons salt and ¼ teaspoon pepper. Add lentils, lemon juice, and tahini and pulse to combine.
Stir in parsley; taste and season with additional salt and pepper as desired. Transfer to a serving bowl and drizzle remaining 1 tablespoon olive oil on top before serving. Serve with crudités, toasted pita chips, crackers, or bread.