I had a couple of beautiful portobellos in my fridge and I was going to make them into giant stuffed mushrooms…but, there are a million recipes out there for stuffed mushrooms and you probably don't need another. (Plus I was in the mood for something a little different!) I thought the mushrooms would also make the perfect base for individual gratins so I decided to do that instead.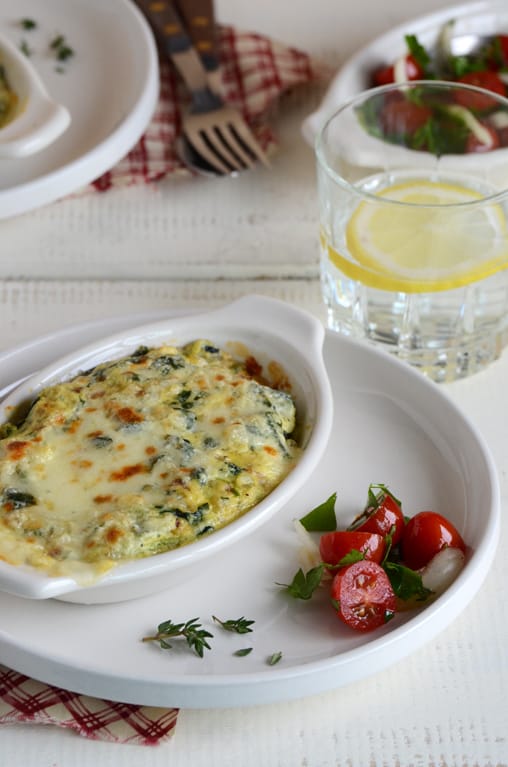 I pre-cooked the mushrooms briefly, and then topped them with a mixture of cheese (ricotta and mozzarella), spinach, and egg. After that, they got a little more mozzarella sprinkled on top (because in my opinion, melted cheese on top makes a gratin!). Because of the egg, these gratins puff a bit as they bake, which reminds me a little of a soufflé or quiche. They made a delicious meal, and they're absolutely perfect if you're looking for something a little out of the ordinary.
I served these gratins with a very simple salad of cherry tomatoes, onion, and fresh herbs that I dressed with olive oil, vinegar, and a pinch of salt and pepper; any salad would be perfect though.
Spinach, Ricotta, & Portobello Gratins
Serves 2
1 tablespoon plus 2 teaspoons olive oil, divided
2 large Portobello mushrooms, wiped gently with a damp cloth
1 medium onion, diced
4 cups chopped fresh spinach
2 cloves garlic, minced
1 teaspoon minced fresh thyme leaves
½ cup ricotta cheese
1 large egg
2 oz mozzarella, shredded, divided
Salt and pepper
Preheat broiler. Place the mushrooms (gill side facing up) on a baking sheet; drizzle with 2 teaspoons olive oil, sprinkle on a pinch of salt and pepper, and broil 5 minutes. Flip the mushrooms over (so the gill side is facing down) and broil 5 minutes more. Remove the mushrooms from the broiler and preheat oven to 425F.
Heat the remaining 1 tablespoon olive oil in a medium skillet over medium heat; add the onion and sauté until softened and just starting to brown, about 5 minutes. Stir in the spinach, garlic, and thyme and cook until the spinach is wilted, about 1 to 2 minutes. Cool completely.
Mix together the spinach mixture, ricotta cheese, egg, half of the shredded mozzarella, ¼ teaspoon salt, and a pinch of pepper in a medium bowl. Place each mushroom (gill side facing up) in an individual gratin dish; divide the spinach/ricotta mixture between the 2 dishes and top with the remaining mozzarella.
Bake 10 minutes, then broil a couple minutes to brown the tops.